Lupita Nyong'o's Black Panther: Wakanda Forever Training Video Is A Welcome Update After All The Setbacks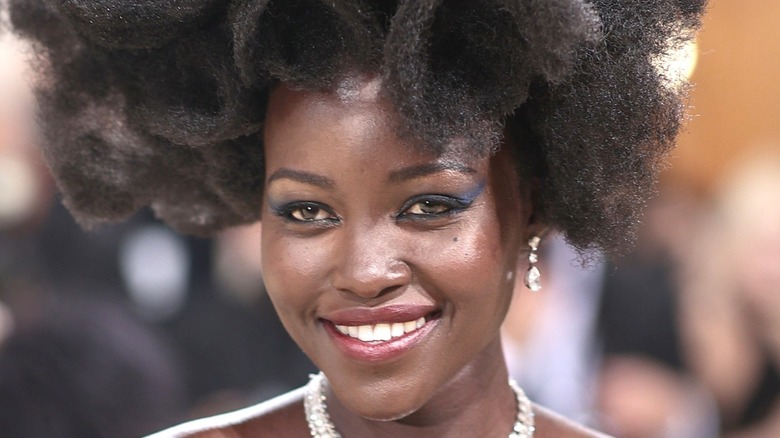 Dimitrios Kambouris/Getty
When "Black Panther" arrived in theaters back in 2018, audiences flocked to see Chadwick Boseman lead his own movie as T'Challa in the Marvel Cinematic Universe. The film became wildly successful, raking in $1.346 billion worldwide (via Box Office Mojo) — so it wasn't surprising when Marvel Studios gave director Ryan Coogler the go-ahead to work on "Black Panther 2." Unfortunately, the sequel has been met with numerous setbacks, including the heartbreaking loss of Chadwick Boseman — as the critically acclaimed star died from pancreatic cancer in August 2020.
From there the sequel — entitled "Black Panther: Wakanda Forever" — has faced more difficulties getting off the ground. Letitia Wright, a.k.a. Shuri, took a break from filming after dealing with injuries — as Deadline reported that she suffered a shoulder fracture and a severe concussion. She was also the center of controversy after making questionable remarks about the COVID-19 vaccines; The Hollywood Reporter also claimed that she's unvaccinated.
The pandemic itself has also caused a number of delays in production, and work recently halted in Atlanta following a COVID-19 outbreak on set. The film is set to arrive in November later this year, so all these delays are obviously quite concerning for fans. But while the sequel has had a difficult production so far, Lupita Nyong'o's "Black Panther: Wakanda Forever" training video is a welcome update after so many setbacks.
Lupita Nyong'o is training hard for Black Panther 2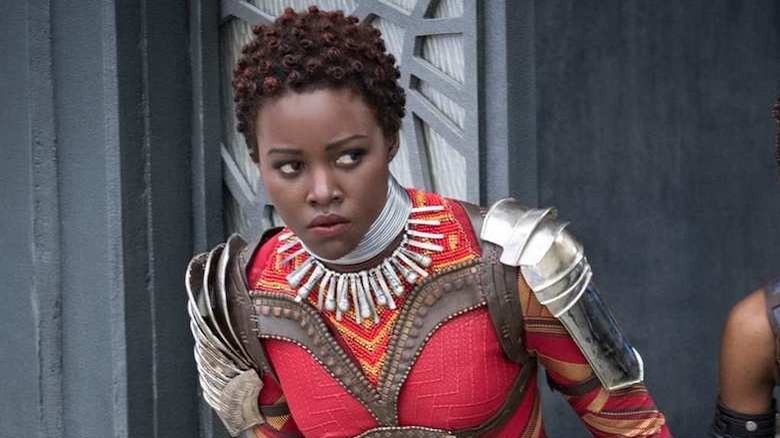 Marvel Studios/Disney
Marvel fans will know that Lupita Nyong'o, who plays Nakia, T'Challa's love interest in "Black Panther," will reprise her role in "Wakanda Forever" alongside Letitia Wright, Winston Duke, Danai Gurira, Angela Bassett, and Martin Freeman. Nakia is one of Wakanda's "War Dogs" — their elite spies who go out in the world to source intelligence for the secretive nation. Although it'll be interesting to see how her role changes now that Wakanda has opened itself up to the world following "Black Panther," "Avengers: Infinity War," and "Avengers: Endgame."
Nakia will have plenty to do if Nyong'o's recent training video is anything to go by. The star posted a video on Instagram showing off an intense workout punching with dumbbells and working up a sweat. Marvel stars quite often have a vigorous training routine to get them into a peak heroic shape for the camera. Lupita Nyong'o's workout implies that she'll be in the spotlight for "Wakanda Forever" — which makes sense following Chadwick Boseman's passing.
The big question going into the sequel is how will the MCU deal with the actor's death? Many fans wondered whether the studio would recast the role, although some felt it would be disrespectful to the actor. Marvel Studios confirmed that it won't cast another actor in the role for the sequel, so clearly Boseman's death will have a huge impact on the story. Nakia could be a worthy replacement for the clawed King. Maybe that's why Lupita is training so hard?
Audiences will just have to wait and see if she suits up when "Black Panther: Wakanda Forever" arrives in theaters on November 11, 2022.