Peacemaker's Chukwudi Iwuji Confirms What We Suspected All Along About John Cena's On-Set Behavior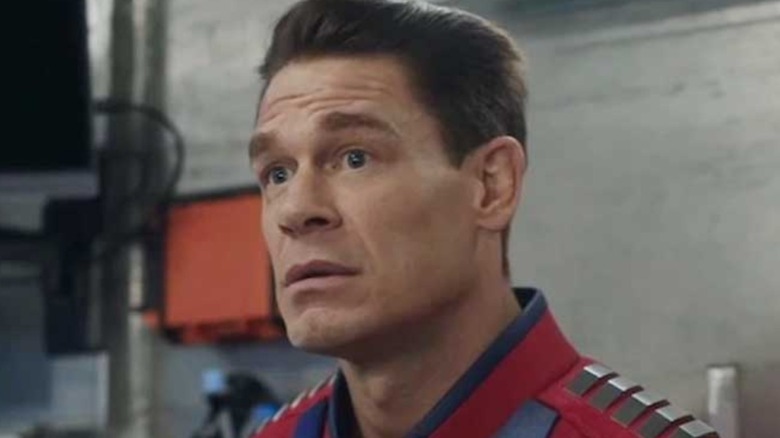 HBO Max
In case you didn't know, people are seriously loving James Gunn's "Peacemaker" series. The show is currently sitting with a 94 percent Average Tomatometer rating and 84 percent Audience Score on Rotten Tomatoes, with most of the fandom celebrating its main star, wrestler-turned-actor John Cena. The Hollywood behemoth has established himself as a comedic force and acting extraordinaire in recent years, appearing in a number of hit projects like 2018's "Bumblebee," Gunn's "The Suicide Squad" and now its spinoff series. But what is the big man actually like to work with?
Well, "Peacemaker" co-star Chukwudi Iwuji sat down with The Hollywood Reporter recently to discuss their new HBO Max show and revealed what it was like filming scenes with the former WWE champion and "Fast & Furious 9" star. Keep in mind, Iwuji — who plays Clemson Murn — comes from a classically-trained background and is described by THR as "professional as it gets."
Cena was cracking everyone up on set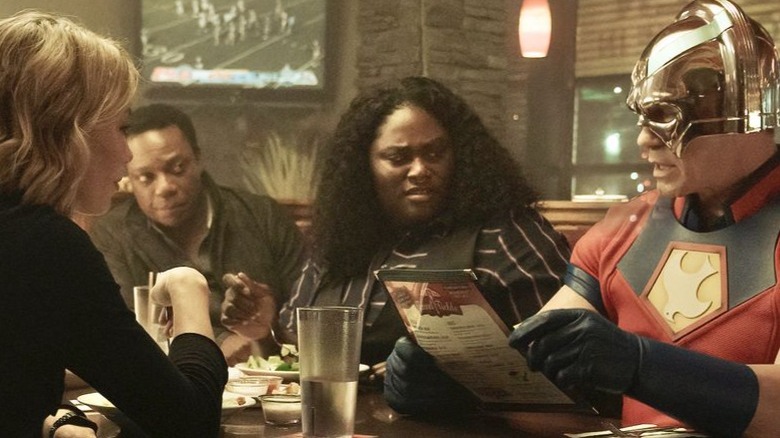 HBO Max
According to Chukwudi Iwuji, everyone on the set of "Peacemaker" was breaking character and laughing during scenes that involved lead star John Cena in all his costumed glory. "Oh...I've broken," Iwuji told The Hollywood Reporter. "We've all broken at some point. The blooper reel for 'Peacemaker' is going to be extraordinary. John's comedic timing is genius...It was hilarious. I laughed a lot. The cameraman laughed a lot. The grip laughed a lot. Everyone laughed."
Iwuji, who studied at Yale and was a member of the Royal Shakespeare Company, recalled to THR how Cena and other members of the cast and crew would regularly try and get him to crack. "I'm very much, as you can tell, the straight man in that group, and a lot of the cast have backgrounds in improv and comedy," Iwuji explained. "My background is with Shakespeare and Chekhov, so you speak exactly what's written there ... I didn't realize until later that John and everyone had a plan to get me to break." 
Iwuji said he tried his best to keep his character and acting in check when doing his scenes with Cena, to no avail. "After a while, I just couldn't keep it together any longer," the actor admitted, laughing.
"Peacemaker" is currently available to stream on HBO Max.