The Best CSI: Vegas Episode According To IMDb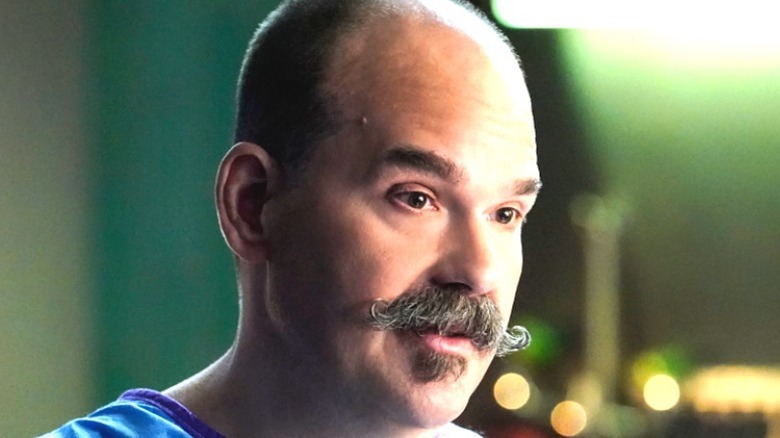 Robert Voets/CBS
For crime drama fans, there's surely no better series than "CSI: Crime Scene Investigation" — with over 300 episodes to dive into from the show's impressive 15-year run on CBS (via IMDb). It's impressive that the writers managed to come up with that many mysteries for Gil Grissom (William Petersen) and the gang to solve. The overwhelming popularity of "CSI" helped give birth to a number of spin-off shows like "CSI: Miami," "CSI: NY," and "CSI: Cyber" — and they all take place in the same world. Yes, it beat Marvel Studios to the punch on a shared universe.
But CBS began reviving the original series in 2020, and the new show, called "CSI: Vegas," started airing back in October 2021. It sees Grissom and Sara Sidle (Jorja Fox) return to the lab once again when their friend Jim Brass (Paul Guilfoyle) is attacked. Unfortunately, they also stumble onto a conspiracy which could threaten the vital work the CSI team do in catching killers.
The series proved to be hugely successful, and CBS quickly gave the go-ahead for Season 2, although Petersen won't return for future episodes. It's a shame, but there are still plenty of past episodes to see Grissom do what he does best. But when it comes to the latest batch of investigations, there's one "CSI: Vegas" episode that stands above the rest according to IMDb.
The Season 1 finale is the highest-rated episode of CSI: Vegas
Surprise, surprise — IMDb users voted the Season 1 finale, "Signed, Sealed, Delivered," as the best episode of "CSI: Vegas" (so far). It holds a 7.8 out of 10 rating on the site, which is understandable since it's a gripping hour of TV as the overarching story of the first season comes to a head. One of the big plot points of "CSI: Vegas" revolves around Grissom and Sidle's colleague David Hodges (Wallace Langham), who's accused of tampering with evidence — which could mean hordes of criminals could be released from prison. Although, as his trial gets underway, Hodges seemingly escapes from custody, which makes him look incredibly guilty.
But Anson Wix's (Jamie McShane) associates actually kidnap Hodges, leaving him for dead in an old casino. Thankfully, the CSI team rescue him in time, already knowing that Wix is behind the entire conspiracy. It's a great conclusion to the season while also giving fans a tease for Season 2, as there's a brand new serial killer out in the world. Sure, that's not so inspired for a show about solving murders, but it still leaves things open for the next batch of episodes.