Movies That Are Going To Blow Everyone Away In Fall 2017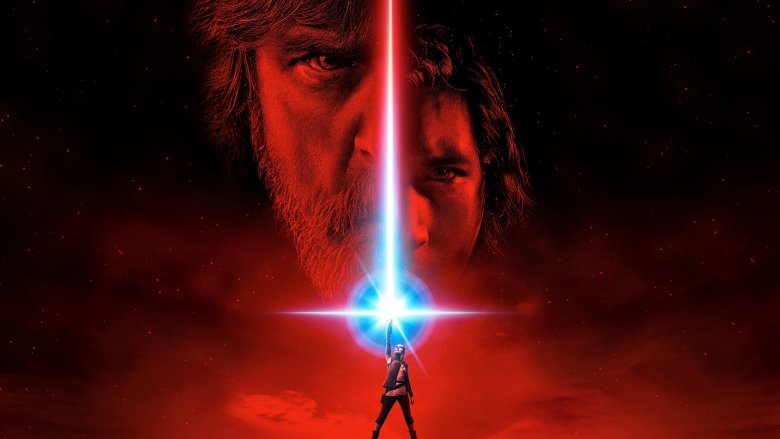 Though 2016 was an epic year for movies, it almost feels like a warm-up compared to the long list of blockbuster films we've had on the release calendar throughout 2017. And the major releases are far from finished: we've lined up the biggest upcoming releases during the fall quarter, and whether you're into action, comedy, horror, or drama, there's something here for everyone. We even tossed in a couple of bonus features, including the new big-screen adaptation of Stephen King's It and Pitch Perfect 3 even though they arrive a bit outside the fall calendar. As you'll see, plenty of films will be fighting for your movie ticket money over the next several months.
Star Wars: Episode VIII — The Last Jedi - December 15
This is Star Wars we're talking about, so the list of things we truly know about Star Wars: Episode VIII — The Last Jedi is awfully short. But we do know a couple of important facts: one, Rian Johnson (Looper) will be in the director's chair; and two, most of Episode VII's cast will be back, including Daisy Ridley, John Boyega, Oscar Isaac, and Adam Driver, along with OG franchise stars Mark Hamill and Carrie Fisher. (Carrie Fisher had wrapped filming for Episode VIII before her tragic and unexpected death.) Beyond that, pretty much all we can tell you is that this installment follows the events of Episode VII, and advances the new trilogy pitting the Resistance against the First Order led by Supreme Leader Snoke (Andy Serkis) and his apprentice Kylo Ren (Adam Driver). Oh, and another thing: it'll sell tons of tickets.
Now that you've marked up your movie calendar for 2017, there's no time like the present to plan ahead for next year—and you can get an early jump on your fellow filmgoers by taking a look at our list of the top movies of 2018.
Ferdinand - December 15, 2017
Despite his claims to the contrary, John Cena's professional wrestling career is winding down. Thankfully, the 16-time WWE champion is proving just as dominant in Hollywood as he is in the ring. With a handful of comedies (Trainwreck, Sisters), action flicks (the upcoming Transformers spinoff Bumblebee), and a reality TV show (American Grit) under his belt, the Doctor of Thuganomics is branching out into family entertainment with Ferdinand, an animated feature based on Munro Leaf and Robert Lawson's popular children's book.
The film, which stars Cena playing against type as the pacifist bull Ferdinand, also stars SNL's Kate McKinnon, former Doctor Who and current Scrooge McDuck David Tennant, Hamilton's Daveed Diggs, and many, many others. The film relies on slapstick—a Blue Sky Studios specialty—and action much more than the original story, but the book's general theme, which teaches kids that it's okay to just be yourself, still comes through intact. That's good, because the book is a bona fide classic, and deserves a respectful adaptation. With Cena in the lead, we might get just that.
Jumanji: Welcome to the Jungle - December 20, 2017
Ostensibly, Jumanji is a sequel to the 1995 Robin Williams film (Williams' character even provides some help from beyond the grave), but don't expect things to look too similar in the 2017 outing. For one, the latest edition of Jumanji stars the Rock, not Williams, with Jack Black, Karen Gillan, Kevin Hart, and Nick Jonas serving as sidekicks. Secondly, the new Jumanji is a video game, not a board game. Finally, instead of a game that brings exotic creatures into the real world, the main characters in this Jumanji actually enter the fictional jungle—and then, as in any other video game, must fight their way to the exit if they want to win. If it works, Jumanji should provide an interesting spin on a well-known story (even if Gillan's costume looks ridiculous), as well as a fitting tribute to one of the greatest actors of his (or any) generation.
Pitch Perfect 3 - December 22, 2017
Even in a world where pretty much every movie is part of a trilogy, Pitch Perfect—which focuses on the trials faced by a college a capella group—seems like a weird choice for an ongoing series. On the other hand, the franchise's recurring cast, which includes Anna Kendrick, Anna Camp, Rebel Wilson, Brittany Snow, Hailee Steinfeld, and Elizabeth Banks, is full of funny and lively performers who seem up for anything. The music is catchy. The stories don't break new ground, but they're sweet and fun.
So, why not check in on Beca, Fat Amy, and the rest for a third helping of melodious shenanigans? Pitch Perfect 3 reunites pretty much the entire cast—and then some—as the Bellas try to cope with life after college while teaming up for one last performance at a USO show, where they'll compete against bands with real instruments for the very first time. If all goes according to plan, Pitch Perfect 3 will be just the thing you need to escape the winter doldrums—at the very least, it should provide a welcome respite from December's all-consuming holiday madness.