Tusken Raider Actor Rory Ross Recalls An Interesting Encounter With Jon Favreau On The Book Of Boba Fett - Exclusive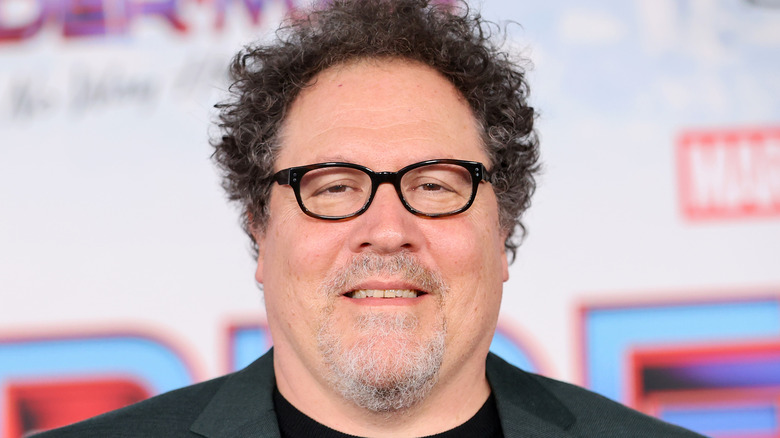 Emma Mcintyre/Getty Images
Having grown up with "Star Wars," actor Rory Ross has long hoped for landing a role on a project based on legendary filmmaker George Lucas' stories from "a long time ago, in a galaxy far, far away." Unbeknownst to Ross, he never could have imagined that when his "Star Wars" opportunity did come along, it would take place on Tatooine, the planet where farm boy Luke Skywalker (Mark Hamill) dreamed of becoming a Jedi Knight. It was only appropriate, because Ross, whose screen credits include such series as "The Librarian" and "Mom," was once a farm boy himself growing up in Iowa.
Tatooine is the setting of the new Disney+ series "The Book of Boba Fett," which follows the fearsome bounty hunter, Boba Fett (Temuera Morrison), and his right-hand assassin, Fennec Shand (Ming-Na Wen), as they navigate the dangerous criminal underworld of the sand planet. Giving the series more dimension, though, is Boba's backstory — told in flashback sequences — after he fell into the Sarlacc pit in 1983's "Episode VI— Return of the Jedi," and how he survived, only to be captured by a band of Tusken Raiders.
Ross plays a couple of different Tuskens in the tribe, which first imprisons Boba and eventually comes to respect the bounty hunter enough to train him to become one of their own. Morrison was one of the principals Ross encountered while working on the series, as well as the creative forces behind "The Book of Boba Fett" and its predecessor, "The Mandalorian."
Ross says he'll never forget his first encounter with Favreau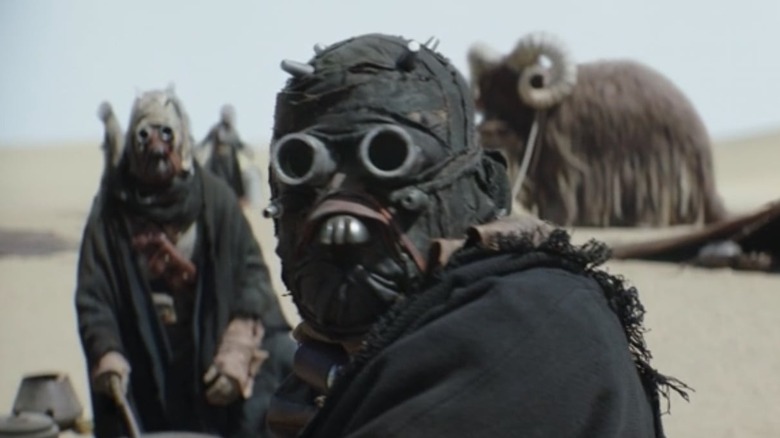 Lucasfilm/Disney+
"The Book of Boba Fett" is a collaboration between three titan filmmakers — Jon Favreau, Robert Rodriguez and Dave Filoni — and Ross said in an exclusive interview with Looper that his experience of working for them has "exceeded and surpassed" his expectations in so many ways. Sometimes, Ross said, he was so in awe of his surroundings that he was willing to forgo taking off his Tusken Raider mask for a "mask break," which caught the attention of Favreau.
"I remember that I didn't want to accidentally rock the boat or anything, so when they called for a mask break — where you get to take off the mask — it takes some time because there's about five or six different layers around your head that you have to take off and you usually have something that's tied in so that you can't see any of the sewing or anything like that ... They'll take it off and you get a chance to breathe," Ross recalled. "But that first day I just was like, "Oh, you know what? It's okay. I'm fine" and I kept the mask on, and I was trying to get some shade. I remembered Jon came over and he just kicked me in the boot and was like, 'Hey, are you alright? You going to get a mask break?' And I was like, 'Oh, no, I'm fine.' He's like, 'You don't have to be a tough guy.' I'm like, 'No, it's okay,' but in reality, I'm just freaking out, like, 'This is amazing. Jon Favreau!' 'Ironman' was one of my favorite films and 'Elf' was really cool since that was one of his first projects that he directed."
"The Book of Boba Fett" is streaming exclusively on Disney+ with new episodes premiering every Wednesday.