The Real Reason We See Boba's Face So Much In The Book Of Boba Fett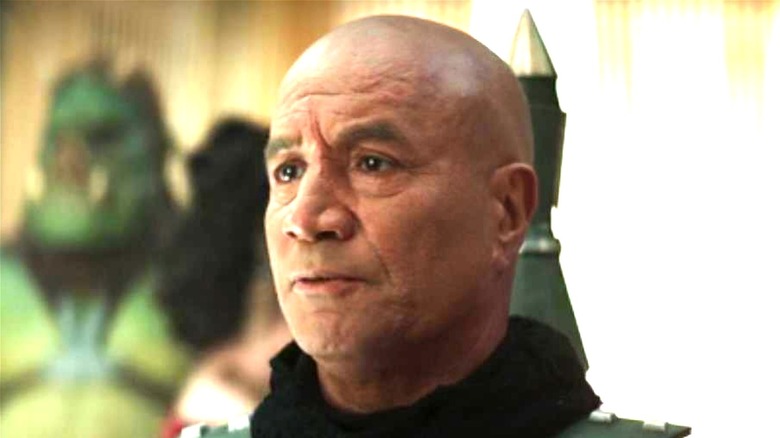 Lucasfilm/Disney+
It's been a long, winding, and partially digested road to a solo show for everybody's favorite bounty hunter from the galaxy far, far away. But here we are, with intergalactic badass Boba Fett finally taking center stage for his very own Disney+ streaming series.
The character, of course, became an instant fan-favorite via a couple of absurdly brief "Star Wars" appearances in 1980's "The Empire Strikes Back," and 1983's "Return of the Jedi." Boba made his triumphant return to the "Star Wars" galaxy in Season 2 of "The Mandalorian," promptly reclaiming his iconic helmet and armor, and aiding Din Djarin (Pedro Pascal) in his campaign to return Grogu to his people.
Save for a quick look at the young Boba (Daniel Logan), alongside his dad Jango (Temuera Morrison) in 2002's "Attack of the Clones," Boba (also played by Morrison) had never been seen without his helmet prior to turning up in "The Mandalorian." That has certainly not been the case since. In fact, "The Book of Boba Fett" viewers can't help but notice that Boba is spending as much time out of the helmet than in it these days. Here's why.
A simple request led to less helmet time for Boba Fett
As detailed in "The Mandalorian," Boba Fett is not a Mandalorian in the traditional sense (if at all), so he's not beholden to the same old-school traditions as Din Djarin. That's not really the reason he spends so little time in the helmet, however, as Temuera Morrison recently told Rolling Stone that Boba going helmetless came about largely because he asked. "It actually came by chance," he explained. "I think I was on the spacecraft, and I said, 'Well, I'm not flying the thing, I'm not fighting. Can I take my helmet off?' And I remember there was a bit of discussion... And then Rick [Famuywia] goes, 'Yeah, I think it'll be OK. Take his helmet off.'"
The actor went on to say that going helmetless has not only served his performance, but helped his directors with potential continuity issues. "Honestly, I think they need to see my face here. But you know, funnily enough, I think [on Mandalorian] they could tell if it wasn't me. [If it was a stunt person,] Robert Rodriguez would say, 'Oh, I can tell it's not you if you're not under that helmet.'"
If you've seen Morrison at work as Boba, you know he really does have a distinct physicality, so it makes sense not to try and fake it. And in all honestly, he's got such a unique look it'd be a legitimate shame to keep his face covered.