Why Constantine From Law & Order: Organized Crime Looks So Familiar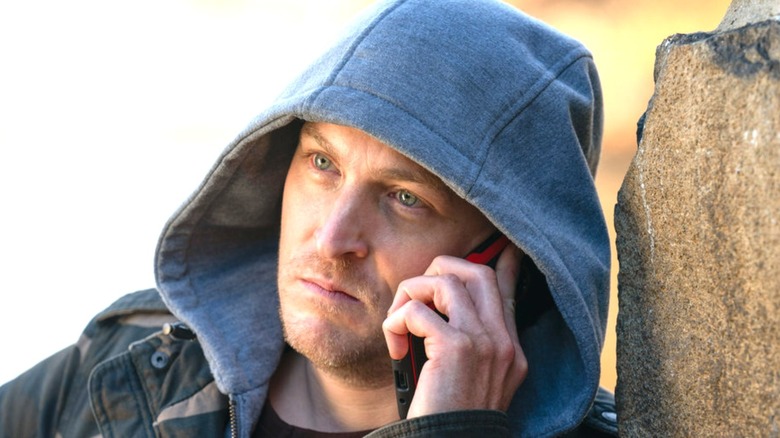 Virginia Sherwood/NBC
Fans of "Law & Order: Organized Crime" have been thrilled by the character of Sebastian McClane, a master hacker whose storyline contains echoes of real-life cases like the Edward Snowden affair. Known to some by his alias, Constantine, McClane is a proficient computer expert who began his digital escapades at a young age. Having been imprisoned for his crimes, which he would argue were in service of the greater good, he escaped a high-security penitentiary. Now, he poses a threat to national security as the FBI plays a high-stakes game of cat and mouse in their efforts to apprehend him.
Many viewers, however, may be taking a second glance at McClane/Constantine, thinking he seems incredibly familiar. It's not a case of mistaken identity. The hacker extraordinaire is played by a talented actor who has graced the screen for over a decade, appearing not only as an infamous Batman villain but also showing up in two previous "Law & Order" shows — among many other roles.
Robin Lord Taylor has played The Penguin and appeared in other Law & Order shows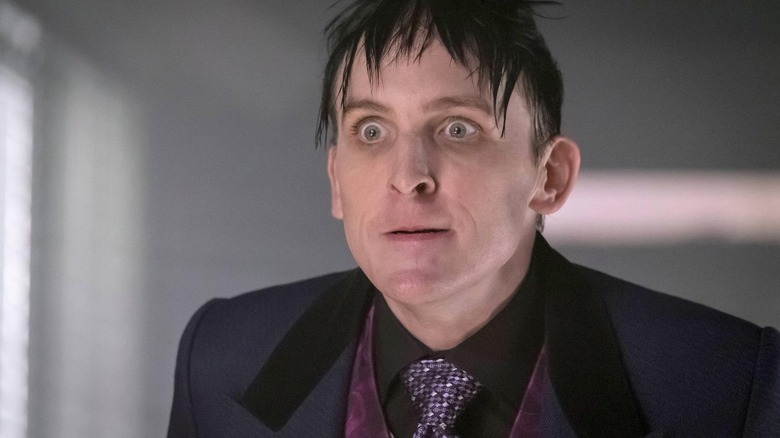 Warner Bros. Television
Robin Lord Taylor has had quite an impressive career over the years before coming to "Law & Order: Organized Crime" as the activist black-hat hacker Constantine. In fact, this is Taylor's third role on a "Law & Order" show (via IMDB), albeit in much smaller roles. He first appeared as the character of Dale in a 2005 episode of "Law & Order" titled "Sects," and returned to reprise the role for two more episodes in 2008 and 2010, respectively. He later played a character named Dylan in 2013, on the spinoff "Law & Order: Special Victims Unit."
Many fans, however, might know Taylor best from his long run as Oswald Cobblepot, better known as The Penguin. Taylor played the infamous Batman villain to pitch-perfection on Fox's "Gotham," which ran from 2014 to 2019, and told the origin stories of Batman, his enemies, and his allies. Critics and fans alike may recall Taylor's rise through the criminal ranks of Gotham's underground, and his final transformation into the top-hat sporting mob boss. Indeed, many consider Taylor's take on The Penguin, which saw him unleash a barely contained rage on anyone who crossed him, to be one of the best adaptations of the character ever put to screen.
Taylor played the Administrator in John Wick 3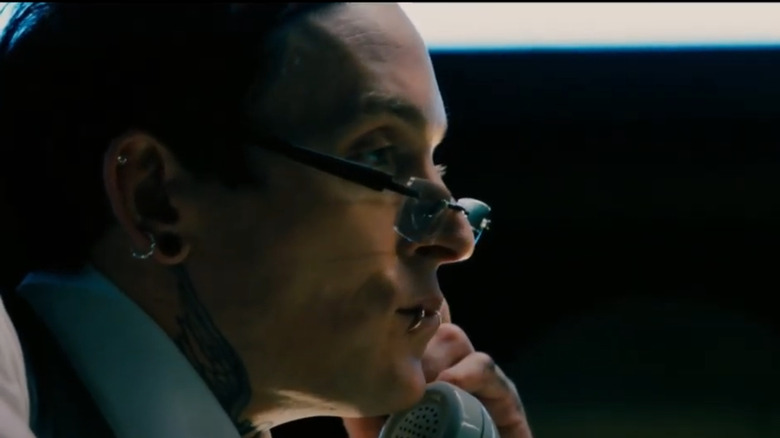 Lionsgate
The adrenaline-pumping action series "John Wick" stars Keanu Reeves in one of his most iconic performances since "The Matrix," and Robin Lord Taylor was thrilled to land a role in the third movie. It's a small bit, with Taylor taking the role of an Administrator at the High Table's offices. It is he who follows the order to deconsecrate the Continental Hotel, allowing the Table to mount a large-scale offensive and send their best assassins against Wick.
Despite the role being a single, 45-second scene, Taylor took it seriously as an actor, saying, "I took the character in a dimension that was different for me so I'm excited for people to see it (via Cinemablend). The role was shot while "Gotham," Taylor's primary engagement at the time, was on hiatus, and he worried that his performance would end up being cut from the film. "I was actually freaked out telling people about it," he explained. "Oftentimes, with big movies like that, you can end up on the floor in the editing bay."
Of course, the scene did make it into "John Wick: Chapter 3 – Parabellum" after all.
Robin Lord Taylor is the real Will Bettelheim in Netflix's You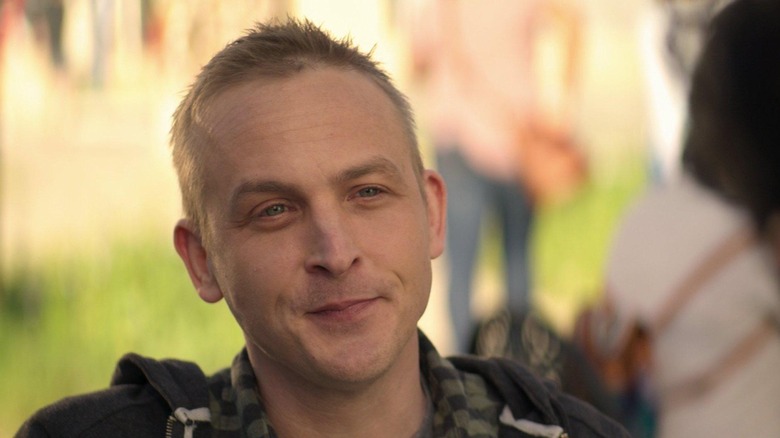 Netflix
Robin Lord Taylor's list of credits is full of dark and twisted characters, and the role he plays on Netflix's hit show, "You," which follows a man named Joe (Penn Badgley) who serially stalks women. Beginning in Season 2, Joe attempts to assume a new identity in an effort to evade his former obsession (and would-be murder victim) Candace, and recruits a man named Will, played by Taylor, to help him do so. When Will tells Joe that the process will not be easy or quick, Joe decide to take Will's identity instead, kidnapping him in the process. While in captivity, Will's mental health quickly unravels, and Joe secretly medicates him. The two develop a Stockholm Syndrome-like rapport with each other, with Joe eventually letting Will flee to the Philippines.
On an Instagram Story captured and posted to YouTube, Taylor said the scenes where Will is "off his meds" were his favorite to film. "It was fun to get out of my comfort zone," he explained. The actor also said, when asked about being one of the rare characters to survive Joe's murderous temper, that after playing so many characters who end up dead, "It was nice to finally f***ing survive, man!" There's still time for him to end up dead, though, as Season 4 of "You" is around the corner.
Taylor is Nick on 'Kevin Can F*** Himself'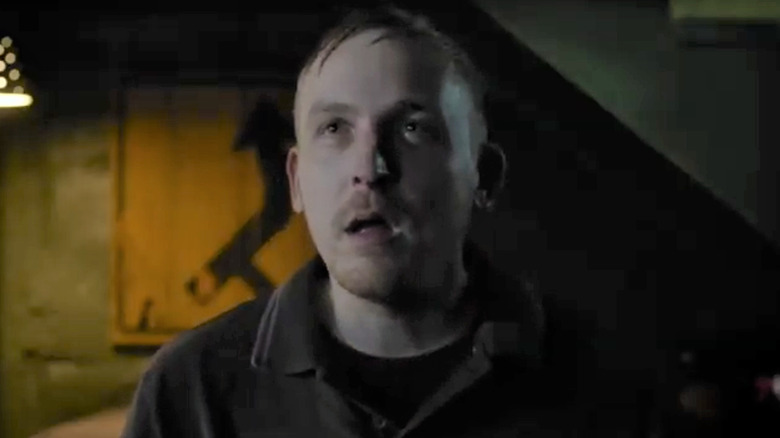 AMC
The cheekily titled AMC series, "Kevin Can F*** Himself," follows a suburban housewife named Allison ("Schitt's Creek" star Annie Murphy) who has had enough of her ne'er-do-well husband (Eric Petersen) and his boorish ways. By the time the show nears its end, Allison has decided to have her spouse murdered, and who should she turn to but Robin Lord Taylor, this time playing an ex-con named Nick who is out on parole and willing to make the murder look like a burglary gone wrong.
In one memorable scene, Allison confirms the details of her arrangement with Nick, though she's clearly in over her head. Nick wants to take care of the job immediately, but Allison has other ideas. She'll be gone the next week on vacation, leaving her husband to get blackout drunk, as he usually does when she's away. "Make it look like a robbery, and obviously, don't take any of our stuff," she tells an exasperated Nick, immediately correcting herself, "Oh, okay, take whatever you want. Our bedroom is top of the stairs on the left."
Taylor is superb as the straight man to Murphy's incompetence, clearly wanting the job to be done as quickly as possible, if for no other reason than to escape her nervous yammering. It's proof that the actor has a wide range of talents. From wacky villains to put-upon assassins and hackers, Taylor is a delight wherever he appears.