You Season 4 - What We Know So Far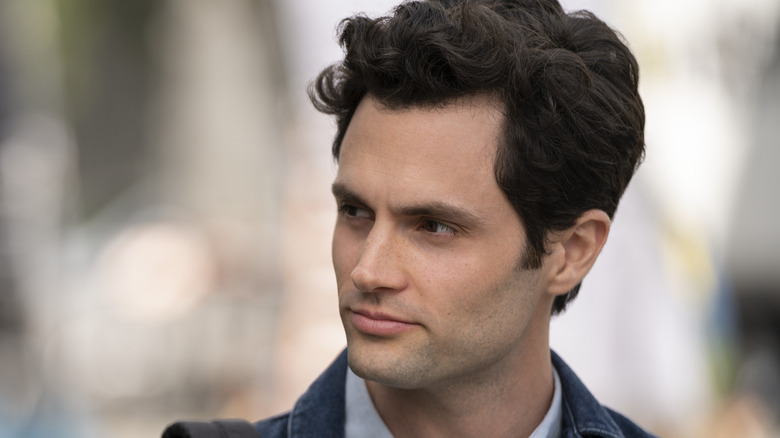 Netflix
The television series "You" had a bit of a rocky start even before it debuted on Lifetime back in September 2018. Prior to its mostly-ignored tenure on Lifetime, the show based off Caroline Kepnes' novel about stalker Joe Goldberg had actually been announced as a Showtime original (via Deadline), and executive producer Greg Berlanti said he'd tried to sell the show to Netflix previously, only for the streamer to pass on it (via Entertainment Weekly). Turns out, though, that one season makes a difference. Lifetime had granted the series an early 2nd-season renewal but backed out after seeing its lackluster ratings. After that, Netflix, which had obtained streaming rights internationally, came in to save the show and turn it into a Netflix original, according to The Hollywood Reporter.
That was a good decision; the show grabbed the attention of 40 million viewers in its first four weeks, Netflix told media in 2019 after it released "You" online. Then the series got two more seasons, each of which plays with perspective in unexpected ways. Season 3, which deals with engaging murderers, dropped today, but there's additional good news for fans of "You": Netflix has already renewed it for a 4th season.
When is the release date of You Season 4?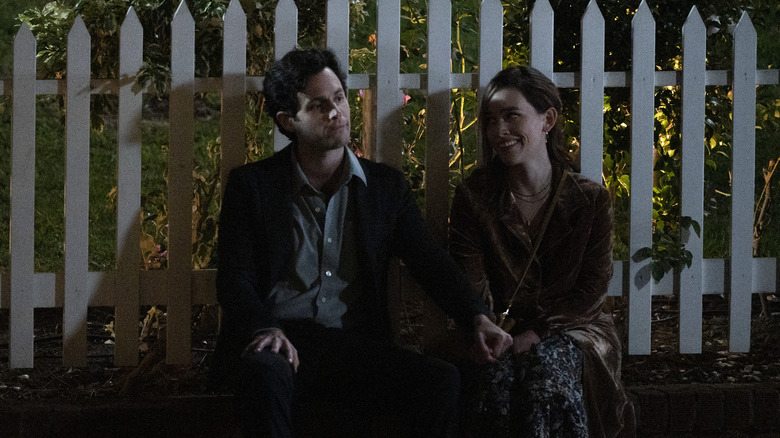 Netflix
Netflix hasn't revealed when the 4th season of "You" might come out. Since the 3rd season is brand new at this point — still to be binged by many of the show's most ardent fans — it's probably too soon for the streaming service to announce a start date for the next one.
"You" first aired on Lifetime in 2018, but the 1st and 2nd seasons came to Netflix around the same time in winter 2019. The 3rd season skipped a year, likely due to the COVID-19 pandemic (via Financial Times), and was only released today. So, following that schedule, a new season of 10 episodes should hopefully be ready to air in the fall or winter of 2022. Since the series has already been renewed, hopefully, its crew is already working on pre-production tasks for the new season (like writing scripts and casting) and nothing will delay the streaming show's next installment, whenever it comes.
Who's in the cast of You Season 4?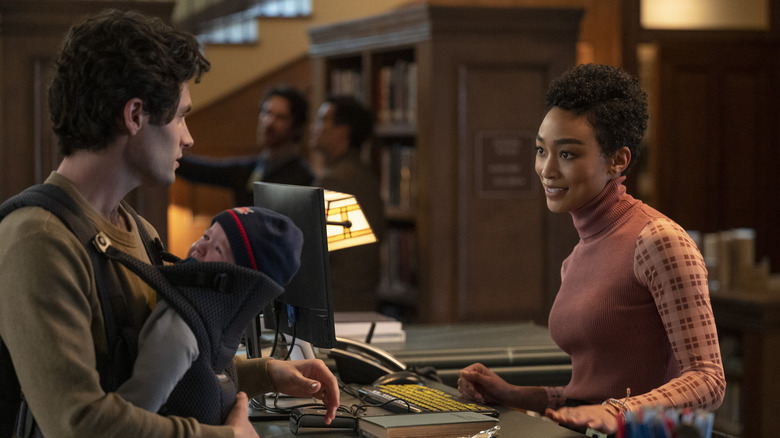 Netflix
Each season of "You" has added more cast members to the mix — since Joe (and Love's) murderous urges make it desirable for them to keep moving to different locations. At this point, though, Netflix probably can't provide any information because it's doubtful that anything's been finalized at this point in the production of the next episodes.
The Season 3 cast in the fictional California town of Madre Linda includes Penn Badgley as Joe Goldberg, Victoria Pedretti as Love Quinn, Michaela McManus as Natalie, Scott Speedman as Natalie's husband Matthew, Dylan Arnold as their son Theo, Shalita Grant as mom influencer Sherry, Travis Van Winkle as Sherry's husband Cary, Shannon Chan-Kent as Sherry's friend Kiki, Chris O'Shea as Sherry's friend Andrew, and Mackenzie Astin as geology professor and anti-vaxxer Gil. Tati Gabrielle also entered the show in Season 3 as Marienne, a single mom who works as a librarian.
In true "You" style, though, not all of these people make it out of the season alive. And events in the story make it pretty clear that the likelihood of any of these people (save two) making it to Season 4 are pretty low.
What is the plot of You Season 4?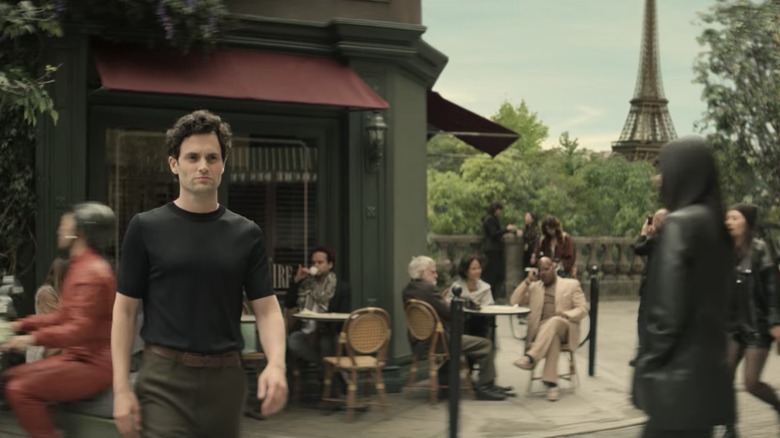 Netflix
Warning: Spoilers for "You" Season 3 ahead.
At the end of Season 3, Joe's narration relates that Madre Linda has started to heal, with the characters rebuilding their lives following the horrific murders that are now being attributed to the late Love Quinn. Sherry and Cary have even written a book about their experience and are giving TED talks about couples therapy. Joe, who has now taken on the alias of Nick, ends the season vowing to find Marienne and her daughter. "I have to believe our paths are destined to cross again," he says in the show's final moments, which clearly take place in Paris. "I'll search the world if I have to. I will find You."
So, it's clear Joe, who faked his own death, is done with Madre Linda even though his young son Henry is still there. And he's set up a potentially big plot point for next season: he'll be looking for Marienne. However, he's left it ambiguous exactly where he'll end up, so the setting and details for Season 4 remains tantalizingly unclear.