Gotham Actor Talks Season 4 Finale Death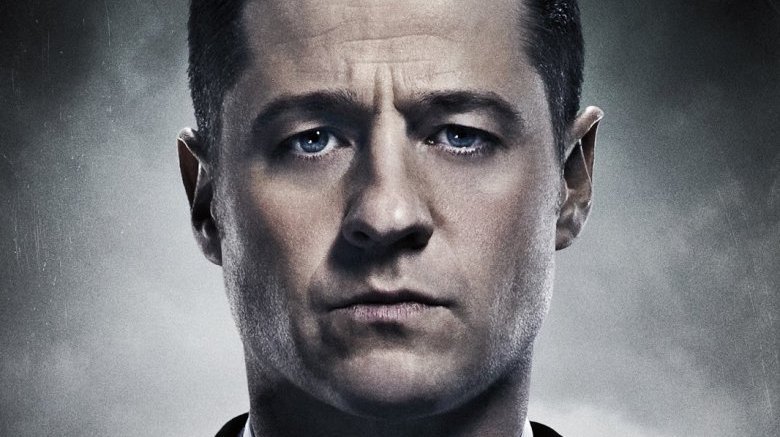 Contains spoilers for the season 4 finale of Gotham
The season 4 finale of Gotham injected the series with a sense of freshness: a handful of villains crawled their way out of Gotham's dark alleyways and hidden corners and a few characters temporarily departed town, leaving the city's slate less crowded before. But it also went out with a bang – literally, as Oswald Cobblepot, better known as the Penguin (Robin Lord Taylor), murdered Solomon Grundy (Drew Powell) after the latter suffered a gunshot wound, ostensibly recovered, and reverted back to his standard self as Butch Gilzean. 
Though Butch/Grundy's slaying marks the fourth time the character has been shot within the series' narrative, it was undeniably the shock of this season's concluding chapter — and the man behind the murdered former mob enforcer has some things to say about it. 
Speaking with Variety, actor Drew Powell discussed how he learned his character would be killed off (by a shot to the heart, no less), what it was like to shoot the fatal scene, and whether he'll ever reprise his role. 
Powell revealed that he "kind of found out by accident" that Butch/Grundy wouldn't make it to the end of the season 4 finale. "I was at work. The process of Grundy is always a couple hours of make-up coming on and a good 45 minutes to take it off. So, I'm usually there before people and there after people. I was in the makeup room, and I read an outline, which sometimes you do," the actor explained. "I don't know if we're supposed to do that, but any actor that says they don't is lying. I glanced at it and I kind of got to the end and it said, 'Blah, blah, blah and then Penguin shoots Butch in the heart.' I'm like, 'Ooh, that doesn't sound good.'"
The timing couldn't have been more uncanny, as Powell found out his character's fate the day before Gotham executive producer John Stephens was going to tell him the news. "I saw him the next day," said Powell.
But when it came time to shoot the actual scene, the actor had been "living with" the truth for nearly a month. "It's been a long haul to have a month before we shot it. Then we shot it — that was the beginning or middle of March. So I've been sitting on it to most of the people outside of my close circle for the last few months, so it's been a long haul," Powell admitted. "There's a part of me that will be very relieved as this comes out.
As for how Powell felt knowing his time on Gotham was coming to a close, he was candid in saying he experienced "a mix of a lot of emotions." He stated, "This show has really been an important show in my career. I moved my family from one coast to the other. I'm now kind of forever linked in this really cool world of DC and Batman lore. It's really special for me. But the cool part was that the overwhelming feeling I had was not anger or resentment or sadness — although there was some of sadness — but it was gratitude. I just felt so grateful that I've had four great years of this. Look, who knows what's to come, but I can feel like I've done good work and had a great experience."
The actor then opened up about the murder sequence itself, which he described as "a beautiful scene" that gave his character a proper death. 
"I'll never forget it. I don't think any of us will," said Powell. "The one thing I said to John Stephens when we talked was what was most important to me was that we need to give Butch a proper death. I think [the] words actually were a 'noble death,' and he agreed. Not some cliffhanger ... I don't think we ever did it without crying, even Jessica [Lucas, who plays Tabitha Galavan], who is way tougher than Robin [Lord Taylor] and me. It was just so emotional and so hard."
He added that he and Taylor "are very good friends and have been since the very beginning," so shooting the scene was especially difficult. 
"It was a moment where we had a culmination of this incredible life experience. As an actor, it's hard to separate [from] that because it changed my life ... I think Robin and I have always had this chemistry that was really special and it really made the Butch and Oswald scenes work. I was really glad to have a few more of those toward the end of season four," Powell noted. "By the time we got to that [scene], he was crying and snotting, as he will admit. Jessica had some tears. Then, I'm dead on the ground with tears streaming down my eyes. We got through it."
Powell may have said goodbye to Gotham, but does that mean he's turning away from the DC Extended Universe for good? According to the actor, not at all. Asked if he would ever consider playing Butch/Grundy again, he didn't hesitate for a second: "In the blink of an eye. Absolutely."
Gotham is expected return to Fox for its fifth and final season, though sadly without Powell in tow, sometime in 2019.