How DC Fans Really Feel About Peacemaker's Eagly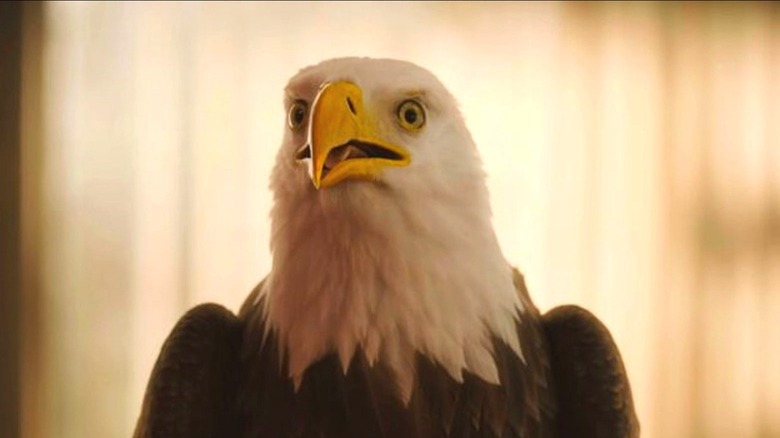 HBO Max
Warning: this article contains light spoilers for the first three episodes of HBO Max's "Peacemaker"
James Gunn's comic book adaptations are a lot like Disney movies. Both thrive on a killer soundtrack and at least one adorable sidekick that displays some level of emotion. "The Guardians of the Galaxy" has the "Awesome Mix Vol. 1" and "Awesome Mix Vol.2" and a talking raccoon and tree, and in the case of Gunn's latest TV endeavor, "Peacemaker," it's got a beat that slaps from the get-go and comes complete with a friendly eagle called Eagly.
Set shortly after the events of "The Suicide Squad," "Peacemaker" sees the titular shiny headgear-loving hero back in action on another top-secret government mission. Lacking his former teammates' firepower (and trust) in Task Force X, Christopher Smith, a.k.a. Peacemaker (John Cena), takes on all the help he can get, including his feathered friend that shows the softer, squawkier side of our hero.
The pet bald eagle, who comes if you rustle a paper bag and is known to hug on occasion, is the heartwarming addition to the all-new, critically acclaimed DC show, which currently holds a 94% on Rotten Tomatoes. Thankfully, fans have been quick to share their thoughts on the Peacemaker's best bald buddy, and it's all been resoundingly positive.
Fans are egg-static for Eagly in Peacemaker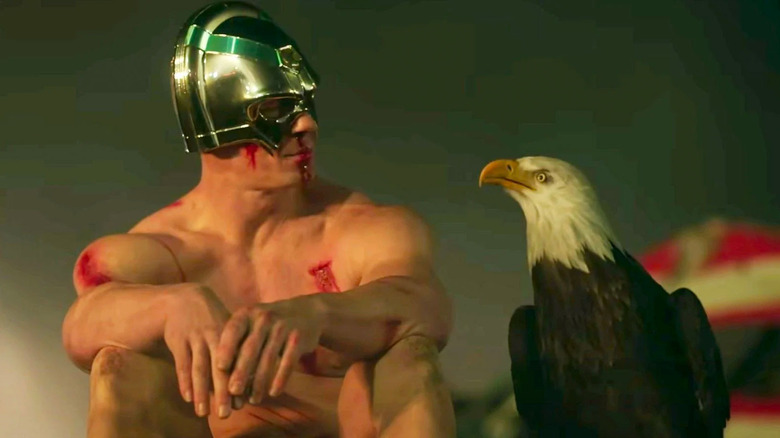 HBO Max
Following the debut of the show's first three episodes, fans swooped in on Twitter to give the best bird in the world some kind words and concerns for his future. A fan with the username @Isrikul made the quick request to Gunn, saying, "I would be completely devastated if something happened to Eagly, James Gunn. Please protect him at all costs." Other viewers commended the show for the level of detail going into the animal — which, much to our disappointment, is not real — with @bohn_meghan saying, "I just watched the first episode of Peacemaker and was very impressed with Eagly, the bald eagle, both visually and audibly."
The creation of Eagly is an impressive little team-up from the consistently exceptional Weta Digital wizards and Dee Bradley Baker, who helps bring the voice of the beloved bird to life. Together, they've added a winning addition to "Peacemaker" that is quickly becoming the MVP of an already highly-praised series. @TreyCorbettIII said, "Well Peacemaker EP 1 down, 10/10 Start and holy c–p am I immediately invested in whatever the s–t is happening. Also, Eagly CAN HAVE MY WHOLE HEART." You can see how Eagly and the rest of the new team in "Peacemaker" handle things with our hero on HBO Max now, with a new episode arriving next week.