Lady Gaga Confirms What We Suspected All Along About Ridley Scott's On-Set Behavior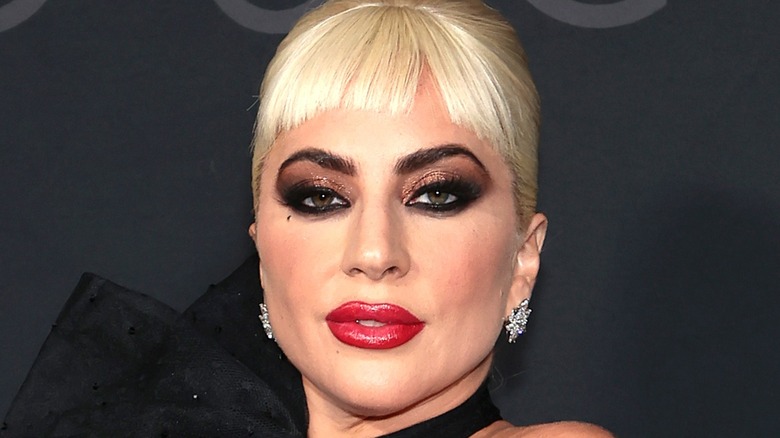 Dimitrios Kambouris/Getty
Sir Ridley Scott has been in the news of late for his scathing statements concerning the perilously shifting state of moviegoing, and the over-saturation of the cinematic market with cookie-cutter superhero movies. Whether you agree with his opinions or not, they are worth considering because, after all, he's Ridley Scott, and he's the director behind cinema classics like "Alien," "Blade Runner," "Gladiator," "Black Hawk Down," and "The Martian." And at 84 years old, he's still cranking out impressive cinematic feats, releasing both "The Last Duel" and "House of Gucci" in 2021. 
Scott's dire comments on the state of cinema resulted largely from the financial failure of his big-budget historical epic "The Last Duel," which, to date, has earned just $30 million worldwide on a reported budget of $100 million (via Variety). Perhaps due to the star-power of Lady Gaga, Scott's soapy true-crime drama "House of Gucci" has fared significantly better at the box office, raking in around $127 million worldwide, according to Box Office Mojo. 
Not only that, but Gaga herself has earned raves for her electrifying performance as Patrizia Reggiani, as well as Golden Globe and SAG Award nominations. Not surprisingly, the world-famous pop star turned critically-lauded actor has had nothing but kind things to say about working with Ridley Scott on the film.  
Gaga couldn't have been more impressed with Scott while filming House of Gucci
In recent comments made by Lady Gaga to The Hollywood Reporter, the super-star praised Ridley Scott's light-hand and steadfast professionalism. That's hardly a surprise as Scott's better-than-solid reputation as a filmmaker, risk-taker, and creative collaborator has been well-established over the years. Gaga spoke to THR for an in-depth piece about the man and his legacy, and wasn't shy about expressing how impressed she was with him as a technical artist. "I don't know that I've ever met anyone that's as precise as Ridley from an artistic perspective," she revealed. 
She went on to add that in spite of said precision, Scott was quite flexible with the actors themselves, stating, "But I never once felt any rigidity from him. He's incredibly adaptive and malleable. He's got the technical piece worked out so perfectly that it's like giving a bird wings to fly. It's like saying, 'The wings are perfect and here they are, and now you can fly if you choose to do so.' It's a real freedom and gift to get from your director." 
Gaga seized on that freedom to deliver a show-stopping performance that renowned film critic Peter Travers called "flat-out fabulous" in his glowing ABC News review. Even as some critics were far less impressed with "House of Gucci" on the whole, many thought that Lady Gaga positively flourished under the guidance of Sir Ridley Scott. And Gaga herself clearly agrees.