The Top 10 Fantasy Movies According To The AFI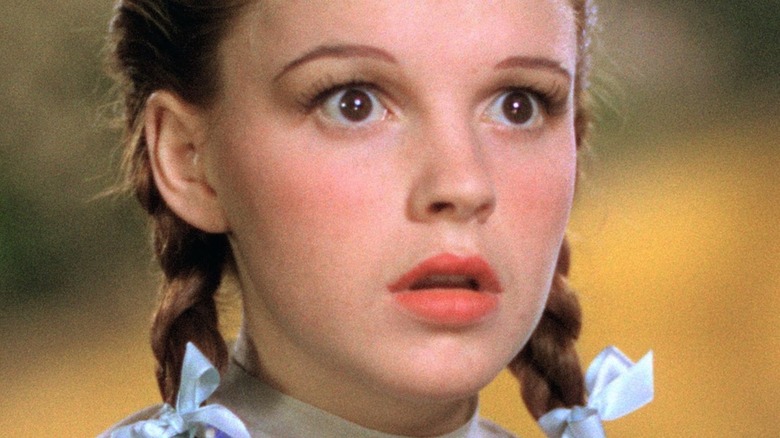 Metro-Goldwyn-Mayer
Cinema has offered escapism ever since its inception, with magnificent films from filmmakers like Georges Méliès and Thomas Edison taking us to fantastical worlds and places never seen before. The fantasy genre, in particular, offers the unparalleled ability to take your worries away as you're transported to new worlds, or even the same world but with a delightful magical twist, making everything feel a little bit better. There are plenty of incredible fantasy films, but when it comes to whittling things down to the very best films in the fantasy genre, the American Film Institute has created a definitive list.
The AFI defines fantasy as a genre "where live-action characters inhabit imagined settings and/or experience situations that transcend the rules of the natural world. The ten films on the list of the AFI's best fantasy films all fulfill this, with some taking us to entirely new worlds, others bringing fantasy into our everyday lives, and others blending fantastical worlds and real-life settings together. If you're wondering what fantasy film you should watch next, the AFI absolutely has you covered: here are the top 10 fantasy movies according to the AFI.
10. Big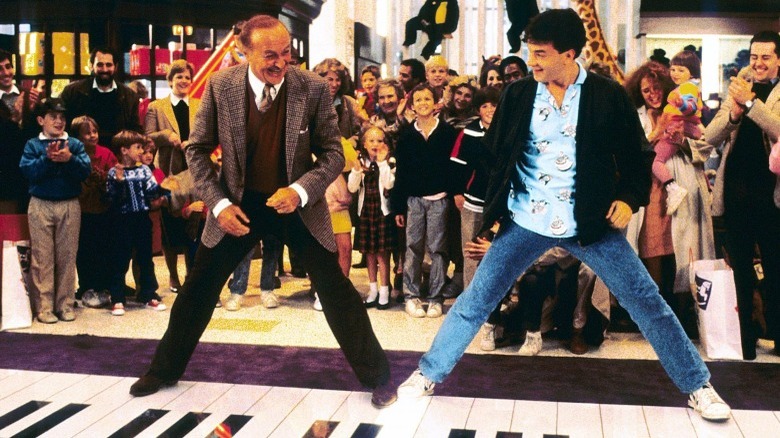 20th Century Fox
Coming in 10th on the American Film Institute List is "Big," Penny Marshall's immensely heartwarming fantasy movie about a boy becoming a man overnight. The film stars beloved Hollywood icon, Tom Hanks, as Josh Baskin, who, as a teenager, made a wish to become "big" at a Zoltar fortune-telling machine. The next day, Baskin wakes up as an adult, and with the help of his best friend Billy (Jared Rushton), Baskin needs to learn how to navigate the adult world.
"Big" is full of memorable moments, like when Baskin has to prove to Billy that he is indeed his best friend, despite being a fully grown adult, and has to sing a ridiculous song to prove it. Then, of course, there's the unforgettable moment in New York City's FAO Schwarz toy store where Hanks and Robert Loggia play with the walking piano, something they performed entirely on their own, despite hiring stunt doubles for the scene. The scene has been parodied plenty of times in pop culture, but no effort to recreate the moment has been as magical as it was in Marshall's film.
"Big" has made such a huge impact on pop culture that it is crazy to think that the film was almost entirely different, with Steven Spielberg nearly in the director's chair and Harrison Ford in the lead role. Thankfully, despite being co-written by Spielberg's sister Anne, the film remained in Marshall's hands, and "Big" played a big part in cementing Tom Hanks' status as a member of the Hollywood elite.
9. The Thief of Bagdad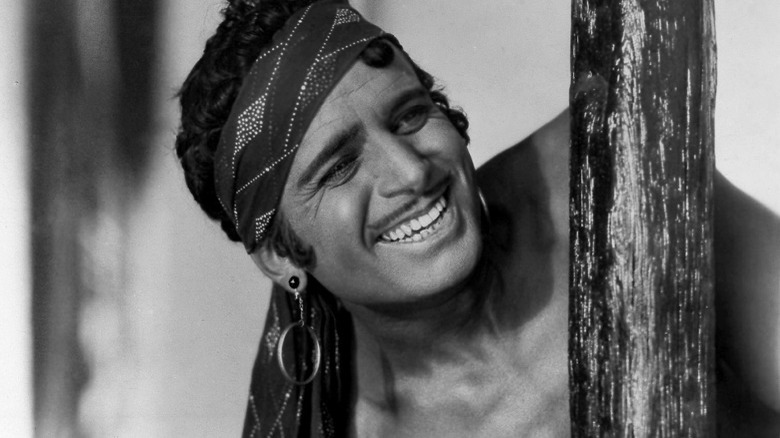 United Artists
Back in the early days of cinema, before synchronized sound, few performers dominated screens like the extraordinary Douglas Fairbanks. The actor's clean-cut, charming image resonated with audiences, and the actor always made a point to do his own stunts, often because no stuntman could do what he could. Fairbanks was also a pioneer in the world of filmmaking — alongside D.W. Griffith, Mary Pickford, and Charlie Chaplin, Fairbanks founded United Artists. This was done so the stars could distribute their own films and eliminate the financial obligation burdened by film distributors. Though Fairbanks made tons of films, his most memorable is 1924's "The Thief of Bagdad."
The film features incredible luxury, and each frame is bursting with enormous scale, breathtaking sets, and costumes. The core of the story is fairly simple; Fairbanks plays the titular thief of Bagdad, who has fallen madly in love with the princess (Julanne Johnston), but in order to win her hand in marriage, he must take down her many suitors that stand in his way of true love. The film features jaw-dropping special effects that mostly hold up nearly 100 years later, as the thief flies on horses, fights countless monsters, and scales enormous sets to achieve his goal.
The film was a huge hit with critics, with The New York Times calling "The Thief of Baghdad" "a feat of motion picture art which has never been equaled and one which itself will enthrall persons time and again." The film is a magnificent, fantastical spectacle that really does remind audiences that they just don't make them like they used to.
8. Groundhog Day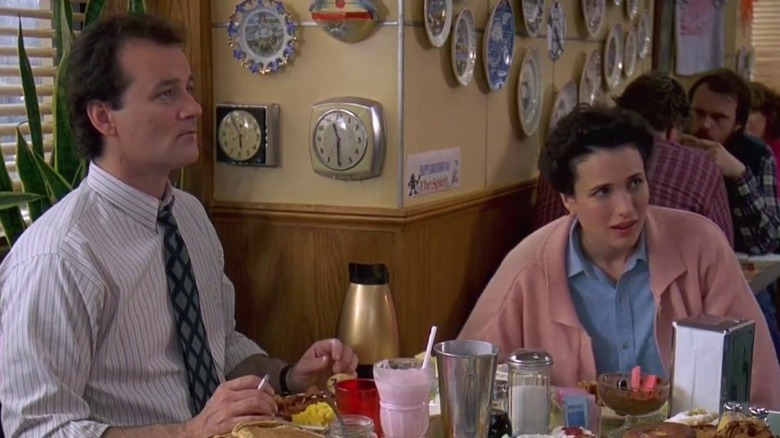 Columbia Pictures
The time loop film is a surprisingly well-worn genre, but without Harold Ramis' 1993 comedy "Groundhog Day," it's fair to wonder if the genre would have gained traction. Ramis' film follows Phil Connors (Bill Murray, who famously hated making the film) a jaded weatherman who is sent to the town of Punxsutawney, Pennsylvania to cover their annual groundhog day festivities. Phil clearly hates being in Punxsutawney, and can't wait to get out. When he wakes up the next morning, however, "I Got You Babe" is playing on the radio once again, and Phil discovers his worst nightmare has come true: he's stuck in Punxsutawney, forced to relive groundhog day over, and over, and over again.
The film is chock-full of hilarious moments as Phil adjusts to his life stuck in a single day. One of the funniest moments has Phil answering all the questions on "Jeopardy!," which is exactly what we'd all do if we were stuck in a loop. Watching Phil slowly but surely become a (slightly) better person over his quest to escape Punxsutawney is genuinely wonderful to watch, and few scenes are more chaotic or funnier than when Phil drives away with the groundhog. "Groundhog Day" has an unmistakable legacy, as it popularized the time loop concept in film, and without it, we likely would have never seen films like "Happy Death Day," or "Palm Springs," or the countless TV series that have tried their hand at the concept. The film also boasts a tremendous cast including Andie MacDowell, Chris Elliott, Stephen Tobolowsky, and Marita Geraghty.
7. Harvey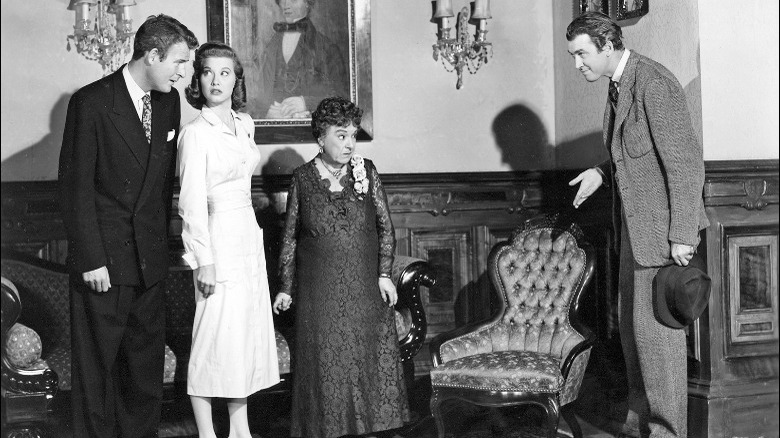 Universal Pictures
Legendary Hollywood actor James Stewart ("Vertigo," "The Man Who Shot Liberty Valance") stars in "Harvey," a charming tale of a man, Elwood P. Dowd (Stewart), a charming eccentric whose best friend is Harvey. Harvey isn't a man, however, but instead, is actually a 6-foot tall rabbit (or rather, 6-foot, 3 ½ inches, as Elwood points out). Unfortunately for Elwood, Harvey is invisible, and everyone in town thinks he's absolutely out of his mind. While everyone is deeply concerned for Elwood's well-being — especially his sister Veta (the fantastic Josephine Hull) who tries to commit him to psychiatric help — Elwood himself doesn't have a care in the world, delivered by an immensely charismatic performance from Stewart.
"Harvey" is all about the power of belief and the joys a boundless imagination can provide, inspiring audiences all over the world to approach life differently, and with a lot more childlike wonder. As Dan Jardine or Cinemania notes, Elwood "may be delusional, but he is also happier, less neurotic, and more content than the so-called normal people who surround him and claim to be looking out for his best interests." Perhaps Elwood himself says it best: "Well, I've wrestled with reality for 35 years, doctor, and I'm happy to state I've finally won out over it."
6. Field of Dreams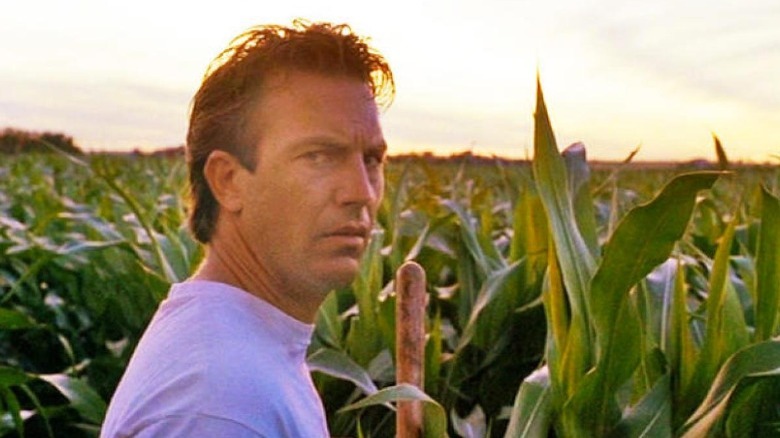 Universal Pictures
"If you build it, he will come" is a message that Iowa farmer Ray Kinsella (Kevin Costner) keeps hearing while walking through his expansive cornfield. Despite being only 36, Ray is having a sort of mid-life crisis, and, haunted by his troubled relationship with his late father, fears that his life isn't amounting to more than a hill of beans. That fateful eve, when Ray hears the message, he has a vision of a baseball diamond in his cornfield, and the legendary real-life baseball player Shoeless Joe Jackson (played here by Ray Liotta) is there too. Deeply inspired, and hoping this can provide Ray and his family the spark he feels they desperately need, Ray sets out to build a baseball field on their farm.
"Field of Dreams," written and directed by Phil Alden Robinson, is a film about relationships between fathers and sons, particularly the troubled relationship between Ray and his father, which is repaired through the magic of Robinson's film. The film was released in 1989 and may just be a little saccharine by today's standards, but for fans of sports films, "Field of Dreams" has certainly endured the test of time. Few baseball films are as fantastical and emotional as this one, and it certainly deserves its spot at number six on the AFI list.
5. Miracle on 34th Street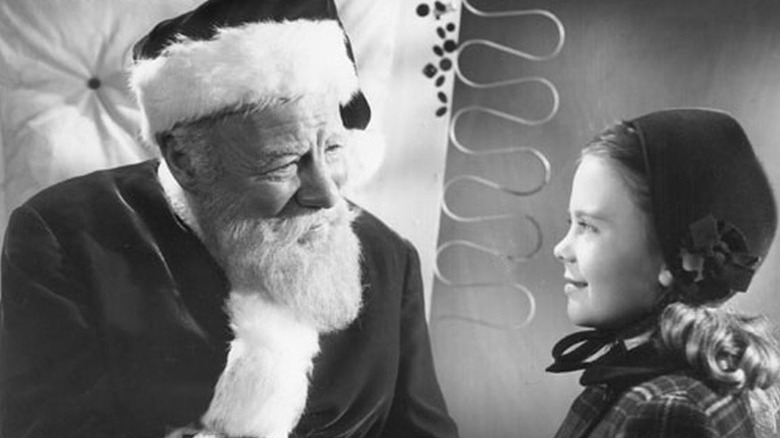 20th Century Fox
A film that investigates what it really means to be Santa Claus, writer-director George Seaton's "Miracle on 34th Street" has all the ingredients to make it an essential Christmas film. When a man performing as Santa Claus gets far too drunk to participate in the Macy's Thanksgiving Day Parade, another man, actually named Kris Kringle (Edmund Gwenn) takes his place. He performs admirably, and while that could have been the end of it, Kringle reveals he is actually the one and only Santa Claus, which sends people into an uproar. It's not long before Kringle is put on trial, which results in an utterly glorious and spellbinding sequence featuring letters to Santa.
"Miracle on 34th Street" won three Academy Awards, including Supporting Actor for Gwenn, and Best Screenplay. The film was also nominated for Best Picture, losing to "Gentleman's Agreement." The film has endured for decades thanks to some truly heartwarming scenes, including an especially touching moment when Santa effortlessly speaks to a lonely Dutch girl who can't communicate with anyone as she doesn't speak English. The film is an essential fantasy as it connects to the power of childhood wonder and belief. The film's parting image, that of Santa's cane in the new Walker family home, leaning next to the chimney, is enough to make a believer of just about anyone.
4. King Kong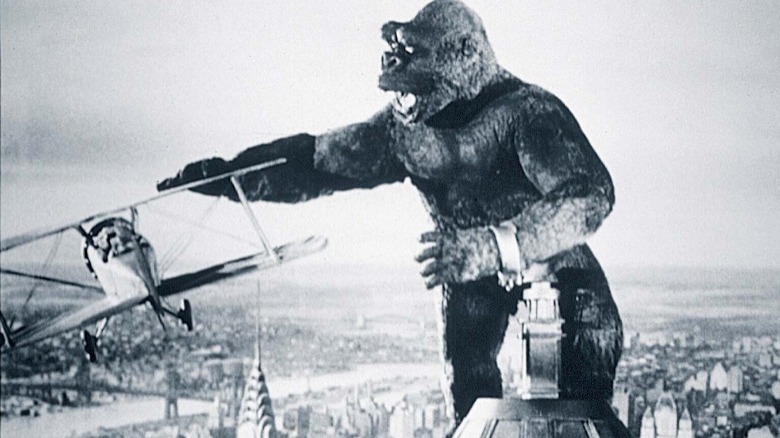 RKO Radio Pictures
While many fantasy films take us to new and exciting worlds, 1933's "King Kong" bridges the gap between fantasy and reality, taking the mythical beast King Kong and taking him to real-life New York City. The massive ape has an extensive Hollywood history, and has appeared in countless films, recently in Jordan Vogt-Roberts 2017 adventure film "Kong: Skull Island," and in 2021's "Godzilla vs. Kong." His first cinematic exposure came way back in 1933, and it's the original Kong story that places fourth on AFI's top 10 list.
The film, directed by Merian C. Cooper and Ernest B. Schoedsack follows a film crew, led by filmmaker Carl Denham (Robert Armstrong) who head to the exotic Skull Island. Skull Island is uncharted territory, of which there are rumors that a god-life ape name Kong inhabits it. It is there that they discover a native village preparing a sacrifice to the mighty Kong. After a fight with the natives, the crew manages to kidnap King Kong, who is utterly entranced by Ann (Fay Wray), an actress in the crew, and return him to New York City as "Kong, the Eighth Wonder of the World."
"King Kong" is a truly fantastical experience that launched one of the great movie monsters into the world. It features some truly landmark visual effects, including amazing stop-motion, that have stood the test of time. It's also a deeply prescient story that speaks to our relationships and fears of the unknown, all while giving us one of the most iconic movie quotes: "it was beauty killed the beast."
3. It's A Wonderful Life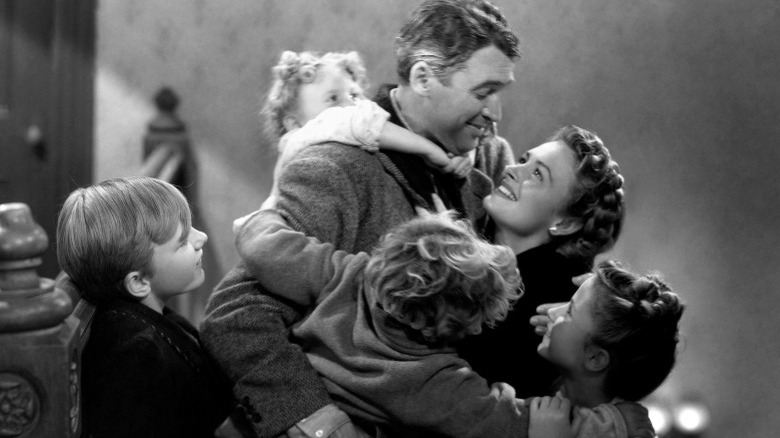 RKO Radio Pictures
Coming in at number three of AFI's list is another Christmas classic, Frank Capra's "It's A Wonderful Life." One of the most emotional movies on the list, Capra takes the typically cheery genre of Christmas films and injects it with some very heavy themes, including depression, suicide, and the meaning of life. You're likely very familiar with the story already, but just in case: George Bailey (James Stewart) is at the lowest point in his life and is ready to end it all. Before he does it, he's stopped by an angel named Clarence (Henry Travers), who shows George what the world would be like if he was never in it.
Everything about "It's A Wonderful Life" is practically perfect, from its fantastic cast, a brilliant riff on the classic "A Christmas Carol" story, and a story overflowing with magic and heart. Few moments in film history feel as potent as the end of the film, where just about everyone in the town of Bedford Falls comes to celebrate George and his family, thanking George for a lifetime of selfless actions. It's the perfect blend of fantasy and reality, sprinkling in magic to a very real scenario that afflicts millions all over the world. "It's A Wonderful Life" has had a truly enormous impact on our culture, and watching the film makes it clear just how many others have borrowed from this magnificent picture. Perfect family entertainment at Christmastime, or any other time of the year, "It's A Wonderful Life" is an extremely worthy addition to the list.
2. The Lord of the Rings: The Fellowship of the Ring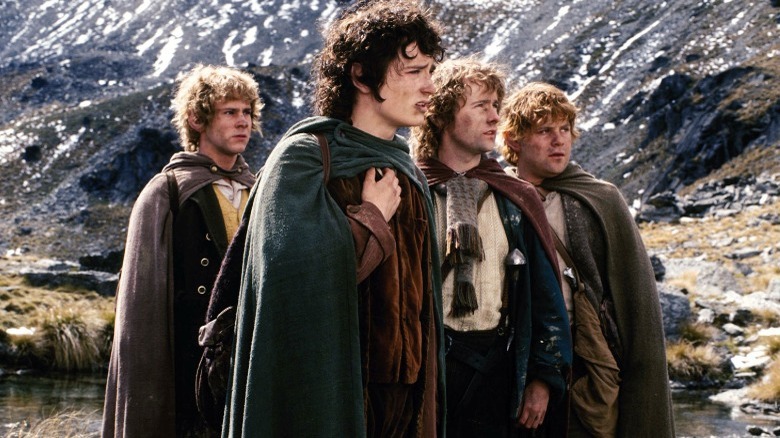 New Line Cinema
One of two films on the list to take us to an entirely new world, and by far the most recent film on AFI's list, "The Lord of the Rings: The Fellowship of the Ring," is a sensational fantasy epic. Directed by Peter Jackson and based on the books by J.R.R. Tolkien, the film introduced a stable of iconic characters, including Frodo (Elijah Wood), Gandalf (Ian McKellan), Legolas (Orlando Bloom), Boromir (Sean Bean), and Aragorn (Viggo Mortensen), while placing them in an incredible, awe-inspiring fantasy adventure. When the unsuspecting Frodo (Wood) becomes the ringbearer of the One Ring, on which the future and fate of all civilization rely upon. Frodo becomes part of a fellowship that embarks on the extremely daunting quest to destroy the One Ring in the fires of the menacing Mount Doom, the very place the ring was created.
"The Fellowship of the Ring" has received immense critical acclaim, and began the trilogy's Oscar dominance, picking up four Academy Awards including Best Music, Cinematography, and Visual Effects. Jackson's film has an impressive 92% approval rating from critics, and 95% approval from audiences on Rotten Tomatoes, and comes in at number 10 on the IMDb Top 250. The film is even considered the greatest movie of all time by Empire Magazine, which placed the film in the top spot on their list of the best films ever. The trilogy is certainly one of the greatest filmmaking feats of modern cinema and features endless fantastical elements that are ripe for revisiting.
1. The Wizard of Oz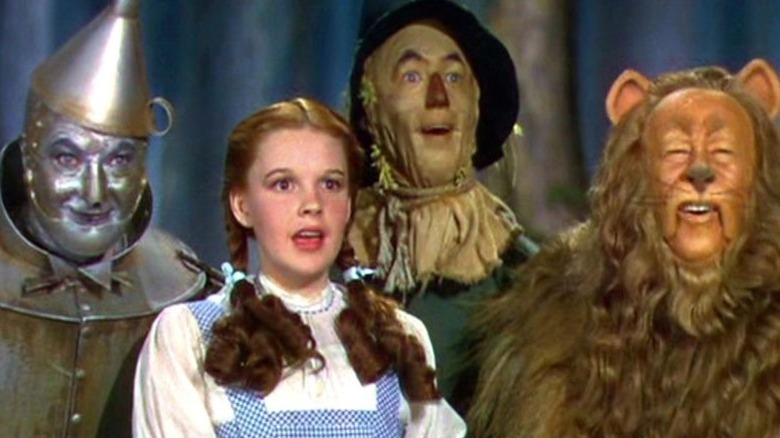 Metro-Goldwyn-Mayer
"Toto, I've a feeling we're not in Kansas anymore" — few lines conjure up magical imagery faster than the infamous words of Dorothy Gale (Judy Garland) in Victor Fleming's 1939 masterpiece, "The Wizard of Oz." The magnificent fantasy follows Dorothy, who lives in sepia-toned Kansas, wishing for bigger and better things. One day, a tornado comes to terrorize her home, and when she wakes up, she appears in the magnificent, color-rich world of Oz. In order to get back home, she must enlist the help of a powerful Wizard in Emerald City, and on the way, she meets the Scarecrow (Ray Bolger), Tin Man (Jack Haley), and the Cowardly Lion (Bert Lahr), all of whom are looking for their own help from the all-powerful Wizard.
It should be no surprise that "The Wizard of Oz" is number one of the AFI list of the top 10 fantasy films. The film is chock full of magnificent elements of the fantastical and supernatural, including talking scarecrows, witches that teleport via bubbles, and flying monkeys. The film has more than stood the test of time since its release over 80 years ago, thanks to a star-making performance from Garland, sumptuous visuals and visual effects, a legendary twist, and unforgettable music, including the Oscar-winning song, "Somewhere Over the Rainbow." The song, and the film, dare to ask the question, "if happy little bluebirds fly beyond the rainbow, why, oh why can't I?" For a spectacular 101 minutes, "The Wizard of Oz" takes us right over that rainbow, and takes us to an unforgettable fantasy world.