What The Cast Of Groundhog Day Looks Like Today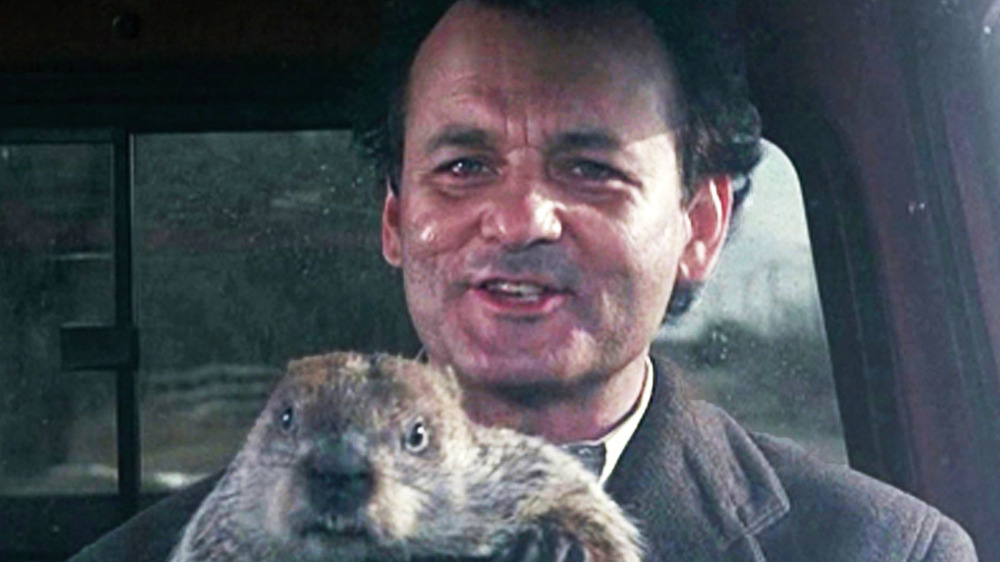 Groundhog Day/Columbia Pictures
The year 1993 brought us our first female US Attorney General, Janet Reno, a giant blizzard, and one of comedy's greatest films, Groundhog Day. Sarcastic and jaded weatherman Phil Connors (Bill Murray) is tasked with covering Punxsutawney's annual Groundhog Day events. With cameraman Larry (Chris Elliott) in tow, he travels to the Western Pennsylvania town and half-heartedly does his job. Eager to leave and not shy about his thoughts on the town, Connors' plans are in place. Yet, he wakes up the next day to "I Got You Babe" once again and slowly realizes he is trapped in a loop: He is forced to relive the same day over and over again.
For almost 30 years, Harold Ramis' hilarious comedy has not only been mandatory viewing on February 2, but it has influenced films across genres. With Bill Murray leading the way, it's no surprise this movie has become a cult classic, but it's much more than just a joke machine. It makes the audience look within themselves, to analyze their own actions and think about how they'd approach life differently if given the opportunity for a do-over.
The cast is jam-packed with Hollywood heavyweights who have brought the world some unforgettable characters over the years. So, while we wait for Groundhog Day 2 (fingers crossed), let's see what the cast is up to these days.
Bill Murray as Phil Connors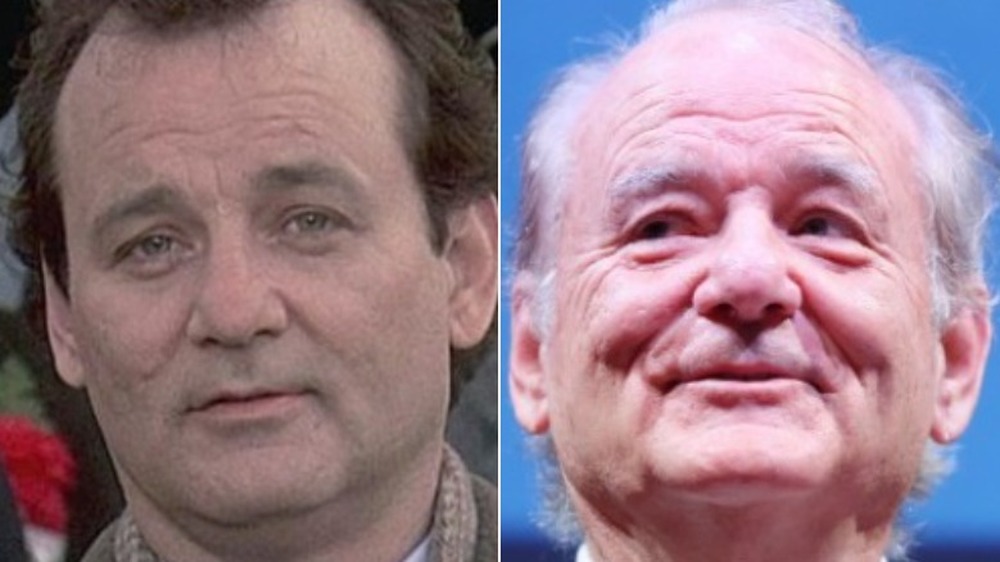 Columbia Pictures, Ernesto S. Ruscio/Getty Images
Bill Murray plays Phil Connors, the charismatic yet sardonic weatherman. His contempt for the world around him as well as his selfishness cause him to get stuck in a time loop. This predicament forces him to take a look inward, and eventually, he realizes he wants to become a better man. Though fans have accepted the fact that how he gets stuck in said loop is never truly explained, it turns out there is an explanation! Even though it didn't make the cut, the original script contained a scene where an ex-girlfriend puts a curse on him for being, well, a huge jerk.
Turns out this volatile personality on-screen mirrored Murray's attitude off-screen. At the time, the actor was going through marital problems, and there were also creative differences with director Harold Ramis. Sadly, this resulted in a falling out between the once-close friends. Luckily, before Ramis' death, the pair reconciled. Murray also seems to have made peace with Groundhog Day altogether, having gone to see the musical adaptation of the film.
Thankfully, much like Phil Connors, he emerged on the other side of that trying time in the early '90s an even better person. He's starred in brilliant films like Lost in Translation, Moonrise Kingdom, Zombieland, and Isle of Dogs. When he's not working, you might find him at a house party or cheering on his beloved Chicago Cubs. His next job is especially exciting! He is set to reprise his role as Peter Venkman in Ghostbusters: Afterlife.
Andie MacDowell as Rita Hanson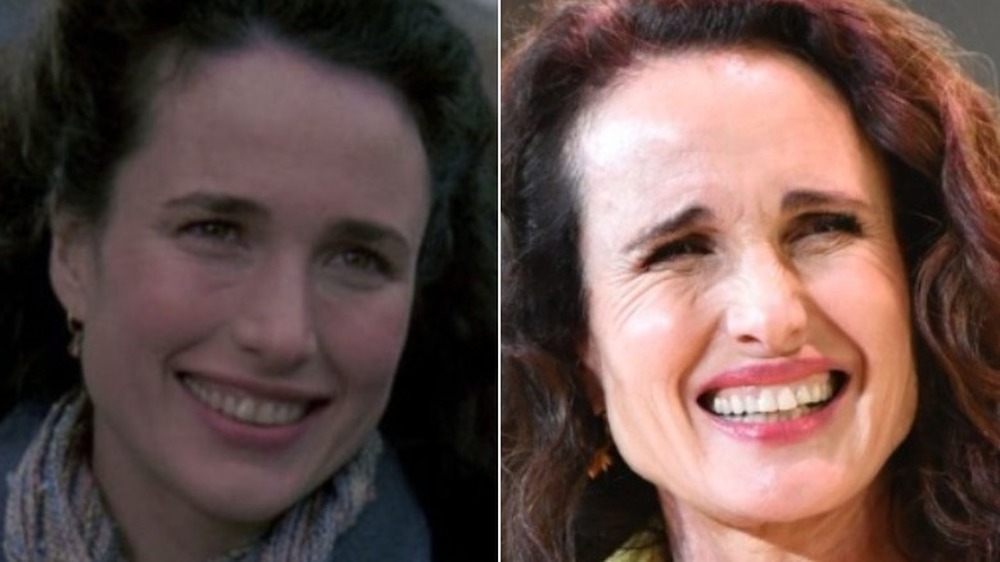 Columbia Pictures, Emma Mcintyre/Getty Images
While Phil Connors is the mean-spirited, negative character of the film, Rita Hanson is the polar opposite. Andie MacDowell embodies the kind, strong female producer who serves as a catalyst for Phil's change of heart. As the moral center of the film, Rita finds joy in life. She cares about other people and is the kind of person everyone should aspire to be like.
Prior to working on Groundhog Day, the lovely and talented South Carolina native was primarily a model. MacDowell appeared in campaigns for Calvin Klein, Armani, and Yves Saint Laurent. She was cast in the indie film Sex, Lies, and Videotape, but Groundhog Day became her big break. After that, film roles were in abundance for MacDowell. She starred in Four Weddings and a Funeral, Michael, and Multiplicity.
Though her résumé isn't as packed now, she still lights up the screen. You can watch her in the short-lived series Jane by Design and Cedar Cove. It has been announced that the L'Oreal spokeswoman is set to play Paula in the Netflix miniseries, Maid.
Chris Elliott as Larry the cameraman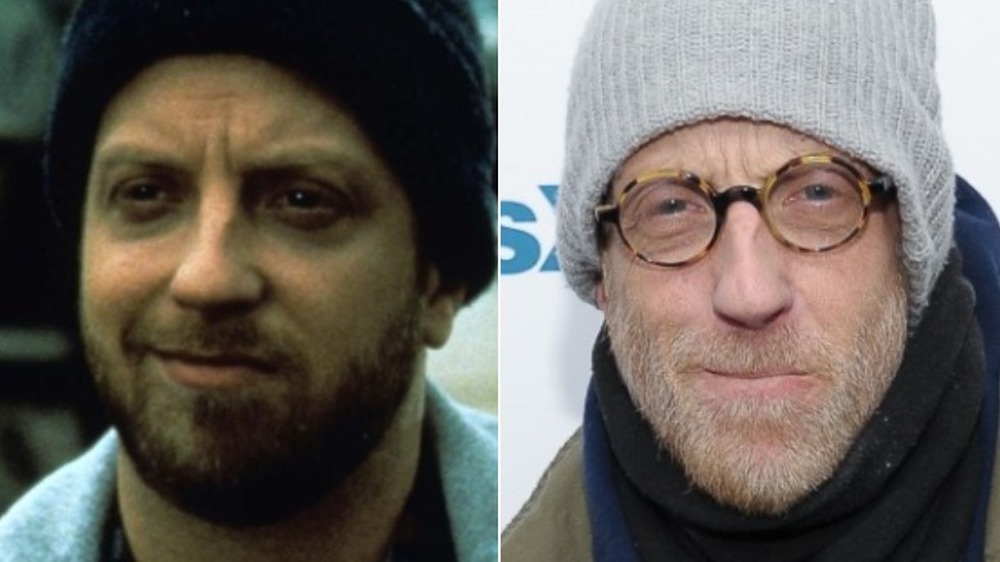 Columbia Pictures, Rommel Demano/Getty Images
Larry the cameraman is basically Phil's punching bag. When Phil wants someone to blame or yell at, Larry is his go-to guy. He loves the ladies but is also clueless about women. Yet, his main attribute is his ability to land a one-liner. Luckily, Chris Elliott is a comedic actor with expert-level timing. He absolutely has some of the best lines in the film. The dry, sarcastic way he says them is next-level. At the time, Elliott was mostly known for his bits on Late Night with David Letterman. After he left Letterman, he created and starred on the critically acclaimed show Get a Life. Still, much like Andie MacDowell, Groundhog Day truly launched Elliott's career. He went on to be a cast member on SNL, was in the Razzie award-nominated film Cabin Boy, and appeared on sitcoms through the years.
If you're looking at his picture and saying, "Wait, I know him from something," it's probably his role as Roland Schitt on the incredibly brilliant Schitt's Creek. Without his performance as Larry, we might never have gotten Roland. Just another piece of joy Groundhog Day has brought the world. 
Off the big and small screen, Elliott has an affinity for interesting homes. He's lived in a castle and a house with a room that resembled The Haunted Mansion. Chris Elliott's own version of House Hunters is something the world needs, to be honest. 
Stephen Tobolowsky as Ned Ryerson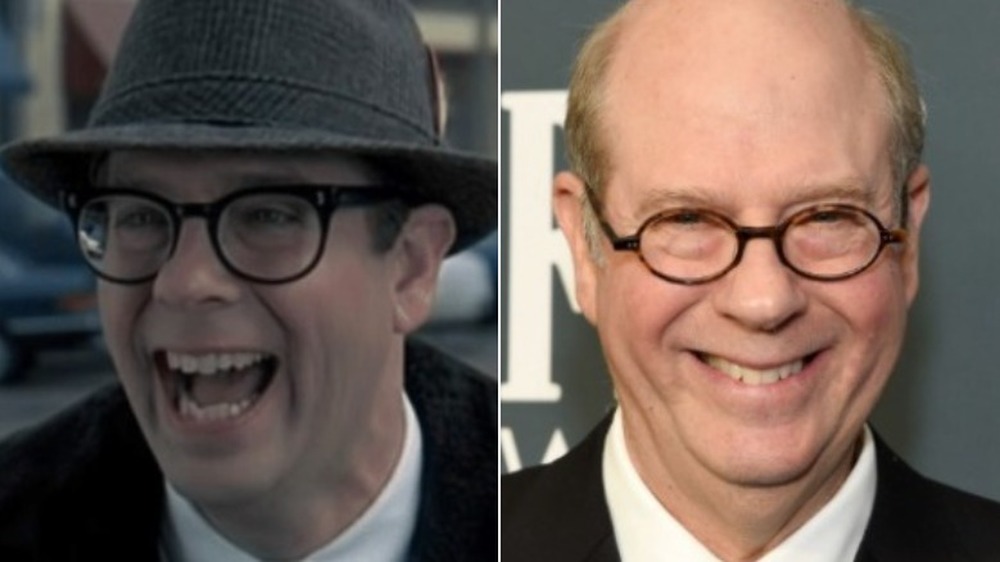 Columbia Pictures, Michael Kovac/Getty Images
Fans of Groundhog Day know when they hear the name "Phil," it's incredibly difficult not to respond, "Phil? Phil Connors?" The infamous line spoken by insurance agent and high school acquaintance Ned Ryerson is so perfectly delivered by Stephen Tobolowsky. Ned is, let's be real, incredibly annoying, so much so that you almost cheer when Phil punches him in the face. One can argue that this means Tobolowsky masterfully played his character. This is no surprise because he had some pretty impressive credits coming into Groundhog Day. He appeared in Spaceballs, Seinfeld, and Thelma and Louise, to name a few.
After Groundhog Day, his impressive résumé never stopped growing. With 275 acting credits and counting on his IMDb page, one could argue that Tobolowsky is the most successful Groundhog Day cast member. Maybe you know him from his time as Dr. Leslie Berkowitz on One Day at a Time or Principal Ball on The Goldbergs. Either way, this amazing character actor is definitely one of those guys who makes you say, "Oh, he was in that thing."
Brian Doyle-Murray as Buster Green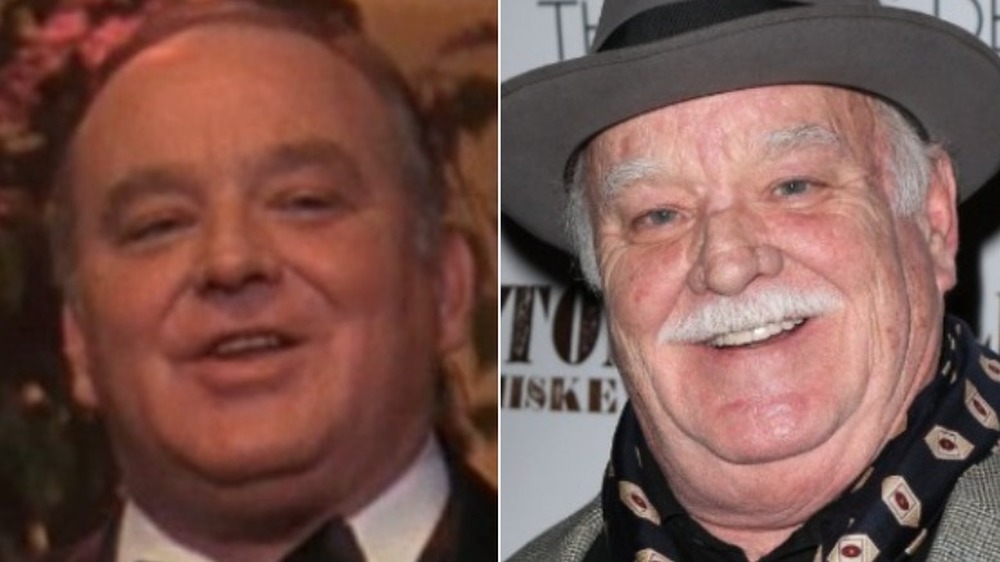 Columbia Pictures, David Livingston/Getty Images
If Buster Green has any goal in life, it's to ensure that the Punxsutawney Groundhog Day celebrations are perfect. He loves Punxsutawney Phil more than most humans. You can't fault him, though. Animals are often way better than humans. Phil Connors sure doesn't make Buster's life easy. In fact, it's almost like Phil knows exactly how to make his life a nightmare. The dueling characters skillfully antagonize each other, probably because the actors have years of practice. You see, Buster Green is played by Brian Doyle-Murray. Does that last name look familiar? Yep. It's Bill Murray's brother.
Don't go thinking Doyle-Murray's selection was solely nepotism. Before Groundhog Day, the actor's résumé was incredibly robust. He honed his comedic chops from 1978 to 1982 as an SNL cast member and then appeared in some great films, including Sixteen Candles, National Lampoon's Christmas Vacation, and Wayne's World.
Since his incredible performance in Groundhog Day, Doyle-Murray has appeared in a vast array of television shows and films, including Multiplicity with fellow Groundhog Day castmate Andie MacDowell. But his most epic role has to be the Flying Dutchman on Spongebob Square Pants. He gets to hang out in Bikini Bottom and get paid for it! Okay, obviously Bikini Bottom isn't a real place, but doing voiceover on the show is the next best thing. So, the next time you see that green ghost, just remember he was also once the self-proclaimed protector of all things Groundhog Day.
Marita Geraghty as Nancy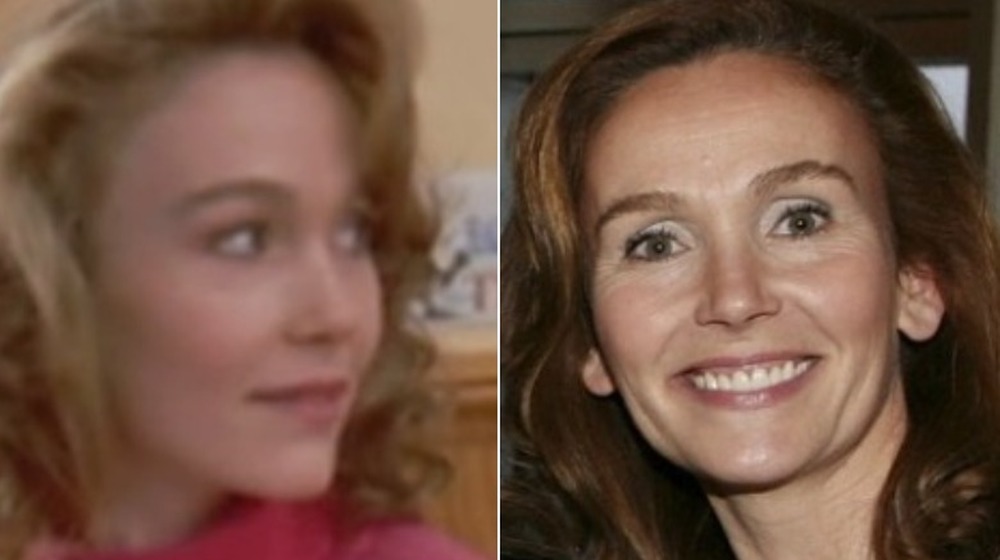 Columbia Pictures, Ryan Miller/Getty Images
Nancy is a beautiful stranger that Phil meets in the diner. Sadly, like many female characters at the time, her backstory is not clearly fleshed out. Instead, she's mostly used to confirm that Phil is a selfish prick. In order to sleep with Nancy, he tricks this kind woman. Knowing that any relationship he has will result in a one-night stand, because of, you know, the whole being trapped in an endless loop situation, he makes her believe he actually loves her. That's some toxic energy. However, her character's lack of substance does not disparage Marita Geraghty's wonderful performance. Before Groundhog Day, though mostly known for her work in theater, she did have credits in big films, including Sleeping with the Enemy and Broadcast News.
Since then, she's had small parts in various movies and television shows, including Mad About You and Fraiser. But it doesn't seem like she's still acting, or at least, she doesn't have any upcoming credits. Her last known role was on the short-lived CBS sitcom The Ex List. We hope she's well, avoiding toxic men stuck in time loops and doing whatever makes her happy.
Scooter as Punxsutawney Phil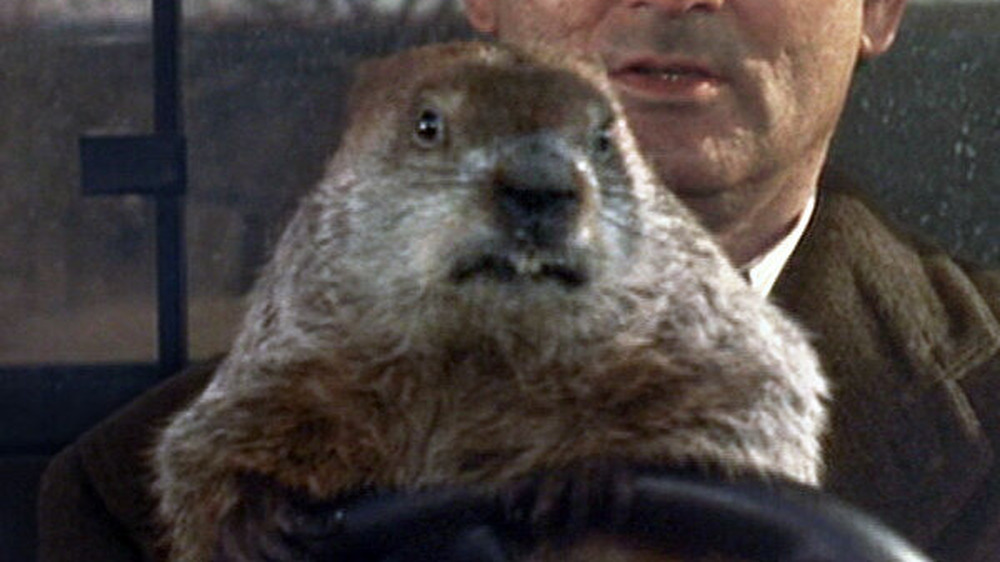 Groundhog Day/Columbia Pictures
Unlike the delightful animatronic critter in Caddyshack, Groundhog Day's groundhog was played by the real thing. However, it wasn't played by the real Punxsutawney Phil. Instead, the role went to a groundhog named Scooter. To the surprise of no one, Punxsutawney Phil was the first choice to play the most famous groundhog in Pennsylvania. Unfortunately, as one would expect, his schedule was very busy. Around the time the movie came out, Murray told The Philadelphia Inquirer (via PennLive), "He's treated like royalty and is very well-behaved. A true professional. So when they couldn't get him — a creature who has been hand-raised since birth and is very tame — what did they do? They went out into the woods and caught this Scooter, a groundhog who hated my guts from day one." Maybe he knew Murray was being difficult during filming.
Seeing that the maximum life span of groundhogs is only about 14 years, we can believe that Scooter is happily living on a farm upstate. Thanks for the memories, buddy.