The Iconic Tom Hanks Movie That Steven Spielberg Almost Directed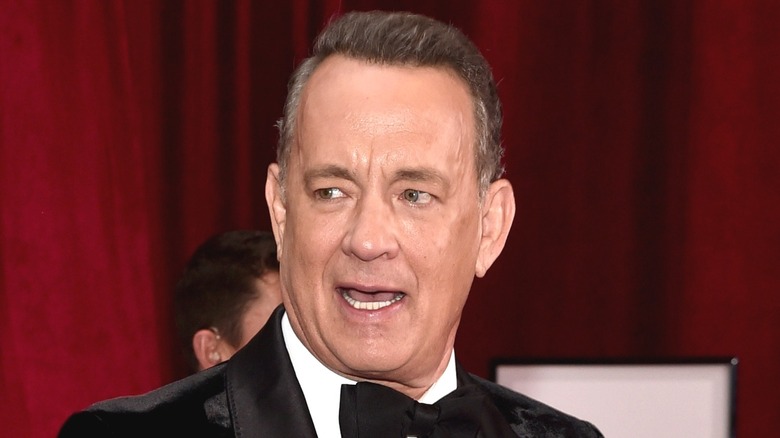 Alberto E. Rodriguez/Getty Images
There are few names in Hollywood as well-known, or universally revered, as Tom Hanks and Steven Spielberg. There's good reason for that as, throughout their decades working in the entertainment industry, Hanks and Spielberg have both delivered far more than their fair share of blockbuster hits. Along the way, the pair have also been involved in a number of artistically triumphant works that have so far landed them each multiple Academy Award wins (two for Hanks, and three for Spielberg), with nearly two dozen nominations between them.
Among those nominated films, you'll find four of the five big-screen projects Spielberg and Hanks have collaborated on, with only 2004's "The Terminal" failing to earn any love from the Academy. However, while the dynamic Hollywood duo have frequently collaborated together over the years, they didn't actually team up for the first time until 1998's "Saving Private Ryan.". Of course, given the high quality of that film, it's safe to say the collaboration was worth the wait.
That said, it turns out that Spielberg came very close to directing the iconic coming-of-age comedy that helped make Hanks a star (via The New York Post).
Steven Spielberg wanted a different actor to star in Big
Movie fans may be surprised to learn that Steven Spielberg nearly directed "Big," the film that helped Tom Hanks become one of Hollywood's best-loved stars.  The 1988 film also proved that the actor — best known at that point for his comedic work — had legit dramatic chops, with Hanks earning his first Academy Award nomination for his performance in "Big."
The film was directed by the late, great Penny Marshall, who directed Hanks again several years after "Big" in 1992's "A League of Their Own." As for Spielberg's brief involvement with the project, the possibility largely came about because the film was co-written by his sister, Anne Spielberg. The New York Post, however, reports that, during the brief time when he was considering directing "Big," Spielberg was not actually eyeing Tom Hanks for the lead role in the film. Instead, Spielberg was reportedly interested in casting Harrison Ford as the grown-up version of the film's central character.
Needless to say, "Big" would've been a very different movie with Ford in the lead. That version of the film never happened, though, as both Ford and Spielberg eventually exited the project. Fortunately, Tom Hanks was Marshall's first choice for the lead role in "Big," and despite Hanks initially passing on the project, the actor was eventually convinced to take the part. The rest is, as they say, history.