Robbie Coltrane's Harry Potter Stunt Double Had To Wear This Creepy Mask To Play Hagrid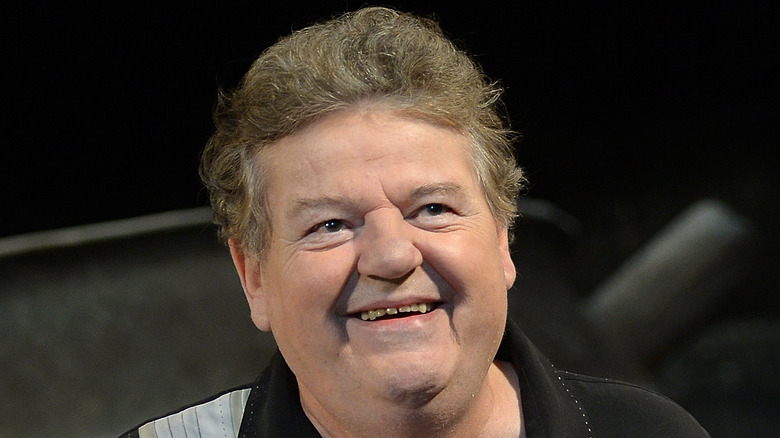 Gustavo Caballero/Getty Images
The recent release of "Harry Potter 20th Anniversary: Return to Hogwarts" on HBO Max featured new behind-the-scenes footage from the original eight films along with rich conversations between much of the main cast. The list of returning actors was quite long, including the likes of Gary Oldman (Sirius Black), Ralph Fiennes (Voldemort), Helena Bonham Carter (Bellatrix Lestrange), Tom Felton (Draco Malfoy), Bonnie Wright (Ginny Weasley), James and Oliver Phelps (Fred and George Weasley), and of course, the trio themselves: Daniel Radcliffe (Harry Potter), Emma Watson (Hermione Granger), and Rupert Grint (Ron Weasley). Watson and Grint revealed more about their famed kissing scene, Radcliffe and Bonham Carter discussed favorite moments and props they kept, and Fiennes gave more insight into his initial experience of being offered the role of Lord Voldemort.
Some of fans' favorite moments were the emotional descriptions of what the series and their characters meant to each actor. Watson and Grint shared a heartfelt exchange of their love for each other, Radcliffe gave a teary-eyed final statement on everything "Harry Potter" has been for him, and even Robbie Coltrane, who famously played Hagrid in the film adaptations, reflected on the legacy of his character. The 71-year-old actor noted that although he may not be around 50 years from now, Hagrid will be.
After the relatively great reception of the special, many Wizarding World fans have been reflecting and looking into more behind-the-scenes details of the making of the films, especially in regard to Coltrane's Hagrid.
Robbie Coltrane's stunt double wore a large prosthetic of Hagrid's head
In a thread on Reddit, u/comrade_batman posted what are seemingly behind-the-scenes images from some of the "Harry Potter" films, specifically from "Harry Potter and the Order of the Phoenix." In the images, it appears as though Coltrane's stunt double, Martin Bayfield, stood in for the actor with what is apparently a Hagrid bodysuit and a prosthetic Hagrid head. The user continued to explain why Coltrane's stunt double might fill in for him, saying that Hagrid is a massive half-giant who is often the tallest person in the room. Therefore, for certain scenes where they needed Hagrid to "tower over people in the shot," the 6'10" Bayfield was used with a Hagrid bodysuit.
This information can be confirmed by a February 2018 tweet from Warner Bros. Studio Tour London – The Making of Harry Potter that includes an image of the prosthetic Hagrid head: "To make Hagrid into a half-giant some scenes featured Robbie Coltrane's body double, Martin Bayfield, wearing an enormous body suit [sic] and an animatronic mask of his face!"
There's also a very interesting behind-the-scenes video from the 2012 Harry Potter Wizard's Collection in which special makeup effects artist Nick Dudman discusses the necessity of hiring a taller stunt double and using the prosthetics for scenes where Hagrid needed to perform actions that Coltrane couldn't. It's all very interesting, but the mask must've been a little freaky to some of the young actors. Either way, it certainly worked out.