The Bizarre Prop Helena Bonham Carter Took From The Harry Potter Set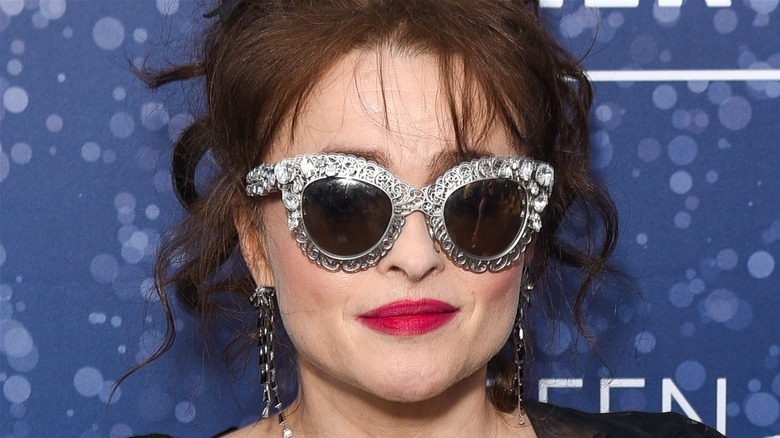 Presley Ann/Getty Images
Along with Daniel Radcliffe, Emma Watson, and Rupert Grint, several big names attached to the "Harry Potter" franchise attended the recent reunion. "Harry Potter 20th Anniversary: Return to Hogwarts" recently dropped on HBO Max, reuniting all our favorite wizards, villains, and film directors to recall some of their favorite behind-the-scenes stories. The special paired up different groups and actors and directors to converse about particular films or moments, and one of the most playful was the one-on-one sit-down between Radcliffe and Helena Bonham Carter.
The two were very much on the opposite side of the playing field in the films but couldn't have gotten along better in the real world. Bonham Carter and Radcliffe giggled throughout their entire conversation, with the former forcing her co-star to read an old note he wrote her when she asked for his autograph during filming. Radcliffe joked about wanting to be born 10 years earlier to have a chance with her and that he loved being her "co-star and coaster." Apparently, he was always stuck holding her coffee.
After the two laughed about the message, Bonham Carter recalled how she joined the franchise in the fifth film, "Harry Potter and the Order of the Phoenix." Then she pulled an old prop out of her pocket, which was bizarre, disgusting, and incredible.
Helena Bonham Carter took Bellatrix's teeth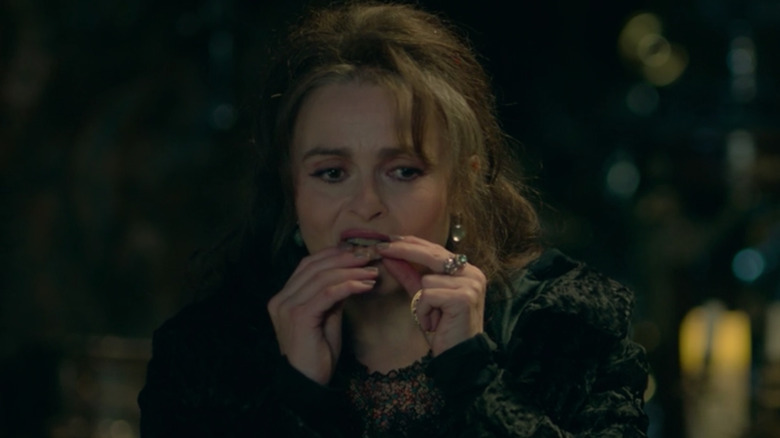 Warner Bros./HBO Max
Helena Bonham Carter pulled a small plastic bag out of her pocket, which contained Bellatrix Lestrange's teeth. "She's assured me that she's done literally nothing to these in terms of cleaning," Daniel Radcliffe joked. Bonham Carter played along, saying, "Yea, it smells a bit whiffy," and proceeded to put them in her mouth. "Do you remember me?" she asked Radcliffe.
The duo started laughing uncontrollably before coming back down to Earth. Bonham Carter admitted that the teeth helped her get into character. "I think I wanted to be in camouflage," she remembered. "With Bellatrix, it was fun because it was fostering the childish and the naughty." The reunion special highlighted Bonham Carter's acting chops in some of Bellatrix's most intense moments throughout the last few "Harry Potter" films, and we're sure she could have pulled off the villain without those nasty teeth.
To see more of Radcliffe and Bonham Carter's conversation — and her one-on-one with Gary Oldman — check out "Return to Hogwarts" on HBO Max.