Emma Watson Finally Addresses That Harry Potter Reunion Special Mistake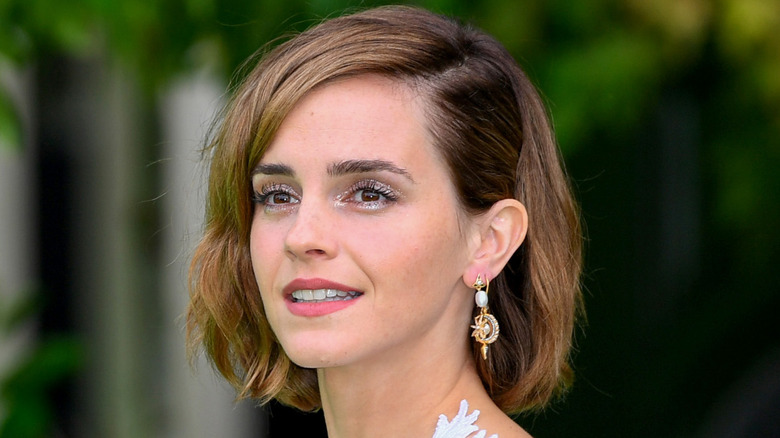 Joe Maher/Getty Images
"Harry Potter 20th Anniversary: Return to Hogwarts" is everything a Wizarding World fan could want in a reunion. The HBO Max special sees the return of much of the original cast of the eight films, including the likes of Gary Oldman, Ralph Fiennes, Helena Bonham Carter, Bonnie Wright, Evanna Lynch, and, of course, Daniel Radcliffe, Rupert Grint, and Emma Watson. As Watson states on "Return to Hogwarts," the special is truly the first time that nearly everyone has come together to catch up since the end of filming for "Harry Potter and the Deathly Hallows: Part 2."
The "Harry Potter" special is set up in a sort of chaptered fashion, with Chapter One focusing on the first two films, Chapter Two tracing production on the next two films, and so on. Each chapter features talking head interviews with cast members, as well as conversations between special pairings of different cast members and archival footage shot during filming. As a result, the audience feels as if they are in the room, watching these actors reminisce — which is exactly what was happening. By the end of "Return to Hogwarts," the original trio of Radcliffe, Watson, and Grint is brought to tears as they share what each other and the series as a whole meant to them. Much of the anniversary special follows these three actors and features many old behind-the-scenes videos and pictures of them.
However, after the HBO Max reunion special was released, a few mistakes were revealed by viewers that the editors seemed to have missed, including a chyron misidentifying Weasley actors Oliver and James Phelps (via NBC News). There was another mistake involving Watson that maybe be considered even worse — and she finally addressed it on social media.
Emma Watson seems pretty chill about the reunion special mistake
A few days after "Harry Potter 20th Anniversary: Return to Hogwarts" debuted on HBO Max, Emma Watson finally addressed a mistake involving her and a childhood photograph in the special in a lighthearted Instagram post. On "Return to Hogwarts," photos of some of the actors, including Watson, were included during interviews. A photo selected by producers to pop up while Watson reminisces was eventually revealed to be a pic of Emma Roberts (via Twitter).
Based on her Instagram post, Watson doesn't seem upset in the slightest about the mistake. She reposted the photo of Roberts as a child and wrote a caption that poked fun at the situation: "I was NOT this cute, @emmaroberts #emmasistersforever." So far, Roberts hasn't responded to the post or made official comments about the childhood photo gaffe in the special. It's likely she won't be too upset, as this may be a common mixup Roberts and Watson have experienced before.
Roberts is currently working on the upcoming film "Abandoned" alongside veteran actor Michael Shannon. As for Watson, nothing confirmed as of yet, although she has been known to take breaks in her career and be very particular about roles she accepts. You can now stream "Harry Potter 20th Anniversary: Return to Hogwarts" on HBO Max.