The Real Reason Harry Potter's Robbie Coltrane Cried Over His Role As Hagrid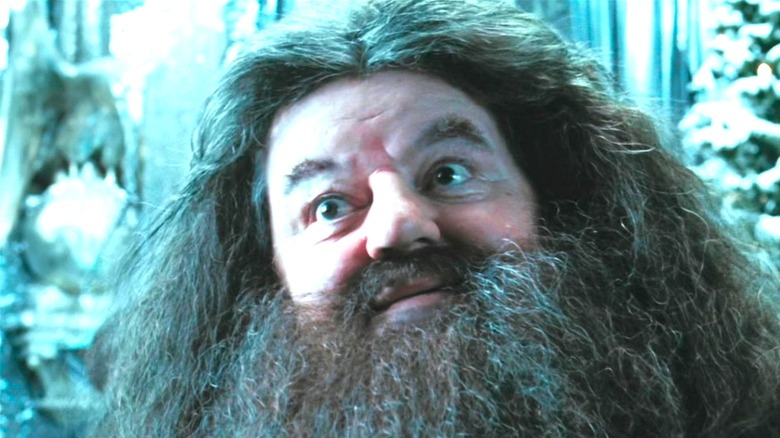 Warner Bros
On New Year's Day, HBO Max released a reunion special in honor of the 20th anniversary of the first movie in the "Harry Potter" film series. "Harry Potter and the Philosopher's Stone" (called "Harry Potter and the Sorcerer's Stone" in the United States), was first released in theaters in November of 2001 (via IMDb). The last film in the series, "Harry Potter and the Deathly Hallows: Part 2," was released in July of 2011 (via IMDb). While Warner Bros has sought to reenergize the franchise with the release of a spinoff prequel series in the years since, the "Fantastic Beasts" films have not found near the success that the first eight films in the "Wizarding World" franchise enjoyed (via Box Office Mojo). However, the reunion special would seem to have recaptured the magic by reuniting original stars like Daniel Radcliffe, Emma Watson, Rupert Grint and many, many more. 
The resulting production has left droves of dedicated fans in tears as they reminisce over the beloved series created by J.K. Rowling. Rotten Tomatoes reports that 95% of critics enjoyed the special, while 89% of general audiences also shared a positive view of it. Many fans have remarked that the special is an emotional experience, because of the franchise's impact on their lives. During the special, a number of stars become emotional when discussing how much they enjoyed their time in the series, including one particular moment with Robbie Coltrane, the actor who played Rubeus Hagrid.
Robbie Coltrane considers his role as Hagrid a major part of his legacy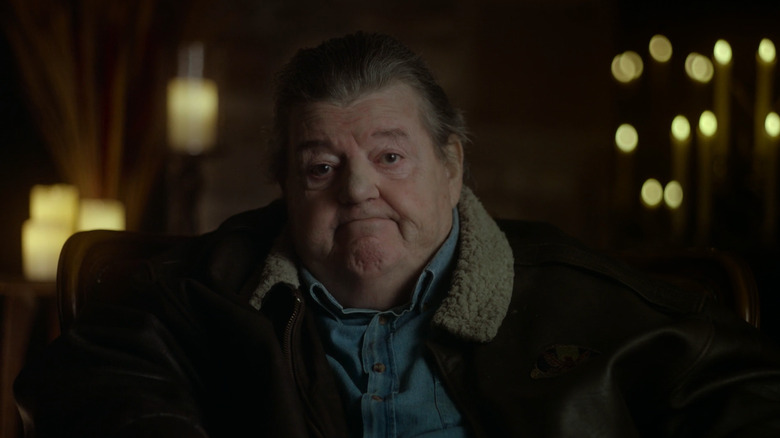 HBO Max
There's a reason Robbie Coltrane was cast as the gentle giant of the "Harry Potter" series. If his sections in the reunion special are any real indication, it looks like Coltrane is just as much of a softie at heart as Hagrid. As he reflects on his journey in the films, Coltrane becomes emotional, saying, "I just think it's the end of an era. It's 10 years of my life and my children have grown up during it, of course." Indeed, Coltrane has two children, both of whom grew up in the time that the actor portrayed the Keeper of Keys and Grounds at Hogwarts. His son, Spencer, was born in 1992, and his daughter, Alice, was born in 1998 (via The Guardian). However, the reason for Coltrane's tears extend even beyond his own children. 
The actor clearly considers his role as Hagrid an enormous part of his legacy. "My children's generation will show them to their children so you could be watching it in 50 years time easy," Coltrane says. He also has one last line that is sure to tug at the heart strings of every "Harry Potter" fan who hears it. "I'll not be here, sadly," Coltrane notes with a cheery laugh. "But Hagrid will, yes." 
As one famous wizard once said, "There, there, Hagrid. It's not really goodbye, after all."