Declan And Rollins' Complicated Law & Order: SVU History Explained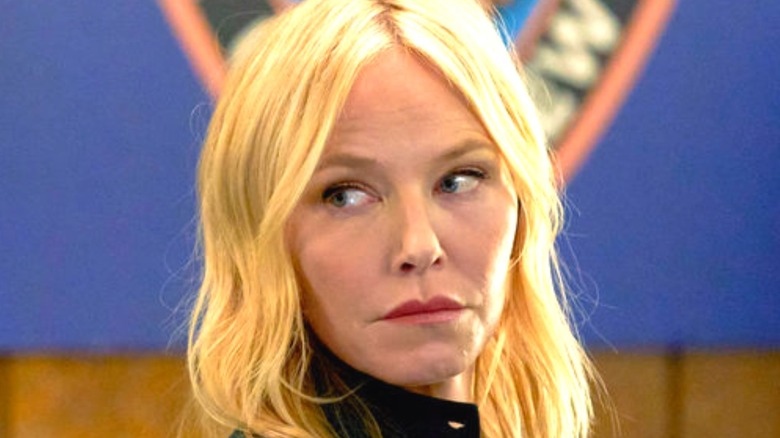 Michael Greenberg/NBC
Now in its 23rd season, "Law & Order: Special Victims Unit" has been endearing itself to long-time fans all over again by bringing back some of the series' most beloved former characters. In addition to rekindling the will-they-won't-they dynamic between Mariska Hargitay's Olivia Benson and Christopher Meloni's Eliott Stabler in a handful of cross-over episodes with "Law & Order: Organized Crime," Season 23 brought back fan favorite ADA Raphael Barba (Raúl Esparza), as well as former SVU detective Nick Amaro (Danny Pino). Most recently, the series brought back former Lieutenant and Acting SVU Captain Declan Murphy, portrayed by "Gotham" star Donal Logue. 
One of the series' most compelling characters — Kelli Giddish's flawed and conflicted Detective Amanda Rollins — has consistently struggled with (and tried to deny) the emotional and psychological wounds she's sustained at the hands of her troubled family and upbringing, and her former relationship with Logue's frequently undercover Murphy began as a direct result of that struggle. 
The two may be ex-lovers, but their first introduction to one another was far from what you'd call a "meet cute." Rollins first runs into Murphy — in the guise of gambling boss "Declan O'Rourke" — in Season 15, Episode 17, when she's outed as a cop in his club. As O'Rourke, Murphy holds Rollins at gun point, and with the help of his crime partner proceeds to put Rollins through a series of "tests" to ensure she's merely a cop with a gambling problem, and not working undercover to investigate the club.
Declan Murphy and Amanda Rollins first met in 'Gambler's Fallacy'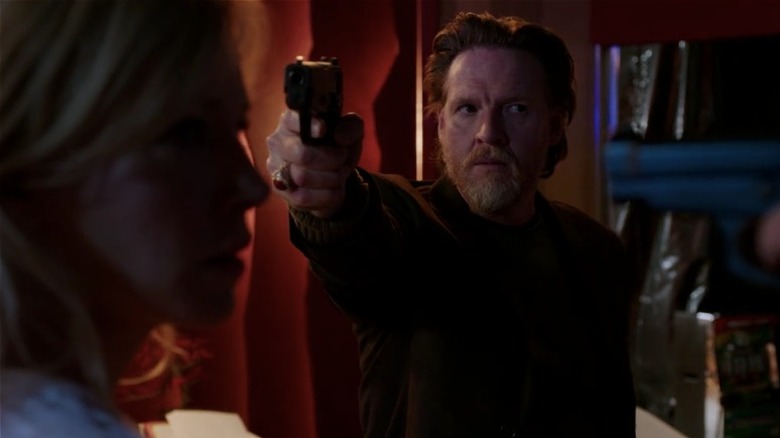 Amazon / NBC
Though the viewer doesn't learn of Murphy's double identity until close to the end of the episode, it's revealed that the U.C. Lieutenant actually explained his position, real name, and investigative motivations to Rollins immediately after discovering that she was a cop, and deputizes her on the case as a cooperating U.C. Subsequently, any crimes Rollins commits at the behest of Sondra Vaughn (Sherri Saum) and "Declan O'Rourke" — including juror tampering and removing a gun from evidence — are considered part of her undercover investigation, though the only people who know this throughout most of the episode are Rollins, Murphy, and Captain Olivia Benson, who was forced to lie for Rollins during her time as a U.C. 
Though the incident drives a wedge between Benson and Rollins, (causing the latter to have to work overtime to earn back her Captain's trust), it brings Rollins closer to Murphy, who not only saved her life and career, but appeared to genuinely care about, understand, and have sympathy for her addiction. Two episodes later, when Benson's long-time nemesis William Lewis (Pablo Schreiber) escapes from prison, Murphy takes over as temporary Acting Captain of the SVU squad in order ensure Benson's safety and prevent her running into a conflict of interest. 
Declan is the father of Amanda's daughter Jesse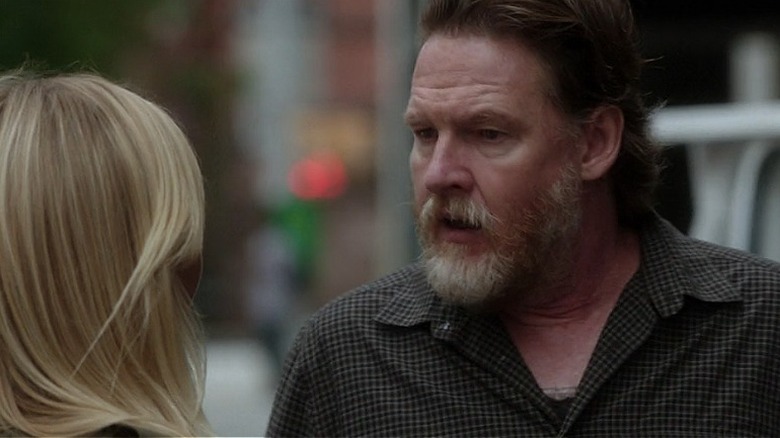 Amazon / NBC
Murphy pops up again in Season 16, Episode 15 ("Undercover Mother") as a U.C. working to infiltrate and take down a sex trafficking ring run by Johnny Drake (Charles Halford). Drake, it's eventually revealed, is the biological father of Olivia's adopted son Noah (currently portrayed by Ryan Buggle). The SVU team, as usual, can't seem to help themselves when it comes to stepping on and interfering with long-time undercover investigations, and Murphy (in the guise of a sex trafficker named Bishop) comes to serious blows with the also-undercover Detective Dominick Carisi (Peter Scanavino). It's a rough start for Murphy and Carisi's relationship and dynamic, and one that could lay the groundwork for later conflicts between the two. Though Murphy and Rollins are never shown carrying on a relationship, it's intermittently implied that they've kept in touch — a theory that's confirmed in Season 17, Episode 5, "Community Policing."
In the episode, Murphy tracks a very pregnant Rollins down on the street, and asks her how far along she is. Murphy has been working "4,000 miles away in Serbia trying to take down a sex trafficking ring," but word of the detective's pregnancy still reached him. Rollins explains that she's roughly seven months along, and Murphy quickly puts two and two together: "that weekend back in February?" he asks. "The blizzard?" Rollins confirms that the baby is his, but then refuses his offer to be there for her and help raise the baby (pointing to the travel and undercover demands of his position), and she promises that they'll talk about it later. Murphy gives her his undercover number and says if she calls, he'll be on a plane in less than an hour. Though the conversation isn't resolved, it's implied that Rollins has no intentions of reaching of out. 
What will Murphy's return mean for Rollins and Carisi?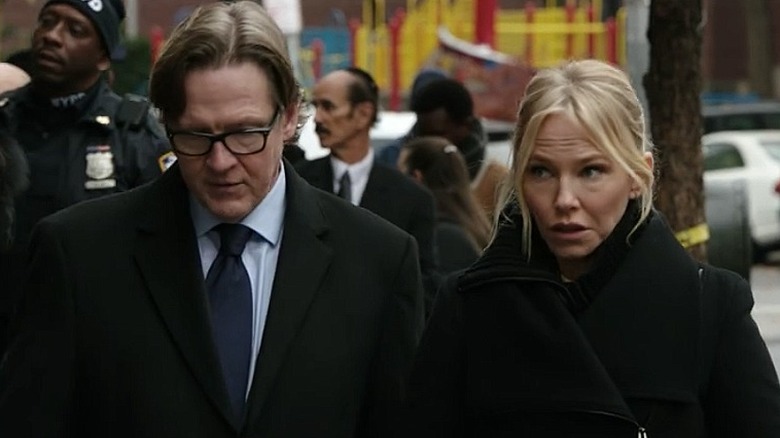 Amazon / NBC
It's perhaps not surprising that Rollins would fall for a character like Murphy. The SVU detective is burdened with a litany of unresolved issues from her abusive and atypical upbringing, and in some ways, Murphy represents the protective and empathetic father figure Rollins never had. At the same time, Murphy is mostly absent from Rollins' life — much like the father she actually had — which allows her to keep him at arm's length in an endeavor to protect herself from disappointment. Her relationship with ADA Carisi, on the other hand, represents some serious emotional growth for the character, who was previously unwilling to make herself vulnerable. Unlike Murphy, Carisi has always been there for Rollins and her daughters — both emotionally and literally — and it finally looks as though the troubled detective might be moving toward some semblance of stability. 
It's no wonder that Murphy's return in Season 23 has some fans nervous. As user AmazeeDayzee noted on the series' subreddit, "I would like Declan to connect with his daughter but I don't want him and Amanda together or Amanda and Sonny (Carisi) to break up." 
If anything, Declan Murphy's return (as the Captain of the Hate Crimes Division) suggests less that he might drive a wedge between Rollins and Carisi, and more that his desire to be involved in Jesse's (Charlotte Cabell) life might re-fan the flames of conflict between Carisi and Murphy first set-off by their interaction in Season 16. The actor behind Carisi, Peter Scanavino, has been tantalizingly vague on the subject. As he told TVLine regarding Murphy's return, "I don't see how it would be anything contentious or dramatic, but who knows? It's the name of the game with this show. So, it could be. I don't know."