The Character Everyone Forgets Stana Katic Played In Quantum Of Solace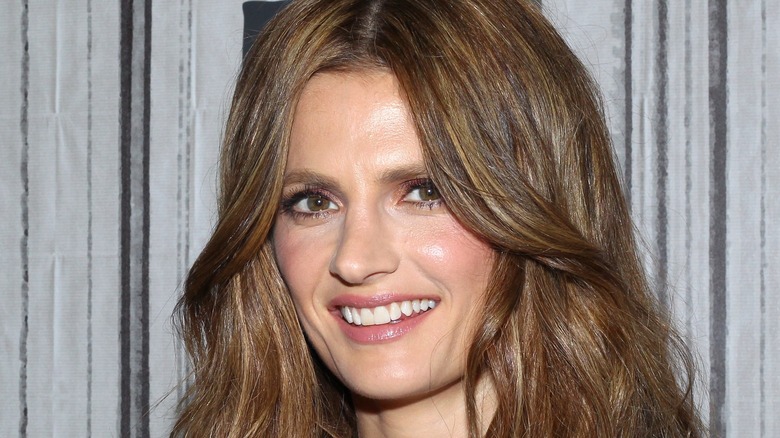 Jim Spellman/Getty
Canadian-American actor Stana Katic has, over the years, played several roles that have portrayed her as the enforcer of the law. From a rookie cop to an FBI agent, she's done it all. Katic's Detective Kate Beckett's crime-fighting skills and conviction awed audiences in the crime procedural "Castle." She was the perfect partner to crime novelist Richard Castle (Nathan Fillion) as they caught notorious murderers in New York City. She then followed it up with another lead role as FBI Agent Emily Byrne in AXN's "Absentia."
But that's not all. Before these roles, Katic already had both TV and movie appearances that bolstered her acting skills, especially as a character on either side of the legal framework. In "24," Katic played Collette Stenger, an information broker working with terrorist organizations. On the opposite end of the spectrum, in "The Spirit," she played a rookie cop who admires the superhero the Spirit.
Despite her comfort with cop roles, Katic has also displayed a versatile range in movies like "For Lovers Only," in which she plays a model and journalist in love with a fashion photographer, and "Big Sur," in which she plays a poet and contemporary of Jack Kerouac. Most recently, she played the role of Vera Atkins, a World War II-era spy, in the movie "A Call to Spy." Along with these diverse roles, Katic also has a role in "Quantum of Solace" to her credit.
Katic plays a Canadian intelligence agent in Quantum of Solace
In the 2008 "James Bond" movie "Quantum of Solace," Bond (Daniel Craig) takes on Dominic Greene (Mathieu Amalric), a power-hungry entrepreneur who wants control of the Bolivian government. At the same time, Bond wants to find out more about the organization to which Greene belongs, Quantum, which was responsible for the death of his former love interest Vesper Lynd (Eva Green).
At the end of the movie, after defeating Greene, Bond goes to Russia to meet Lynd's former lover Yusef Kabira (Simon Kassianides), who is also partially responsible for her death. A member of Quantum, Kabira is tasked with seducing female agents and using them for their connections and knowledge. And his new target is Stana Katic's Corrine Veneau.
However, Bond finds the "couple" and reveals Kabira's true identity, pointing out to Veneau that Kabira gave her the same necklace as he had given to Lynd. Grateful for Bond's timely intervention, Veneau thanks him and leaves. Speaking on the opportunity to be featured in a Bond movie, Katic exclaimed, "It was a blast! ... I got to spend three days working on that legendary sound stage in London. Daniel Craig was great, very funny, very charming" (via The Hollywood Interview).
The actor also revealed that she was originally up for the role of British Secret Service operative Strawberry Fields, although it eventually went to Gemma Arterton. Katic added that she was happy to have played Veneau since this character, unlike the one she auditioned for, does not die in the film.