Nearly 28% Think This Is Daniel Craig's Worst James Bond Movie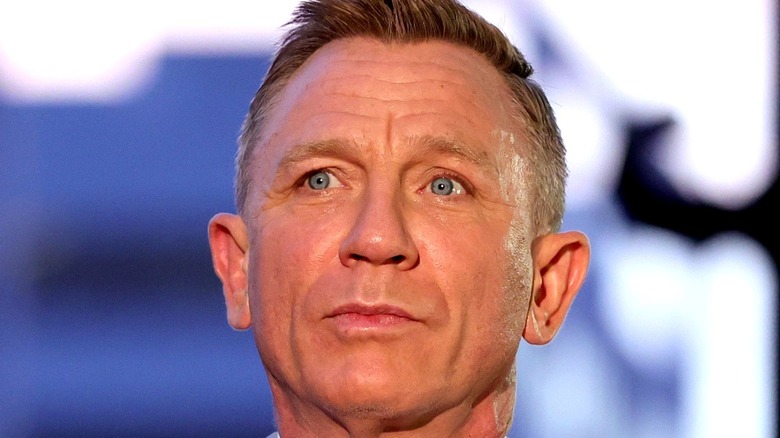 Rich Fury/Getty
Longtime fans of the James Bond film series — or Daniel Craig, the actor who has played the Ian Fleming-created super-spy since 2006 — are watching a major turning point unfold in the franchise. The latest Bond installment, "No Time to Die," finally hit theaters on October 7 after a slew of COVID-19-related delays. It's a date that now marks the official endpoint for Craig's five-film run as James Bond, aka 007.
By and large, Craig's swan song was well received by critics and moviegoers alike. As of this writing, "No Time to Die" has an 84% Certified Fresh score and an 88% audience rating on Rotten Tomatoes. Of Craig's performance in the film, Salon's review states, "[He] is as cool as ever as Bond, and he commences with his derring-do, dispatching baddies with considerable aplomb. He is unflappable driving his souped-up Aston Martin, even when he does donuts to foil his pursuers." Additionally, the Boston Globe review includes this line: "With this fifth and final go-round, it's clear who the best Bond is. It's Craig, Daniel Craig."
In the eyes of some fans, like the Boston Globe, Craig's 007 is the best of the bunch — arguably even better than the role's originator, Sean Connery. However, not all of Craig's entries have been received with the same level of enthusiasm as "No Time to Die." One film is quite divisive amongst the fanbase, and a recent Looper survey is further proof of this sentiment.
Quantum of Solace gets a big thumbs-down from fans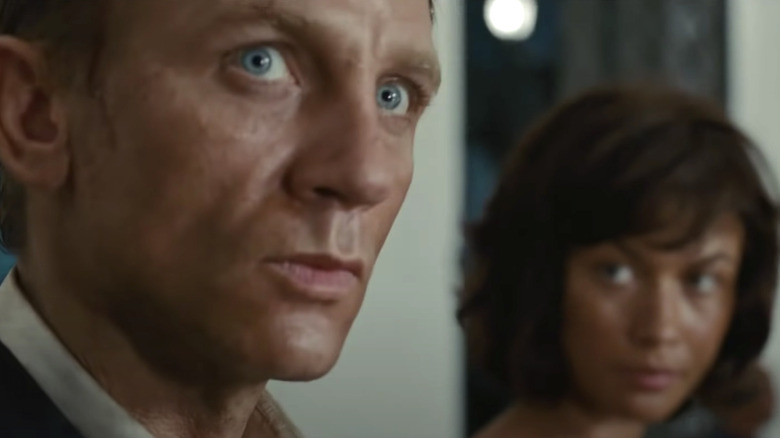 Eon/MGM/Sony Pictures Releasing
While the poll in question asked respondents to choose between a number of well-regarded features, there was a clear pick for Daniel Craig's worst Bond film among the 596 people surveyed by Looper. That movie is the awkwardly-titled 2008 pic "Quantum of Solace," the follow-up to Craig's big Bond debut (via IMDb). Nearly 28% (27.85%, to be exact) of the respondents selected "Quantum of Solace" over additional options "Casino Royale," "Skyfall," "Spectre," and "No Time to Die."
Really, though, the game was rigged against "Quantum of Solace" from the start. The Bond movie came on the heels of "Casino Royale," an installment that breathed life back into what had become a tired franchise. Just before Craig jumped in with "Casino Royale," the final Pierce Brosnan entry, "Die Another Day" (via IMDb), had featured an invisible car, a strange Madonna cameo (and even worse theme song), and Miss Moneypenny getting it on with 007 via VR glasses. "Casino Royale" flipped that script, giving the fandom its grittiest Bond since the Timothy Dalton era.
If that weren't enough of a hill to climb, "Quantum of Solace" was written during the writer's strike, which lasted from 2007 until 2008. Consequently, much of what we saw in the finished product was cobbled together by Craig and director Marc Forster. As relayed by IndieWire in 2011, the shooting script literally arrived two hours before the strike began. From there, Forster and Craig were left to fend for themselves where any fine-tuning was concerned. Still, as the second part of a double feature with "Casino Royale," the 2008 Bond pic works better than it should.