Betty White's Best TV And Movie Roles
It's nearly impossible to accurately put into words what an impact Betty White had on the world of film, television, and culture as a whole. The world was devastated when the actress passed away at 99 on December 31, 2021. Well into her 80s and 90s, White continued working in the industry, appearing everywhere and anywhere, including "Saturday Night Live," "SpongeBob SquarePants," and even wrestling show "WWE Raw." 
White has an astonishing 124 acting credits on IMDb, which speaks not only to her longevity but also her likeability. Nobody on Earth had a bad thing to say about Betty White, and her immense charm that burst forth in every moment that she was acting was always every bit as present in her day-to-day life.
In honor of her remarkable and unforgettable career, we've put together some of Betty White's very best appearances in both television and film. Here are Betty White's best TV and movie roles.
Life with Elizabeth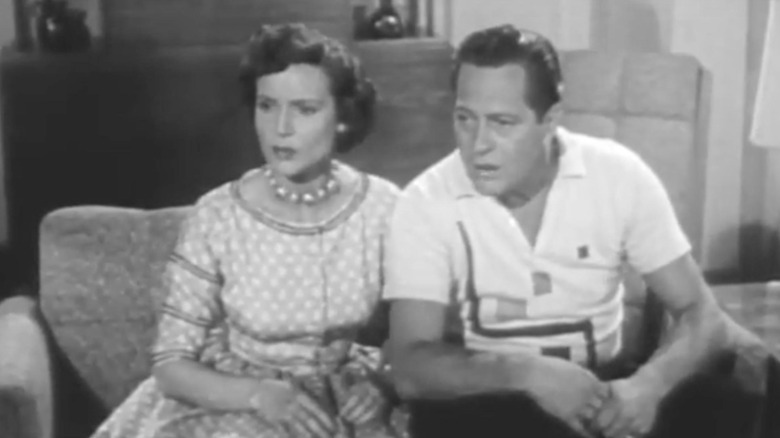 Guild Films
Betty White's first breakout role came with the 1950s sitcom "Life with Elizabeth." The show, which ran for two seasons and over 60 episodes, starred White as the titular Elizabeth. Elizabeth and her husband Alvin (Del Moore) were a typical suburban couple, though their lives are often turned upside down by Elizabeth's insatiable desire for hijinks. The show's love of chaos was likely inspired by the 50s sitcom "I Love Lucy," and the program played a significant part in establishing Betty White as a charming, unforgettable presence on television.
It's such a pleasure to see White come alive in a starring role, and her performance earned White her very first Primetime Emmy nomination. One particularly hilarious moment comes when Elizabeth finds what she thinks to be a meteor in their driveway. White expertly enacts a childlike sense of wonder in Elizabeth, and it's a pleasure to watch her excitedly try and figure out the origins of the meteorite – which ultimately is just a lump of coal. 
The show regularly broke the fourth wall, allowing White to connect directly with the audience. It was pretty chaotic in the early days, according to Ray Richmond, who wrote "Betty White: 100 Remarkable Moments in an Extraordinary Life." The show even forced White to do some improv, Richmond writes. Apparently, in one episode, Moore "forgot his lines and left for a minute and a half, and she had to play with things on a table until he came back."
Advise & Consent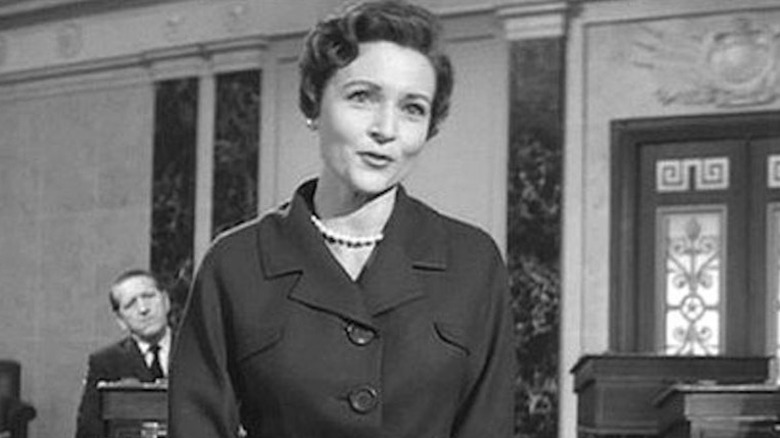 Columbia Pictures
While Betty White is an absolute titan in the world of comedy, she was also a talented dramatic actress. The audience's first taste of White's dramatic talents came in Otto Preminger's 1962 political thriller "Advise & Consent." 
The film centers around the controversial nomination of a new Secretary of State and heated debates in the Senate as to whether the nominee will be rejected or approved. "Advise & Consent" features a large ensemble cast that includes countless Hollywood greats, including Herny Fonda, Charles Laughton, Burgess Meredith, Walter Pidgeon, Gene Tierney, Peter Lawford, and Inga Swenson. It's easy to get lost in the shuffle with a list of performers like that, but White's role as Kansas Senator Bessie Adams steals the scene, which was all the more impressive considering it was White's debut feature film role.
Though her role is small, White's tremendous ability to make an impact regardless of screentime is on full display. In a pivotal scene, Senator Adams combats thinly veiled sexism from another senator. The opposing senator notes Adams was "not perceptive enough to be able to grasp what was obvious." Adams snaps back without missing a beat, refusing to let insults get the better of her. White infuses Adams with an impressively steadfast determination and seemingly takes great pleasure in snapping back at the senator, stating, "The record must stand as it is Mr. President, how the senator interprets that record is his own problem, not mine."
The Carol Burnett Show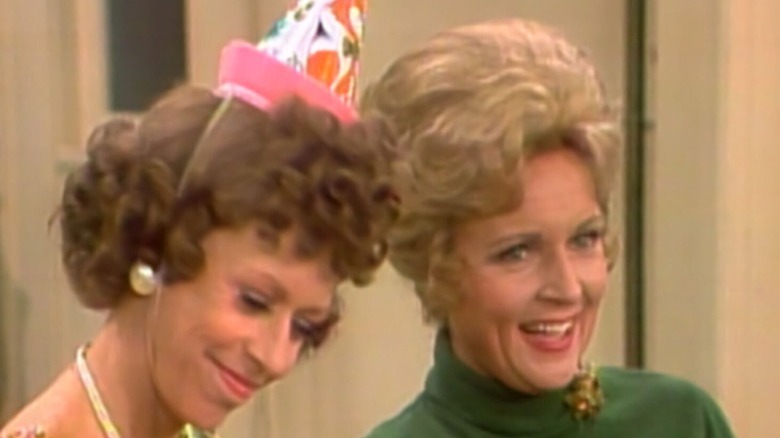 CBS Television Distribution
Since Betty White is regarded as one of the kindest, most charming people to ever live, it's hard to think of her as anything but. Though she became a bonafide pop culture icon, White was first and foremost an actress with a range far beyond the loveable characters she portrayed so perfectly.
White made several appearances in the beloved sketch comedy "The Carol Burnett Show" after her 1975 debut in "The Family" sketch. Her first appearance as Ellen Jackson appears to be trademark Betty White, as she is all smiles and radiates immense likeability. However, It's not long before White peels back the layers of Ellen, revealing a cruel character that takes delight in tearing others down. For instance, when Mama (Vicki Lawrence) is about to eat her birthday cake, Ellen says, "None for me, mom. All that refined sugar just takes every bit of vitamin B right out of your system. A lot of it over the years makes a person half crazy. You all go right ahead and enjoy it."
Perhaps best of all, White delivers all of Ellen's cutting remarks with a gleeful, vindictive smile. Later in the sketch, Eunice (Carol Burnett) tells Ellen how she's always looked up to her and lists out all the ways Ellen is better than her. With a cunning smile, Ellen responds, "All that was just in your head." After a while, Ellen digs her claws in with, "You were just a lonely little person waiting to be liked."
Mama's Family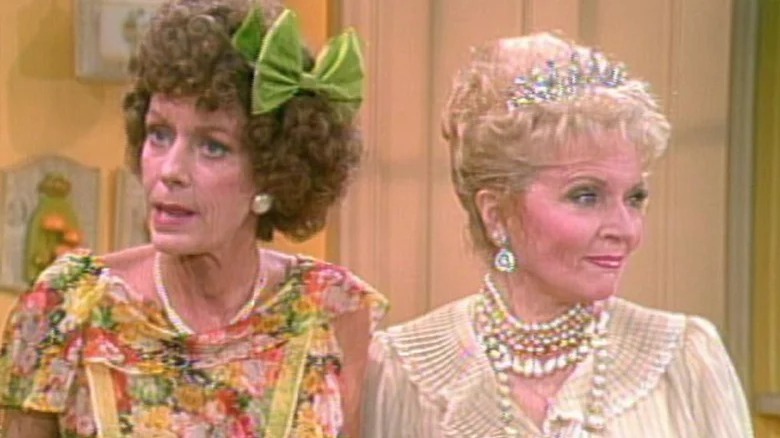 Warner Bros. Domestic Television Distribution
A delightful spin-off from "The Carol Burnett Show" sketch "The Family," "Mama's Family" saw the return of Betty White's character Ellen Harper Jackson. The show featured Thelma Harper (Vicki Lawrence), the titular mama, as a widow with a short fuse and her dysfunctional (to put it lightly) family as they deal with various situations. The tremendously talented comedic cast included Lawrence, Ken Berry, Dorothy Lyman, Beverly Archer, Allan Kayser, and White's eventual "Gloden Girls" co-star, Rue McClanahan. Reprising the role of Ellen provided White another opportunity to go against her wholesome, loveable image. As Ellen, White revels in playing a divorcee with a cutting tongue, who seemingly takes great pleasure in driving every member of her family up the wall.
White played Ellen over three seasons of the show and consistently provided a wondrous thorn in the side of anyone and everyone who went near her. It is simply a delight to see White take masterful command of withering one-liners, and Ellen's acerbic wit is a wonderful example of White's capabilities as a performer, and the character is definitely one of her very best roles.
The Mary Tyler Moore Show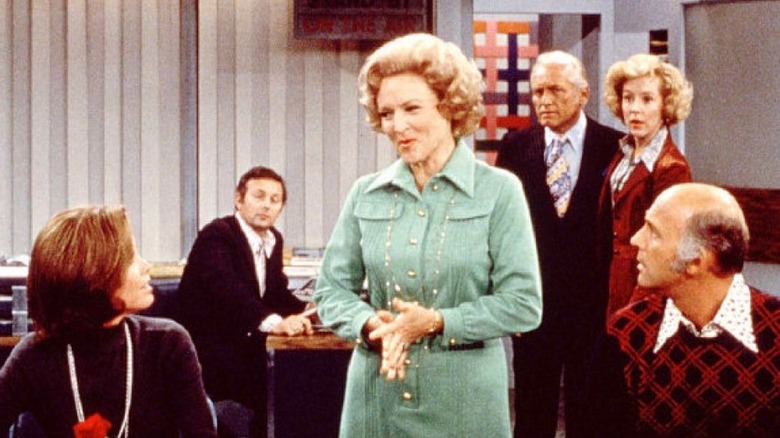 20th Television
Betty White has a reputation for being tremendously perky and upbeat, and her role as Sue Ann Nivens in "The Mary Tyler Moore Show" certainly helped amplify that. In the show, Nivens hosts her own television show, "The Happy Homemaker," which features her giving cooking and decorating advice to Minneapolis housewives. Nivens is a bonafide perfectionist and notes in "The Dinner Party" episode that she'd flush her Veal Prince Orloff right down the toilet before considering reheating it and not serving it totally fresh.
What really makes White's role as Sue Ann Nivens sparkle is that while Nivens fully delivers her relentlessly optimistic persona on her television show, outside of "The Happy Homemaker," she's quite the opposite. In reality, she's deeply cynical, fiercely competitive, and obsessed with men. Her extraordinary performance doesn't arrive on "The Mary Tyler Moore Show" until its fourth season, but she made a huge impact right away and ended up winning her first two Primetime Emmy awards for her impeccable comic timing as Sue Ann Nivens.
The Practice/Boston Legal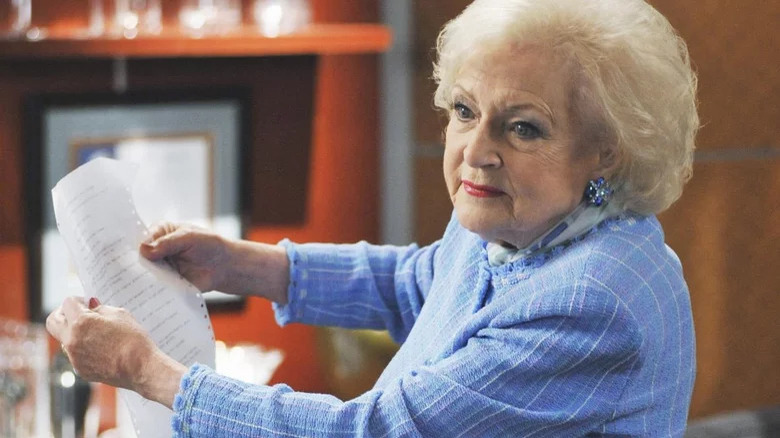 ABC
Betty White brought comedic chops to a primarily dramatic role in three episodes of "The Practice," and her character proved to be so good that she transitioned into "Boston Legal" for 16 episodes. White played Catherine Piper, who was the neighbor of Alan Shore (James Spader) when he was a child. The two frequently butt heads, including a number of mishaps involving dog poo.
Piper instantly makes a mark thanks to White's considerable talents. She displays her ability to steal scenes over and over and particularly shines with a single line in a pivotal moment. Piper is tried for murder and defended by Shore, who delivers a passionate speech to the jury as to why Piper should be acquitted. Shore truly gives it his all as he lays down a strong defense about compassion and forgiveness, and from the reactions of the judge and jury, it's clear that Shore's closing arguments will be successful. As he sits down, Piper leans into him and slyly states "I thought you'd be better." 
As Piper, White gave audiences plenty of fantastic moments, and even managed to blow up her doctor's office (yes, really) after he prescribed her medicine that almost killed her. Both "The Practice" and "Boston Legal" are important reminders to never mess with the one and only Betty White.
That '70s Show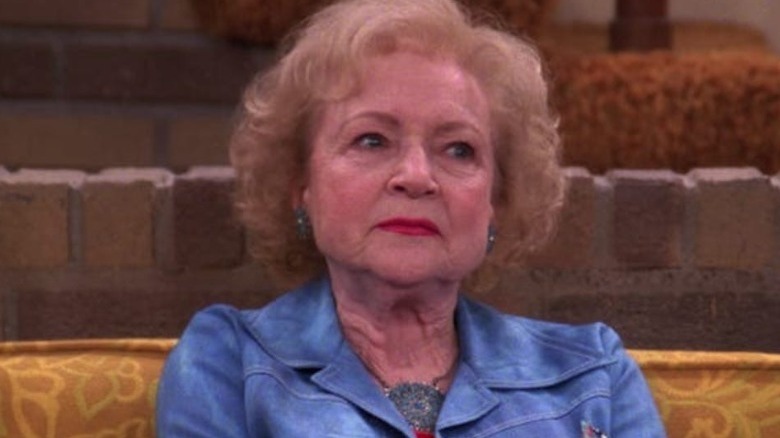 Fox
"That '70s Show" was a terrific example of something White honed to perfection over her illustrious career: peeling back the layers of a pleasant-looking character and revealing a nasty, snide interior. Echoing characters she played in "Mama's Family" and "The Mary Tyler Moore Show," White's role as Beatrice Sigurdson allowed her to play against type, something she always did brilliantly. White appeared in just four episodes of "That '70s Show" in its fifth season, but her impact was unforgettable.
White's character Beatrice takes great pleasure in shouting at her husband Burt (Tom Poston) and fighting with her daughter Kitty (Debra Jo Rupp). In one delightfully ironic moment, Donna (Laura Prepon) shouts for a cookie, just like Beatrice always does. Completely lacking self-awareness, Beatrice leans into Donna and remarks, "You know Donna, you catch more flies with sugar. Right, Burt?" The camera cuts to Burt, visibly terrified, who elects to fake falling asleep in order to avoid answering the question.
Lake Placid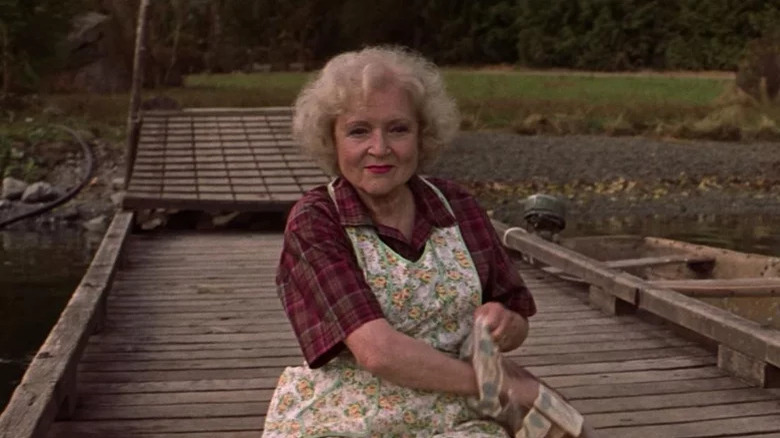 20th Century Fox
One of Betty White's most surprising performances is her turn as an older lady named Delores Bickerman in "Lake Placid." Bickerman lives by the lake where a massive killer crocodile haunts the neighborhood. White stars in the film alongside a great cast that included Bridget Fonda, Bill Pullman, Oliver Platt, Meredith Salenger, Mariska Hargitay, and Brendan Gleeson. Bickerman takes great pleasure in feeding the enormous crocodile, and in one scene, she brings her cow right out to the lake for the creature to feast. When she's questioned about whether she led her husband to the lake to be eaten by the croc, Bickerman snaps back with, "If I had a dick, this is where I'd tell you to suck it."
White's role is wonderfully shocking and not at all what we've come to expect from the beloved actress. That's exactly what she loved doing, as she was always pushing herself to test the boundaries of her persona and her talents. It's a delightful comic performance that does a fantastic job of lightening the mood of the rather silly horror film.
The Bold and the Beautiful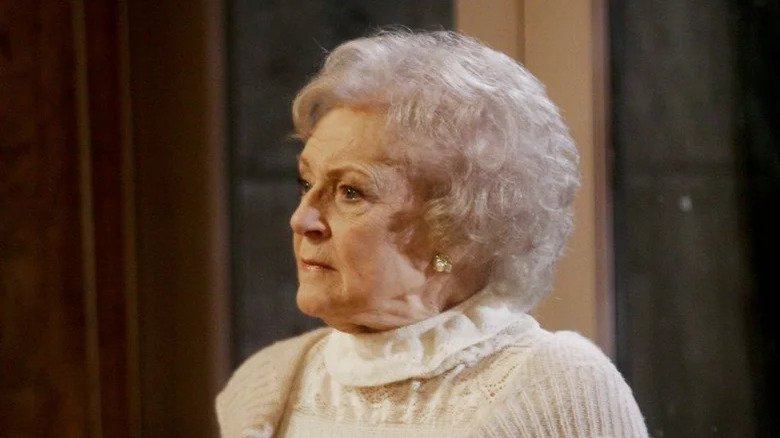 CBS
There was seemingly nothing Betty White couldn't accomplish, and she had successfully appeared in multiple comedic and dramatic roles in both film and television. However, late into her career, there was still one thing White had not conquered in the world of television — the soap opera. It should come as no surprise then, that White made a foray into the world of soaps by joining "The Bold and the Beautiful" as Ann Douglas, the long-lost mother of the show's matriarch, Stephanie Forrester (Susan Flannery).
In an interview with Tulsa World, White said, "It's amazing. It's also, for me, such a great scratch because I don't get the chance to do serious acting. So to get some serious things to do was kind of fun." White had two stints on the show and returned a year later to finish the character's storyline and tie up the plotlines with her daughters. Regarding her return, Betty told Tulsa World, "I was so surprised that they wanted to have me back...it was kind of nice to come back and revisit the character –- not only from an actor's standpoint but also because it is such a great show." 
The role was deliciously soapy, with plotlines that included child abuse, substance abuse, and spousal abuse before the character died of pancreatic cancer. "The Bold and the Beautiful" is a great reminder for Betty White fans that the actress was every bit as good at dramatic acting as she was at comedy.
Ugly Betty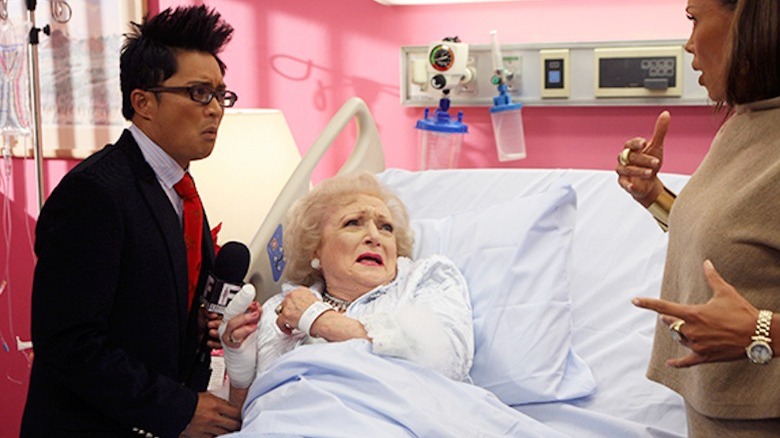 ABC
Something that was special about Betty White was her ability to appear in a single episode of a television show and completely steal the show. That's exactly what Betty White did in the Season 2 episode of "Ugly Betty," "Bananas for Betty." The plot is delightfully absurd, with White playing a version of herself. In the episode, Wilhelmina Slater (Vanessa Williams) inadvertently slams a taxi door on an older woman, who turns out to be Betty White. White ends up on the ground and is taken to the hospital, which creates some seriously negative PR for Wilhelmina.
White relishes the opportunity to play a version of herself, and she is completely hilarious in the episode. She has some brilliant lines, like when she talks about her fans, saying, "I adore them. Except for a few sickos who write lesbian fan fiction about me and Bea Arthur." White tells Slater that she forgives her and is willing to go on TV to say so to help clear her name. In a delightful twist, White is positively manipulative when the camera is rolling, pretending that Slater attacked her, revealing after the interview that "this feud is huge and I'm going to milk it till it's dry." 
When Slater says White doesn't need the money, she drops an all-time great one-liner, exclaiming, "Are you kidding? That 'Golden Girls' money went right to the nickel slots!"
The Proposal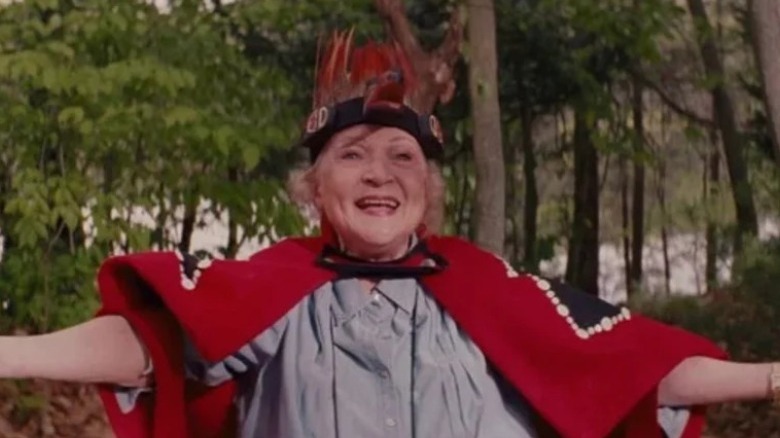 Walt Disney Studios Motion Pictures
Over her multi-decade career, White perfected the blend of a wonderful sweetness combined with a devilish sense of mischief. That approach was perfect for her role in "The Proposal," the 2009 romantic comedy starring Sandra Bullock as Margaret and Ryan Reynolds as Andrew, her assistant. Margaret is an editor in New York who, when facing deportation, talks Andrew into marrying her so that she can stay in the country. The pair go to Sitka, Alaska, Andrew's hometown, to visit his family and convince them to go along with their relationship.
White plays Andrew's grandmother Annie, who continues the actress's long career of stealing scenes. In an especially glorious moment, Annie takes Margaret into the woods to perform an Alaskan ritual dance, which turns into the pair dancing to the rap song "Get Low." However, she's not done there, as Annie fakes a heart attack, which allows Andrew a chance to hop on a helicopter and properly pursue the woman of his dreams. White's role as Annie has everything that made her a special performer, as the actress is once again hilarious, unexpected, heartfelt, and absolutely scene-stealing.
Hot in Cleveland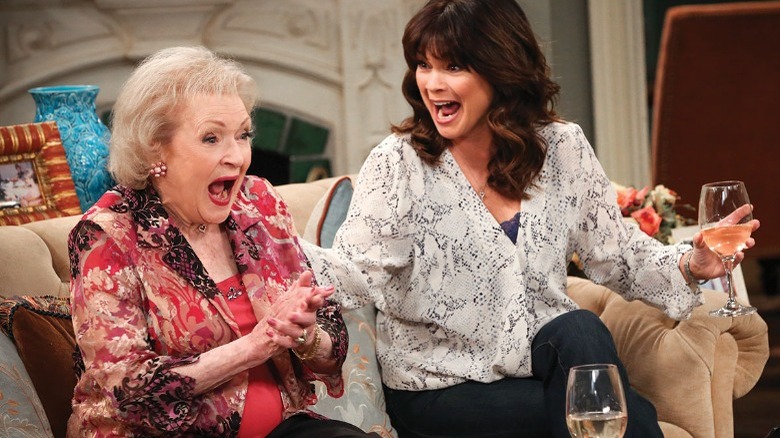 CBS Television Distribution
What happens when a group of LA socialites ends up in Cleveland because everyone is so kind to them there? That's the bizarre yet hilarious story behind "Hot in Cleveland," when famous former actress Victoria (Wendie Malick), make-up artist Joy (Jane Leeves), and divorcee Melanie (Valerie Bertinelli) find themselves staying in Cleveland for good after their plane to Paris gets diverted. To make their stay in Cleveland permanent, the ladies rent a home together, of which the wonderful Ella Ostrovsky, played by Betty White, is the caretaker. 
Though everyone in the show is hilarious, White is the unquestionable superstar of the series. Ostrovsky was a wonderful character with a fascinating past, having escaped from the Nazis, and married a mobster. There wasn't anything the character hadn't experienced, and though she was well into her 80s, Ostrovsky had an active sex life and wasn't averse to the joys of alcohol and marijuana.
Fascinatingly, White was only scheduled to be in the pilot episode of "Hot in Cleveland," despite being a prominent part of the show's marketing. When the pilot was a hit, she eventually caved and joined the show full-time, which ended up being a fantastic decision for White, as the show ran for an impressive six seasons. The show's executive producer, Todd Milliner, had nothing but good things to say about White, telling Variety, "She was a generous performer. Even when the camera wasn't on her in a scene, she'd be smiling in support of her co-star. Everybody adored her and her talent."
The Golden Girls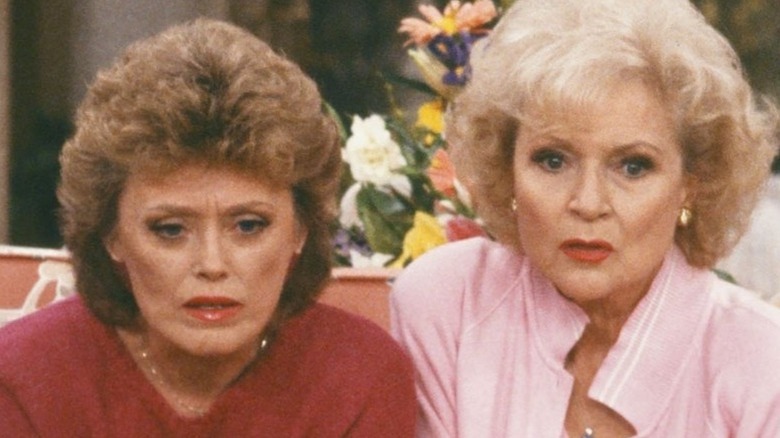 NBC
Thank you for being a friend -– "The Golden Girls" is without a doubt the shining star in Betty White's groundbreaking and extraordinary career. The show went on for a remarkable seven seasons, featuring widowers Blanche Deveraux (Rue McClanahan), Sophia Petrillo (Estelle Getty), Rose Nylund (Betty White), and divorcee Dorothy Zbornak (Bea Arthur) as roommates pursuing all the glory of life in their golden age in sunny Miami. Though White almost played Blanche, as Rose Nylund, White perfected portraying a big-hearted, although perhaps rather small-minded, character. With Nylund, White provided a masterclass in charming naivety and provided audiences with endless laughter.
White was nominated for a Primetime Emmy for each and every season of "The Golden Girls," winning once for the show's first season. White had so many memorable moments as Nylund, with one particularly great one coming in the episode "In a Bed of Rose's." Nylund seems to have a bad streak of luck when it comes to sleeping with men, who all seem to die in bed with her. She tells her roommates about a sheriff named Arnie, "I told him about me, how I kill men, and he didn't believe me ... He said, 'Let's see. Sleep with me.' So I did. And the sheriff died." 
Though her friends were visibly shocked, Nylund reveals it was all a joke, reminding us that this naive character had one heck of a clever streak.