What The Cast Of I Love Lucy Did After The Show Ended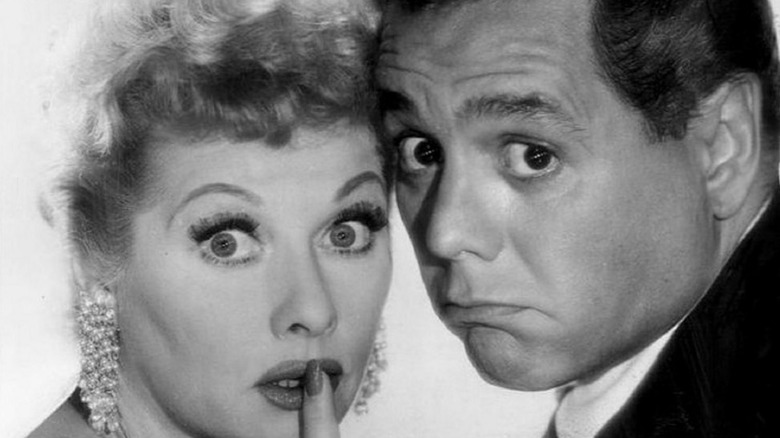 Who is the "I" in "I Love Lucy"? A better question might be, "Who isn't?" 
For decades, ever since the show began airing in 1951, Lucille Ball and her on-screen character Lucy Ricardo have been beloved by audiences of all ages and generations. There is something timeless about her physical-comedy-laced portrayal of the ditzy housewife who wants to be a star, a legacy that is all the more impressive considering that the role and the manner in which Ball played it are inextricably tied to that bygone era of television.
Alongside her then-husband Desi Arnaz, who played Lucy's on-screen husband Ricky Ricardo, Ball created an empire. "I Love Lucy" pioneered many aspects of modern television that persist today: It was the first series to feature an ensemble cast, which meant that there were multiple "main characters" with relatively equal screen time and storyline complexity. It was the first to air "re-runs," Ball's idea to help buy time when she became pregnant. Ball and Arnaz were the first interracial couple to appear on TV, they were the TV industry's first millionaires, she was the first woman on network television to be depicted as "expecting" — and perhaps most significantly, "I Love Lucy" was the first show to use multiple, simultaneously filming cameras, a staple of sitcoms to this day.
But most important was the comedy. The brilliantly-written, endlessly witty show inspires a sense of nostalgia today in older generations ,while simultaneously delighting younger ones discovering "Lucy" for the first time.
Of course, since the original series aired from 1951-1957, the stars are no longer with us. Looking back on their careers after the final madcap episode, it reminds you all these years later how audiences still love "Lucy."

Vivian Vance as Ethel Mertz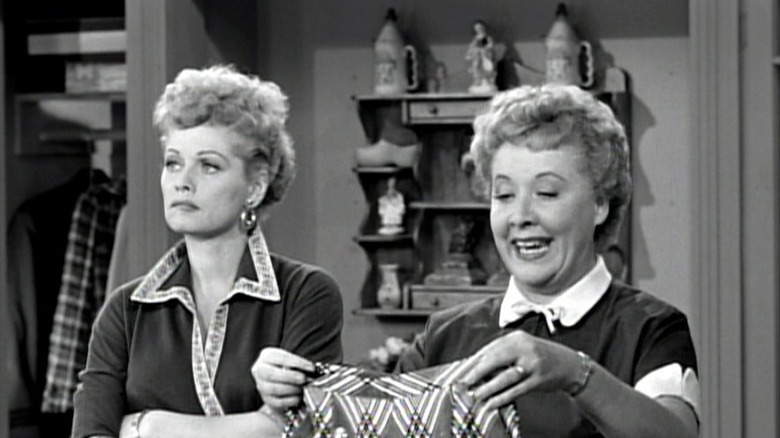 Where would we, especially Lucy herself, be without Ethel? For one thing, she'd probably be in a different apartment (because Ethel was her landlady), but more significantly Ethel was Lucy's best friend — both on screen and off.
It didn't start out that way, though. When Vance showed up to set, Ball wanted her fired because she believed Vance didn't look the part of the middle-aged landlady. In fact, Vance was still pretty enough in Ball's eyes that she threatened an "old-school" showbiz rule: Don't outshine the star. 
Fortunately for fans, such fears didn't last long, as Vance proved not only to be dedicated to her role, but to what Ball would later call their "fated" friendship. She also went on to win the very first Best Supporting Actress Emmy for her iconic work as Ethel, the original BFF. 
Vance would collaborate on Ball's other sitcoms for many years, whether as a regular or a guest star. Her later career would include a big ad deal with Maxwell House (despite struggling with breast cancer at the time). A talented singer as well (like her character), she appeared in a number of well-known Broadway productions, like "Barefoot in the Park" in 1968 and "Arsenic and Old Lace" in 1973. She was active right up until a year before her death in 1979, as full of life in reality as her character on "I Love Lucy."

William Frawley as Fred Mertz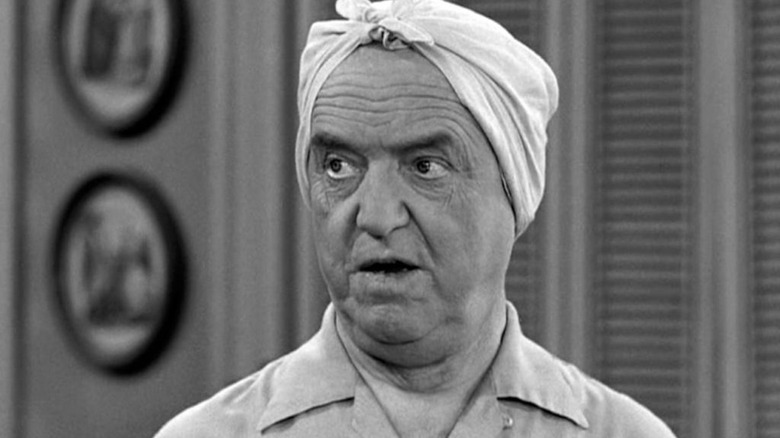 While Vivian Vance might not have "looked the part" at first, in the case of William Frawley, it's hard to imagine anyone else as the face of Fred Mertz — the curmudgeonly, televised-sports-loving, long-suffering husband to Ethel and friend to Ricky and Lucy. 
Like Fred and Ethel themselves, Frawley began his career in vaudeville alongside his former wife. He had already appeared in a triple-digit number of movies by the time he took his role on "I Love Lucy," and was more than two decades older than his on-screen wife Ethel.
But that didn't mean his career was close to over. He went on to hit it big with "My Three Sons," a hit sitcom that had him as a breakout character for 165 episodes. However, he struggled with a shooting schedule more difficult what he'd become accustomed to on "I Love Lucy," and health concerns exacerbated his difficulties to the point that he couldn't continue in the role. 
His final appearance on TV brought things full circle with a brief cameo on Ball's 1962-1968 follow-up "The Lucy Show." Walking past Lucy's character, she remarked: "He reminds me of someone I used to know."

Joseph and Michael Mayer as Little Ricky Ricardo, Jr.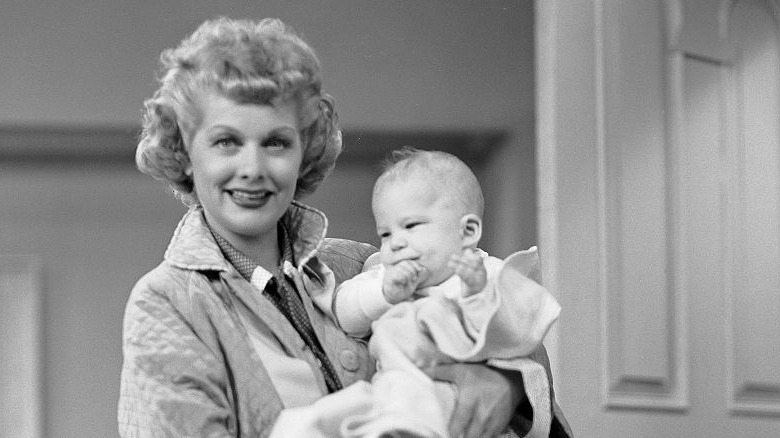 The twins who played Little Ricky Ricardo, Jr. (the son of Ricky and Lucy) as an infant were named Joseph and Michael Mayer — and were eventually replaced by Richard Keith, who played the child as he grew older. 
Joseph married in 1995 and has otherwise lived a quiet life outside of the public eye. Michael now teaches special education in North Hollywood.
It's the story of many movie and TV babies: While some continue in showbusiness, it's not always easy (or desirable) to make the leap from infant to adult career. Then as now, twins were ideal to play the newborns because there are limits to how much filming time one infant can undergo per day, and having twins allows productions to get double the filming time for an infant character.
This particular infant had a real-life analogue: The timing of Lucy Ricardo's pregnancy in the series corresponded to her real-life pregnancy off-screen. This was a groundbreaking stuff at the time, as depicting pregnant women on-screen was considered scandalous (on screen, Lucy slept in a twin bed next to her husband). While the storyline eventually got approved, the word "pregnant" wasn't mentioned once in the 1952 episode entitled "Lucy Is Enceinte" — even the title itself used the French word for "pregnant" to get around the network censor. 

Richard Keith as Ricky Ricardo, Jr.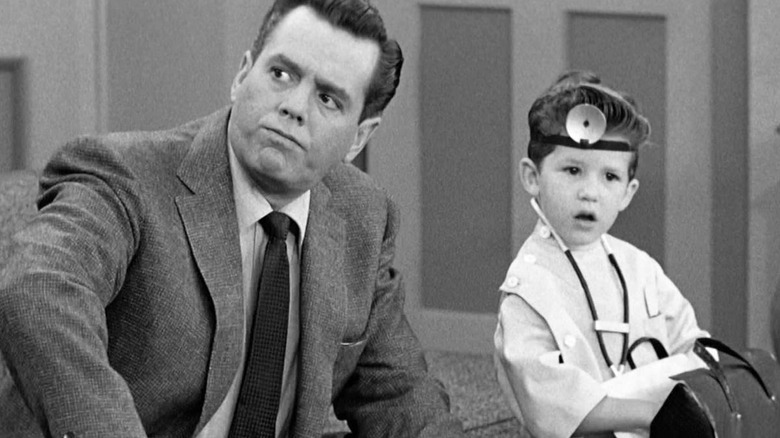 Born Keith Thibodeaux (and rebranded when Arnaz determined that his name would be too hard for fans to pronounce), Richard Keith played the son of Ricky and Lucy Ricardo as he grew out of infancy. The boy's skills as a young percussionist helped form a bond with his on-screen dad when he auditioned. The child actor would go on to secure roles on "The Andy Griffith Show" and smaller roles in other hit series like "Route 66" and "Ben Casey."
Keith is the only living cast member remaining from "I Love Lucy." He still has a drum set that Ball gave him for his birthday while on the show. 
Eventually, Keith quit acting and joined his dancer wife as executive director of "Ballet Magnificat!," a touring Christian ballet company they helped bring to Brazil. He also had a significant musical career in the years after the iconic show of his youth went off the air, with the 1994 autobiography "Life After Lucy" chronicling his career and life.

Kathryn Card as Lucy's mother, Mrs. McGillicuddy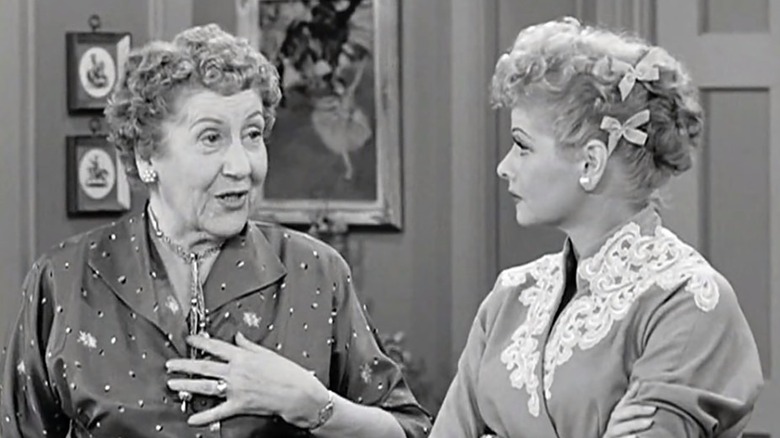 Lucy's mother, Mrs. McGillicuddy, never officially got a first name, but that didn't make her any less memorable. 
The performance of Kathryn Card in the role was a reminder that impact is not determined by screentime. Lucy and her airheaded mother were frequently frustrated with each other, as she would often show up with awkward demands to be included in the escapades of the Mertzes and Ricardos.
Card would go on to have many guest appearances on sitcoms and television series after "I Love Lucy," including a pair of "Perry Mason" episodes in 1959 and memorable work on "Alfred Hitchcock Presents." Before her death n 1964 at age 71, Card would also appear on such classic shows as "Dennis the Menace," Wagon Train," "Rawhide" and playing Maw Kadiddlehopper in nearly a dozen episodes of "The Red Skelton Hour." 

Mary Jane Croft as Betty Ramsey and other characters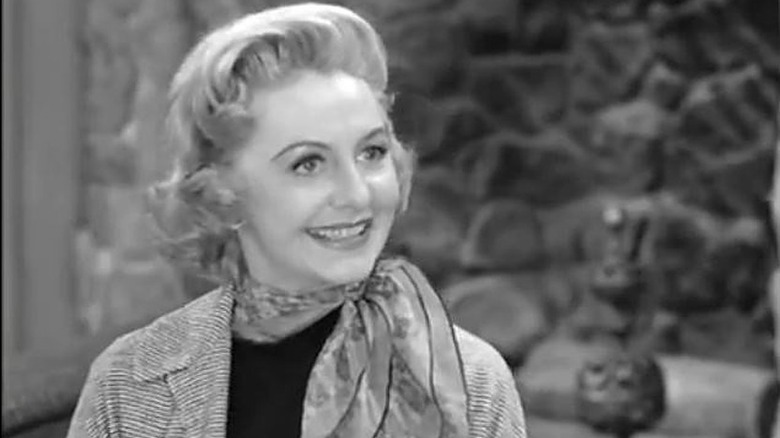 As the series developed and fleshed out its background characters, viewers began to see actors in multiple roles, often as incidental characters who appeared briefly for an episode or a scene, followed by appearances in a role that returned a couple times. Mary Jane Croft was one such actor. 
Her biggest role on "I Love Lucy" was that of Betty Ramsey — a snobbish friend of Lucy who enjoyed showing off — but she played other minor characters as well, including Evelyn Bigsby and Cynthia Harcourt. 
Like many "Lucy" stars who hit their stride on the show, Croft would go on to appear on many of Ball's subsequent television projects (including both "The Lucy Show" and 1968's "Here's Lucy"). Non-Lucy projects included a long run on "The Adventures of Ozzie and Harriet," another landmark sitcom that had held the record for longest-running live action sitcom in history until "It's Always Sunny in Philadelphia" recently broke it.
Mary Jane Croft was a welcome face on TV up until the late '70s, appearing on shows ranging from "Dragnet" to multiple-season series like "Our Miss Brooks" and "The People's Choice." Her final role was also alongside Ball, in the TV movie "Lucy Calls The President" in 1977. She died 22 years later after a long and successful career and life.

Jerry Hausner as Ricky's agent, Jerry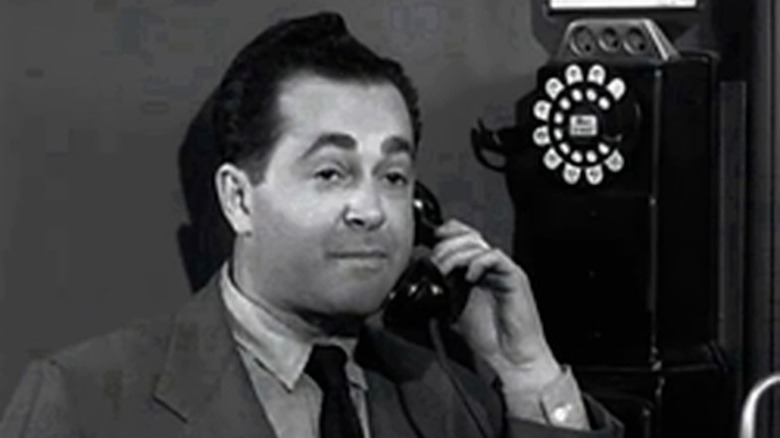 Though his part was considerably smaller, Jerry Hausner shared one trait with the eponymous star of the show: he played a character with the same first name as his own.
Cast as Ricky Ricardo's oft-frustrated manager, he appeared in 14 "Lucy" episodes in total. In one episode, he even provided the laughs and gurgles of Little Ricky, employing his voiceover background. But beyond the series, he gained the most attention in a very different project: Stanley Kubrick's 1957 film "Paths of Glory." 
Hausner acted right up to 1985, appearing in such TV touchstones as "T.J. Hooker," "Chico and the Man," "Hawaii Five-O," "Green Acres," "The Monkees" and "The Flying Nun." Those aforementioned voiceover skills also served him well, with Hausner's distinctive voice appearing in "Mr. Magoo," "The Flintstones" and '80s Saturday morning staple "The Plastic Man Comedy/Adventure Show." He passed away in 1993.

Elizabeth Patterson as Mrs. Trumbull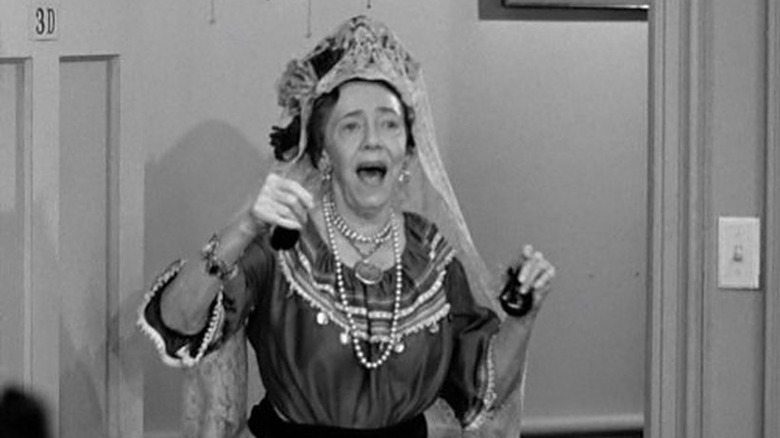 The actress who played Lucy and Ricky's upstairs neighbor, Mrs. Matilda Trumbull, actually debuted on "I Love Lucy" in 1952 when she was 77, near the end of a long career in film, theater, and television. It's proof that you can become an icon at any age — but to be fair, Elizabeth Patterson was already well-established as a character actress.
Patterson (born in 1875, first screen credit in 1926) had harbored an interest in theater from a young age, enduring failed attempts by her parents to dissuade her from this pursuit that went so far as moving her to Europe. It didn't work, however, and she began a career on Broadway, transitioning to film at age 51 and television almost twenty years later. On "I Love Lucy," she began with a strained relationship with Lucy, Ricky, and their crying baby — but bonded with the child so effectively that she became the family's go-to babysitter. It seemed like whenever Lucy needed to get a way for another madcap adventure, Mrs. Trumbull was always just a shout away.
After her ten-episode stint on "I Love Lucy," she continued appearing in shows until 1961, well into her 80s. These appearances included "Alfred Hitchcock Presents," "Adventures of Superman," "The Barbara Stanwyck Show" and a handful of "Playhouse 90" installments. Patterson died in 1966.

Frank Nelson as Freddie Fillmore, Ralph Ramsey, and others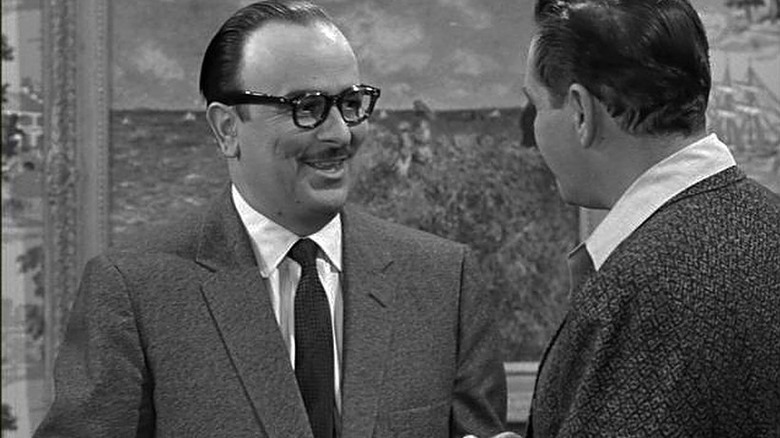 Frank Nelson gained fame as something of a caricature, carrying his own catchphrase and trademark schtick from one project to the next — and how classic TV fans loved to spot him, almost as a "Where's Waldo" of TV's original golden age. 
Nelson first became famous as the perfect foil for Jack Benny. Appearing at first on Benny's massively-successful radio show, he was rarely given a name but always seemed to play some sort of clerk, dentist or someone else who served people for a living — sarcasm dripping off every line that followed his "EEE-YEssssss?" For instance, when Benny would ask Nelson's character is he was the clerk at an airline ticket counter, he'd reply: "No, I'm a 747 with a moustache."
It was only natural that Jack Benny would bring Frank Nelson with him to TV, but by then he had already transferred his act to series including "Our Miss Brooks" and "Lucy," which gave him alliterative names like Ralph Ramsey (the husband of Betty) and Freddie Filmore (a game show host). Nelson was such a unique combination of being in demand but not a star that he appeared in every season of "I Love Lucy" – but before landing on the Rasmsey role he was a waiter, a conductor, a customs officer and other assorted scene-stealers.
Up until the early '90s, there were few character actors on TV who brought a dependable smile to the faces of old sitcom fans quite like Nelson. He appeared on "Sanford and Son," "The Danny Thomas Show," and "The Addams Family," anchored ads for McDonald's, the Rambler and the classic Tootsie Pop Mr. Owl ad, and lent his voice to classic '80s and '90s cartoons from the beloved ("The Flintstones," "Mister Magoo," "The Smurfs" and "The Snorks") to the long-forgotten ("Foofur," "The Monchichis").
Nelson died in 1986 at age 75, but his influence continues to be felt in pop culture: His schtick has been utilized by folks like Jon Stewart, and as a tribute to Nelson "The Simpsons" began inserting a Frank Nelson-type character Homer called "that jerk that goes YEssss?" in Season 10. The character, like Nelson, typically works as a clerk and torments the show's star — but now it's Homer Simpson. Adding to the fun, both characters are voiced by Dan Castellaneta — at last check, the Frank Nelson tribute character, drawn to look just like him, has appeared in 18 episodes, as well as "The Simpsons Movie" and "Tapped Out" video game.
Doris Singleton as Caroline Appleby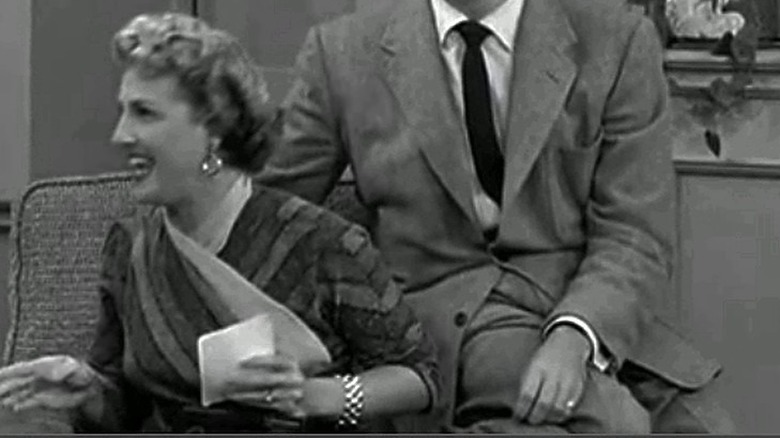 The role of Lucy's "frenemy" on the show spilled over into real life in the form of Caroline Appleby, when the producers changed the character's name from Lillian because it was too similar to Lucy. You can look at it as an extension of the "don't let anyone outshine the star" rule. In her part, Doris Singleton always tried to one-up Lucy and prove that she had the better lifestyle and the better provider for a husband.
Professionally, it seemed she was more friend than enemy: She would team up with Ball again multiple times after the show ended in many of her subsequent productions, including "The Lucy Show" and "Here's Lucy." In the intervening years, though, Singleton also had a lot of voice and ad roles, as well as smaller and one-time parts on "The Twilight Zone," "The Munsters," and "Hogan's Heroes." 

Shirley Mitchell as Marion Strong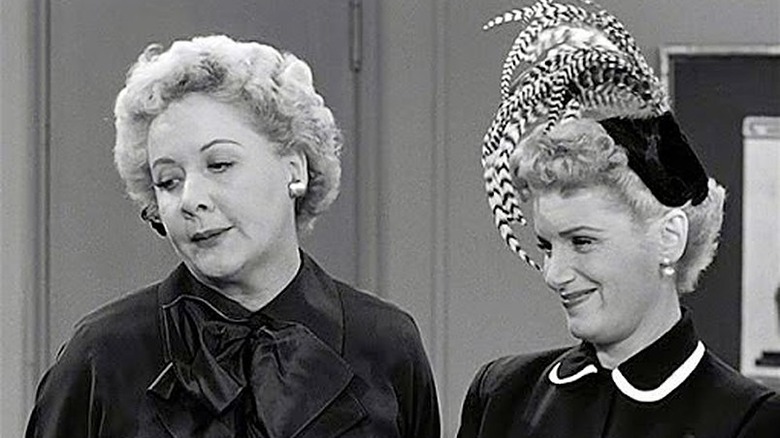 Shirley Mitchell was known on "I Love Lucy" as Ricky and Lucy's friend with the funny laugh, and continued to appear on sitcoms throughout the decades, as well as taking on voice-over work — which is fitting considering how singularly recognizable her voice and laugh were in Arnaz and Ball's sitcom. Her character, Marion Strong, was known for the clash between her desire to keep up appearances and "look like somebody" and her undeniably terrible taste.
The taste of the actress herself in television roles, however, was considerably better. She was a prolific actress who appeared in such widely known productions as "The Red Skelton Show," "The Beverly Hillbillies," and "The Adventures of Ozzie and Harriet," moving easily through different eras to appear in an episode of "The Fresh Prince of Bel-Air" in 2006 and even voice a "Desperate Housewives" video game.
Her final role came in 2012, when she played another famously long-lived actress, Betty White, in an episode of "MAD." She passed away the next year at age 94.

Desi Arnaz as Ricky Ricardo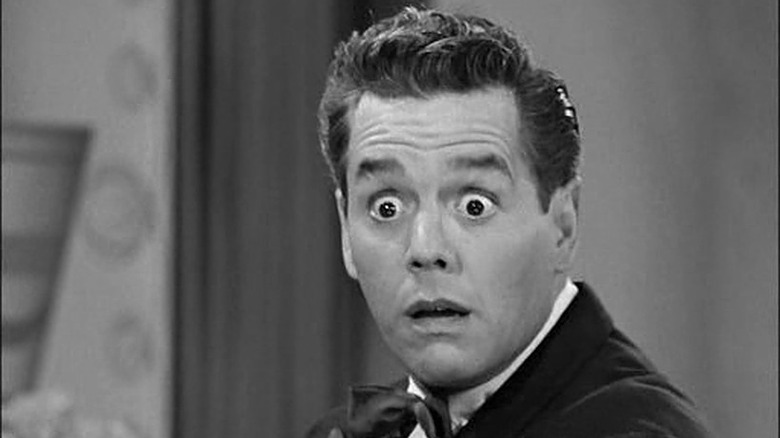 Prolific performer Desi Arnaz was married to his "I Love Lucy" co-star Lucille Ball during the show's run, and went on to produce multiple other TV series both with and without his then-wife. 
Throughout his career, the actor led The Desi Arnaz Orchestra (another way in which his "I Love Lucy" bandleader character drew from real life). His success in TV production wasn't limited to sitcoms, either: He also produced "The Untouchables," a crime drama about a Prohibition agent in Chicago, with Desilu Productions from 1959 to 1963. Like "I Love Lucy," the series was a landmark in its day, spawning a legacy that has lived on in countless homages and imitations — including the 1987 Brian De Palma film that won Sean Connery his only Oscar.
Arnaz produced successful sitcoms like "The Mothers-In-Law" on his own, and continued acting until 1982 (though he was less active in this time, and spent his leisure breeding and racing Thoroughbreds), with a final role in Caleb "Father of Zooey and Emily" Deschanel's directorial debut "The Escape Artist." The substantial legacy of Desi Arnaz is immortalized with two stars on the Walk of Fame, one for movies and one for television.

Lucille Ball as Lucy Ricardo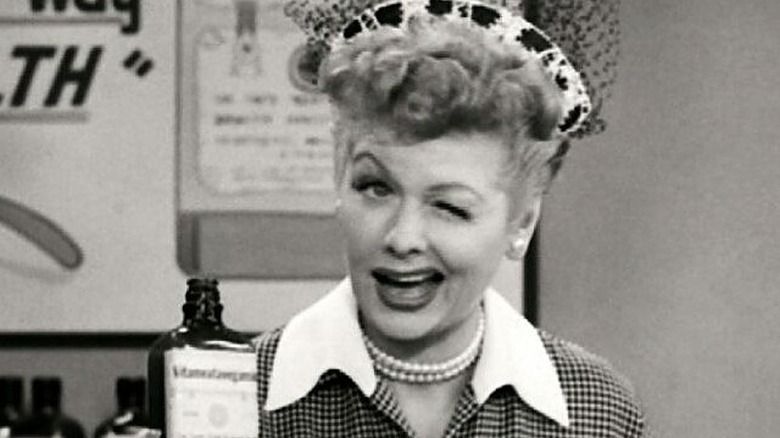 By creating and embodying Lucy Ricardo, Lucille Ball made her character's very dreams come true, carving out a place for herself in the entertainment world her iconic sitcom housewife so desperately wanted to join. 
She would return time and time again to the essence of the character, playing different versions of herself. Directly after the conclusion of "I Love Lucy," she reprised her character in the follow-up show "The Lucy-Desi Comedy Hour" beginning in 1957, and would also play the character on episodes of "The Ann Sothern Show" and "Sunday Showcase" in 1959.
After her divorce from Arnaz in 1960, Ball took on a series of roles that shared her first name, but from this point forward, these "Lucys" were always single women: Lucy Carmichael on 1962's "The Lucy Show," Lucy Carter on 1968's "Here's Lucy," and Lucy Barker on "Life With Lucy" in 1986 — a critically-panned swansong that became the only "Lucy" sitcom to last one season.
Ball went on to produce other shows alongside then-husband Arnaz as part of their TV production company, Desilu Productions. If it wasn't for Desilu, there's a good chance Chris Pine and Tom Cruise would be searching for blockbuster franchises today (the company produced early seasons of "Star Trek" and "Mission: Impossible"), showing just how far reaching her influence was — and continues to be.
Lucille Ball also went to Broadway briefly (to lukewarm reviews, before falling ill), and passed away in 1989 at age 77. Like her former husband, she has two stars on the Walk of Fame — but even a tribute like that can't quite begin to capture her legacy.