Where You've Seen The Cast Of The Silent Sea Before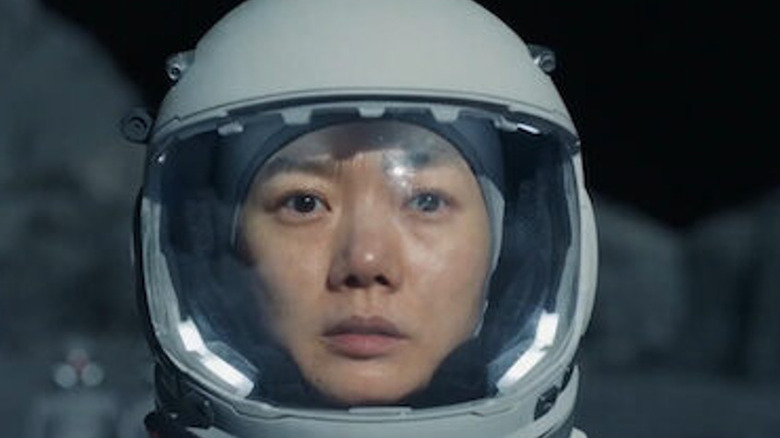 Netflix
"The Silent Sea" from Netflix is a dark sci-fi thriller out of South Korea. The official description used on the streaming service reads, "During a perilous 24-hour mission on the moon, space explorers try to retrieve samples from an abandoned research facility steeped in classified secrets." It is, of course, a fairly apt description of what you can expect from the series. However, there is still a ton to unpack in the series, as the grueling and terrifying events that occur during this mission can only be experienced, not detailed in a brief synopsis.
What some viewers — and potential new viewers — may recognize right away are some of the faces in the cast. Whether you're a fan of the explosion of film and TV that's been coming out of South Korea lately or just an avid viewer of The Wachowskis' work, chances are pretty good that you recognize someone in this crew of actors. To help you place exactly where you've seen them before, we're taking a look at the characters they play within the show and their careers prior to joining the series.
Bae Doona
Netflix
Bae Doona plays Song Ji-an, a former astrobiologist whom we first meet in a laboratory enclosure tending to a wounded tiger. Although the animal is upset by the intruders coming to recruit her for their mission, she knows how to calm him. Obviously, this demonstrates her caring nature, informing much of her character's actions later on in the series. She also has a personal connection to the mission and discovering what happened on Balhea Lunar Research Station, being that her sister was part of the previous research team that mysteriously died up there.
The actress' first credited role was in 1999's "The Ring Virus," adapted from the same Japanese novel that birthed the "Ring" series of films. In 2006, she appeared as Park Nam-joo in the Bong Joon-ho political monster movie "The Host" about an aquatic monster rising from the Han River and killing people. She has also collaborated numerous times with The Wachowskis. Their first time working together was in the sprawling, non-linear sci-fi epic "Cloud Atlas." She reunited with the filmmakers again for their film "Jupiter Ascending" in 2015 and for the mind-bending Netflix series "Sense8" in 2015.
Gong Yoo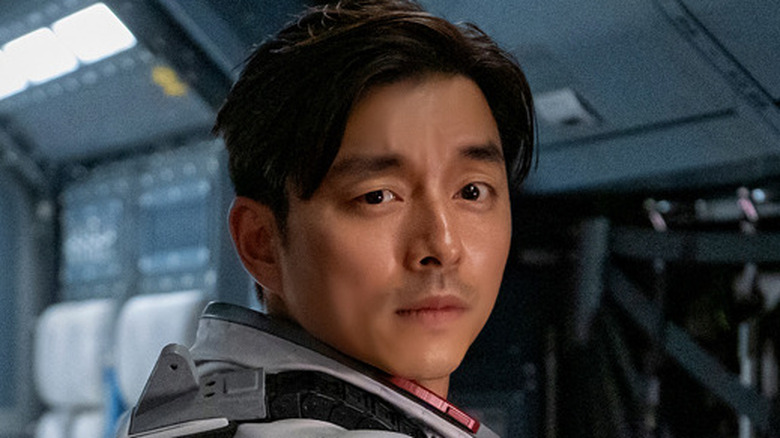 Netflix
The captain of the mission, Han Yoon-jae, is played by actor Gong Yoo. This is a captain who doesn't have time for nonsense and expects his orders to be followed without question, and that's before the team's shuttle crashes and plummets into the inky depths of a crater, stranding them on the moon. When they make it to the base with almost no oxygen left, he doesn't see the point in investigating what happened to the bloated bodies strewn all over the place. His eye is on the mission at hand, and that's it.
It's very likely that the majority of the American audience watching the series will recognize Gong from two of his major titles. The first, since it is fresh in their minds, is as The Salesman in Netflix's unquestionably popular mega-hit show "Squid Game." However, fans of zombie films with heart will immediately clock him for his role in "Train to Busan," which follows passengers on a train desperately trying to survive a zombie outbreak.
Lee Joon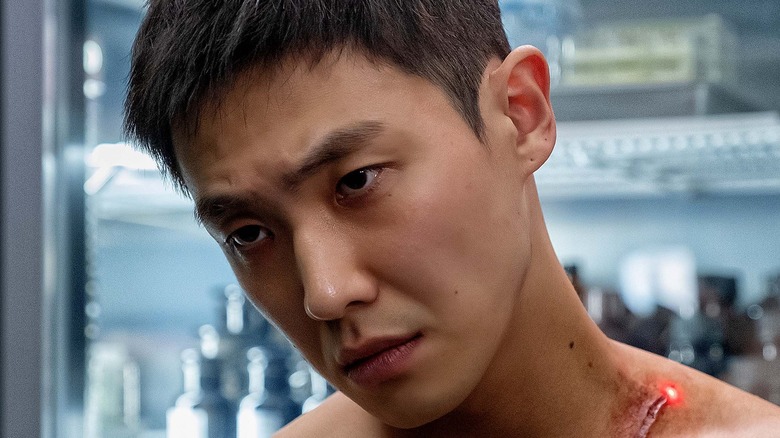 Netflix
While meeting the mission's crew, one stands out as a perfectly upstanding member of the military. His name is Ryoo Tae-seok, and he is played by actor-performer Lee Joon (born Lee Chang-sun). We learn through the dialogue of the other crew members that Ryoo has a reputation for being a "tough as nails commando." Clearly, this is a person everyone can trust, right? Well, as events unfold, his true purpose for joining them is revealed.
Other than appearing in some commercials, Lee Joon's first credited acting role is in the 2009 action film "Ninja Assassin" co-written by sci-fi legend J. Michael Straczynski ("Babylon 5" creator) and produced by The Wachowskis. Since then, he's been in all sorts of things. He starred as Oh Young in the 2013 film "Rough Play." In 2014, he joined the cast of "Mr. Baek," the story of a rich old man who transforms back into his younger self. Other than just "The Silent Sea," 2021 also saw him perform in the series "Bulgasal." He is perhaps best known, however, as a former member of the now-disbanded South Korean boy group MBLAQ.
Kim Sun-young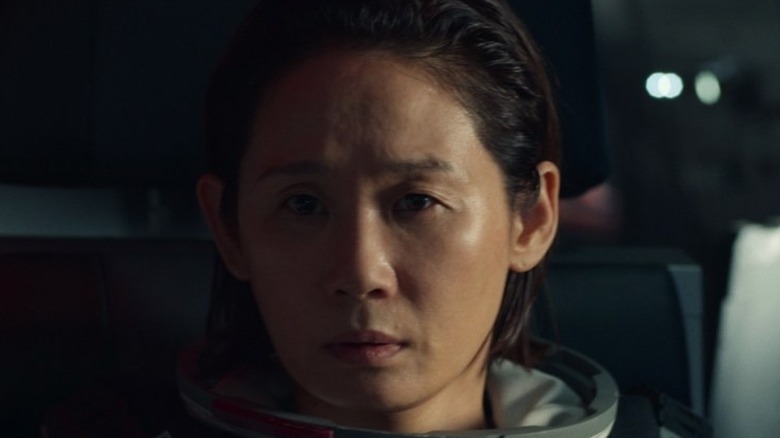 Netflix
At first, Dr. Hong Ga-young presents herself as the complete opposite of Dr. Song Ji-an. While the latter is withdrawn, still grieving over the mysterious loss of her sister, the former is a bit more extroverted, if dry with her wit. When introducing herself, Dr. Hong Ga-young tries to give some advice on how to survive in space, although Dr. Song Ji-an doesn't appear all that interested. This endears us to her right away and makes us hope she'll survive the mission ahead.
The character is brought to life by Kim Sun-young, a real veteran actress despite her first credit (according to IMDb) coming in 2013 in a film about a lonely composer's affair with a high school student called "Love Lesson." Indeed, barely a year has gone by since without her showing up in a few films or television shows. Among them are the 2015 drama "Communications & Lies," the period piece "Herstory," the 2019 series about forbidden love "Crash Landing on You," and the 2020 drama "Three Sisters."
Kim Si-A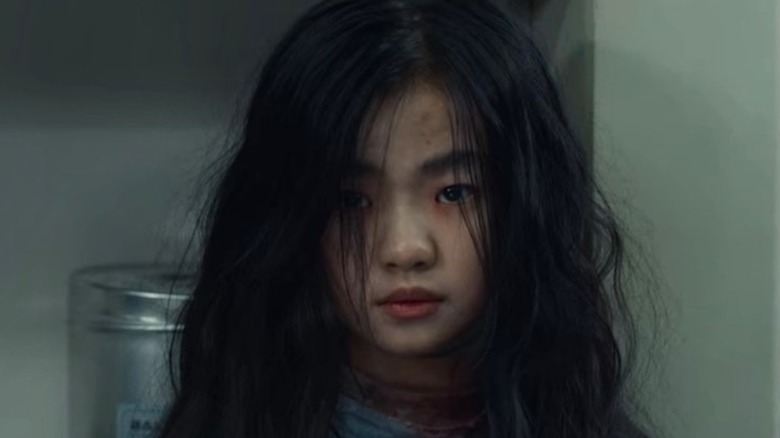 Netflix
There are red flags about this lunar mission all over the place. To begin with, no one is willing to answer what the "samples" are that they're supposed to be bringing back or why they're important. On top of that, there's already a bunch of dead people up at the base, and their cause of death has never been determined. When the new crew makes it to the target, they're almost immediately greeted by a dead body. The strange thing about this body is that it looks like it somehow drowned on the moon. As they continue exploring the facility, more questions arise, and one big mystery comes in the form of a survivor named Luna.
The character is played by young actress Kim Si-A. Given her age, it's no surprise that her role in "The Silent Sea" is one of her first acting credits. While it is also the largest role she's acquired in her new career, that doesn't mean it's the only impressive credit she has. In 2018, she appeared in a film about a woman with a troubled past looking after an abused little girl called "Miss Baek." This was followed in 2019 by the family drama "The House of Us." In 2020, she appeared in the horror film "The Closet," which is about a child who goes missing in her family's new home. Netflix devotees will likely recognize her, though, from the series "Kingdom," where she plays a young Ashin. (The show also features Bae Doona.)
Lee Sung-Wook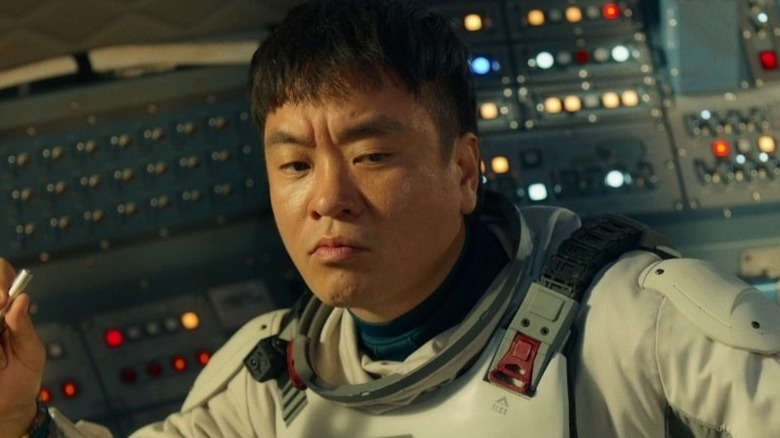 Netflix
From the start, Kim Sun seems like a pretty nice guy. For one thing, he's very excited about the mission, even though a bunch of details are being hidden from them, and the overall purpose isn't exactly clear. Still, the dude's charm is palpable. He even introduces himself as "the 'Top Gun' of SAA" (SAA being the Republic of Korea's Space and Aeronautics Division). It's a shame what's waiting for them on the moon.
The actor portraying Kim Sun is Sung-Wook Lee. He started his career in 2012 when he played a repair employee in the drama film about different lives intersecting on one bed titled "B.E.D." In 2016, he also appeared in another human drama called "Missing Woman." The year 2017 saw Lee join the cast of the mystery sci-fi series about a detective searching for his daughter called "Duel," and he was in three separate shows in 2018 — "Misty," "Happy Sisters," and  "Where Stars Land."
Lee Moo-saeng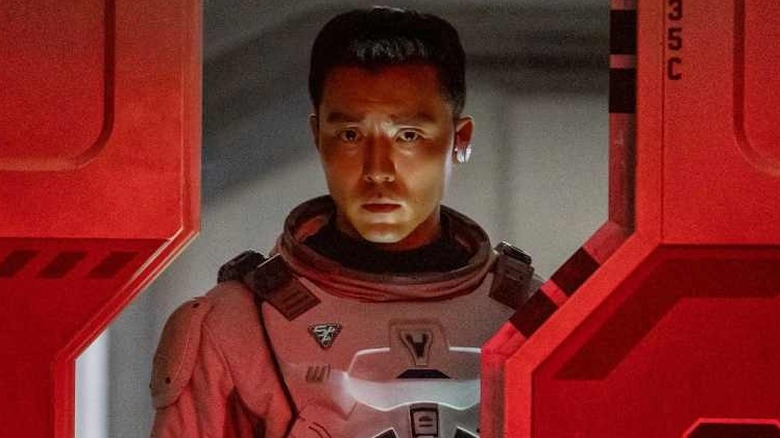 Netflix
Lee Moo-saeng plays Chief Gong Soo-hyuk, the head of security on the mission. Basically, it's his job to make sure everything is safe, and nothing jeopardizes the mission. His training and keen eye reveal that not all of the secrets being kept from them are limited to the base itself, and the mission may have been doomed from the start. When a little girl is found alive on the base, he makes it his duty to assist with keeping her safe.
The actor started his career in 2006 in the film "See You After School." His first major television role came in the 2019 series "Designated Survivor: 60 Days," which is based on the American television series "Designated Survivor" from 2016. One year later, in 2020, he appeared in the television drama about deceit and revenge between a husband and wife called "The World of the Married." On the heels of his work in "The Silent Sea," the actor also joined the cast of a 2022 series about people in their late 30s aptly titled "Thirty Nine."
Choi Young-Woo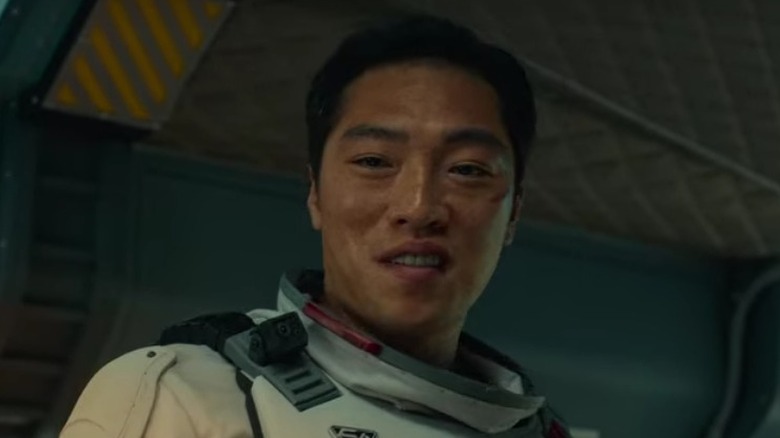 Netflix
Just before taking off for the mission, a last-minute replacement is sent into co-pilot. This is where we meet Choi Young-Woo as Lee Gi-su. This guy makes his presence known right away — he's smirking, cracking jokes, and basically being a bit of a pain. The fact that we instantly take such a disliking to him is a credit to the ability of the actor playing him.
Given Choi's obvious talent, you might be surprised to see that his IMDb only lists four acting credits. However, it makes sense when you realize that three of those credits are for shows premiering in 2021. Clearly, this is an actor who hit the ground running. His first role is in The Flower of Evil," a series about a man who has changed his identity and is married to the detective investigating his past. Other than "The Silent Sea," his other 2021 credits include the series' "Hospital Playlist" and "Only One Person."