Squid Game Just Happened In Real Life With One Big Difference
Netflix
"Squid Game" is a show that focuses on hundreds of poor people, who bet their lives on a fleeting chance to acquire life-changing riches. On paper, the brutal premise might make it seem that Netflix's South Korean survival drama didn't come out of the gates as a likely candidate for the next big pop culture phenomenon. In practice, the show's intricately crafted characters, amazing production values, and a plot that delivers emotional blows at breakneck speed have been more than enough to make it a mega-hit that smashes Netflix records like they were made of dalgona candy. As such, you now live in a world where barely a day goes by without some new, strange angle in "Squid Game"-themed news. Some of these nuggets of information are emotional, like the show's creator Hwang Dong-hyuk's long, impoverished struggle between the show's inception and release. Others are horrifying, like the death sentence North Korea gave to a man who broke the country's censorship laws with a bootleg copy of the show. 
The latest "Squid Game" news brings the games to real life, which just might be the strangest twist of them all. After all, the show's stunning set design might make all the elaborate deathtraps look cool and outright iconic. However, this does little to hide the fact that having desperate people play deadly games for money is fairly cutting social commentary, and very much not an invitation to set up a "Squid Game" of your own. Nevertheless, that exact thing has now happened, because a Squid Game just happened in real life ... with one big difference. 
MrBeast's Squid Game is huge, but not deadly
The real-life version of "Squid Game" comes from popular YouTuber MrBeast, who recreated all six games in the show, and offered the princely sum of $456,000 to the lucky winner. Fortunately, MrBeast didn't embrace the dystopic nature of the show in full, so while the sets and costumes are rather accurately recreated in his video, the losing participants didn't actually lose their lives as well. Instead, MrBeast's team rigged all the contestants with special effect devices that pop once a contest is eliminated, creating a tiny "explosion" and a smoke cloud. What's more, upon elimination, they all received at least $2,000. 
Just like the original, MrBeast's "Squid Game" sets 456 competitors against each other, with guards in red boiler suits watching as MrBeast himself narrates the proceedings — dressed in the Front Man's (played in the show by Lee Byung-hun) black garments, of course. While there are some small differences to the show's elaborate set pieces — such as the fact that many of the guards don't cover their faces — the production values of the video are pretty impressive. The Red Light, Green Light game has the creepy giant girl doll (that has some surprising origins all its own). They have a version of the show's massive dorm room, bunks and all. The dalgona is there, and the people who get the umbrella shape are just as horrified as you'd expect. Even the lighter scene is replicated.   
Some of the sets, of course, had to be altered for safety. The deadly falls of the Tug-of-War and Glass Bridge are now comfy foam pits, and the dorm room battle has been replaced with the ddakji game Gi-hun (Lee Jung-jae) plays with the Salesman (Gong Yoo). The ultra-violent Squid Game itself has also been turned into a game of musical chairs, for obvious reasons. 
Why recreate the Squid Game in real life?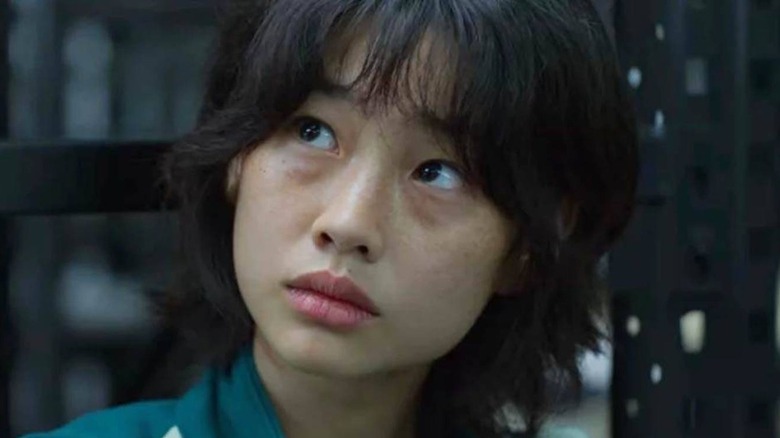 Netflix
Some might point out that recreating the lethal games from a show that explicitly criticizes said lethal games and the social disparity they're a metaphor of is in bad taste. However, it's worth mentioning that MrBeast isn't exactly alone doing this, as the video was created in cooperation with a sponsor. It also takes care to promote #TeamSeas, a $30 million dollar marine cleaning crowdfunding campaign that MrBeast created with fellow YouTube personality Mark Rober (via Variety). This is in line with some of his previous philanthropy-themed activities, which include a previous partnership with Rober called #TeamTrees, and a recent team-up with Jennie-O Turkey Store in order to give away 10,000 turkeys to families in need (per PR Newswire).  
Of course, the lavish spending of a clearly wealthy YouTube star — who, per Insider, spent a total of $3.5 million in the project — has some people pointing out that MrBeast pretty much missed the entire point of the show. "My man really just missed the point of 'rich people will use the poor for entertainment' and did it huh," @ZACKK1NN1E tweeted about the YouTuber's "Squid Game" endeavor. "Someone missed the point," @jeonghives concurred.
Then again, this isn't exactly the first time someone has created a version of the show's games in real life. Earlier this year, the Korean Cultural Center in the United Arab Emirates created a safe real-life version of "Squid Game" for 30 fortunate fans of the show.