Kingdom Season 3 Possible Returning Cast, Possible Plotlines And More Details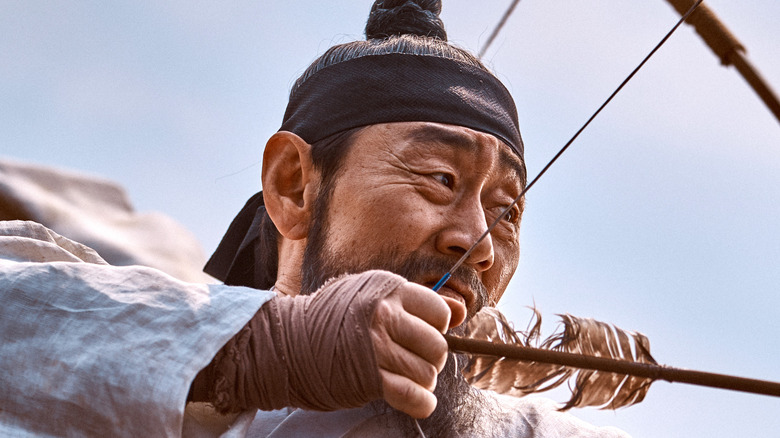 Juhan Noh/Netflix
Netflix's first Korean original series, "Kingdom" is a horror tale set during the Joseon Dynasty. It follows Crown Prince Lee Chang as he sets out to avenge his father, the king of Joseon, and determine the cause of the mysterious illness spreading throughout his kingdom. Like so many zombie stories, "Kingdom" is brutal and dark, with intense fighting sequences full of undead hordes — and fans can't get enough of it.
Shortly after its 2019 debut, "Kingdom" became one of Netflix's most celebrated series, wowing both audiences and critics. Season 2 of "Kingdom" premiered on Netflix in 2020, and a special episode called "Kingdom: Ashin of the North," came out in 2021. Fans of the show are eager for a third season — but will their hopes be satisfied? Maybe ... or maybe not. Here's everything we know so far about "Kingdom" Season 3.
When will Kingdom Season 3 be released?
Juhan Noh/Netflix
Netflix has not officially renewed or canceled "Kingdom" yet, which leaves a potential Season 3 in limbo. As the first two seasons were released quite quickly, many fans expected "Kingdom" to release a third slate of episodes in early 2021. Obviously, that did not come to pass. It remains unclear why Netflix hasn't announced a decision either way. 
"Kingdom: Ashin in the North" provides a lot of background information about the deadly zombie plague's origins, which seems to make it a perfect bridge between Season 2 and a potential Season 3. As series director Kim Seong-hun told Philstar, "Through 'Kingdom' Seasons 1 and 2, topics like thirst for power, hunger, bloodlines were covered. And in order to leap to Season 3, I thought something new was needed." This makes it clear that storytelling is not the issue, here — the director has plans for further tales. 
But that might not matter, if Netflix doesn't feel renewing the series is worth it. The fact of the matter is, Season 3's chances of getting made get lower with every passing month. Fans should keep their fingers crossed, but also prepare for the worst.
What is the plot of Kingdom Season 3?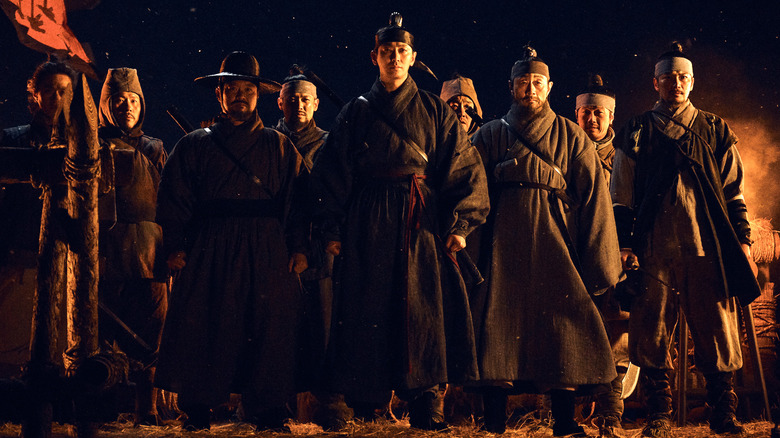 Juhan Noh/Netflix
"Kingdom" Season 2 ends with quite a few major cliffhangers. After Prince Chang takes down the Queen Consort and allows the Young King to become the next ruler, the show goes forward seven years. Things are more peaceful, but the plague is far from gone. Elsewhere in Season 2, Seo-bi discovers that the plague stems from a resurrection plant that hosts a parasitic worm, which enters people's brains. What's worse, the plant is spreading; a stranger is traveling around telling others to plant its seeds, which dramatically advances the infection. 
In "Kingdom: Ashin of the North," we learn that Ashin is the cause of the zombie plague — or at least its initial spread — which began as a means of getting revenge on the Joseon kingdom for her father's imprisonment, torture, and death. This special episode further reveals that Ashin gave the resurrection plant to the royal physician right before the events of Season 1, causing the King's sickness and the following infestation. At the end of Season 2, Prince Chang and Seo-bi encounter Ashin, who appears to still be spreading the plant in order to cause chaos. Can they convince her to give up on her vengeance to save everyone? And let's not forget the final reveal that the Young King, living a calm life in the capital, has been infected by the parasitic worm. If Season 3 comes to pass, it promises to be jam-packed with thrilling stories.
Who is starring in Kingdom Season 3?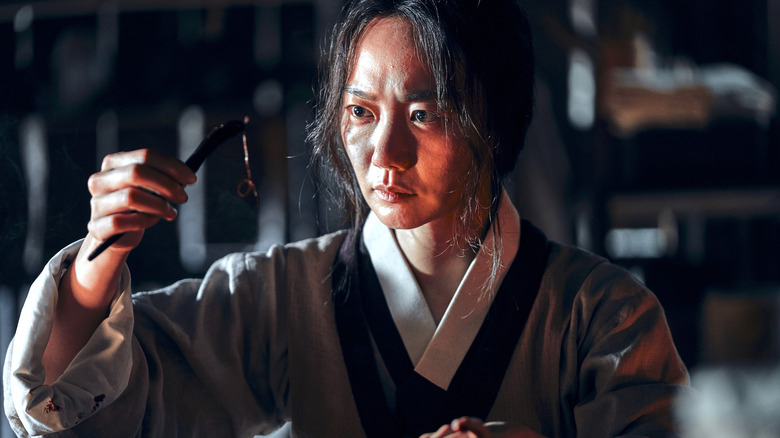 Juhan Noh/Netflix
Ju Ji-hoon leads the "Kingdom" cast as Prince Lee Chang, and would doubtlessly continue to do so in a potential Season 3. The series also stars Bae Doona, who has previously appeared in major projects like "Sense8" and "Sympathy for Mr. Vengeance," as Seo-bi, a physician who is one of the first to see the plague firsthand, and immediately begins a mission to find a cure. Beyond these two, the show features Kim Sung-kyu as Yeong-shin, a skilled tiger hunter who knows how to use a rifle, and Jeon Seok-ho as Cho Beom-pal, a selfish man who has feelings for Seo-bi and joins with Prince Chang in order to survive. 
At the end of Season 2, Ji-hyun appears for the first time as Ashin, directly leading into "Kingdom: Ashin in the North." As the spin-off episode reveals, Ashin has very close ties to what starts the plague; if Season 3 happens, she'll definitely play a major part in it. Another character who will likely play a key role in a third season of "Kingdom" is the Young King, played by Kim Kang-hoon. He's around seven years old during Season 2's final time jump forward, ruling as King of Joseon after Prince Chang gives up his position.