The Kyler Moment In Cobra Kai Season 4 That Has Fans Rewinding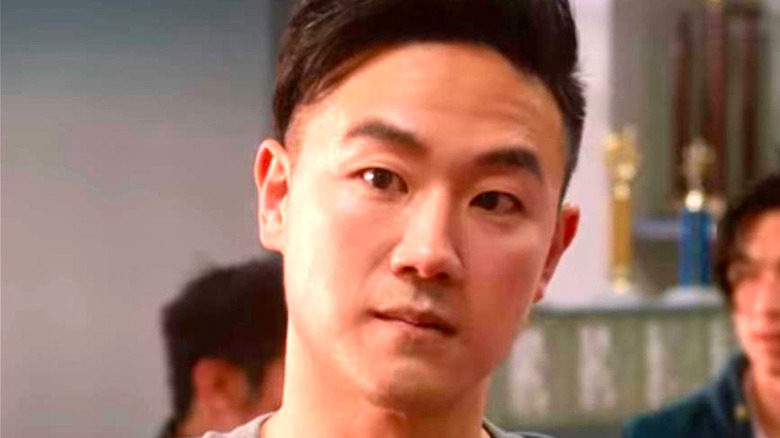 Netflix
It seems that every season, someone in "Cobra Kai" finds themselves at the bottom of the fist-throwing food chain and has a bigger fight than most to make their way back up to the top. In Season 4, that uneasy honor falls on the newest Cobra Kai recruit, Kenny (Dallas Dupree Young), the younger brother of Shawn (Okea Eme-Akwari), who seems to get hit with problems from all angles throughout the season.
Kenny has enough on his plate going to a new school and getting daily abuse from Anthony LaRusso (Griffin Santopietro) and his crew of bullies. Still, the icing on this unfortunate cake is that, as is the common practice at Cobra Kai, he's also put to the test by the older students. One instance that sees Kenny given a tough break is when annoyingly cocky Kyler (played by Joe Seo) demands the recruit get an order for him at a drive-in movie. Moments later, he returns with a massive mound of food — only for it to be swatted on the ground courtesy of Miyagi-Do's Hawk (Jacob Bertrand).
Since the release of "Cobra Kai" Season 4, there has been an outcry amongst fans about the immense wrong done to the karate master-in-the-making, not only because of the sheer size of Kyler's order but also because it comes out of Kenny's pocket. As a result, calculations have been made over just how much of a loss Kenny was hit with, and it's harder than any kick he took all season.
Kyler delivers a big hit to Kenny's wallet in Season 4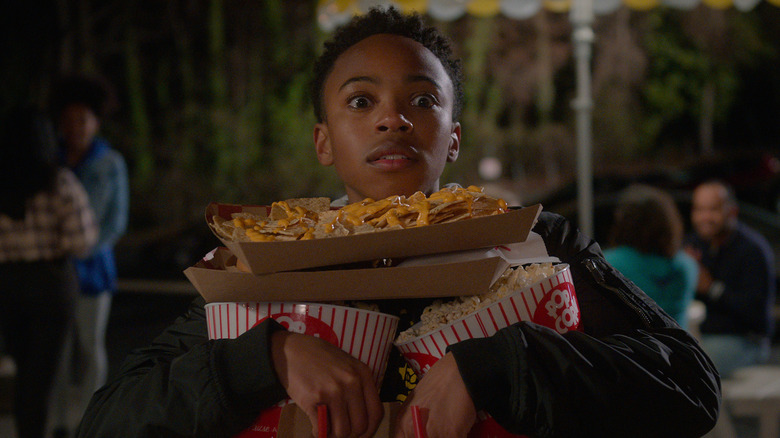 Courtesy of Netflix
After witnessing Kyler's order go kerplunk on the pavement, one fan took to the r/cobrakai subreddit after doing the math on the cost of all that wasted food. After rewinding to Kyler's order, Redditor u/nerty1993 managed to get the list and did a dummy order through what appears to be the Regal Cinemas Uber Eats app page. The jaw-dropping drive-in refreshments request consists of two large orders of nachos, which the app says comes to $17.96, one gourmet pretzel at $4.79, two large hot dogs at $11.38, two large popcorns at $20.58, and four large sodas at $27.96. Totaling that up (and hoping he was getting a free ride home), Kenny spends $82.67 on this whopper of an order.
Deemed by the fan and pro bono financial advisor to Kenny as "the real crime of Season 4," it's certainly up there as one of the biggest hits a character from the show has had to endure this year, and that includes a guy who ends up in the emergency room. Thankfully, Kenny toughens up (for better or worse) following the incident and is more likely to be giving orders out in the future. Watch your back, Kyler. As for the rest of us, we can watch "Cobra Kai" back in action on Netflix, with the fifth season already on the way next year.