Book Of Boba Fett Fans Are Setting Twitter On Fire
The first episode of Disney+'s "The Book of Boba Fett" is finally here, and Twitter can't stop talking about it. "WE ARE SO HYPED. BOBA IS BACK," tweeted @vaderfettdjarin. "There's a new lord in town," said @susanvirtanen. "Seen it twice already and it's only 10 a.m.," added @anaerosmithchic. 
Fans have been waiting to see Temuera Morrison's Boba Fett do his thing in the new Disney+ series since late 2020 when he began appearing in Season 2 of "The Mandalorian." Now in control of Jabba the Hutt's Palace and criminal empire, the legendary bounty hunter appears to have a new lease on life as he rules his portion of the galaxy with help from Ming-Na Wen's Fennec Shand. The first episode of "The Book of Boba Fett" dropped on Disney+ Wednesday, December 29, and has since sparked widespread social media chatter, with critics being mostly pleased and "Star Wars" die-hards loving it. Here's what people have been saying so far.
The Book of Boba Fett is the Star Wars throwback fans have been waiting for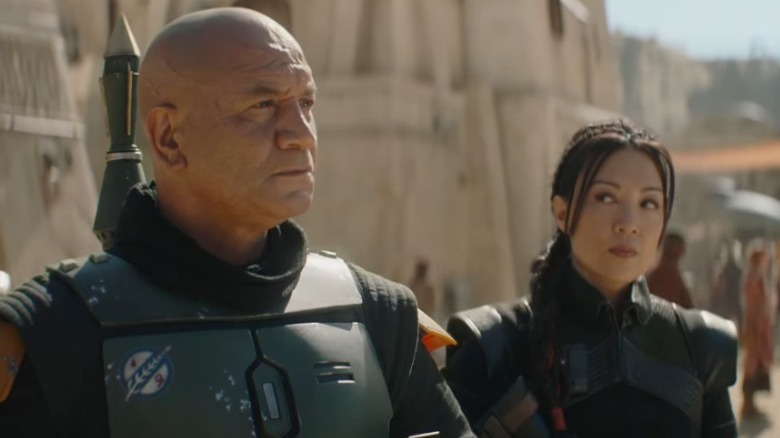 Disney+/Walt Disney Television
When it comes to what fans have been loving most about "The Book of Boba Fett," it's without a doubt the nostalgia and old-school feel of it all. "'The Book of Boba Fett' is everything a 'Star Wars' fan waiting since 'Return of the Jedi' ever wanted," tweeted @patbreviews. "Y'all nailed it! These are the stories OG 'Star Wars' fanboys really want," said @BigContracts. 
Throughout the first episode, viewers are treated to a number of callbacks and flashbacks from prior "Star Wars" films, including "Episode II – Attack of the Clones" and "Episode VI – Return of the Jedi." Several characters and entities from the original trilogy, like the Tusken Raiders and fan-favorite Jizz-wailer musician Max Rebo, made appearances — delighting die-hards. "MAX REBO MY BELOVED," tweeted @clonehumor. "The light of my life has returned," said @gonzofan07. "Nice to see creatures/characters and settings from the original trilogy again," added @quizramana. 
The scenes that seem to be resonating most with viewers were when Temuera Morrison's Boba Fett experiences flashbacks while healing in a bacta tank. "I loved the first opening scene with the flashback to Kamino, Jango's helmet, [and] Boba escaping the Sarlacc," tweeted @R1OUTD. "I shed a tear, especially for the scene with Jango's helmet," said @Lvckylvx. "WASN'T READY TO GET HIT WITH THE HIGH DEF KAMINO AND 'AOTC' FLASHBACKS. I GOT WHIPLASH," added @imn0jedi. "Already I feel more connected with Boba, something that's been greatly needed," user @VineusV concluded. 
"The Book of Boba Fett" will air a new episode each Wednesday on Disney+.