Here's What Critics Are Saying About The Book Of Boba Fett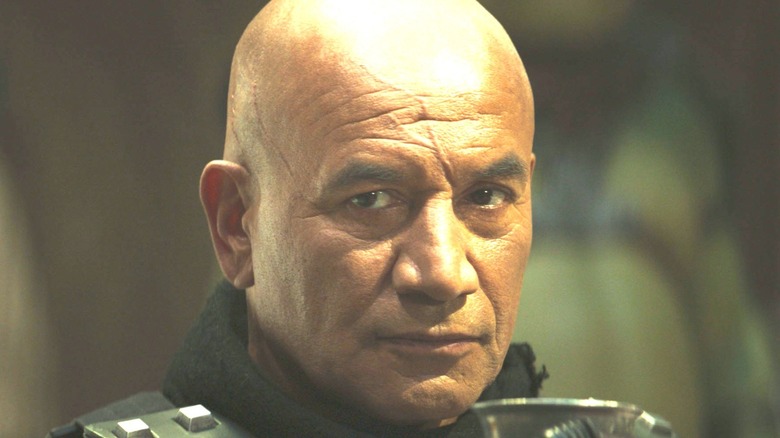 Lucasfilm Ltd.
Warning: Spoilers for "The Book of Boba Fett" below
With the first episode of "The Book of Boba Fett" now streaming on Disney+, the small-screen world of "Star Wars" is making a roaring comeback for the first time since Season 2 of "The Mandalorian" ended in late 2020.
Despite his minimal presence in the original "Star Wars" trilogy, one of its fan-favorite characters has always been Boba Fett (Temuera Morrison). He isn't given much to do — he collects a bounty on Han Solo (Harrison Ford), delivers him to Jabba, and then gets eaten by a sarlacc in "Star Wars: Episode VI – Return of The Jedi." But the mercenary's iconic armor, combined with his ability to overcome a hero like Solo, made him so intriguing to fans that he gets an entire backstory in "Star Wars: Episode 2 – Attack of The Clones." Even then, however, the story focuses more on Boba's father, Jango Fett.
Morrison, who plays Jango in that film, returns now as Boba (which makes sense since the younger Fett is a clone of his father), and the story picks up where "Return of The Jedi" leaves off, with Boba being digested by a sarlacc in the Tatooine desert. What follows from there is roughly 40 minutes of action-packed fun, set in the rich visual world of the harsh desert planet that generations of "Star Wars" fans have come to love.
Critics are already weighing in with their first impressions of the show, so from the awesome to the ugly, here's what they have to say.
The Book of Boba Fett isn't groundbreaking, but it's exactly what fans have been waiting for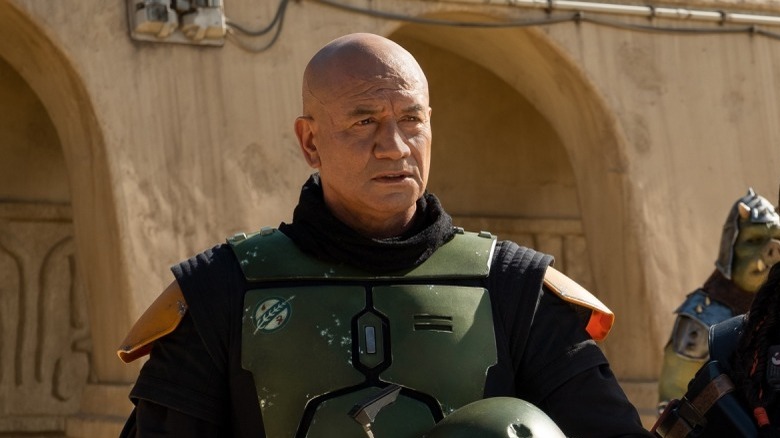 Lucasfilm Ltd.
The critical consensus around "The Book of Boba Fett" can only be so enthusiastic after one episode, but the general sense one gets from reading multiple reviews is that critics are pleased, even if they're unsure how the show will proceed from here. Rolling Stone's Alan Sepinwall called it "a promising start, lean and mean in a manner befitting its taciturn title character," while Hanna Ines Flint for IGN seems to agree, calling it "a strong but restrained opening." 
"The Book of Boba Fett" includes many familiar aliens and nods to all things "Star Wars," and some reviewers noted that, while the nostalgia factor works well here, there's not much else to carry this first episode. According to Brian Lowry at CNN, the showrunners "appear to have gleefully reached into the 'Star Wars' grab bag and unearthed as many references as they could muster in 40 minutes or so, unabashedly catering to that fan appetite." Bryan Young at Looper's sister site, SlashFilm, was slightly less kind, saying, "The show works hard to show us things we know, or think we know," later adding that "not a lot of new ground was broken here."
Critics are mostly pleased with Temuera Morrison as Boba Fett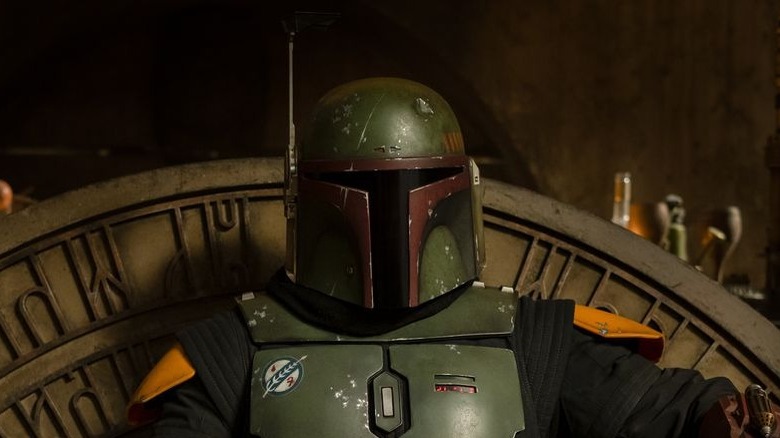 Lucasfilm Ltd.
At 61 years old, Temuera Morrison doesn't exactly project a sense of youthful wonder, but his world-weary, sarlacc-surviving take on the character of Boba Fett clearly isn't going for that. Instead, we watch the bounty hunter fight his way brutally from one humiliation to the next on his way to claim Jabba the Hutt's crime empire for himself.
Critics enjoyed Morrison's performance in this early entry, with Hanna Ines Flint at IGN musing, "There's almost a world weariness to Morrison's depiction of a man that has been through the ringer ... Morrison's grounded delivery and dry humour fleshes out a formally unreadable character." Tom Chapman of Digital Spy, meanwhile, observes, "it's great to see a different side of the character that isn't just here to peddle toys."
However, many critics noted some weak points, as well as the impossibility of predicting how the show will go from here, given that not a lot of plot points reveal themselves in these first 40 minutes. Drew Dietsch of Giant Freakin Robot admits the show went the "obvious route" of having Boba's (sorry, Lord Fett's) power challenged from the outset, a choice which "leads to the kind of well-staged but limp fight scenes we've come to expect from this streaming era of 'Star Wars.'"
The general reception is best summed up by Alan Sepinwall at Rolling Stone, who writes that, with some startling brutality toward the end, this version of Boba "lives up to the legend 'Star Wars' fans have built up around him far more than anything we actually saw in those older films." Hopefully, the series will live up to expectations as more episodes are released.