The Fan-Favorite Classic Star Wars Character Fans Are Loving In The Book Of Boba Fett Chapter 1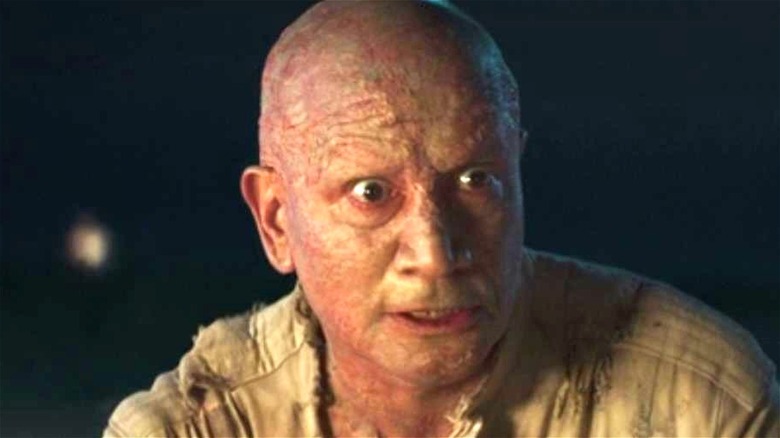 Disney+/Lucasfilm
Warning: This article contain spoilers for Chapter 1 of "The Book of Boba Fett"
"The Book of Boba Fett" brings "Star Wars" fans back to a galaxy far, far away shortly after the end of "The Mandalorian" Season 2. It follows the titular bounty hunter as he fills the power vacuum on Tatooine after the death of Jabba the Hutt. It's not going to be an easy job, and Boba Fett (Temuera Morrison) is going to face a number of threats along the way, if the ending of the first episode is anything to go by. But fans are extremely pleased with the way the series answers questions about Fett's past, including how he escapes from the infamous Sarlacc Pit. The series comes from "The Mandalorian" creator Jon Favreau, and it holds a similar tone to the adventures of Din Djarin (Pedro Pascal) and Baby Yoda/Grogu.
Like any good "Star Wars" story, "The Book of Boba Fett" Chapter 1 includes a couple of recurring elements from the franchise. There's the seedy bar crammed with aliens, a desert planet, surprising cameos, and of course, a giant monster fight. Although Boba doesn't say that immortal line, "I have a bad feeling about this," there's still another six episodes to go. However, one of the biggest surprises of the first episode is the appearance of a fan-favorite classic "Star Wars" character, who briefly shows up in Mos Espa in a completely unexpected scene.
Max Rebo is back!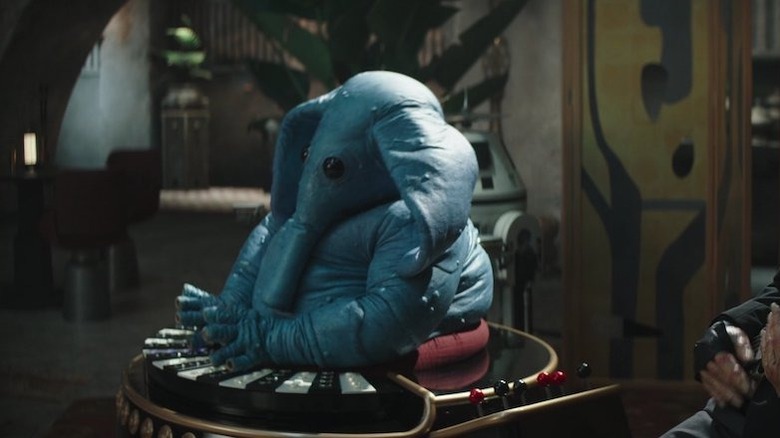 Disney+/Lucasfilm
Yes, you read that right, Max Rebo is back. If you're scratching your head over his name, he's the blue Ortolan musician seen playing in The Max Rebo Band at Jabba's Palace in "Star Wars: Episode VI – Return of the Jedi." He's also on Jabba's sail barge performing for the Hutt's guests while they eagerly wait to watch the execution of Luke Skywalker (Mark Hamill), Han Solo (Harrison Ford), and Chewbacca (Peter Mayhew). Thankfully, he clearly survives the barge's destruction, because he briefly shows up in "The Book of Boba Fett" Chapter 1.
When Boba Fett and Fennec Shand (Ming-Na Wen) head to Garsa Fwip's (Jennifer Beals) Sanctuary bar in Mos Espa, Rebo can be seen performing alongside a Bith guitarist. "Star Wars" fans will best know the Bith thanks to the Mos Eisley Cantina band, a.k.a. Figrin D'an and the Modal Nodes, and yes, they're playing a variation of the iconic Cantina theme. It's not clear whether Garsa is Boba's friend or foe in Episode 1, because Boba and Fennec are attacked immediately after leaving the bar. But if they end up going against her, let's hope Rebo isn't caught in the crossfire.
Fans were quick to show their love for Rebo, with @DaveMendez tweeting "I knew I would like The Book of Boba Fett, but a Max Rebo cameo made it an automatic 10/10. Nothing else matters." While @ClarkNova1 enthusiastically wrote "Hell yeah the Max Rebo band is back in session baby." And finally, @Sheevthan summed up how everyone is feeling, saying "We don't need anymore cameos everyone else go home The Max Rebo Band is f*****g back to save the music industry."
Now, how about The Max Rebo Band spin-off series, anyone?