Where Does The Book Of Boba Fett Fall In The Star Wars Timeline?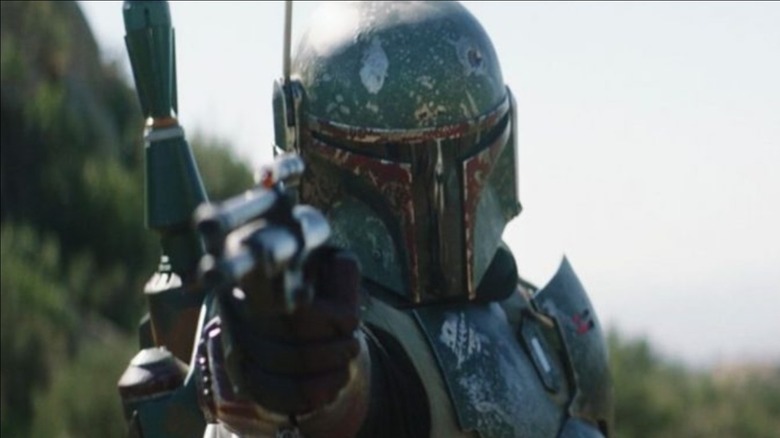 Disney+
After decades of cameos and little to no dialogue, the galaxy's most famous bounty hunter is finally at the forefront of the "Star Wars" universe in Disney+'s new series "The Book of Boba Fett." For the next several weeks, it'll be Fett fever across social media and elsewhere as the longtime fan-favorite gets his very first solo project more than 40 years after making his debut in "Star Wars: Episode V – The Empire Strikes Back." 
Since that small appearance, Fett has been one of the most popular "Star Wars" characters in the entire franchise's history. He uttered just four lines of dialogue in "The Empire Strikes Back" and "Episode VI – Return of the Jedi" before later appearing as a younger version of himself (played by Daniel Logan) in "Episode II – Attack of the Clones" and then again in the animated series "Star Wars: The Clone Wars." In Season 1 of "The Mandalorian," we got glimpses and hints of Fett's arrival on Disney+ before finally getting treated to a full-blown supporting role in Season 2, with Temuera Morrison taking over the beloved character.  Morrison had previously played his dad in "Attack of the Clones."
While keeping track of Fett's history across the "Star Wars" timeline can be a little confusing, "Book of Boba Fett" ultimately serves as a great medium for Lucasfilm and Disney to round things out story-wise. Here's when the new series will ultimately take place in a galaxy far, far away ...
Book of Boba Fett is set 5 years after Return of the Jedi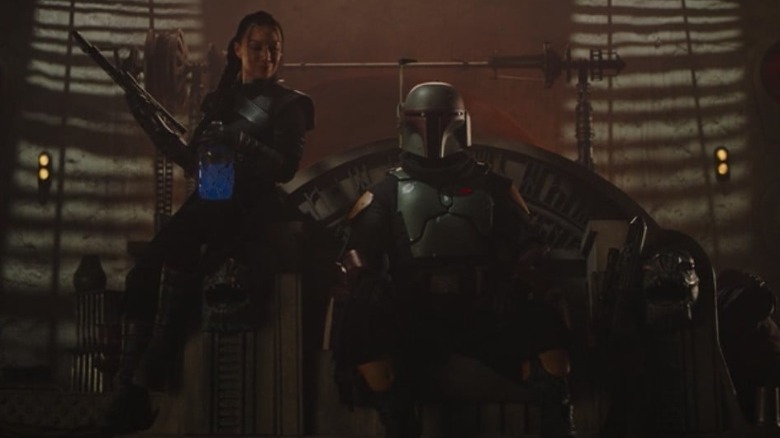 Disney+
When viewers sit down to watch the first episode of "The Book of Boba Fett" — which came out early Wednesday, December 29 — they will be treated to a story that takes place roughly five years after Fett's presumed death in "Return of the Jedi" and immediately after the finale of "The Mandalorian" Season 2.  
Now in control of Jabba the Hutt's Palace and criminal empire, Temuera Morrison's Boba Fett is set to rule the "Star Wars" underbelly alongside Ming-Na Wen's Fennec Shand, who was his accomplice in "Mandalorian." The two were able to secure their newfound power by killing Bib Fortuna (Matthew Wood) at the end of Season 2. 
Some fans believe that "Book of Boba Fett" could possibly help fill in the gaps between "Return of the Jedi" and "The Mandalorian," including how Fett managed to survive the infamous Sarlacc Pit. A short story featured in Star Wars Legends novel "Tales from Jabba's Palace" claims that the character was able to make it out alive by blowing up his jetpack and some grenades to create a hole in the creature's stomach (via Newsweek). 
"The Book of Boba Fett will have long and short answers about the 5 missing years!" tweeted MakingStarWars.net's Jason Ward. This was something Morrison teased in a November interview with SFX magazine. "There will definitely be a number of answers," he hinted. "Some long-winded answers. Some short and sharp answers. Some colorful answers. We're filling a lot of gaps."