What Time Does The Book Of Boba Fett Release On Disney+?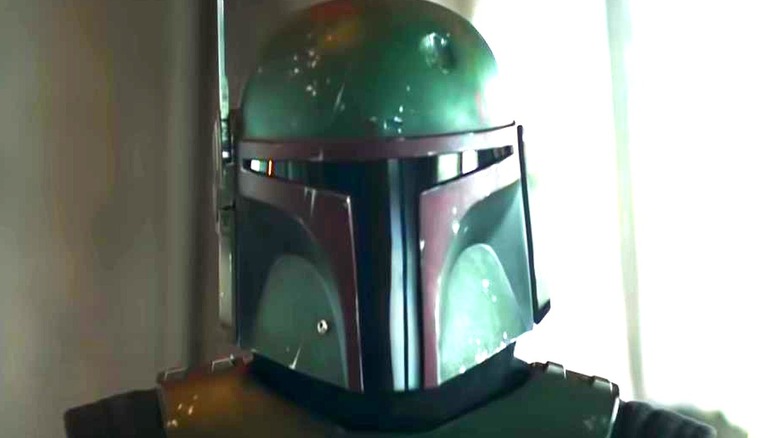 Disney+/YouTube
Brace yourselves, "Star Wars" fans, as "The Book of Boba Fett" is almost upon us. And with every new Disney+ show comes one very important question: When does it actually air? 
Temuera Morrison's reprisal of the galaxy's most notorious bounty hunter was initially featured on "The Mandalorian" Season 2 before he set off to headline a show of his own, which also stars Ming-Na Wen as her Fennec Shand character from "The Mandalorian." 
In "Book of Boba Fett," Fett and Shand team up for a complete takeover of Jabba the Hutt's palace and his criminal underworld, as teased at the end of "The Mandalorian" Season 2. Morrison's titular antihero has taken over the throne of the slithering big bad from the first "Star Wars" trilogy, while Shand helps control the inner workings of the various gangsters and captains under his influence. "Jabba ruled with fear," Fett says in the show's trailer. "I intend to rule with respect." Here's when fans will be able to watch Morrison and Wen do their thing in "The Book of Boba Fett."
The Book of Boba Fett to drop December 29 at 3 a.m. EST
Get lots of rest on December 28, because on Wednesday, December 29 at 3 a.m. EST, Disney+ will release the very first episode of "The Book of Boba Fett" (via Parade). New episodes will drop on Wednesdays at the same time. 
The one-episode-per-week format has been followed by Disney+ regularly, though other shows like "The Mandalorian" and "WandaVision" aired on Fridays. It appears the Mickey Mouse company is moving away from this schedule with both "The Book of Boba Fett" and the new Marvel series "Hawkeye," which also drops on Wednesday mornings. 
Explaining what to expect in his new Fett series, Temuera Morrison told The New York Times in December 2020, "When we find Boba, he's well-worn, and he's been through a lot. He's a survivor, and he's weathered. Now it was time to find out more about what makes Boba tick. Is he more than just a simple man, trying to make his way through the galaxy? Is he tired of all the fighting? Is he tired of all the killing?" Tune in to find out.