Cinematographer Romain Lacourbas Discusses The Witcher Season 2, Henry Cavill, And Disney - Exclusive Interview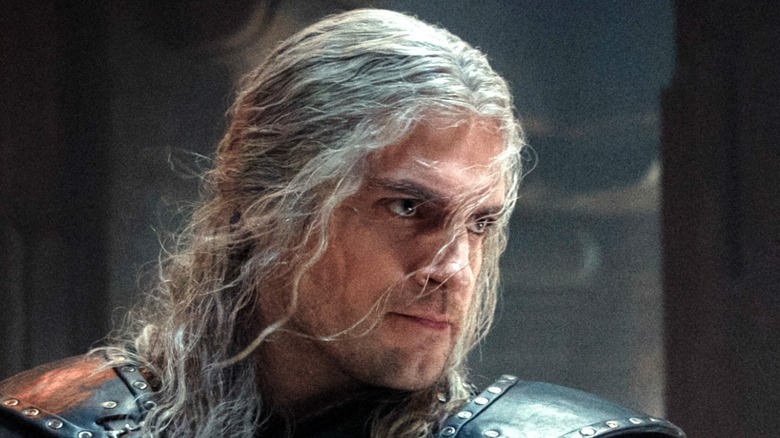 Netflix
When it comes to pinpointing why Netflix's "The Witcher" has been a smashing streaming success since it debuted in 2019, it's almost impossible to single out one particular element that has elevated the series. Created by Lauren Schmidt Hissrich, the storytelling in "The Witcher" — based on Andrzej Sapkowski best-selling book series — is naturally compelling, and there's no doubt that the narrative is beautifully enhanced by the video games inspired by the author's saga.
On top of that, the cast members — led by Henry Cavill as Geralt of Rivia, Freya Allan as Princess Cirilla of Cintra, and Anya Chalotra as Yennifer — have all mastered their roles, which are made all the more remarkable by the production's makeup and visual effects. Perhaps the most pivotal element in the success of "The Witcher," however, is the series' stunning cinematography, which has made the impossible possible for 16 episodes by transporting viewers to the fantasy realm of The Continent.
One of the acclaimed filmmakers behind the camera for the series is Romain Lacourbas, who brought his unique vision to four episodes in Season 2: the premiere chapter "A Grain of Truth," the second episode "Kaer Morhen," the fifth episode "Turn Your Back," and the season finale, "Family." In an exclusive interview with Looper, Lacourbas — who, in his 17-year career, has split his time between European and Hollywood productions — discussed his role in creating the vision of "The Witcher" for Season 2, his work with Cavill, and his goals as a cinematographer beyond the series.
A memorable first impression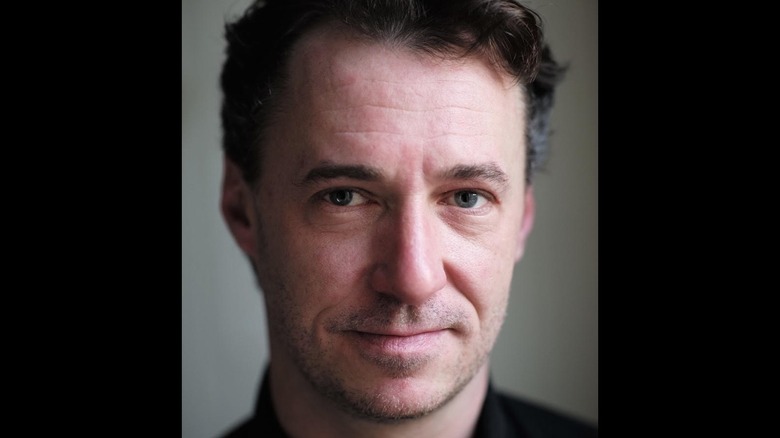 Storyline PR
Congratulations on Season 2 of "The Witcher." What a ride this season has been. How did the opportunity come about to do the series? Were you a big fan of Season 1?
Actually, I got a call from Lauren [Schmidt Hissrich], the showrunner, a few months before Season 1. I was very interested in joining the party, but I was shooting "ZeroZeroZero" at that time for Amazon. Anyway, we had to stop the shoot for a while, and because of conflicting schedules, I had to say no. Fortunately enough, they did call me back for Season 2. That's basically how I got on board. A very good friend of mine, Sean Guest, who was the key first AD [assistant director] on both seasons, and also associate producer, probably suggested my name to Lauren initially, but that's basically how I got on board. I had a nice interview for season 1 and they just remembered my name.
I wasn't big fan of heroic shows at the time ["The Witcher" came out]. But I have to say the moment Season 1 streamed on Netflix, I immediately started watching it, and really became interested and inspired by the story that I didn't know at all. That got me into that genre.
"The Witcher" series, of course, is based on a couple different mediums. You have the books, and you have the video games. Did those influence you in any particular way?
The video games maybe a little bit, but soon enough I realized that you need to have a different approach, even though the video game is a pretty cinematic one ... I never really played the game, but you can find a lot of the imagery of the game on the web, obviously, so I watched a bunch of it. Then at some point I was like, "We need to find our own world and our own style." But there were a lot of people on board who knew the game very well and they were not pushing either me or [cinematographer] JP [Jean-Philippe Gossart], and Terry [Stacey], the other DP [director of photography], toward any kind of style ... I tried to start from a blank page, really.
Splitting up cinematography duties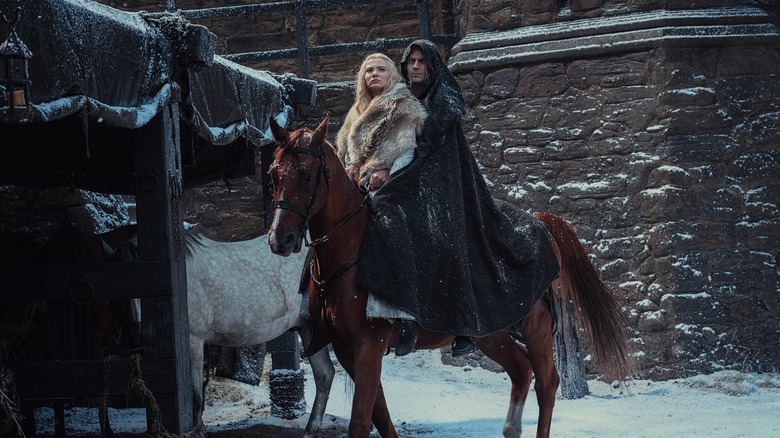 Netflix
You mentioned the other cinematographers. Since the cinematography is split up with this season — kicking off and ending with the episodes you shot with a couple in-between — do you compare notes with the other cinematographer to make sure that you're all on that same page?
Yeah. We did that a lot, which is something I really love — sharing experiences and having multiple brains working together. We did share a lot and I was working the same way with Vanja Černjul on [the TV series] "Marco Polo" years back. Basically, I started the season and the first block with Stephen Surjik directing it at that time. There was only one main unit shooting. Then, JP, who was part of Season 1, joined for episodes [3 and 4]. From then, we started shooting with two units at the same time.
So, yes, we were sharing all the time, our experiences and thoughts and ideas about the sets we had in common. JP and Terry, they had a lot of sets that we were not sharing, but for all the actual locations that we were sharing, yes, we were sharing ideas. It's always great to be able to share thoughts with others, and also to see which path they would take and how they would light the sets. You always learn from others, especially from other DPs.
Filming a beast of a sequence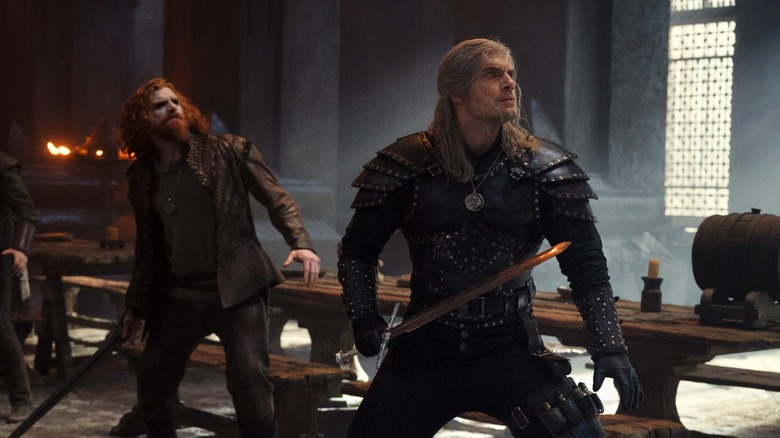 Netflix
I'd have to believe maybe your favorite part of that was putting together the most complex shots in maybe the whole season, which would've been, again, during that confrontation between the possessed Ciri and the Basilisks, and Geralt and the Witchers in the season finale. Would that be true?
Technically, it was very challenging, and yes, it was extremely exciting. It's a very, very long process because you start from a blank page, but what I love on those sorts of scenes is that you start telling the story and concur with multiple departments. You start in a small room with the director with broad ideas, and then, little by little, the effects [department] comes in with some concepts and some propositions, and then the stunts come, and then the art department. The set is already built, so they've already generated an ambience, but they also will come with their ideas, too.
It becomes like a pyramid. It's like building a house. Everyone brings his stone to the edifice, and yes, it is extremely exciting. It's painful also, a little bit because, at some point, you know and everyone knows that you will actually see what the effect of it is at the end. There's a lot that remains in the imagination and in the brains of everyone. It's not that you have to guess because you know that the basilisk is just going to go from there to there, because you decided this on very early meetings. But still, you have to know how fast is that monster is going to move, where it's going to go, where his tail is going to hit. It's very challenging but very, very rewarding during the fabrication process. For Episode 8, yes, it's probably my favorite scene.
Henry Cavill is 'extremely collaborative' on the series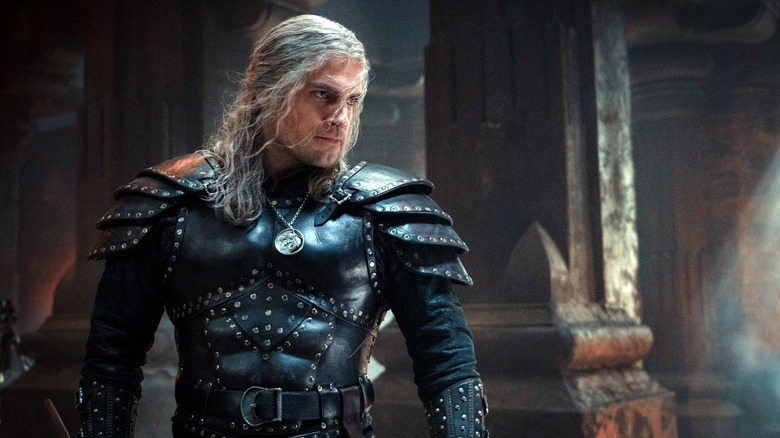 Netflix
You've mentioned a bunch of different collaborators putting together these scenes, but I'm wondering how collaborative Henry Cavill might be on the set. Does he discuss certain shots with you? Or is he just one of these guys that's like, "Hey, I'm here as an actor and I need to stay out of Romain's way."
Oh, he's extremely collaborative — him, Lauren and possibly a couple of other producers. Henry's one of the people who knows the books the best, as well as all the scripts the best. It's really amazing how much he knows — all the lines of all characters. It's really amazing. He's really collaborative. He would sometimes come to discuss an idea or to suggest an idea, but he would never push for it. If he came to talk about a shot and asked for a reason why the camera was [in a particular spot], it was really rare. It would always be for the purpose of the story. He was extremely generous and extremely professional.
You may have heard he had an injury also during the shooting, amongst the COVID and all that ... He injured his leg, so he had to train even harder after that to be able to come back to the set. This guy was waking up at half past 4 in the morning doing a lot of training with the stunts, and then he came to the set to get a lot of makeup, hair, prosthetics, and contact lenses for his eyes. When we were on set for 12 hours, he was probably there for 16, always with the same smile and the same generosity, and the same, "Just happy to be here, happy to be part of that adventure" [enthusiasm]. It was great for me. We really got along very well together.
Does Henry ever lighten things up? When I talked with Paul Bullion, who plays Lambert, he, too, talked about how he admired Henry's dedication, but does he ever get people laughing? You've got to break the tension once in a while. Did you see that sort of thing behind the scenes?
Yeah, of course that happens, although it was not a tense set or anything. Believe me, the general ambience was really nice. Of course, there are some jokes sometimes. He is cracking jokes from time to time, and there is a time for that, as always, on the set. But most of the time, it's about, for him and for all the other actors, to tell you the truth, it's about being focused. But yeah, there was a very good atmosphere.
The influence of Sapkowski and The Witcher fans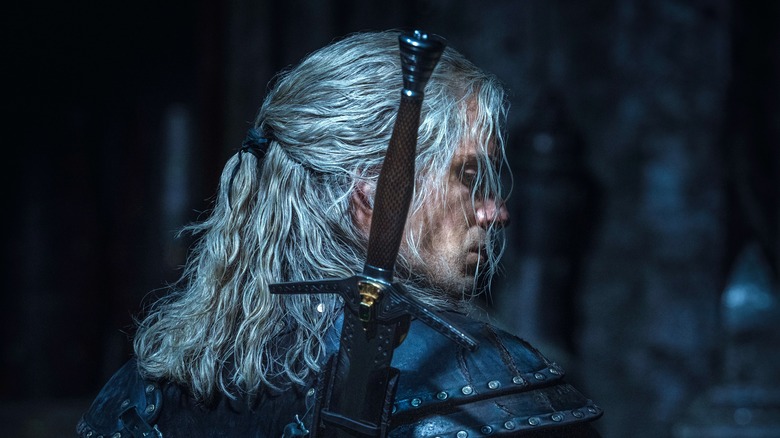 Netflix
Naturally, the interpretation of a material that is so beloved, whether it be from books or the video games, you're always going to have your critics online, but from what I understand, Andrzej Sapkowski likes the show. Really, I think that's what matters most, right? But did you ever discuss your ideas with him? 
To tell you truth and very unfortunately, I never met him. Also, because of all the COVID restrictions, if you remember after this started, when you wanted to come into UK, you had to quarantine and all that stuff, which made traveling a little tricky. I never had the occasion to meet him. However, all the notes or all the thoughts I could have were coming from all the producers, Steve Gaub, Lauren, and people who were very close to him and talking to him very regularly. But no, unfortunately, I didn't get any notes or thoughts directly from him.
Again, the fans are important, too. Do you pay attention to what the fans might want to see? After all the success of that first season, the success of the book, the success of the video games, all ultimately hinges on how they feel, too. It must be a tricky balancing act in a way. Do you listen their chatter?
I did pay attention to most of the fans were writing on the web after Season 1. I did have a look just to have a feel of it and then that's it. Then I stopped just because I think it would be a little bit narrow and shortsighted for a DP to start thinking about visual aesthetic, having potential critics in mind. Again, people like the writers and all the directors had a very clear idea about what "The Witcher" world is and should be.
From time to time, you do realize, "Oh, this shot with Henry's sword on this position on his back at this moment, and that this picture does mean a lot for everyone." You need to emphasize these moments and maybe do some sort of an homage to a very well-known image in the game. That's happened a couple of times on every episode, maybe. The rest of the time, I think it's more about finding a style that the director is happy with, that you like, that you think is very efficient for the subject, and just to go with it. And then, we'll see if the fans will like it or not.
Cavill and Liam Neeson have the same approach to their roles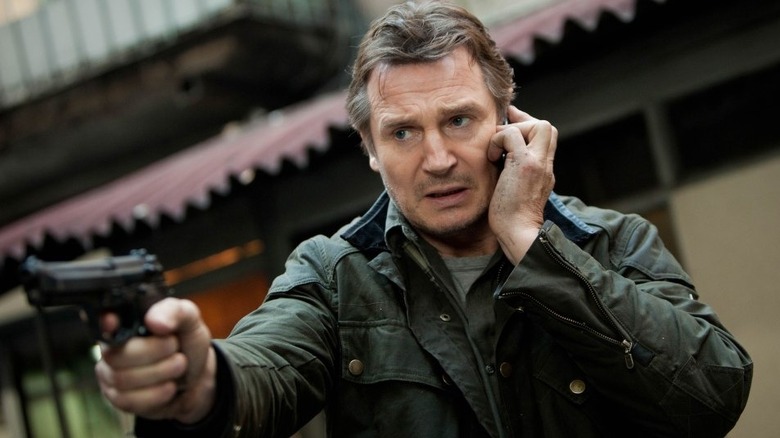 20th Century Films
I had the wonderful opportunity to talk with Liam Neeson for the first "Taken" movie, and again earlier this year for "The Ice Road." Since you were the DP on "Taken 2," how memorable was your work with Liam?
That was a tough one because we were shooting in quite a few different countries. We shot in California and Turkey for the most of it, and we shot in studio in Paris. There was a lot of traveling, moving the actors, moving the crew, finding a new crew where you go and trying all those location to merge, not to match, but to merge together somehow. So, it was quite a challenge, but working with Liam ... that's another giant. When you work with that kind of guy, it's like Henry. They're so professional, but most importantly, they're so creative and so into their role.
Henry was telling me one day, by the end of the shoot, "You have to realize, Romain, I'm dreaming 'Witcher,' I'm sleeping 'Witcher,' all the time, every day of every hour, every day of the week. I'm thinking about the book and the game and the script. I'm living under the skin of a Witcher for the whole duration." Liam is the same kind of guy. He's really into his character. But what strikes me though, is that [when] you're there before [filming], Liam is Liam. He would eventually crack a joke or say anything, then from the moment you say, "Action," he just flipped to his character like that. It was quite impressive to see, actually. You know what I mean? It's like he suddenly, and you think he just made a little joke for the crew and the AD is laughing, and then half a split-second later he's in character. But yeah, again, I was very fortunate to be able to shoot with him. It was very a physical shoot for him as well. If you remember running on the roof of that old market in the center of Istanbul, driving cars with the top driver on top of it. Yeah, it was quite an adventure.
Mulling over the superhero genre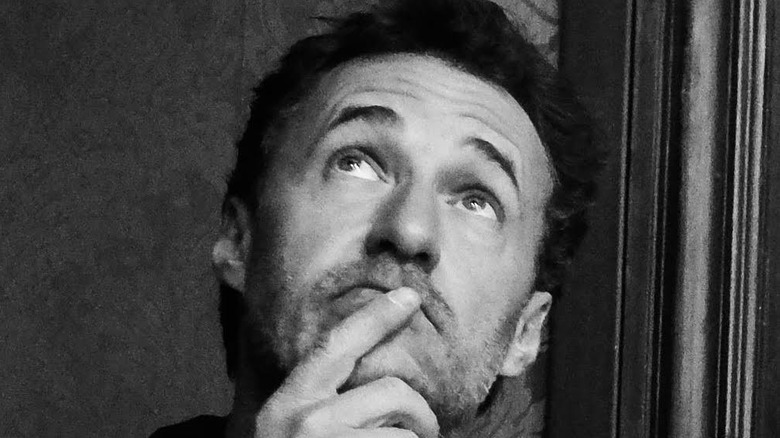 Storyline PR
Paul Bullion says the first impression he had of Henry on set was like, "God, this guy is Superman. He really does embody the characters." Since you've done action and adventure and fantasy, Is there any desire to do a DC movie or a Marvel Cinematic Universe movie? After all, you've got a lot of experience working with a real-life superhero with Henry.
True. The answer is clearly "Yes," of course. I'd love to. As an audience member, I do go to the theater and watch those movies, or I watch them at home when I can't. Since I was a kid, the teenager part of me, I've kept watching these movies and I truly enjoy them. Yeah, of course, that would be a blessing for me to have a chance to participate on one of those and to step into that genre.
What I love about being a DP is, first, trying the best way how to tell a story. Again, sorry for repeating myself, trying to start from a blank page. Also, most importantly, I like changing genres — trying not to do the same thing twice, or at least not back-to-back ... [So, would I do] a thriller and then a heroic fantasy, and then maybe an action movie or a DC comic movie? I think what drives me and what keeps me creative is about trying to change. That's something that I've never done before. Yeah, I would go for it. I would say yes for sure.
Lacourbas would love to film a Superman or Batman movie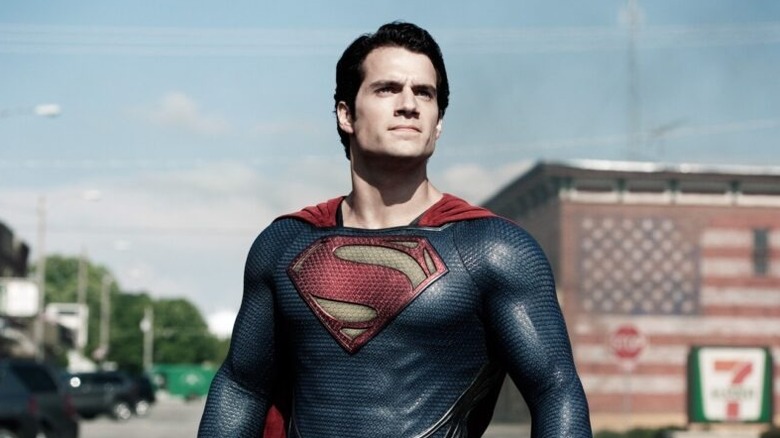 Warner Bros.
Is there any particular character's film that you would like to do? Would you like to be the DP for Superman, Iron Man, Spider-Man? Any particular men or women superheroes?
I think Superman, because it was my favorite superhero when I was ten ... Yeah. I think I would say Superman, to be honest with you, although I'm a big, big fan of all the Batman franchises. They're so different. I also love the way Christopher Nolan starts to explore the darkness on "Batman Begins." Yeah. Then the franchise suddenly shifted into something more cavernous. I really enjoy those days ... We saw that with "Joker," obviously, which even though it's the Batman world, there's a lot of big franchises like that are focused on the darkest part of their heroes. I find it fascinating and very inspiring. It's suddenly not only superheroes anymore — it's superheroes and their big luggage, full of humanity and failures. It's easier for the audience to identify with them and the ambivalence of it, it's much more compelling and much more fascinating. So, Batman. Okay. Maybe Batman.
How about a Batman and a Superman movie? How about that? We can get those kids together again!
Obviously I've seen "Justice League," and I watched the very first "Wonder Woman," which was interesting. Which other big superheroes ... "Spider-Man," obviously. I really enjoyed the first one. "Iron Man," I think the first "Iron Man" is amazing. There are many [so] it's hard to keep up, to be honest. It was hard this past year to get the theater and I missed it. But I'm glad they reopened.
Welles' films are among Lacourbas' greatest influences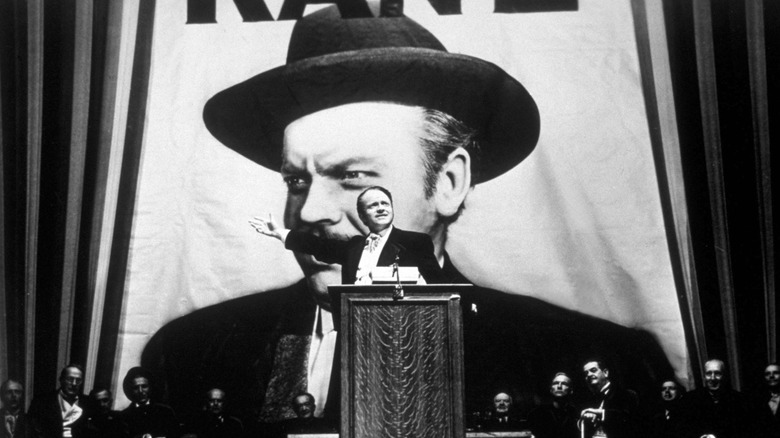 Hulton Archive/Getty Images
What would you consider to be your all-time favorite film? The film that really was so influential to you as a visual artist, as a DP? Is there anything in particular one that stands out?
I was really into Orson Welles' movies, and I think it's because he was probably one of the first who started manipulating the camera as a tool to be able to sell some cheats, as a tool to fool the eye, if that makes sense. I think pretty much all the work of Orson Welles always impressed me a lot. Believe it or not, [I like] a lot of Westerns. I remember "Silverado" as a kid. I was always fascinated with it as a very young kid, not only because there are guns and horses, and people having fights in a bar ... 30 years ago, it was what a boy wanted to become. That may sound super old and super old-fashioned, but that never left me. That's another type of movie that I'd love to do one day — a modern Western.
But to answer your question, I don't think there is one movie that ... there's a bunch. It's interesting. I tried to start making a list of my 100 favorite movies and I tried to work on that list. I started maybe a year ago, two years ago. I came to something, a silly number, like 600 or 700 ... I think right now, I must be at 260 and I just can't compress it to 100. My point is, it's very hard to make a list of your 100 favorite movies. If you're asking what is my favorite one? I'm going to need a lot of time.
Getting back to Welles — "Citizen Kane." That's got to be in at least your top 100 then, Romain.
Oh, for sure. Yeah, of course. But, again, what I was saying about using a camera as a tool to fool the audience. "Citizen Kane" is a very good example of this, I think. Right? Also, it's so modern. The use of the depths of film. We're all trying to do the opposite now because of multiple reasons. It's mood of the times. But he was the director being able to use all the aspect of a lens and a camera to tell a story and I find it fascinating.
Lacourbas' influences for The Witcher included live-action Disney films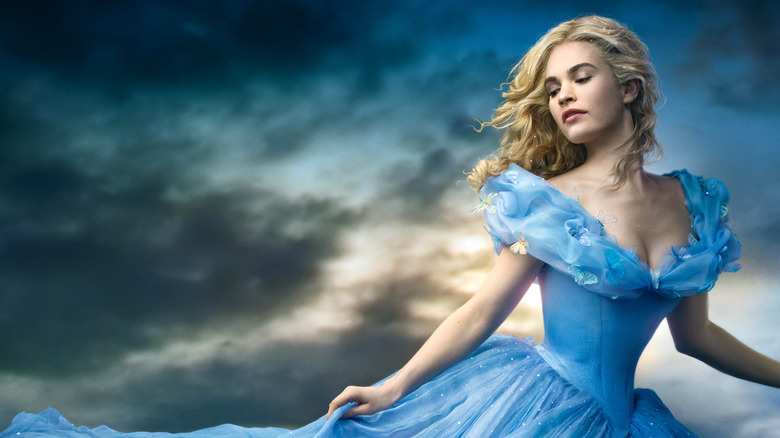 Disney
Is there any particular film that you think might have informed your work on "The Witcher"? I think it may be too easy to say the "Lord of the Rings" trilogy because of the scale, but are there others if not consciously, subconsciously, that influenced you?
I re-watched "The Lord of Rings" and a few "Game of Thrones" episodes. But more than "The Lord of the Rings," there's a few scenes in "Maleficent" and probably, more importantly, there's a few scenes in "Cinderella" — one of the iterations of "Cinderella," where I thought the colors, the color palette [was inspiring], It was in-between poetic storytelling and a very modern way to tell the story.
My thought when I started prep on Season 2 of "The Witcher" — and Stephen Surjik, the director, was all for it as well — was to try to explore the color and try to push the color and try to enhance the color in order to make a show colorful, even in a Witcher world, which you can imagine as something not dull, but gray and muddy colors and earthy colors. We really wanted to start pushing the colors and use primaries, pastel colors, as much as we could and enhance the saturation. I started watching references that were colorful to me. I'd say "Cinderella." I remember doing a scene where the blue was extremely heavy, and the color of the candles were very saturated and the whole room was really warm. I thought that, at least for the first episode, it was interesting to try to step into somehow some sort of poetic genre but staying within the heroic fantasy context — especially for that first episode with all the scenes with the cursed Nivellen in his magical manor. 
I thought all those scenes in front of the fire, the dinner scenes, the drawing room, the bathroom scene, needed to feel a little bit like a fairytale because that's the only moment in the season with an episode that could exist by itself in terms of the writing; in terms of the story only. Because from the moment this episode is over, the serious training starts. Right? We enter Kaer Morhen and then it's about Ciri who wants and possibly going to become a Witcher. Episode 1, it's something little bit apart. With Stephen Surjik, we were convinced that this episode needed to have some sort of a fairy tale taste flavor.
Another Disney live-action classic influenced Season 2 premiere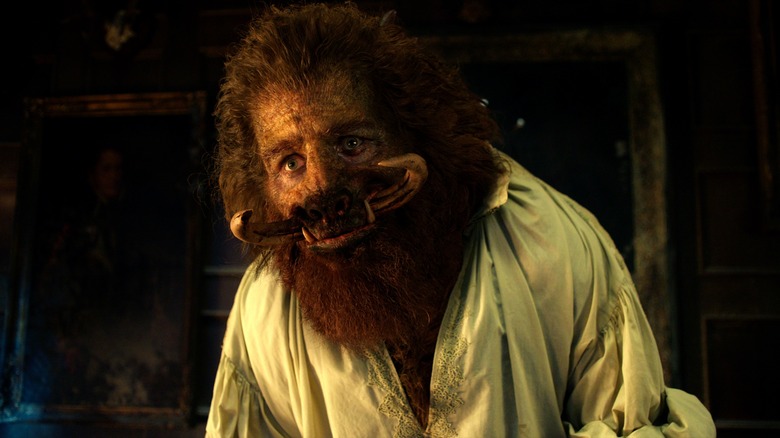 Netflix
I'd almost say the first episode is a bit like "Beauty and the Beast" as well.
Very true. You're totally right. I did put together some sort of mood though because that's what I tried to do before in the early stage of prep. I tried to put together a mood board. When I have a lot of time, I do a mood board for every scene. When I have a little bit less time, I do like something more generic. But trying to define the ambience just because it's so much easy to talk about visual and lighting with images than it is with words. Right? 
I always find it's like a fuel for later debates. You put something on the table and at least you can start talking with a director and a showrunner: "Okay. Do you like it? Is it a good direction? Yes. Great. Let's get deeper or, yeah, this is good, but this is probably a little bit out of subject." It's a great process to start exploring and finding the right tone for a show. "Beauty and the Beast" was on my mood board, to tell you the truth. It was. Some of the "Harry Potter" films were as well.
"The Witcher" Seasons 1 and 2 are streaming exclusively on Netflix.
This interview was edited for length and clarity.