Liam Neeson Talks About The Ice Road's Wintry Production, Chats Star Wars - Exclusive Interview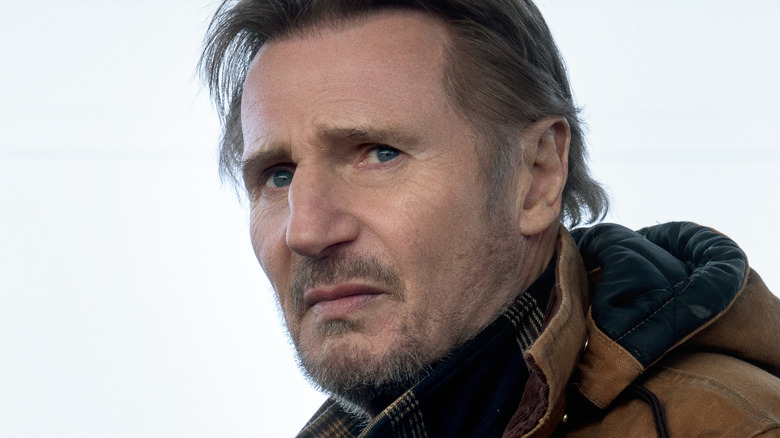 Netflix
Never fearing a dip into different film genres, iconic actor Liam Neeson has traversed many areas on the cinematic landscape throughout his illustrious career. The stops with several gifted directors along the way include horror in Sam Raimi's "Darkman," sci-fi in George Lucas' "Star Wars: Episode I – The Phantom Menace," crime dramas including Martin Scorsese's "Gangs of New York," and the superhero genre with Christopher Nolan's "Batman Begins." Perhaps one of the biggest impacts Neeson has had on film industry, though, came with his Oscar-nominated role as Oskar Schindler in Steven Spielberg's 1993 historical Holocaust drama "Schindler's List," which earned seven Oscars including Best Picture and Best Director.
Broadening his acting horizons further, Neeson established his looming presence in the action genre in films like the "Taken" trilogy. More recently, Neeson has concentrated on a specific skill (in favor of "a very particular set of skills" in the "Taken" movies) like sharpshooting in "The Marksman" and now, driving a big rig on frozen and foreboding bodies of water in "The Ice Road."
Debuting on Netflix June 25, the action thriller "The Ice Road" stars Neeson as Mike McCann, a truck driver who struggles to find consistent employment since he is also the caretaker of his Iraq War veteran brother (Marcus Thomas). With few options to stave off financial ruin, Mike is forced to take on a dangerous mission to drive one of three rigs delivering a 30-ton wellhead to a diamond mine damaged by an explosion in the frozen of environs of northern Canada. Time is of the essence, though, since a group of 26 miners are trapped in a sealed-off mine and are running out of oxygen. Worse yet, the equipment needed to save the miners can only be transferred over an "ice road" — an ominous path over frozen but thawing bodies of water — where Mike and his crew face treacherous conditions and other unforeseen circumstances.
In an exclusive interview with Looper, Neeson discussed his work on "The Ice Road," which was shot on location in Canada, as well as his thoughts on the "Star Wars" saga as the franchise continues to tell stories from "a long time ago in a galaxy far, far away."
Braving the freezing Canadian elements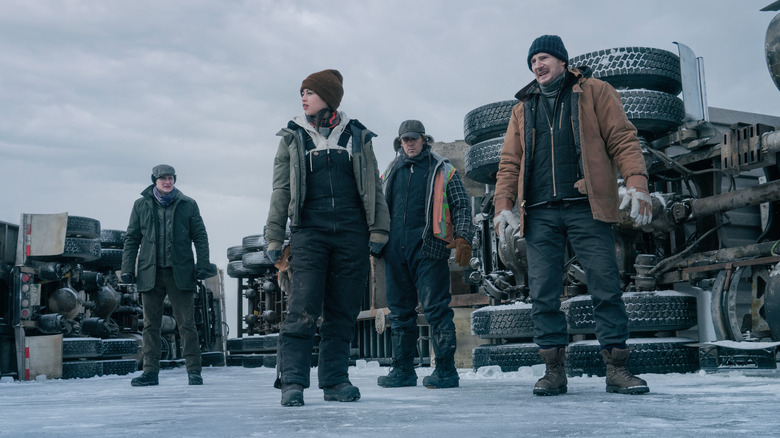 Netflix
Congratulations on "The Ice Road," Liam. I never knew a movie with so much ice would make me sweat so much!

[Laughs] One of the earlier journalists [I talked to], from the Philippines, describes it as "a symphony on ice." I said, "Oh, I'm going to use that! That's nice."
We talked on the phone 13 years ago for the first "Taken" movie, where you used "a very particular set of skills." Here, you have one particular skill, which is handling this big rig on ice — and that's a damn frightening skill to see play out in "The Ice Road."
Yes. And with judicious editing and very good teaching, I can manage to hopefully convince an audience that I could handle these huge beasts. These Kenworth trucks were ... I mean, to me, they are the star of the movie, the trucks. The Kenworth CEO and their head office, they couldn't have done enough for us. They were just great.
Now, there's no faking the conditions in "The Ice Road." I mean, you had to have filmed in actual frozen conditions for this film.
It was very cold. There were some days it was heading minus-30 degrees. My assistant told me that it was minus-35 a couple of days. So, you had to really layer up underneath your costume. That's why we all looked like Michelin men when we were walking.
Revisiting Quinn-Gon Jinn and looking ahead to new Star Wars stories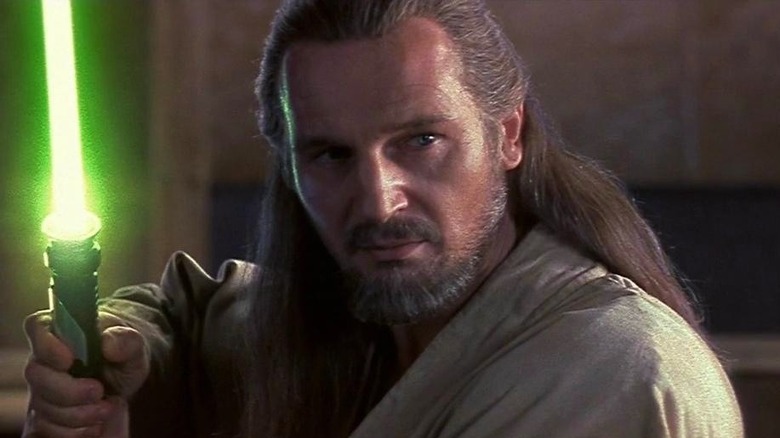 Lucasfilm/20th Century/Disney
I know that you've been asked about your potential involvement in the upcoming Obi-Wan Kenobi series with Ewan McGregor, which you're not appearing in. But I'm wondering being that Qui-Gon Jinn is such a pivotal character in "Star Wars" lore, would you consider a Qui-Gon solo series? Because it seems to me there's plenty of room to examine backstories along the "Star Wars" timeline.
I know. There've been so many spinoffs from the series. I'll be honest with you, I've just lost track. I did see the last [movie that featured] Skellig Island, which is a famous island off the southwest coast of Ireland, where Mark Hamill's character resides [near the areas] built by monks way [back in the] sixth century, I think. But, no, I haven't been approached on that. I believe Ewan's planning a TV series based on Obi-Wan, so good luck to him. Yeah, [it's] terrific. The audience for these films just seems to grow and grow, from child to adult, from adult to grandparent. It's amazing, actually. It's terrific.
Well, you have to be proud knowing you were a part of it, too.
I am. Yeah, I am proud.
Written and directed by Jonathan Hensleigh, and also starring Laurence Fishburne, Amber Midthunder, Benjamin Walker, and Holt McCallany, "The Ice Road" debuts on Netflix June 25.