Kevin Smith Wants To See This Fan-Favorite Batman Actor Level Up The Flash Movie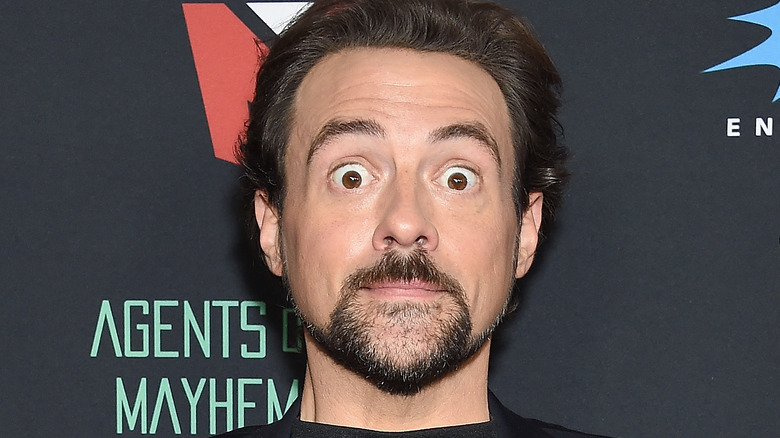 Gregg Deguire/Getty Images
Following a 2021 that brought moviegoers the likes of "The Suicide Squad" and "Zack Snyder's Justice League," Warner Bros. and DC Entertainment are gearing up for a stellar 2022. Director Matt Reeves' "The Batman" has the distinct honor of kicking things off in March, introducing viewers to a brand new take on the Dark Knight mythology. It's dark, brooding, and violent, with reimagined versions of some of your favorite Gotham City residents. Although, if you prefer something more familiar, you can check out another Batman-centric movie come November titled "The Flash," courtesy of director Andy Muschietti.
Set in the DCEU, "The Flash" will finally give Ezra Miller's version of the Scarlet Speedster a spotlight of his own...except that it doesn't appear to be that interested in doing so. Not only will it introduce Sasha Calle's interpretation of Supergirl, but it will also host the return of two different versions of the Caped Crusader. Ben Affleck will put a punctuation mark on his tenure that began with 2016's "Batman v. Superman: Dawn of Justice," and Michael Keaton will don the cowl once more after last putting it on for 1992's "Batman Returns." That's a lot of ground to cover in a movie supposedly about the Flash, but some want to see even more.
"Some," in this case, applies to Kevin Smith, who wants yet another previous Batman actor to appear in "The Flash."
Smith wants Christian Bale's Batman in The Flash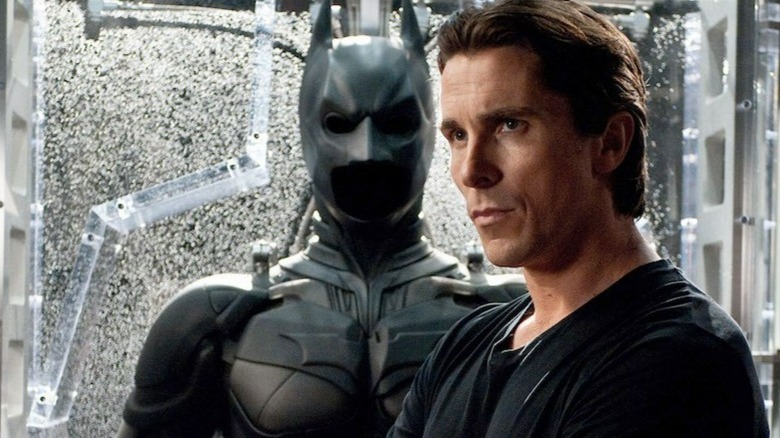 Warner Bros./DC Entertainment
On the latest episode of his and Marc Bernardin's "Fatman Beyond" podcast (via Comic Book), Kevin Smith spoke on "The Flash" and the universe-hopping direction it's taking. "This Flash movie they're setting up with Michael Keaton being Batman, that will bring tears to my eyes," he said, expressing his love for the Tim Burton-created "Batman" duology, which Keaton helmed. However, in the spirit of the recently released Marvel Studios and Sony hit, "Spider-Man: No Way Home," he wants to see even more crossovers go down. More specifically, he wants to see Christian Bale return as Batman too.
"If I'm them, I'm backing a money truck up to Christian Bale's just begging to get him for two minutes so we can have our own 'No Way Home,'" Smith concluded, and it's hard to argue that he's not onto something here. From 2005 to 2012, Bale played Batman in director Christopher Nolan's "Dark Knight" trilogy — a series of films that revolutionized the superhero genre in their time. Though he's often overshadowed by the performances of Heath Ledger and Liam Neeson as the Joker and Ra's Al Ghul, respectively, Bale represented Batman for an entire generation of audiences who would surely love to see him come back.
Considering we've heard nothing about Christian Bale's involvement in "The Flash," and that he's been occupied with his work as Gorr the God Butcher in "Thor: Love and Thunder" as of late, it's safe to assume that Kevin Smith's hopes won't be coming to fruition.