The Dr. Choi Scene That Went Too Far On Chicago Med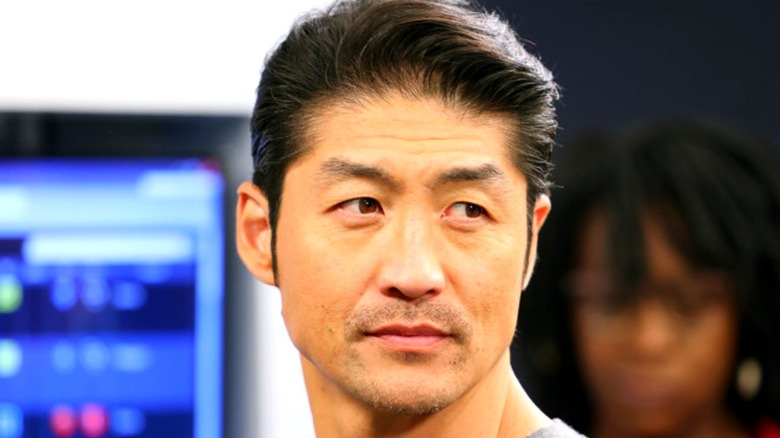 George Burns Jr/NBC
For the skilled doctors and nurses staffing the Gaffney Chicago Medical Center Emergency Department in "Chicago Med," dealing with life-threatening chaos on a daily basis is just part of the job description. Confronted with everything from gunshot wounds, to infectious viral outbreaks, to literal train wrecks, stress-levels in the ED can often spike into the red zone. For the most part, everyone involved does a remarkable job of remaining cool under fire, no matter how tense the situation. But while the medical professionals at the hospital are used to handling the most trying circumstances, they're also human beings who can sometimes struggle to keep their emotions in check.
In this regard, one doctor in particular could be considered one of the most emotionally reserved and self-confident characters in the series. As chief of emergency medicine at the hospital, Dr. Ethan Choi (Brian Tee) not only has to keep control of his own reactions, but he has the added pressure of guiding his staff through high-intensity crises hour after hour. That being said, although he generally does an exemplary job of keeping things chill in the ED, fans seem to agree that this is the one scene in which Choi simply goes too far in "Chicago Med."
Fans think Dr. Choi crossed the line in this scene with Dr. Charles
As a former Navy medic, Dr. Ethan Choi returns from the war in Iraq with a strong sense of military discipline, along with a troubling case of PTSD. So, it may come as no surprise that when his strongest emotions break the surface, it tends to be an explosive event. In this regard, the moment that apparently pushes Choi's last button comes in the episode "In Search of Forgiveness, Not Permission" in the series' sixth season.
Dealing with a post-surgical patient intent on harming himself, Choi calls for physical restraints. When Chief of Psychiatry Dr. Daniel Charles (Oliver Platt) overrules him, Choi goes ballistic, calling out Charles and then venting his rage by punching a defenseless towel dispenser. Fans viewing the scene on YouTube definitely had feelings about Choi's meltdown, with Adi Kusuma writing, "Whoa... I sure never expected this kind of anger from Dr. choi [sic]." 
Another fan, u/JoshStephen, concurs that Choi's reaction in the scene is over the top, even going so far as to suggest Dr. Will Halstead (Nick Gehlfuss) should have been promoted to department head instead of Choi: "Ethan is wayyyy losing control of everything... Halstead would have been a better option as chief resident..." 
As Choi's usually very much in control as the master of his emergency department domain, fans seem to agree that this uncharacteristic outburst is the Choi scene that went too far and very too out of place in Season 6 of "Chicago Med."