The Untold Truth Of Oliver Platt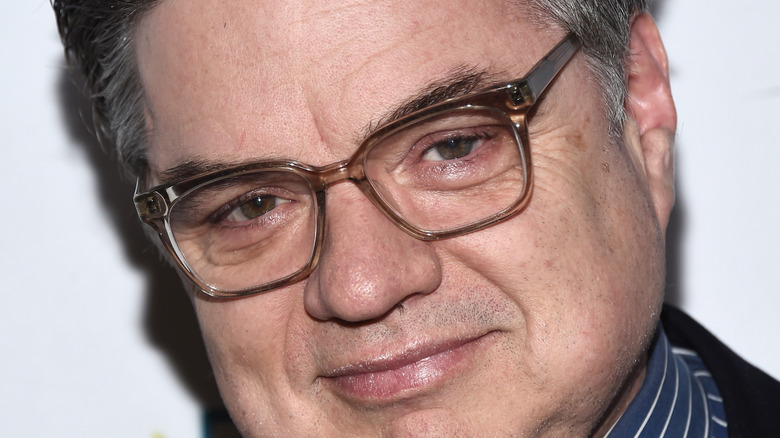 Amanda Edwards/Getty Images
Whether he's giving a dramatic performance or acting as the comedic relief, it's always a pleasure to see Oliver Platt pop up in whatever you're watching. Celebrated character actors are known for never phoning it in and always making interesting choices with whatever role they're playing. Platt has been one of Hollywood's finest for multiple decades, going above and beyond to leave an impression with whatever material he's given.
Although he almost never sees his name above the title, Platt has provided solid support in a wide array of projects. He has been a welcome presence in popcorn flicks ("Doctor Dolittle," "Lake Placid," "2012," "The Three Musketeers"), a recurring face on popular TV with the word "Chicago" in the title (he's appeared in multiple episodes of "Chicago P.D.," "Chicago Fire" and "Chicago Med") and without it ("Modern Family," "The Good Wife" and Emmy nominations for his work on "Huff" and "Nip/Tuck"), and he has appeared in more amazing films you've never seen ("Funny Bones," "Dangerous Beauty," "Bulworth," "Simon Birch," "The Ice Harvest") than perhaps any other actor of his generation. Even when one of his projects receives bad reviews, it seems, critics still acknowledge Oliver Platt as a highlight.
Ever since he first made a name for himself appearing in late-80s drama staples like "The Equalizer," "Miami Vice" and Wiseguy," Platt has built quite a career playing doctors, lawyers, political figures and more — always with a grin on his face and a twinkle in his eye. You may know the man for his acting, but let's take a look at some things you don't know about Oliver Platt.
He almost turned down The West Wing
Oliver Platt had a memorable introduction on "The West Wing" as White House Counsel Oliver Babish, smashing a tape recorder with a gavel in order to avoid another Watergate situation after the President admits he may have committed crimes. However, it turns out that as good as Platt would wind up being in the role, he initially wasn't in the mood to do another NBC show after his run on "Deadline" was cancelled, so he almost said no to "The West Wing."
As he told NPR, "My manager called me and said Aaron Sorkin wants you to be on 'The West Wing.'... I didn't want to do it. And I thought well, I've got to read it so that I can call Aaron up. And then I read it ... and that kind of actor thing kicked in, like, you know, well, I'm not going to let anybody else do this." His eight-episode run on the show changed his mind about television, leading to many other roles he might have turned down otherwise.
He was told to do a terrible Nixon impression in Frost/Nixon
Oliver Platt's connection to Richard Nixon doesn't stop with the Watergate parallels in "The West Wing." He also played journalist Bob Zelnick in director Ron Howard's 2008 film "Frost/Nixon," an adaptation of Peter Morgan's play. At one point, when he's preparing David Frost (Michael Sheen) for his interviews with Nixon (Frank Langella), alongside Jon Birt (Matthew Macfadyen) and James Reston Jr. (Sam Rockwell), he busts out an impersonation of the former president, both trying to anticipate what he might say and lighten the mood with some ridiculous lines as well.
It's not the best impression, but it's not supposed to be, as he told NPR in 2010: "I talked to Ron about it and we said listen, the whole idea is ... Bob Zelnick's not an actor. You don't have to be a good Nixon ... As a matter of fact, the worst Nixon you are the better, and maybe the funnier." In 1977 (when the film takes place) everyone had a Nixon impression, so the point of the scene is its banality.
His father, Nicholas Platt, was an ambassador
Not to keep harping on our 37th president, but the resignation of Richard Nixon had a personal impact on Oliver Platt, since his father was a member of the Nixon administration. While Nicholas Platt was a nonpartisan career diplomat who would go on to work in the Carter administration as well, at the time he was the deputy chief of the political section at the Embassy in Tokyo, Japan.
Oliver recounted the story of how he was a teenager living in Japan when the news of Nixon's resignation poured out of the family's car radio. Oliver says that his father's feelings about the resignation were complicated because he had helped Nixon open up relations with China. The elder Platt would then go on to be the United States Ambassador to Zambia, The Philippines, and Pakistan in the 1980s and 1990s. Oliver's breakout as an actor would come in the 1980s, independent of his father's success, but it is interesting that he's had several Nixon-adjacent roles considering his lineage.
His brother is a food critic just like the one he played in Chef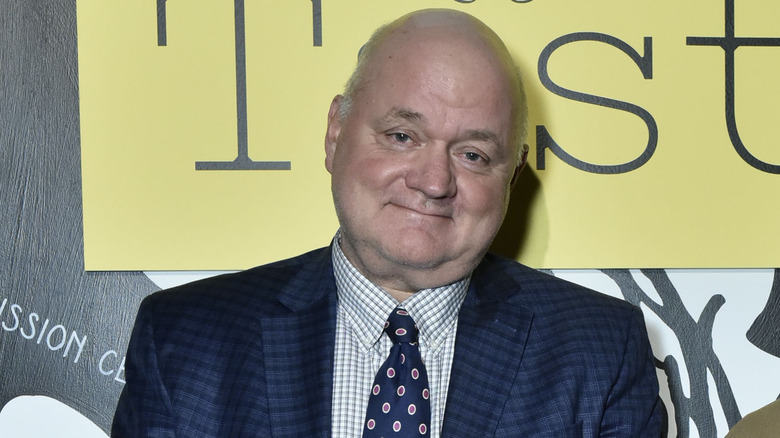 Eugene Gologursky/Getty Images
"Chef" is a film about food, but one interpretation of what might be writer/director Jon Favreau's most personal film is that it is commenting on film critics who praised his work overseeing films like "Elf" and "Iron Man," but were lukewarm when it came to the likes of "Iron Man 2" and "Cowboys & Aliens." Thankfully, the food critic played by Oliver Platt isn't the kind of one-dimensional stereotype found in some films (like "Lady in the Water"), and Favreau doesn't cast himself as the greatest artist in the world (the way M. Night Shyamalan did in that film).
Platt has sympathy for food critics, especially since his brother Adam Platt just so happens to be one. Adam interviewed Oliver for Grubstreet in 2014 and Oliver praised Adam saying, "I'm in awe of what you do... If I consumed what you have to consume during the course of a week on the job, they'd have to wheel me from one dining establishment to the next, reclining on the back of a giant oxcart."
He agreed to play a psychiatrist on Chicago Med because they usually aren't on medical shows
If he's not playing a lawyer, there's a good chance that Oliver Platt is playing a doctor, as he did in films like "Flatliners" and "Doctor Dolittle" or the television show "Chicago Med." However, the psychiatrist that he plays on "Chicago Med" is not the kind of doctor that typically gets featured as part of a wider ensemble.
Platt recalled co-creator Dick Wolf's pitch to him in a 2020 interview with Parade: "There's never been a psychiatrist in a traditional hospital show before and there's a reason for that, but I think the world is ready." This is what ultimately got Platt on board, saying "that the world is ready to talk about mental health." His character of Dr. Daniel Charles was popular enough for Platt to reprise the role in Dick Wolf's other Windy City shows, "Chicago P.D.," "Chicago Fire," and "Chicago Justice."
Oliver Platt considers Warren Beatty to be a great friend
In 2016, Warren Beatty finally released "Rules Don't Apply," his long-in-development passion project about Howard Hughes. Although Beatty has often taken long periods between projects, he seemingly came out of retirement for "Rules," his first film as a director since 1998's political comedy "Bulworth" and  first as an actor since 2001's "Town and Country." In "Bulworth," Oliver Platt played chief of staff to Beatty's titular jaded senator, and Platt would also have a supporting role in "Rules Don't Apply."
In 2016, Today asked Platt what it was like to work with the Hollywood legend again after such a long time between projects, and he said that he and Beatty has built a solid friendship over the years. "I had a marvelous experience with Warren on 'Bulworth,' and we became great friends ... One of the great gifts of my working life is my relationship with Warren and Annette [Benning] and their fantastic children."
He owes his career to Bill Murray
Oliver Platt began his career with some small roles on television and in theater, and would get his first big break in movies with 1988's "Married to the Mob." It turns out the reason he got that role was because of some help from none other than Bill Murray.
Platt recounted his origin story to Today in 2016. "Bill Murray ... came to see me in an off-off Broadway one act play festival in 1986 and told Jonathan Demme about me. And Jon Demme had just lost a cast member from 'Married to the Mob'," he recalled. "He called me up and we had lunch." 
Platt certainly wouldn't have landed the job if he weren't talented, but having someone like Bill Murray vouching for you certainly doesn't hurt. Around that same time, Platt landed a small role in Mike Nichols' "Working Girl," so it seems like his movie career was launching as the result of being talented enough that major opportunities were coming at him from every direction.
Oliver Platt has done several movies with Kevin Bacon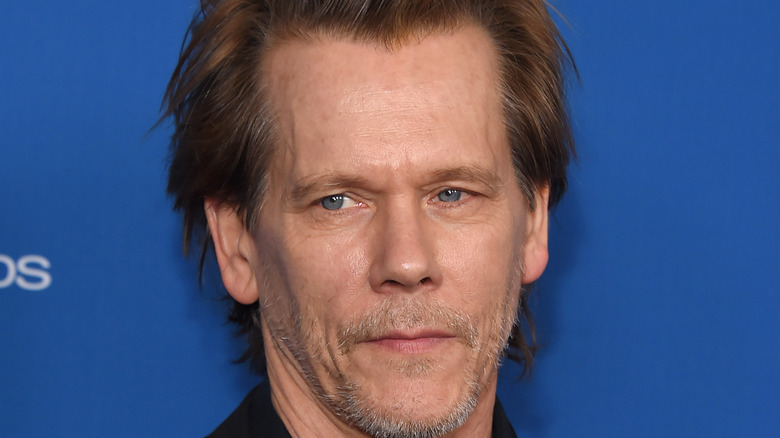 DFree/Shutterstock
Playing the "Six Degrees of Kevin Bacon" game can be pretty easy if you remember that Bacon has worked many times with Platt, who has then himself worked with seemingly half of Hollywood. Next time you're playing with someone, feel free to throw out Betty White ("Lake Placid"), Jerry Lewis ("Funny Bones"), Tim Curry ("Kinsey"), Steven Seagal ("Executive Decision") or even Diamond Dallas Page ("Ready to Rumble"). To further impress your competition, tell them you can link any of those actors to Bacon in a mere two degrees. 
The key is Oliver Platt. Bacon and Platt's first film together was "Flatliners," about medical students who experiment with death. In "Frost/Nixon," about David Frost's interviews with Richard Nixon, Platt helps aid Frost, and Bacon helps aid Nixon. And in "X-Men: First Class," Bacon is an evil mutant who wants to take over the world, and Platt is an unnamed CIA agent who works with the X-Men. Oliver Platt also appeared in Kevin Bacon's feature length directorial debut "Loverboy," which starred Bacon's real life wife Kyra Sedgwick.
So, if you're playing "Six Degrees," just pick any of the Bacon-flavored collaborations above, and you're home free. 
He was nervous about doing Fargo because of the legacy of the film
In hindsight, Noah Hawley's TV adaptation of "Fargo" seems like the kind of thing that any actor would want to partake in. But before the show would become critically acclaimed in its own right, it had to live up to inevitable comparisons to Joel and Ethan Coen's Oscar-winning film of the same name, and in the eyes of some the bar had been set too high.
When Collider asked Platt in 2014 if there was any "trepidation" about joining the show, he admitted that there was. "The stuff that I was shown and the story that I was told, and the fact that Joel and Ethan [Coen] had blessed it was not insignificant," he explained. "I have to say that I think that Noah's done a pretty remarkable job of threading that needle of writing in their tone, but with his own voice, if you will. It's pretty impressive stuff."
His love of acting came from being in a school play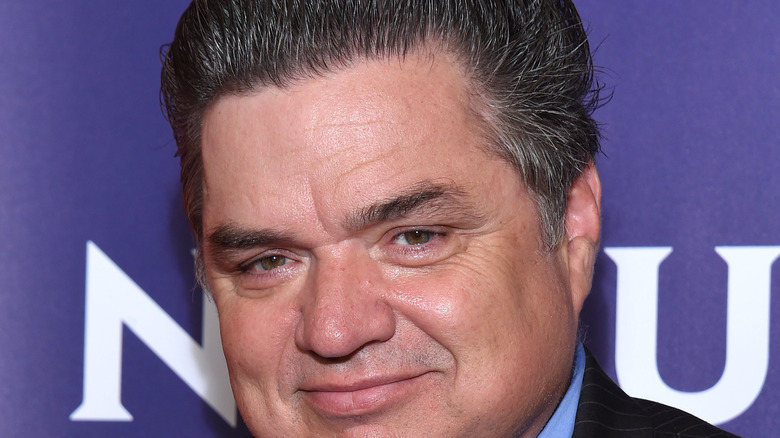 DFree/Shutterstock
Being a diplomat's son meant that Oliver Platt never stayed in one place for very long, so he always had to adjust to being in a new school. However, he was able to find comfort in theater and making new friends through the arts.
He recalled a story of when he was 8-years-old for a 2005 interview with Film Monthly. All those years ago, he was cast in a Christmas Nativity play as an innkeeper who only had one line — but he worked hard on it, and managed to make an impression. "The whole place for whatever reason, either my timing was good that night or I said it with a certain vigor, but the whole place went nuts when the innkeeper turned Mary, Joseph and baby Jesus away; I don't know if they were supposed to." Ultimately, it was the knowledge that line delivery can change how an audience reacts to a script that would make Platt pursue his dream of acting.
He almost starred in an American version of The Thick of It
Armando Iannucci's "The Thick of It" is known for its profanity, especially when it comes from Malcolm Tucker (Peter Capaldi). Oliver Platt was cast as Tucker in an American remake of the British show, which sounds good, but why bother remaking it without any of its colorful language?
Ultimately, while the pilot was shot, it wasn't picked up, as Iannucci explained in a 2009 interview when he was promoting "In the Loop," the movie version of the show. "There was a lousy political sitcom version made for ABC about three years," he recalled. "It was terrible because they took the idea and chucked out all the style. It was all conventionally shot and there was no improvisation or swearing. It didn't get picked up, thank god."
At the time, Iannucci was still trying to make an American version of "The Thick of It." "I wanted to send it to HBO, and they were very keen, but the BBC sold it to ABC for more money but ultimately for less money, because it never got made. So I'm now talking to HBO about doing a political thing." The political thing he was referring to in 2009? That turned out to be the 2012 – 2019 Julia Louis-Dreyfus vehicle (and winner of 17 Emmy awards) "Veep."