Why That Big Maya Moment In Hawkeye Episode 6 Means More Than You Think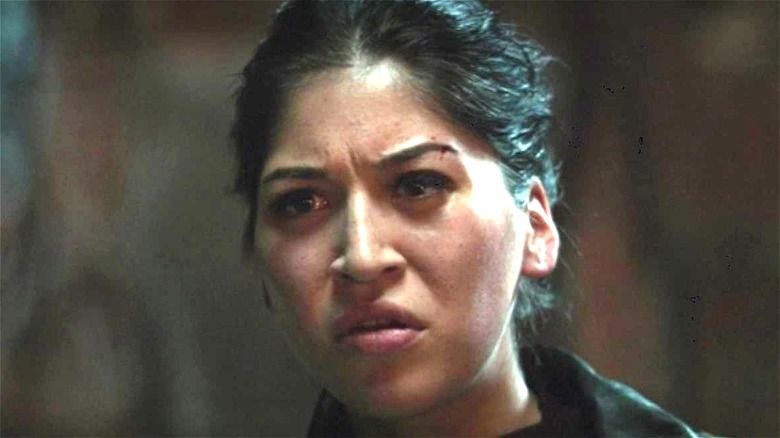 Marvel Studios/Disney+
Contains spoilers for "Hawkeye" Episode 6
The Marvel Cinematic Universe may not always line up with the comics that inspired it, but one thing most fans can be sure of is that there will always be pieces from the comics mixed into the film and TV stories that are told in the MCU. Indeed, at this point, looking up comic references almost feels like second nature to many MCU fans. 
For instance, when "Wandavision" premiered, fans became convinced that the Disney+ show was pulling elements from the "House of M" comic (via CinemaBlend). In the end, viewers didn't see any mutants in "Wandavision," but they did watch Wanda (Elizabeth Olsen) manipulate reality to bring back Vision (Paul Bettany) and create a home for the two of them after suffering a mental breakdown. It wasn't exactly a "House of M" adaptation, but bits and pieces from the comic book story were used in the show.
"Hawkeye" is no exception to this rule, as viewers quickly began noticing parallels between the TV series and Matt Fraction and David Aja's beloved Marvel Comics run (via Variety) after the show's premiere. Despite that, the moment in "Hawkeye" Episode 6 when Maya (Alaqua Cox) points her gun at Kingpin (Vincent D'Onofrio) and a gunshot is heard moments later has left viewers everywhere concerned. After all, D'Onofrio's "Daredevil" character was only just introduced in "Hawkeye," which is what makes his apparent death in the show's finale so shocking.
However, it appears the "Hawkeye" moment in question may be more important than fans realize.
Hawkeye's Kingpin cliffhanger comes from the comics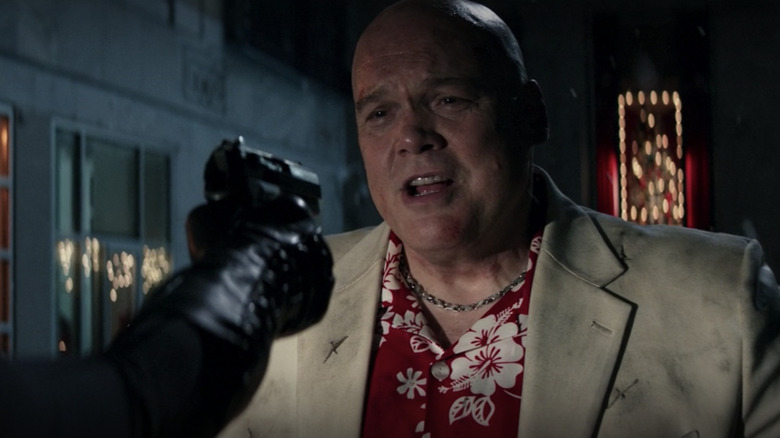 Marvel Studios/Disney+
In the 2001 comic, "Daredevil" Vol. 2 #15, Maya Lopez is seen confronting Kingpin about the death of her father. She points her gun at him, and he tells her, "I made you what you are. Promise me you won't forget that." Maya replies, "I won't," and subsequently pulls the trigger. It's a moment that is undeniably reminiscent of Maya and Kingpin's confrontation at the end of "Hawkeye" Episode 6. Of course, Kingpin has survived much worse than being shot, and the comic book encounter only results in the Marvel villain being blinded.
With that in mind, several users in a Reddit thread dedicated to discussing "Hawkeye" Episode 6 brought up the possibilities that the show's final Kingpin scene presents for the upcoming "Echo" Disney+ series, which will center around Alaqua Cox's Maya.
One Redditor, u/magicwithakick, stated what everything was thinking, writing, "Echo is getting her own show and surely Fisk plays a large role in it. He's definitely not dead." Elsewhere, u/Megaspidey3 expressed the same thought, speculating, "You can't just bring Vincent back and then kill him. I imagine that this will find its way to the Echo series? That'd be sweet if it did." 
Obviously, with Vincent D'Onofrio agreeing to reprise his role as Kingpin, Marvel has struck gold. So while there's always the chance that Kingpin really is dead now in the MCU, there are plenty of things Marvel can do with the character if he isn't — especially in the "Echo" Disney+ show that is already in the works.