WandaVision Episode 6 Snuck A House Of M Easter Egg Right By You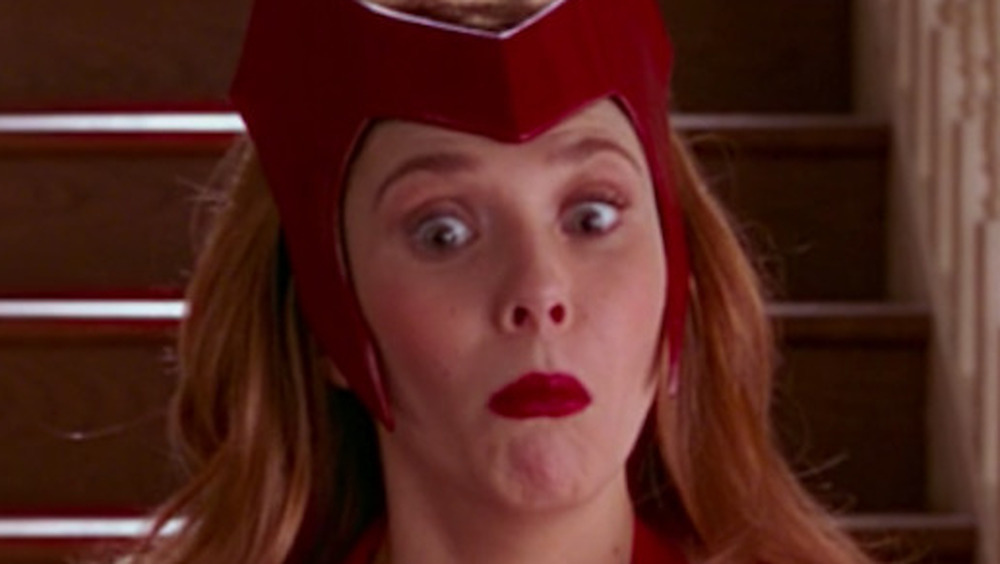 Disney+/Marvel Studios
At this point, a big part of the fun of watching WandaVision is looking out for all those Easter eggs. While series creator Jac Shaeffer has admitted not every reference that fans have picked up on is intentional, that hasn't stopped us from adding them all to our ever-growing list of theories about what, exactly, is going on in Westview, and how the rest of what's happened in the MCU may factor in.
In the sixth episode, "All-New Halloween Spooktacular," there's a lot going on, including some pretty important plot developments. The WandaVision writers seemingly still found time to squeeze in a subtle reference to the classic "House of M" story arc — the one contained in a 2005 limited comic series centered around the Scarlet Witch's mental breakdown.
If you didn't manage to pick up on a pretty intriguing reference to this story from the comics, that's no fault of your own; it was a blink-and-you'll-miss-it moment that could definitely have bigger implications for how Wanda (Elizabeth Olsen) fits into the bizarre happenings in Westview. Either way, let's take a look at where the House of M easter egg came into play, and what it might mean for the rest of the series. As you may expect, there are spoilers ahead for episode 6 of WandaVision.
Welcome to the Macabre Manor, a literal House of M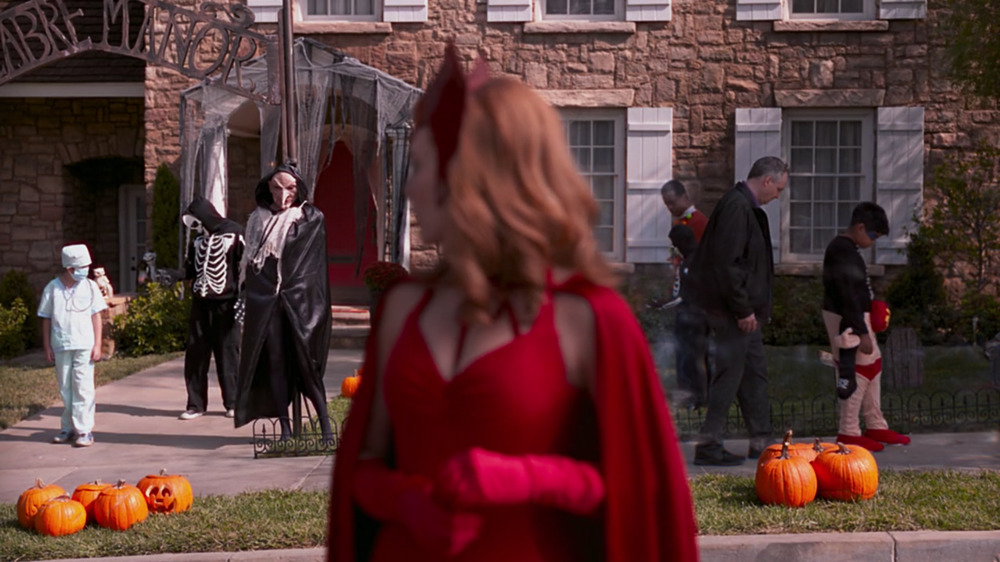 Disney+/Marvel Studios
In "All-New Halloween Spooktacular," Wanda joins the recently recast Pietro (Evan Peters) on a trick-or-treating outing with the children. While she's busy talking to neighbor Herb (David Payton), who's on watch duty, the other three proceed to rapidly wreak havoc on the street, stealing all the candy, smashing all the pumpkins, and covering their neighbors in silly string.
While it's a humorous moment, there is one small background detail that caught some fans' eyes. As Wanda observes the damage they're doing, she's standing in front of a house decorated with a gothic lawn sign that says "Macabre Manor." Sure, it could just be a fun bit of Halloween revelry, but given the specific relevance of houses named M in the MCU, it feels like it could go a little deeper.
For those who haven't read the comic series, it centers on The Scarlet Witch's brief mental breakdown during which she tries to alter the very fabric of reality to process some personal trauma. Now, given how weird everything has been since the start of WandaVision — and the fact that Quicksilver also features prominently in the comic book series — it's plausible that a House of M-like scenario could factor into the ultimate explanation for how Wanda is able to control time, and possibly even more than that.
We'll definitely be looking for more clues as to whether WandaVision has a deeper connection to House of M.