Why The Hawkeye Finale's Mid-Credits Scene Has Fans So Divided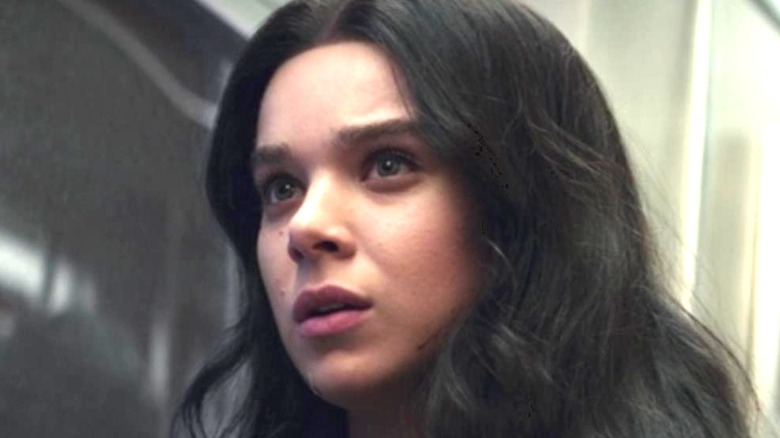 Marvel Studios/Disney+
"Hawkeye" concluded its run on Disney+ this week. The six-episode series was an exciting new installment in the MCU, fleshing out the character of Clint Barton (Jeremey Renner) a bit more, while introducing us to his protégé Kate Bishop (Hailee Steinfeld). 
The series' final episode, like audiences have come to expect for all Marvel properties, was full of high-stakes fight scenes, and we loved watching Clint and Kate use their combat and archery skills to overpower Kingpin (Vincent D'Onofrio), who suffered and off-screen fate that left a serious cliffhanger. Alternately, Clint's showdown with Yelena proved not only thrilling, but delivered some much-needed closure for the latter — and even that left fans wanting more.  
Marvel films are known for their mid- and post-credit scenes, which often serve as teases for future MCU stories. These extra scenes have been incorporated into the Disney+ series as well. Yet when it comes to the "Hawkeye" finale's mid-credits scene, some fans are wishing they had just turned off their TVs instead.
Fans were disappointed the mid-credits scene didn't hint at what's to come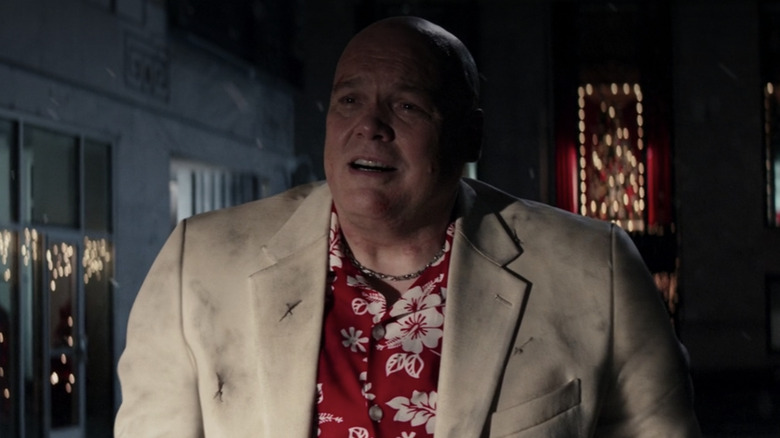 Marvel Studios/Disney+
"Hawkeye" brought a lot of new things into the MCU. Most notably, however, the show brought Vincent D'Onofrio's Kingpin over from the Marvel Netflix Universe (if only for a tantalizingly short time), and showed us that Laura Barton (Linda Cardellini) isn't just Clint's wife, but a former SHIELD agent herself, nicknamed Mockingbird. These reveals led fans to think the post- or mid-credits scene would offer some insight into these characters' futures in the MCU. 
Instead, we got a "happy holidays" message from Marvel Studios and the full performance of "Save the City" from the fictional "Rogers: The Musical" as seen in Episode 1 — and fans are a bit divided on this. On the r/MarvelStudiosSpoilers Reddit, many expressed their disappointment in the post-credits scene. U/belcvas says, "i'm honestly more disappointed we didn't get a serious post credits scene and/or see where yelena went."  Other users agree, including u/illjallred95 who remarks, "I just wish they had showed [Fisk] survived in the episode, like make the post credits scene him with bandaged eyes."
In the comics, Echo (Alaqua Cox) shoots Fisk and he survives, but loses his eyesight. It seems unlikely Fisk would be absent from Echo's upcoming solo series – or that Marvel would bring a fan-favorite character back just to kill him so quickly.
Some fans just disliked the musical number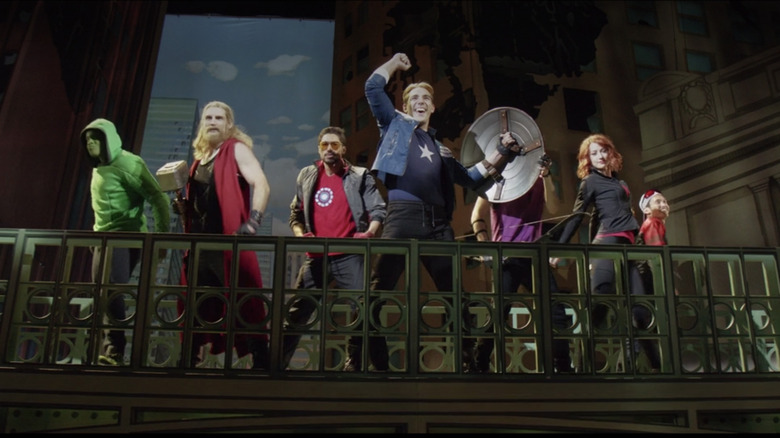 Marvel Studios/Disney+
Other Redditors are just not fans of the musical. One user comments, "Marvel was a little too proud of their lame a** musical, that should not have been the post credits scene," and u/Malatrova agrees, saying, "That Rogers the musical post credits really shows why musicals nowadays are a parody of the genre himself."
Yet this may not have been the plan all along. As u/pacmantis points out "This didn't seem to even be something intentionally made for the post-credits, it's just the footage they would have had to shoot anyway for the first episode."
The COVID-19 pandemic has caused issues for film and television production worldwide, and Marvel has not been immune. It's possible they had wanted to film an additional scene, perhaps with Charlie Cox's Daredevil (now in the MCU as well after his cameo in "Spider-Man: No Way Home"), or to show the future of Yelena (Florence Pugh) or Kingpin in the MCU. Despite the somewhat lackluster mid-credits scene, the "Hawkeye" finale was still an incredible end to another entertaining Disney+ series.