Faith Hill Breaks Her Silence On Yellowstone Prequel 1883's Terrifying Cowboy Camp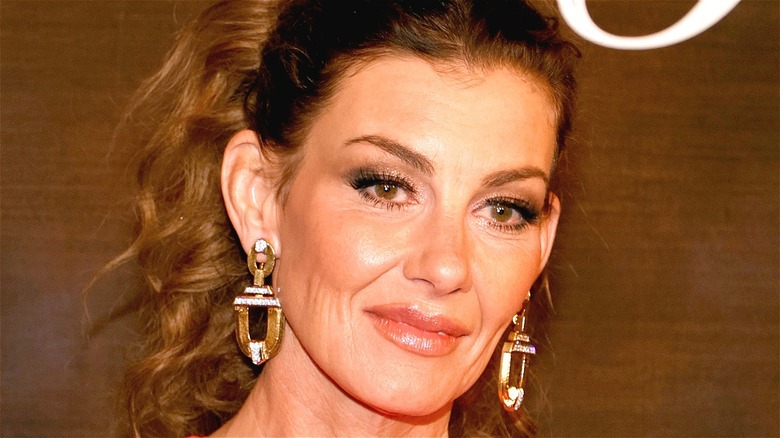 Ethan Miller/Getty
When Faith Hill first got onto the set of "1883," the country music star thought she would go through some basic horse and rope training, steer a wagon here and there, and be on her way. "I thought it might be fairly simple," Hill candidly admitted, speaking to USA Today. "No, it is not."
With just days until the release of Taylor Sheridan's "Yellowstone" prequel on Paramount+, the cast has started to speak out about what it was like filming the gritty Western drama. Shot on location in Montana and Texas, Sheridan made sure to put his actors through a "cowboy camp" to help create the most realistic portrayal of the late-1800s time period as possible. This included training Hill in things like wagon steering, all while enduring the elements. 
"I kinda feel like a bad a**," the Grammy winner said.  "We have been in some extreme heat... And then the layers and layers of clothing. And then going to Montana with the freezing cold and the wind was insane. And then coming back to the panhandle of Texas and dealing with the same type of wind as Montana. Sometimes we had to pause for safety reasons. It's not glamorous at all."
Here are a few of the things that Hill was asked to learn while embedded at Sheridan's "cowboy camp," according to the music legend herself.
Hill had to learn how to wrangle cattle and steer wagons
When it came time to learn the ways of the West, Faith Hill wasn't afraid to get her hands dirty in preparation for her role as Margaret Dutton. 
"I do wrangle cattle (in the show) and really enjoyed that," she told USA Today. "I'm not sure why, though, because it can be terrifying when they're staring you in the face." The same applied for wagon steering, which Hill thought would be a breeze. "It's very dangerous, actually. But it's one of the things I do best — maybe because I learned to drive with a stick shift?"
According to Hill, Taylor Sheridan had an excellent team of teachers at his "cowboy camp," which helped create an accurate and authentic portrayal that viewers will get to first see on December 19, when "1883" debuts on Paramount+. "To learn all of these things from the most incredible wranglers and stunt women while having the highest level of safety, it's been fun."