Sam Elliot Speaks Out On Yellowstone Spin-Off 1883's Grueling Production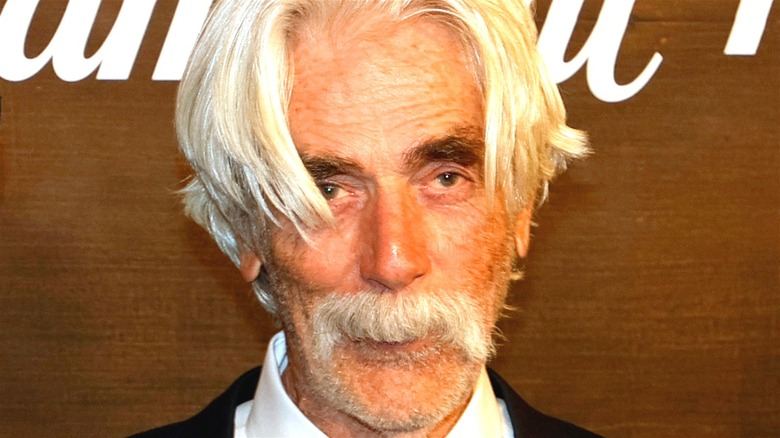 Ethan Miller/Getty
Sam Elliot has been on his fair share of Western sets, but nothing compares to Taylor Sheridan's "1883."
"I have been in this game a long time; this is my 54th year in my career, and I have never worked on anything like this in terms of the scope and size," he told The Hollywood Reporter in a new interview. "There are more horses, more wranglers and more production people than I've ever worked with. I've never worked on a show that has six cameras operating at the same time and a helicopter in the air. They're getting their money's worth."
Elliot has spent decades portraying Hollywood tough guys and gunslingers on-screen, with numerous acting credits dating back to the 1960s, including an appearance in the iconic Western film "Butch Cassidy and the Sundance Kid" (1969). At age 77, Elliot revealed that making "1883" has been one of the most rewarding jobs of his career, but also one of the toughest. 
The cast of 1883 shot for months in brutal weather
Shot on location in Texas and Montana, Sam Elliot said the production of "1883" was one that will stick with him for the rest of his life. 
"It's been wonderful and grueling at the same time," he told The Hollywood Reporter. "Taylor [Sheridan] told me, 'You'll hate me at the end of this thing.' There is no chance that is ever going to happen. But it's a tough shoot. We shot in Fort West for almost two months in 106-degree temperatures. Montana was the complete opposite. Bitterly cold and freezing."
Sheridan's upcoming "Yellowstone" prequel series follows Dutton family ancestors James and Margaret Dutton, played by Tim McGraw and Faith Hill, as they "embark on a journey west through the Great Plains toward the last bastion of untamed America," Paramount explains in the show's synopsis via YouTube. Back in early November, Elliott told Entertainment Weekly that the first month of filming took place in the Lone Star state and was "brutal." Constant heat coupled with unrelenting dust made conditions almost unbearable at times. But Elliot trusted his showrunner and was motivated by his work. "Taylor is a brilliant writer. He is a genius," Elliot told THR. "It is really inspiring on a lot of levels."