Why Margaret Dutton From Yellowstone Prequel 1883 Looks So Familiar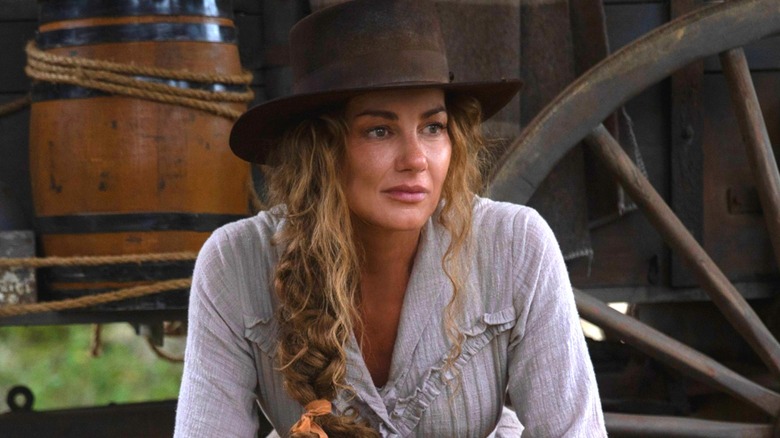 Paramount+
"1883" is an upcoming "Yellowstone" spin-off series created by Taylor Sheridan. "Yellowstone" itself is set during contemporary times, and the series follows the exploits of the Dutton family. At odds with government officials, Indigenous tribes, and members of their own clan, the Duttons rule over their prized Yellowstone ranch with an almost lordly approach. "1883," as the name implies, takes place in the 19th century and aims to establish how the Dutton lineage came to be in possession of the lands they so fervently defend.
Starring Sam Elliot, Tim McGraw, Faith Hill, Isabel May, and featuring Billy Bob Thorton, "1883" has a stacked cast. Faith Hill will be playing the role of Margaret Dutton, who will act as the matriarch of the family, and a direct ancestor of John Dutton (Kevin Costner) from "Yellowstone." Fans of "Yellowstone" and the future spin-off will likely recognize Hill, but what exactly is she best known for?
Faith Hill is a big country music star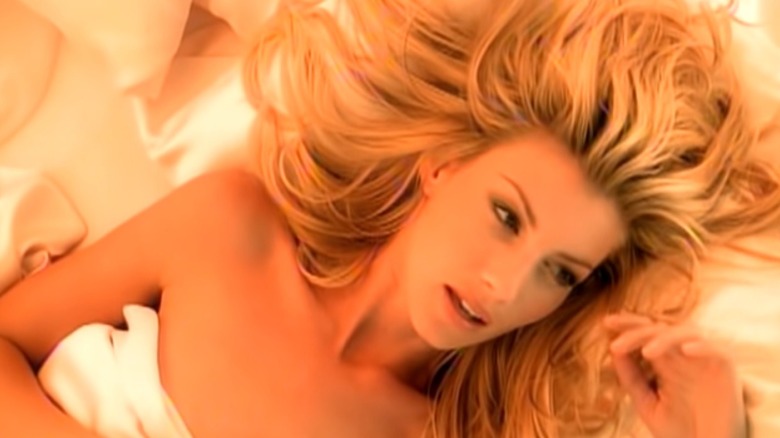 Warner Bros. Nashville/YouTube
Faith Hill got her original big break as a country music star in the early 1990s with her debut album "Take Me as I Am." Her single, "Wild One," earned her four consecutive weeks on Billboard's number one spot, which was the first time in 30 years a female country music artist earned such an accolade (via Season Magazine). In 1996, she teamed up to tour with future co-star and fellow country musician Tim McGraw, whom she eventually married and had several children with (via CNN).
Starting in 2007, Hill performed the introductory song for Sunday Night Football, and even performed the Super Bowl XLIII version of "America the Beautiful" in 2009. Hill currently has 9 released albums, including an album of duets with her husband McGraw. To date, Hill has won five Grammy Awards and has been nominated a total of 17 times (via the Recording Academy). 
Faith Hill's first movie was The Stepford Wives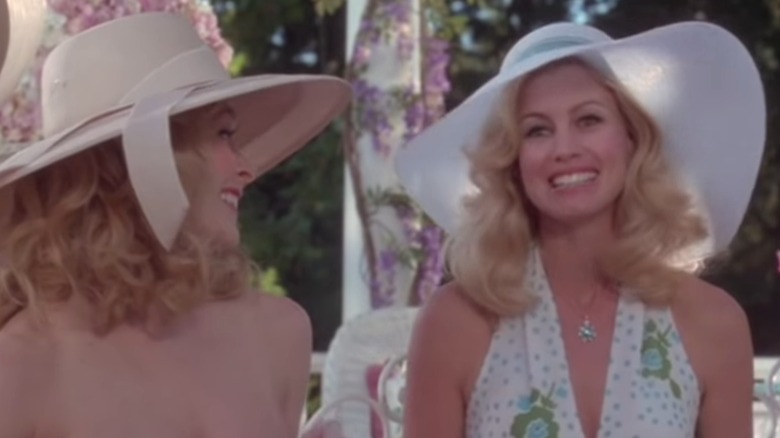 Paramount Pictures/YouTube
One of Faith Hill's notable forays into acting was "The Stepford Wives." This was her feature-film debut, and her costars included Nicole Kidman, Bette Milder, Christopher Walken, Matthew Broderick, and Glenn Close. The movie is actually a remake of a 1975 film, and the plot involves a career-minded woman named Joanna (Kidman) who moves her family to the supposedly idyllic town of Stepford, Connecticut. However, the quaint little town harbors a dark secret.
The women of Stepford are dutiful and dotting but are ultimately shallow. It turns out that they have all been subjected to a forced reprogramming through technology, which inhibits their minds and causes them to become somewhat robotic, even going so far as to have remote controls impact their actions. Faith Hill played the role of Sarah Sunderson, who was essential in establishing the depth of control this technology has over the women of Stepford. One of the movie's pivotal scenes involves Joanna and her allies finding a device bearing Sarah's name that controls varying aspects of the woman's physiology.
Faith Hills has appeared on several reality television shows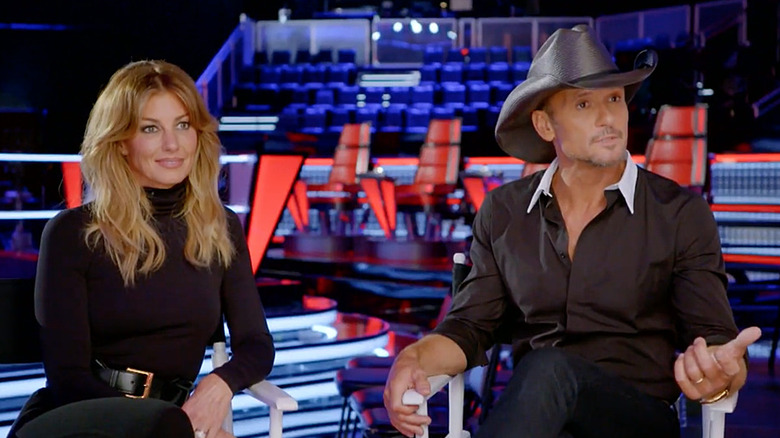 NBC
Faith Hill has also appeared as a celebrity judge, coach, and performer on several reality television shows. Considering her roles as both musician and actor, Hill has lent her skills to "Project Runway," "CMT Crossroads," "The Voice," and "The World's Best." 
"Project Runway" is a fashion-based reality television show that features professional judges critiquing the work up-and-coming talent, and Hill was one of the guest judges during the Season 7 finale in 2010. "CMT Crossroads" pairs country music stars with musicians from other genres, and often results in colorful blends of varying musical styles. Hill appeared on the show in 2011.
"The Voice" and "The World's Best" both feature celebrity judges that provide input or feedback to would-be stars. Hill appeared on "The Voice" as a coach advisor for four episodes in 2016. In 2019, she was featured on "The World's Best" alongside Drew Barrymore and RuPaul for 10 episodes. 
Fans of Faith Hill are definitely in for a treat when "1883" drops on Paramount+ on December 19.