The Miles Morales Easter Egg You Might Have Missed In Spider-Man: No Way Home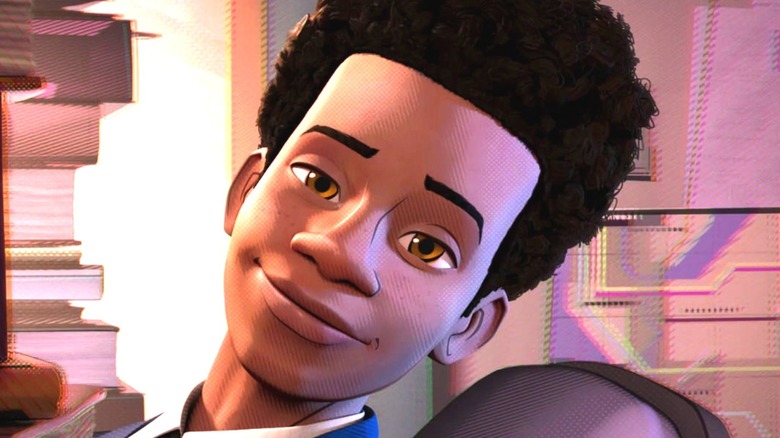 Sony Pictures/Marvel Studios
Spoilers ahead for "Spider-Man: No Way Home"
Let's get this out of the way at the very top — there are a lot of Spider-Men in "No Way Home." Of course, you have the Marvel Cinematic Universe's version of the character played by Tom Holland. He's a mild-mannered teen who's had a ton of training courtesy of one of the greatest heroes the world has ever seen in the form of Iron Man (Robert Downey Jr.). While he has to go up against a cavalcade of villains, he gets some help thanks to the previous two Spider-Men. Those web-slinging variants are played by Tobey Maguire and Andrew Garfield, respectively. Both actors have portrayed the iconic hero in their separate "Spider-Man" film franchises. Bringing together three different Spider-Men makes for a smaller version of the Spider-Verse to manifest on the big screen. It also leaves room for the possibility that other Spider-Man variants can enter the picture down the road. After all, where there's a will there's a way in the MCU.
However, there is one face that fans undoubtedly will expect to show up sooner rather than later, and that's Miles Morales. He's already led his own flick in the animated hit "Spider-Man: Into the Spider-Verse," which will soon have a pair of sequels to its name. So when will he make the leap to live-action? If a "No Way Home" Easter egg is any indication, it could be right around the corner.
Electro expects to fight a Black Spider-Man
Miles Morales may not physically appear in "Spider-Man: No Way Home," but it's made abundantly clear that audiences aren't the only ones expecting him to pop up. At the end of the climactic battle, Andrew Garfield's Peter Parker reveals his face to his nemesis, Electro (Jamie Foxx). He seems disappointed at first, remarking that he always expected Spider-Man to be Black. Electro's surprise shouldn't be too, er, shocking because even though Garfield's Peter Parker always knew what Electro looked like, the villain has never seen the face of his nemesis before this interaction.
It's a humorous moment, but fans of the comic books or "Into the Spider-Verse" know there's more to this line than meets the eye. There is, in fact, a Black Spider-Man — Miles Morales — and while he hasn't appeared in the MCU yet as a live-action hero, it's clear the seeds are being planted for him to show up at some point in the future.
This is far from the first time Miles has been referenced in the MCU. In "Spider-Man: Homecoming," Spider-Man meets Aaron Davis (Donald Glover), who is Miles Morales' uncle within the Marvel canon. At one point during their interaction, Aaron even mentions having a nephew while explaining to the young superhero that he wants to get weapons off the street for his sake.
Hopefully, the next time the Spider-Verse comes into play in the MCU, Miles can get in on the action. With another MCU "Spider-Man" trilogy on the way, there's more than enough room for another Spidey.
Tom Holland may meet Miles Morales one way or another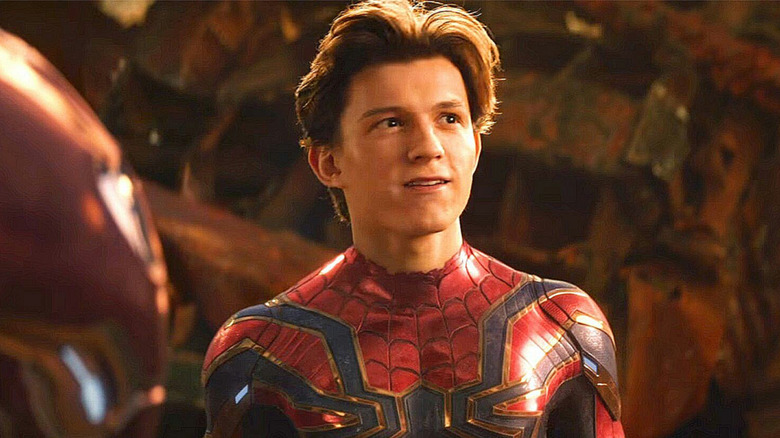 Marvel Studios/Disney
As fans await Miles Morales coming into the MCU, there's another way we might yet still see Tom Holland act as a mentor of sorts to the young superhero. In an interview with SyFy Wire, the lead "No Way Home" trio was asked if they would ever consider joining the animated "Into the Spider-Verse" franchise. It didn't take them long to provide an answer, as Zendaya quickly chimed in with an enthusiastic, "Love those movies."
Tom Holland then jumps in with, "Love them, and I'm just waiting for the phone call." While it may seem like a pipe dream to get the MCU stars into a purely Sony project, Holland revealed that there have been talks behind the scenes of getting him into the Spider-Verse one way or another. He revealed, "Amy [Pascal] actually asked me on the set of this movie, and no one has come back to me."
It's intriguing to consider just how a Tom Holland cameo in "Across the Spider-Verse (Part One)" would manifest. Judging from the trailer, Miles Morales actually steps outside of his reality this time around, resulting in a different animation style throughout a significant portion of the teaser trailer. It's possible Miles could enter a live-action sphere at some point, briefly meeting Tom Holland's variant to say, "Hello." Or perhaps Tom Holland's Spider-Man will enter Miles's reality and become animated for a brief period of time. However it transpires, more of Holland's Spider-Man is always a good thing.