Olivia Benson's Best Relationship On Law & Order: SVU According To Fans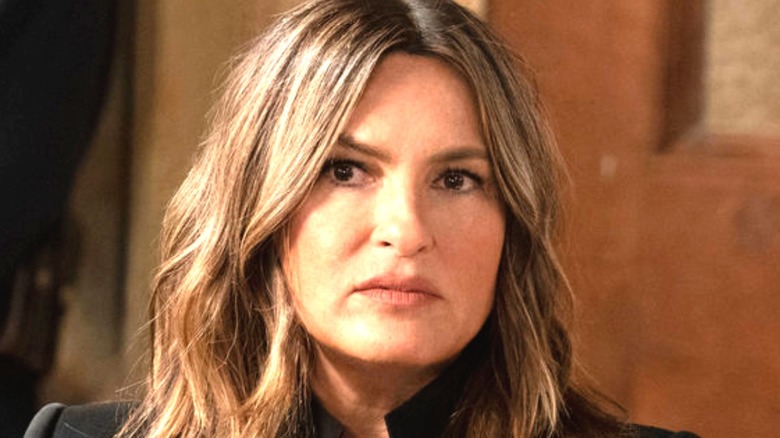 Virginia Sherwood/NBC
Having now surpassed its parent series by a full three seasons (via Deadline) — and birthed a spin-off of its own in "Law & Order: Organized Crime" — "Law & Order: SVU" has become the crown jewel of the "Law & Order" franchise that executive producer Dick Wolf first created back in 1990. Of course, the spin-off owes a great deal of its success to lead star Mariska Hargitay's portrayal of its most dogged defender of victim's rights, Lieutenant Olivia Benson. 
Hargitay's character has been with the series since it began in 1999, and over the years, fans have seen her paired up with a number of different romantic interests. Some of her relationships viewers have accepted (e.g., her secretive fling with Harry Connick Jr.'s ADA David Haden), but others they definitely haven't (e.g., her baggage-filled romance with Dean Winters' Brian Cassidy). 
Although the series has always maintained a "will-they-won't-they" storyline between Benson and Elliot Stabler (Christopher Meloni), her former partner, there's one "Law & Order: SVU" individual, in particular, fans seem to think is the best match for Hargitay's romantically restless character. But who is the fan-favorite character? None other than former EADA Alexandra Cabot (Stephanie March). 
Although Benson and Cabot have never been romantically involved in the series, their friendship, chemistry, and ability to match one another in determination, intellect, and empathy (even when they disagree) have made the duo a popular "ship" in the "SVU" fandom.
Law & Order: SVU fans think Cabot and Benson's chemistry is unmatched
On the "Law & Order: SVU" subreddit, u/Aegon_Ashelf wrote, "I always thought [Olivia and Alex] low key had a thing going on, so much chemistry," which prompted others to chime in with their thoughts about the duo. "I wish something would've happened between them," added one fan. 
In a separate Reddit thread dedicated to discussing Olivia's chemistry with various other "SVU" characters, u/crruss explained the appeal of the duo's relationship, writing, "Their arguments when they're yelling at each other, the looks between them when Cabot gets injured ... there are multiple times you see them eyeing each other, especially when Cabot sits on/near Benson's desk."
u/rexerjo echoed the sentiments of their fellow Redditors, adding, "Liv and Cabot have the most chemistry I've seen of anyone they've tried to pair Liv with." Elsewhere, after saying they felt Olivia "never had any chemistry with her romantic interests," u/Peanutbutta33 noted that "Cabot and Benson would make an insanely beautiful couple," and pointed out that "Buzzfeed had a poll on Twitter asking who Olivia should end up with and both Stephanie March and Chris Meloni said their votes go for Cabot." 
Other fans were let down and even angered by the series' decision to hint at — but never go through with — a Benson-Cabot romance. "I love 'SVU,'" wrote u/aimless_renegade, "but I can't forgive them for the queerbaiting they did with Cabot/Benson." The fan called the show's bait-and-switch approach to the pair's relationship a "textbook example" of the practice, while another user referred to the duo's romantic potential as "the biggest open (not really a secret) secret on 'SVU.'"
It turns out that the latter observation is one that even the series' writers and actors have supported in interviews. 
Will SVU ever make Benson and Cabot an official couple?
When discussing the fandom's desire to see two of their favorite women on "Law & Order: SVU" finally get together, writer and producer Neal Baer said (via SFGate), "We read the fan sites. We know that people are into the Alex-Olivia thing. All the codes are in there." But what about the actors who play the characters? 
For her part, Stephanie March feels that, even if the writers didn't intend for their relationship to be romantic, part of the undeniable chemistry Benson and Cabot share comes from the actors' belief in their characters. "In my mind," March told GQ, "Alex Cabot is a real person. Mariska did the same thing for Benson. I think when you have two actors who are really committed to their roles and they enjoyed each other personally, then there's going to be chemistry." 
In both the GQ interview and an episode of the "But I Played One on TV" podcast, March playfully referenced a time when the two actors attempted to have their characters share an on-screen kiss, though, it never ultimately made it onto the show. Additionally, when asked at a press conference (via The-Toast) if Benson and Cabot were in love and just hadn't realized it yet, March said, "I'm not saying we're not... I'm not saying we're not in love."
Regardless of their "official" status in the show, it's clear that Olivia Benson and Alexandra Cabot's relationship holds a special place in the hearts of "Law & Order: SVU" fans.