The Stabler Moment On Law & Order: Organized Crime That Went Too Far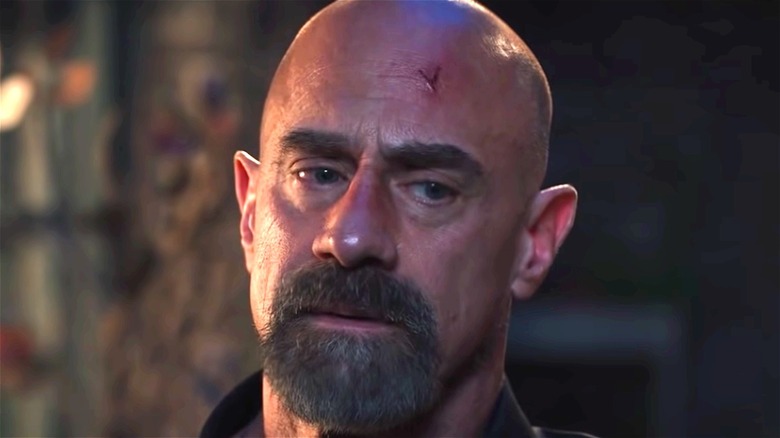 NBC
Christopher Meloni's Elliot Stabler made his small screen debut in 1999 on the program that would make him a household name: "Law & Order: Special Victims Unit." For the next 12 years, he and Olivia Benson (Mariska Hargitay) would crack some of the most horrific cases the New York City Police Department had ever seen — finding time to pop up on both "Law & Order" and "Law & Order: Trial by Jury" along the way. However, Stabler disappeared from the small screen in 2011 when Meloni departed "SVU," which more than sent viewers into disarray.
During his time in the "Law & Order" spotlight, Elliot Stabler had become a fan favorite. As a former United States Marine, he carried his military discipline over into his tenure as a detective, making him one of the most driven and effective on the force. Not to mention, he cared deeply about not just his family and friends but those who found themselves wronged as well. This did come at a cost, though, seeing as Stabler had a tendency to lose his cool and sometimes even abuse the powers of his badge to quell his emotional connections to his cases.
Elliot Stabler recently returned to "Law & Order: Special Victims Unit" and is currently at the forefront of "Law & Order: Organized Crime." While many fans are certainly delighted to see him back, it's hard to ignore how frighteningly different he is. In fact, some would say that his recent behavior has gone just a bit too far, even by his standards.
Most of Stabler's Organized Crime run has gone too far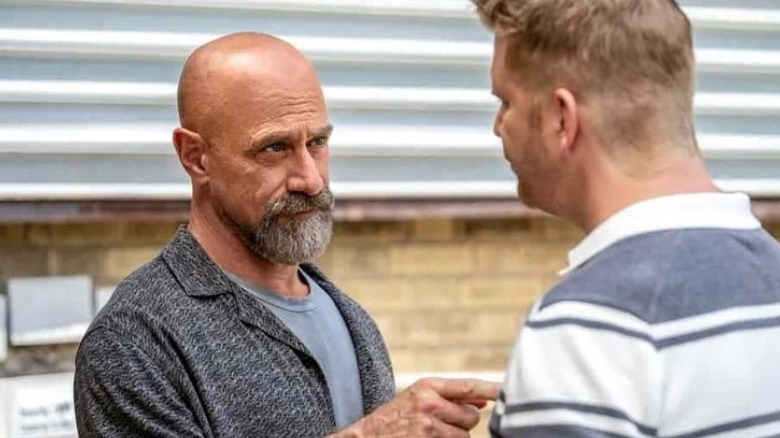 NBC
Elliot Stabler is in a rough spot at this point in his "Law & Order" story, especially from a personal standpoint. His "SVU" return came in the episode "Return of the Prodigal Son," where his wife of 30 years, Kathy (Isabel Gillies), fell victim to a car bomb attack that ultimately killed her. Understandably distraught, Stabler joined the NYPD Organized Crime task force and has since gone undercover in hopes of cleaning up the streets in a more unorthodox way — all while navigating the horrors of post-traumatic stress disorder. If that sounds like a recipe for disaster, that's because it is.
It didn't take long for fans to take notice of Stabler's dramatic personality shift and open the floor for discussion on Reddit. User MatthewMonster referred to him as "hilariously out of control," comparing him to a character from "Grand Theft Auto" for "drugging a women, shooting someone, smashing someone's nose, and sleeping with a bosses wife" in a single episode. Many other Redditors agreed, noting that he's essentially losing himself to his raging need for vengeance and mental health issues. "...he's essentially going against everything he believes is wrong. It's like a twisted game of opposite day..." writes Criticalkatze.
"I don't know why he was ever approved to go Uc. He's got five kids, PTSD and his wife was just murdered," adds ButterscotchPast4812, positing that Stabler's deteriorating mental state coupled with his time amongst criminals has inadvertently brought out the worst side of him. Nevertheless, some "Organized Crime" watchers are enjoying Stabler's latest antics in all of their mildly-cartoony glory. For instance, d0ctorStrange wrote, "I can't stop watching," and AstridZ4 commented, "it's funny, but I'm also very worry about him."
So, is there a specific Stabler moment that has pushed the boundaries of "Law & Order: Organized Crime" more so than all the others? It's hard to say, given just how off the rails he has been as of late, so take your pick. Overall though, it's not off-base to say that his run as a whole has gone too far.