The Truth About Benson And Stabler's Relationship On Law & Order: SVU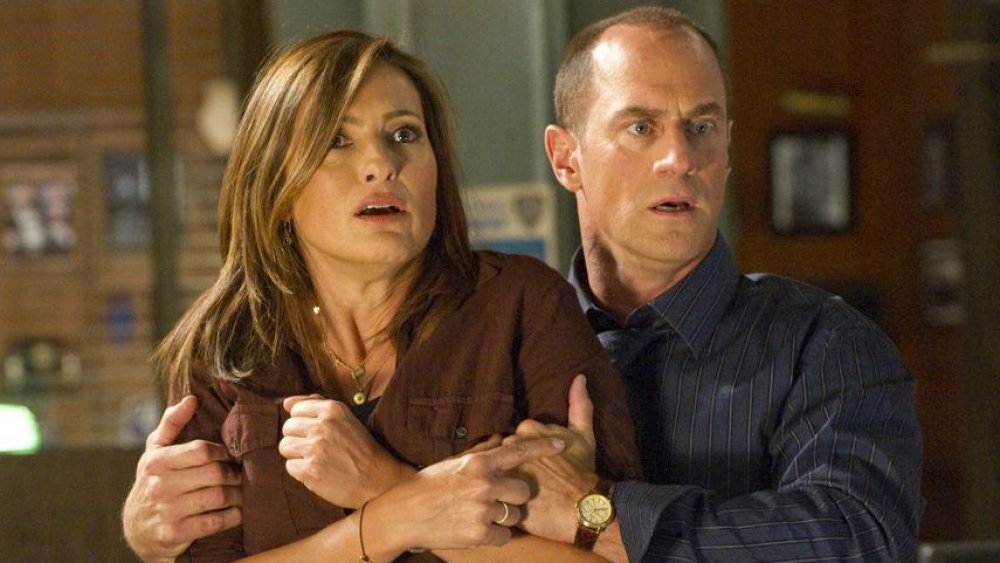 NBCUniversal
Every television show's success depends largely on the chemistry and rapport between its lead actors, but this might be of utmost importance when it comes to police procedurals — especially ones like Law & Order. Actors like Jerry Orbach and Chris Noth paired perfectly together as Detectives Briscoe and Logan, respectively, and throughout the flagship series (which ended its run in 2010), different pairings kept trying to capture that special magic that comes from a great connection between two actors and their fully realized characters.
Thankfully, when Law & Order: Special Victims Unit premiered in 1999, producers had an enormous hit on their hands thanks to original partners Olivia Benson and Elliot Stabler, played by Mariska Hargitay and Christopher Meloni. As the daughter of a victim of sexual assault determined to do some good and a good-hearted family man who can be quick to anger, Benson and Stabler formed the ideal duo, making the now-iconic series one of the most popular cop shows in television history. Though the original Law & Order is gone, Special Victims Unit is here to stay; in February of 2020, NBC renewed SVU for three more seasons as it reached its landmark 21st season.
Even more interestingly, this magical pairing managed to work without any real spark of romantic interest between the two leads, instead giving them a meaningful and heartfelt friendship throughout their run together, which ended when Meloni left the show in 2011. Here's the real truth about Benson and Stabler's relationship on Law & Order: SVU.
Benson & Stabler have a unique bond on Law & Order: SVU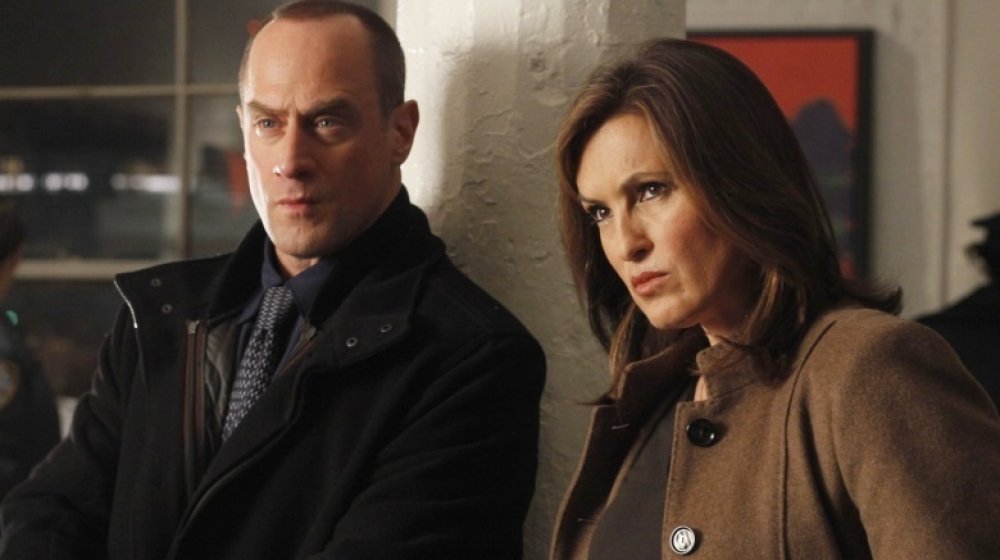 NBCUniversal
Partnered together for 12 years, Benson and Stabler shared a bond unlike anything else on television. Never romantically involved — Benson dated off and on, while Stabler was married with multiple children — the two were extraordinarily close friends, as well as partners. In a season 9 episode, they even agreed that each of them would donate a kidney to the other if necessary.
Despite being extremely close, the two also had their issues, and sometimes went their separate ways. Upset with Stabler after a violent altercation with a pedophile, Benson briefly transferred to computer crimes in season 7, and Stabler worked with a new partner (Dani Beck, played by Connie Nielsen) while Benson was undercover in Oregon in season 8 — but in the end, the two always came back together.
As far as Hargitay was concerned, their relationship was intense but fraught; in an interview with MSN in 2009, she said, "It's very complicated. Sometimes it's very much like brother and sister, and I think the reason that they're so close is that they share a passion for their jobs and for the people. They have a mutual respect for one another. I think that the average lifespan of an SVU detective is four years because of the difficulty and stress involved. They're been doing it for longer than that, so they feel like they're in their own world almost."
Hargitay went on to explain that the lack of romantic involvement wasn't owed to a lack of chemistry. "There's also sexual chemistry between them, it's so loaded and layered," she said. "People ask me if they'll ever get together — and people want that, and sometimes I think even Olivia wants that — but I don't think that will ever happen." As it turned out, she was right.
Hargitay and Meloni are just as close as Benson and Stabler in real life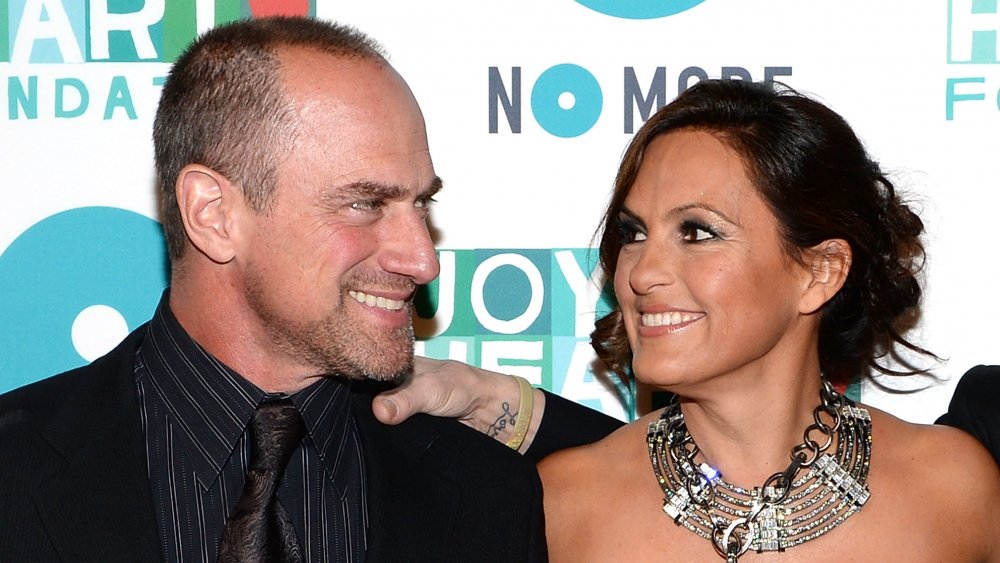 Andrew H. Walker/Getty Images
Benson and Stabler might have had a complicated relationship, but happily, the bond between Mariska Hargitay and Christopher Meloni is much simpler. Clearly, the two performed beautifully onscreen together, and years after Meloni left the show, the pair reunited in January of 2020 at Paleyfest to discuss how their connection made SVU into such a hit (via Today).
When asked about the chemistry between Benson and Stabler, Meloni said that it had "always been a huge part of our relationship and I think part of the success of the show," before going on to say, "She and I hit it off right from the get-go." Hargitay, for her part, said that their on and off screen relationship was built on "instantaneous ease, chemistry, trust, comfort."
Even after Meloni left the show, the two have spent time together throughout the years, reuniting from time to time (perhaps just to tease the fans). However, an exciting opportunity has come to light that might let them actually reunite on the small screen, which would be a serious thrill for longtime SVU aficionados. At the beginning of April, Meloni signed a humongous deal with NBC and is set to appear in a Stabler-centric spin-off, which was ordered direct to series, leading some fans to believe that Benson and Stabler could work together again (especially since Stabler's new show is set in New York as well). Hargitay even reacted to the news, welcoming Meloni "home" in an Instagram post for her longtime friend's birthday in April.
Whether or not Benson and Stabler reunite, you can still relive their glory days any time you want; every episode of Law & Order: SVU is currently streaming on Hulu.