The Untold Truth Of Steve Carell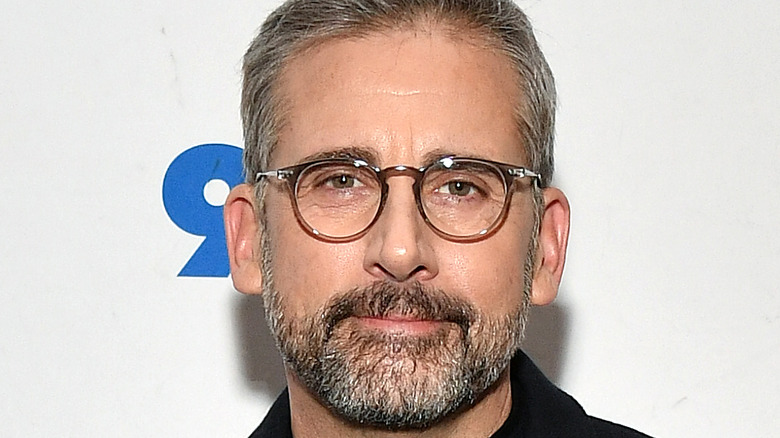 Dia Dipasupil/Getty Images
Could anyone who was involved in the making of John Hughes' "Curly Sue" have known that the young actor giving a wordless performance as a waiter named Tesio would go on to become a bankable lead and Academy Award nominee? It's not exactly the most auspicious beginning to a successful career, but Steve Carell started to become a household name about a decade later.
From comedies like "The Office" to dramas like "The Morning Show," Carell has proven to be a versatile actor who never gives a forgettable performance. He went from stealing scenes in the Jim Carrey movie "Bruce Almighty" in 2003 to having scenes stolen from him by Jim Carrey in his 2013 vehicle "The Incredible Burt Wonderstone," which showed just how far he had come. Here is Carell's journey from a nobody to a respected comedian to a strong supporting actor to a star.
He met his wife doing improv at The Second City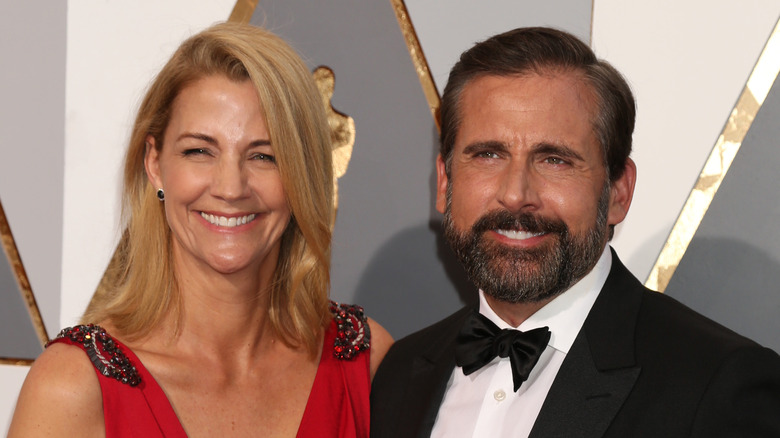 Kathy Hutchins/Shutterstock
Steve Carell's wife Nancy is also a talented comedian and managed to become a cast member on "Saturday Night Live" instead of her husband (though it's not clear if Steve actually auditioned or not). The two met at Chicago's The Second City, where Steve taught improv to Nancy. Nancy was also working at a bar at the time, and Steve would often visit and try to get up the nerve to ask her out, but it took a while.
Carell told the story of their courtship on "Ellen": "The conversation would go something like, 'Hey, you know, if I were ever to ask a woman out, it would be someone like you. Exactly like you.' And she'd say, 'If a guy like you were ever to ask a woman like me out, I would definitely do that.' This went on for weeks ... And finally, we did. It was great." Since then, the two have worked on several projects together, including "The Daily Show" and "The Office." 
He was one half of the Ambiguously Gay Duo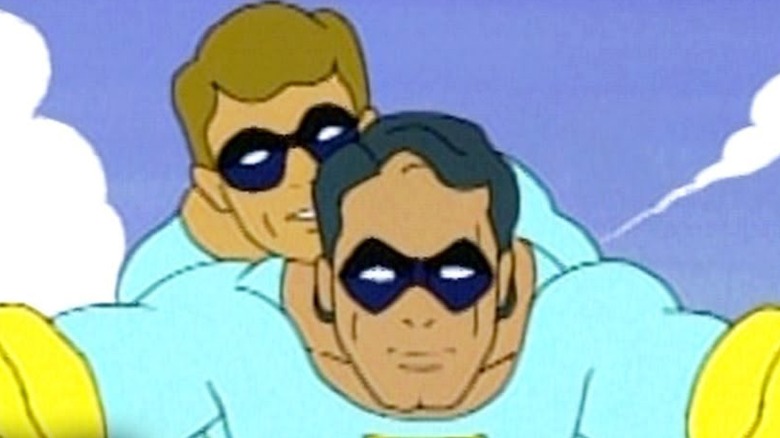 NBC
Steve Carell wasn't a regular cast member on "Saturday Night Live," but he did get to have a recurring role. With Stephen Colbert playing Ace and Carell playing Gary, the two were the voices of the "The Ambiguously Gay Duo." Carell got to play the role instead of an "SNL" cast member because the characters originated on another show.
As told in Hulu's "Too Funny to Fail," the sketch actually premiered as part of the short-lived "The Dana Carvey Show." Indeed, Carvey's weird and ahead of its time show wouldn't have been out of place on Adult Swim or HBO today. Unfortunately, it was an awkward fit following the family-friendly "Home Improvement" on ABC. According to Robert Smigel of Triumph the Insult Comic Dog fame, he was pitched a much more depraved sketch based on "Wallace and Gromit" before he came up with the idea of basing it on Batman and Robin.
While the show only lasted eight episodes, Carell has nothing but nice things to say about his collaborators in the Hulu film, declaring, "They absolutely put me on the map."
Carell regrets some of his Daily Show interviews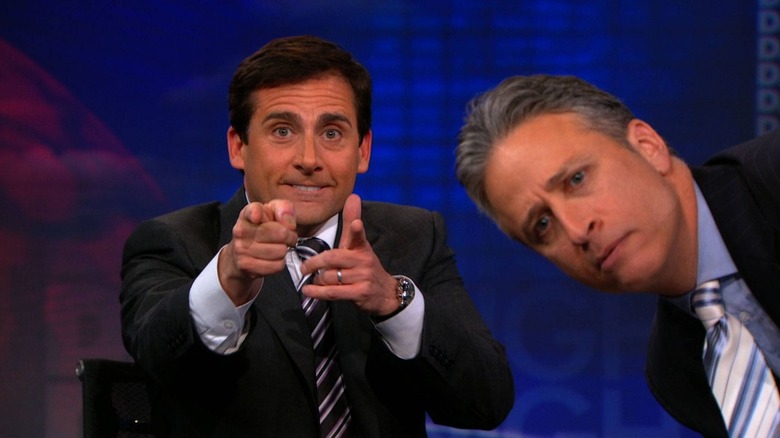 Comedy Central
Younger streamers of "The Office" like Billie Eilish might not know this, but there was a brief window from 2003-2004 when Steve Carell was known as the guy who exclusively played fake reporters. Stephen Colbert was hired for "The Daily Show" based on his "Dana Carvey Show" sketch "Waiters Nauseated by Food," and he recommended that they hire his scene partner Carell for his first fake reporter role.
The show ended up being his first big break, and he's proud of his time there, but that's not to say that he doesn't think he could have done things better. As he told The Hollywood Reporter, "It's one thing poking fun at people who deserve it, but there was that flip side of shooting fish in a barrel. It's just cruel." But despite the regrets, he's remained friends with Jon Stewart, who directed him in "Irresistible."
His head was lit on fire for Bruce Almighty and the scene was cut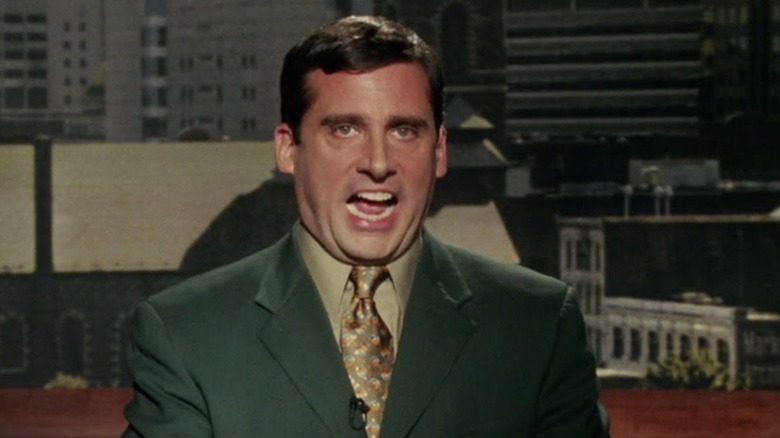 Universal Pictures
For his first big movie role (and his second as a fake reporter), Steve Carell got to be in the Jim Carrey vehicle "Bruce Almighty" about a man who's given the powers of God. Per Box Office Mojo, the film was a huge hit and had a memorable turn for Carell. But the part that's lived on — where Carrey's character makes Carell speak in tongues — went much further and originally had the burgeoning star's head burst into flames. It was probably CGI, though, so no big deal, right?
It turns out that this dangerous stunt was actually done for real. As Carell told Graham Norton, "It wasn't even a special effect. ... It was a real, live practical effect. They ran a gas line down my back, and they put a coil on top of my head. And they like put gel on my head so it wouldn't burn, and they ignited this enormous ... four-foot flame." He's not the first actor to be put in danger, but it must have stung that people didn't even get to see it.
His appearance in Vice was foreshadowed in Anchorman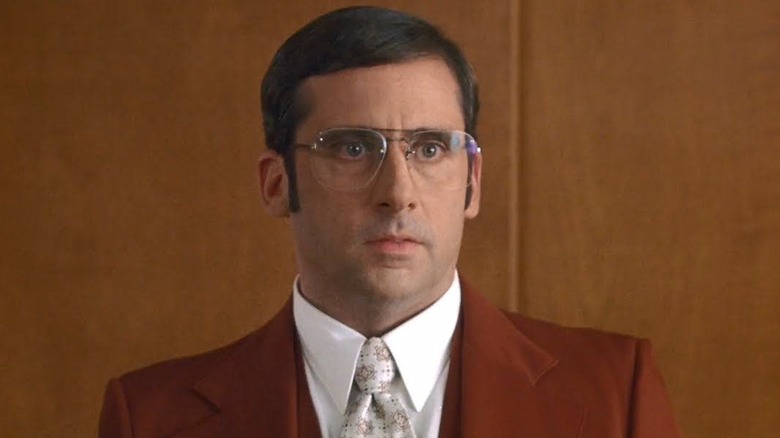 DreamWorks Pictures
Before director Adam McKay's films became overtly political with the likes of "The Big Short" and "Don't Look Up," he managed to get politics into his work with frequent collaborator Will Ferrell. Case in point: In his 2004 film "Anchorman: The Legend of Ron Burgundy," the ending narration reveals that Steve Carell's dimwitted Brick Tamland becomes a top advisor in the Bush administration. Just how far up was he, though? Well, when McKay made "Vice" — his unflattering biopic about George Bush's vice president, Dick Cheney — he cast Carell as Donald Rumsfeld, the head of state's first secretary of defense.
Of course, that's not to say that Rumsfeld is literally Brick Tamland. After all, "Anchorman" takes place in San Diego in the '70s, and Rumsfeld was in Washington D.C. then, right? However, before Rumsfeld became Gerald Ford's chief of staff, he served as Richard Nixon's NATO ambassador, which Rumsfeld describes in "Vice" as a "s*** job." Could Rumsfeld have been so unhappy with that job that he lied to Nixon about his whereabouts and told him he was in Europe when he was really spending his time as a weatherman in San Diego? That's not for us to say, but perhaps that's the way McKay would like it interpreted. 
The Office would have been cancelled if it weren't for The 40 Year-Old Virgin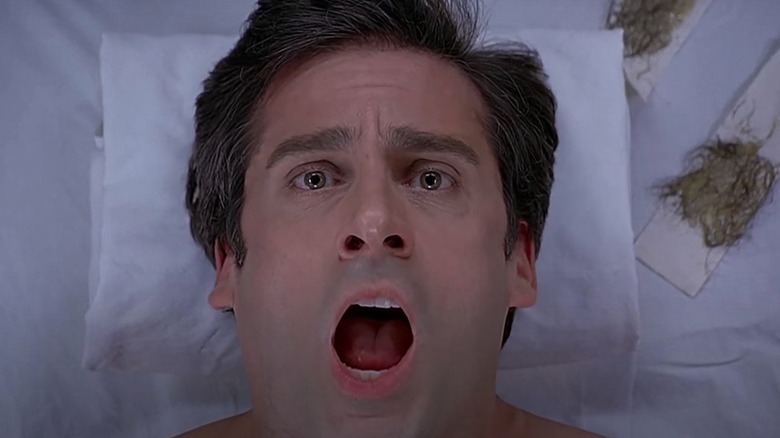 Universal Pictures
When the American remake of "The Office" premiered in 2005, Steve Carell wasn't a big star yet, and the show hadn't hit its stride. The pilot, especially, was basically just an inferior shot-for-shot remake of the original British pilot. In hindsight, it's easy to make fun of Paul Rudd for his terrible advice: "Ugh, don't do it. Bad, bad move." But at the time, it really looked like it would go down in history as yet another terrible American remake of a British show.
Thankfully, the show snagged a 2nd season, and the rest is history. As documented in Brian Baumgartner and Ben Silverman's "Welcome to Dunder Mifflin: The Ultimate Oral History of The Office," though, it almost didn't happen. But thanks to the success of Carell's starring role in "The 40-Year-Old Virgin," the show got the chance to find its footing. We're thankful it worked out, as it wound up being a boon for all involved.
Carell didn't want to leave The Office as early as he did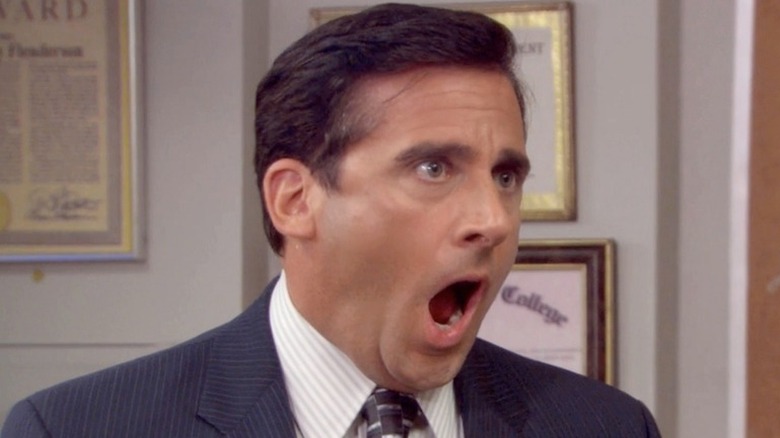 NBCUniversal Television Distribution
By 2011, Steve Carell was a movie star, so it's easy to believe that his departure from "The Office" was because he was ready to move on. However, Andy Greene's book "The Office: The Untold Story of the Greatest Sitcom of the 2000s" makes it clear that this was not the case. Carell was certainly looking to move on, but he imagined that he would be staying on for a little while longer.
According to hairstylist Kim Ferry, "He planned on staying on the show. He told his manager and his manager contacted them and said he's willing to sign another contract for a couple years. ... And the deadline came for when they were supposed to give him an offer and it passed and they didn't make him an offer." Ultimately, the show proved unable to survive without Carell, and it wound up ending a couple of years later.
His role in Little Miss Sunshine was meant for Bill Murray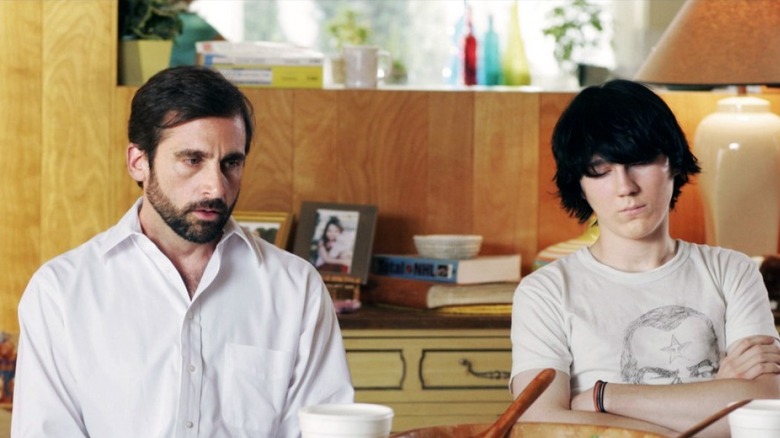 Searchlight Pictures
Comedy actors going into drama is nothing new, but it somehow always surprises people when a comedian wants to be taken more seriously. Certainly, it came as a shock to "Little Miss Sunshine" directors Jonathan Dayton and Valerie Faris, who admitted their hesitation to ScreenAnarchy. "When we met with Steve Carell, we didn't know he could do this based upon what he had done," Valerie said. "But when we met with him and talked to him about the character, the tone of the movie, and the way we were approaching it, he was right on the same page with us."
Sure, playing a character who recently attempted suicide was tough, but at the time, Dayton, Faris, and writer Michael Arndt were hoping that fellow comedian Bill Murray would play the part. And if he wasn't available, they hoped that Robin Williams could step in. Nevertheless, the comedy/drama eventually found great success, and Carel eventually transitioned to playing roles in straight dramas.
If you or anyone you know is having suicidal thoughts, please call the National Suicide Prevention Lifeline​ at​ 1-800-273-TALK (8255)​.
He made a song about Sully Sullenberger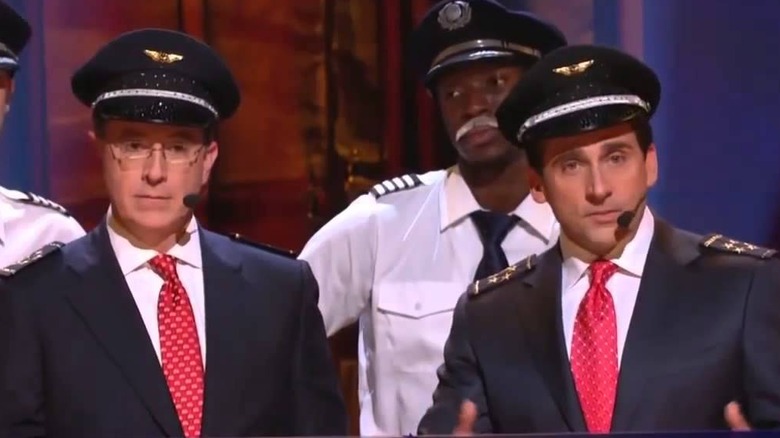 Comedy Central
Created by Robert Smigel and usually hosted by Jon Stewart, "Night of Too Many Stars" is a recurring comedic special that raises money for autism awareness. In its 2010 iteration, Stephen Colbert and Steve Carell performed the song "Everybody's Talking Bout Sully," which hails the "hero of the Hudson" and his 2009 plane crash while mocking its lack of topicality. To heighten the joke, Tay Zonday came out to sing a verse.
But the prediction that Sullenberger would be a fad hasn't really come to pass. A film about him starring Tom Hanks and directed by Clint Eastwood became a box office hit in 2016, and the Senate just unanimously confirmed him to be Joe Biden's Ambassador to the International Civil Aviation Organization. Sure, maybe people weren't talking about Sully in 2010, but it's fair to say that he hasn't been forgotten.
Carell almost starred in Party Down
Before Rob Thomas (no, not that one) created "Veronica Mars" and Steve Carell and Paul Rudd starred in "Anchorman," "Party Down" was sold to HBO in 2003 before it collapsed. Carell would have played Ron Donald, the role that eventually went to Ken Marino, and co-creator Rudd would have played Henry Pollard, the role that eventually went to Adam Scott.
The future cult classic eventually premiered on Starz in 2009, but unfortunately, it couldn't find an audience at the time. Cast member Jane Lynch left to do "Glee" in the middle of Season 1, and Adam Scott left after Season 2 to join "Parks and Recreation," essentially sealing its fate, and the show was canceled. While the show's cast was fantastic, it's hard not to imagine what could have been, especially with Carell's experience playing waiters in "Curly Sue" and "Waiters Nauseated by Food." But the good news is that a revival has just been ordered and should premiere in 2022.
Being a father made him identify with his character in Despicable Me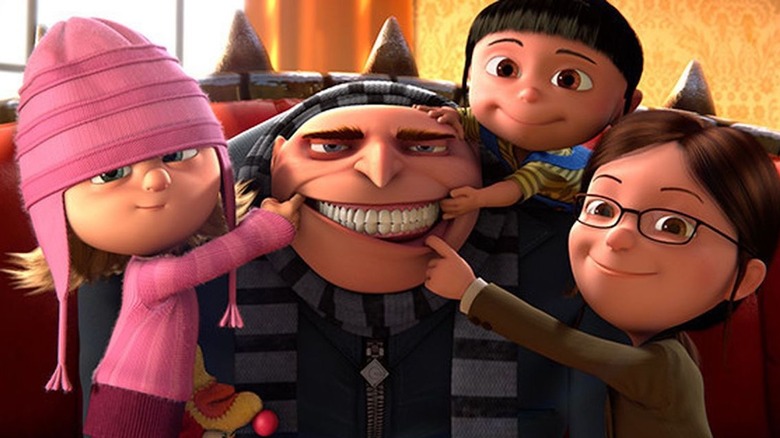 Universal Pictures
Identifying with a cartoonish supervillain isn't something that should come easy, but "Despicable Me" manages to have a cute human story at its core. So Carell was able to tap into that with his performance as Gru even though the role required a silly voice. He told Collider, "Here's a guy who has his life set up the way he's accustomed to, and then is introduced to these three little girls who essentially turn his life upside down. ... It doesn't' change him, but it taps into a part of him that was always there, and that he didn't know about, which is what happens when you have kids."
Lots of actors do animated films so their kids can watch some of their work, but Carell took it a step further. The paychecks must be nice, but it's nice that he can add a bit of himself in his performances in the franchise.
He didn't see his character in Foxcatcher as a monster
Bennet Miller's "Foxcatcher" dramatizes the real-life story of John du Pont and his recruitment of Olympic wrestlers (played by Channing Tatum and Mark Ruffalo) before it ends in tragedy. Carell plays du Pont, and it would have been easy to demonize someone who commits a horrible act. Instead, he found pity for him, telling The Guardian: "I never saw him as a villain, and I didn't want to depict him in that way. ... He was someone who didn't possess the tools to achieve what he wanted out of life; and in that regard, incredibly heartbreaking."
The grim tale wasn't a big hit, but was critically acclaimed for its strong performances. The film earned Carell an Academy Award nomination for Best Actor, even though he really had more of a supporting role. For some reason, he's credited first, even though Channing Tatum is the real lead.
Carell was shocked by the real life story of The Big Short
Director Adam McKay first addressed big banks and the bailouts they received in his 2010 buddy cop comedy "The Other Guys," starring Will Ferrell and Mark Wahlberg. For "The Big Short," he decided to tell the story of the 2008 financial crisis head-on by adapting the book of the same name by Michael Lewis. McKay brought along Brick Tamland actor Steve Carell to play Mark Baum and managed to win an Academy Award for Best Adapted Screenplay.
For Carell, the events were surprising to learn because while people may have heard the broad outlines in the news, the details weren't as widely publicized. He told Digital Spy: "It was stunning to find out what happened. ... I had people in my family and friends who were affected, but I didn't know anything about what was actually happening internally with these banks, and it's terrifying." McKay didn't abandon the comedy that made his career and somehow managed to make a film that's both horrifying and entertaining.