Things Clint Eastwood Fans Might Not Know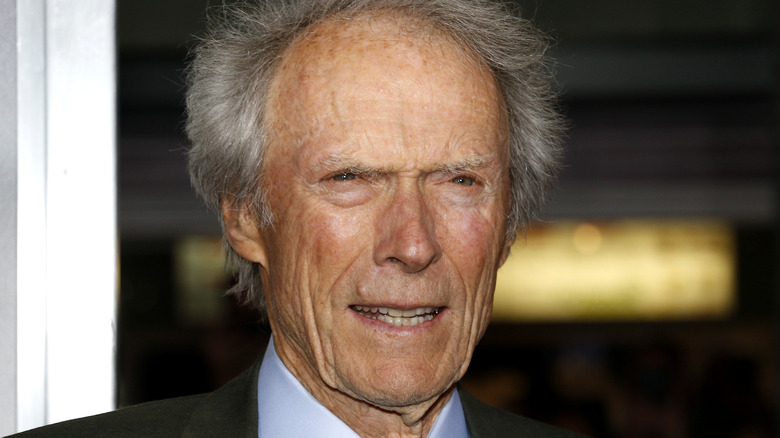 Tinseltown/Shutterstock
Clint Eastwood is a man who needs no introduction, but with a career as long and illustrious as his, we can't help but give him one anyway. Eastwood made a name for himself in westerns, with early successes on the 1959 television series "Rawhide" and in director Sergio Leone's "Dollars Trilogy." But he didn't stop there. As a director, Eastwood has made over 30 films, two of which won him an Academy Award for Best Director.
Eastwood hasn't given any indication that he'll be slowing down anytime soon, even though the films he stars in have been acknowledging how old he is for about 30 years now. His work ethic is simply too indefatigable — he didn't even stop making movies after he was elected mayor of Carmel-by-the-Sea, California, for a two-year term. You may know a lot about the storied actor, director, and politician, but it's doubtful that you know everything. Let's take a look at some things even diehard Clint Eastwood fans might not know.
American Sniper was Clint Eastwood's biggest hit ever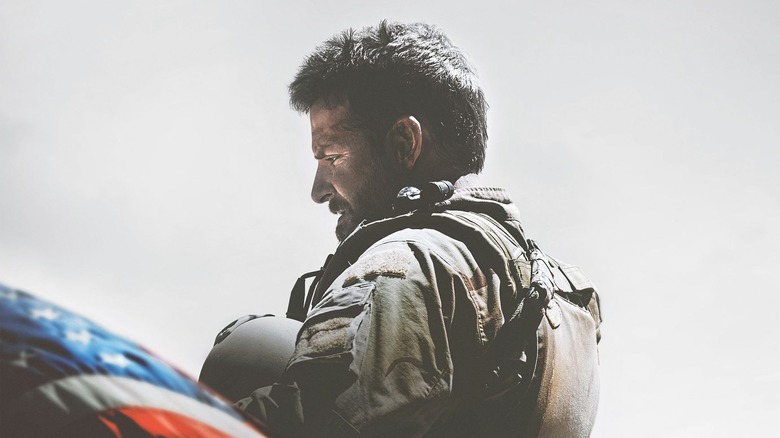 Warner Bros. Pictures
Sometimes, when a film breaks a box office record, the reason why isn't as impressive as you might expect. Due to inflation, it's only a matter of time before any given record falls, after all — a nickel just doesn't buy what it used to. In that sense, it might not seem like a surprise that Clint Eastwood's 2014 directorial effort, "American Sniper," is the highest-grossing film of his career, with $350 million made in North America alone and $547 million earned worldwide. But in fact, even when adjusted for inflation, "American Sniper" is still Eastwood's biggest movie, made on either side of the camera.
Eastwood's second-highest grossing movie, when adjusted for inflation, is the James Fargo-directed "Every Which Way but Loose," aka "The one with Clint and an orangutan." Its $85 million gross, earned in 1978, would be roughly $356 million today. Not bad at all.
Eastwood was against the war in Iraq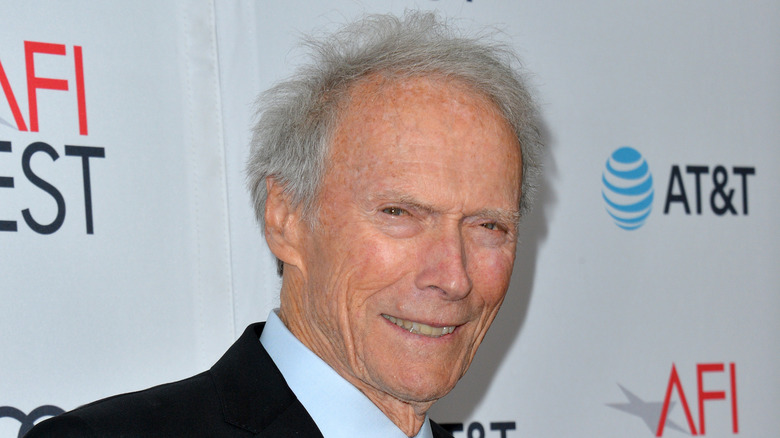 Featureflash Photo Agency/Shutterstock
While "American Sniper" can be seen as being in favor of the United States' post-9/11 wars, Eastwood wasn't actually a fan. After a 2014 screening of the film, the famed director said (via The Hollywood Reporter), "I was against going into the war in Iraq since I figured we would probably trip over ourselves in some way." 
This might seem like a surprise, given Eastwood's conservative politics. But deep consideration of the themes present in "American Sniper" reveals a movie fairly in line with Eastwood's criticism of the war. Certainly, Eastwood deserves criticism for sanding away the real Chris Kyle's rough edges (via The Guardian). But the film isn't a right-wing fantasy, a la "Rambo: First Blood Part II." "American Sniper" addresses the brutal costs of war, especially through Kyle's PTSD. Eastwood is, after all, a man who's made World War II films from both the American and Japanese perspectives, with "Flags of our Fathers" and "Letters from Iwo Jima." He's a lot more complex than most people realize, something he made clear with another comment from that 2014 screening: "Contrary to public opinion, I abhor violence."
Clint Eastwood's film debut was featured on an episode of Mystery Science Theater 3000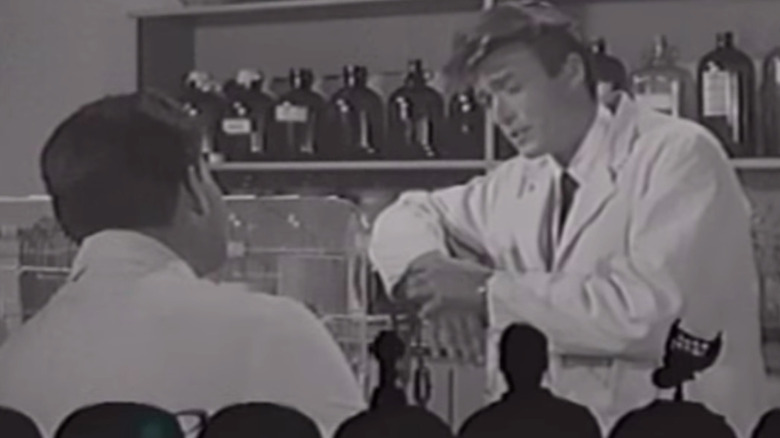 SyFy/YouTube
Many actors struggle to get their first roles, and Clint Eastwood is no exception. After a number of unsuccessful try-outs and a slew of minor gigs doing looping and "wild voices," Eastwood was finally able to land his first real role: A small, inconsequential part in 1955's "Revenge of the Creature," director Jack Arnold's disappointing sequel to his 1954 classic, "Creature from the Black Lagoon." 
The film has been largely forgotten. But in 1997, "Mystery Science Theater 3000," a show that rose to fame by mocking bad B-movies, decided "Revenge of the Creature" was worth riffing off of, and aired it in full. In Eastwood's scene, he plays a scientist experimenting with mice who's convinced a cat has eaten one of them, until he realizes it's been in his pocket all along. Upon seeing the performance from the young actor, Crow remarks, "This guy's bad. This is his first and last movie."
Clint Eastwood directed the jumper scene in Dirty Harry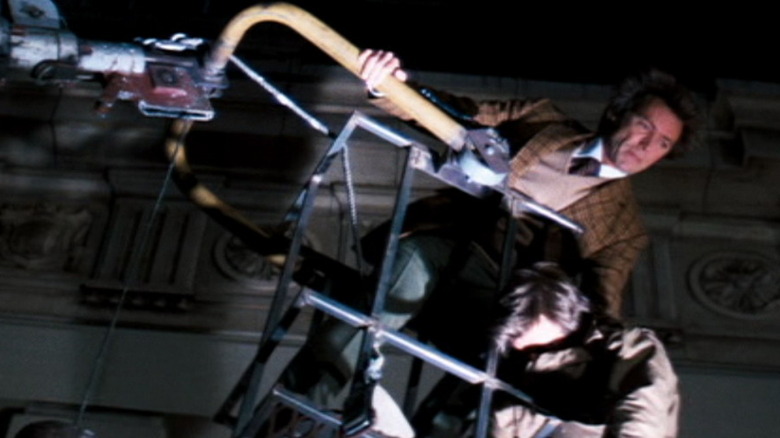 Warner Bros.
By the time that Clint Eastwood and his longtime collaborator Don Siegel were filming "Dirty Harry," Eastwood had already shot his directorial debut, "Play Misty For Me." As Siegel had helped Eastwood out with the filming of "Play Misty for Me," as detailed in Patrick McGilligan's "Clint: The Life and Legend," Eastwood returned the favor by directing a scene in "Dirty Harry" after Siegel came down with the flu.
In the scene in question, Harry Callahan has to talk a man out of jumping off a building and get him to cross to the safety of his crane. He does so by indifferently detailing the gruesomeness of death, spurring the man to leap angrily onto the crane. While it's unrelated to the larger plot, this scene illustrates why he's called "Dirty Harry" — he does the jobs that no one else wants to do. Eastwood, ever the vivid director, captured the scene brilliantly.
His alias in The Enforcer was inspired by Don Rickles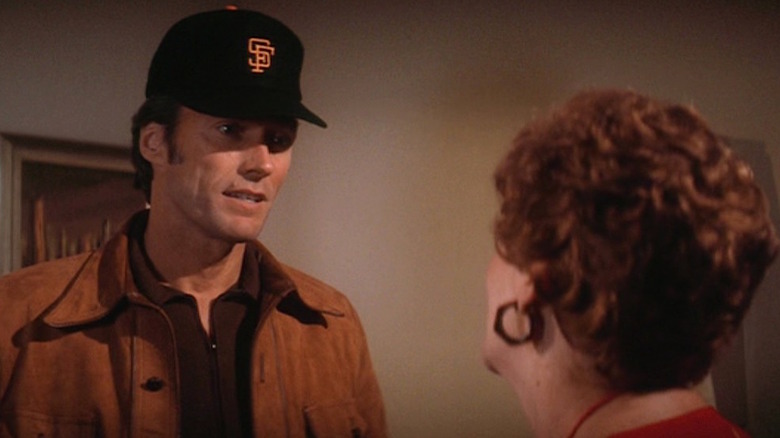 Warner Bros.
There's a memorable scene in the third "Dirty Harry" film, 1976's "The Enforcer," where Harry Callahan's investigation leads him to a brothel. He gives his name as Larry Dickman. It turns out that this name came from Eastwood's "Kelly's Heroes" co-star, Don Rickles, who used to tease Eastwood on set. 
Eastwood revealed this fact in John Landis' 2007 documentary, "Mr. Warmth: The Don Rickles Project." Rickles confirmed it when he spoke to The Daily Beast in 2015. "I did a few movies, but the word star ... I cannot compare to a star like Clint Eastwood," the famous insult comic remarked. "I used to call Clint 'Larry Dickman' when he would come to my show, then he started using the name when he would go undercover in a 'Dirty Harry' movie. That's why he's a movie star ... he's so creative." While he's not always known for his humor, Eastwood can definitely take a joke at his expense.
Clint Eastwood learned how to mountain climb for The Eiger Sanction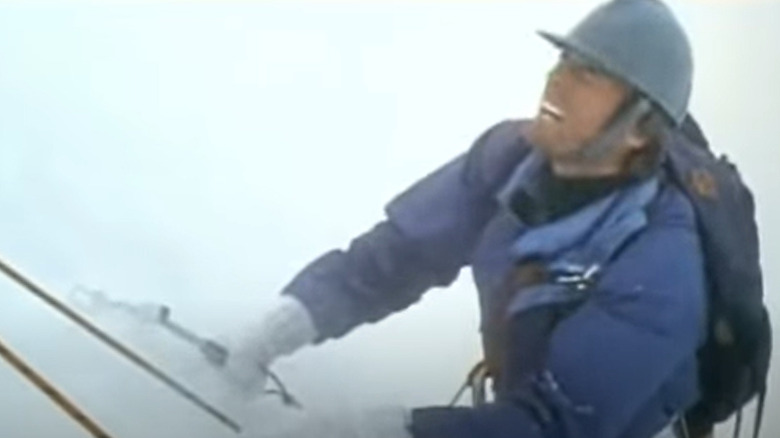 Universal Pictures/YouTube
Long before Jackie Chan and Tom Cruise became famous for their death-defying stunts, Clint Eastwood climbed a mountain for 1975's "The Eiger Sanction," a film he directed and starred in. Many critics didn't care for its plot, which involves a government hitman called in to do one last job, but the film's action scenes were well-recieved. Considering Eastwood really did hang off the side of a treacherous peak to create them, that's some seriously well-earned praise.
For all the hard work Eastwood put into those scenes, however, they weren't able to please everyone. As he told Roger Ebert, "I didn't want to use a stunt man, because I wanted to use a telephoto lens and zoom in slowly all the way to my face — so you could see it was really me. I put on a little disguise and slipped into a sneak preview of the film to see how people liked it. When I was hanging up there in the air, the woman in front of me said to her friend, 'Gee, I wonder how they did that?' and her friend said, 'Special effects.'" Sometimes, a job can be done too well.
The final Dirty Harry film was directed by Clint Eastwood's longtime stunt double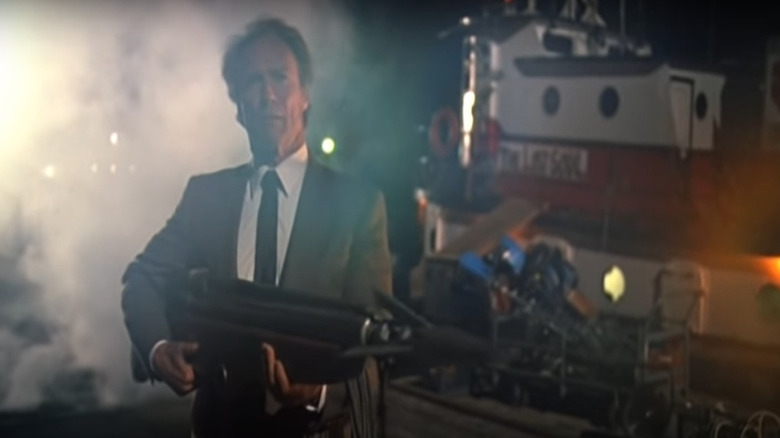 Warner Bros./YouTube
Buddy Van Horn and Clint Eastwood were brought together when Van Horn acted as Eastwood's stunt double in 1968's "Coogan's Bluff." Van Horn went on to serve as Eastwood's stunt coordinator for almost all of his films up until 2011's "J. Edgar," and his occasional director. In fact, all three films Van Horn directed starred Eastwood, including the last "Dirty Harry" film, 1988's "The Dead Pool."  
In a 2011 interview with The Independent, Van Horn discussed their relationship, paying particular attention to Eastwood's daredevil streak. "There's been a couple of times that he's wanted to do something and I talked him out of it," Van Horn recounted. "He's a pretty physical guy and likes to do his own stunts. Some of the things he does were pretty easy to get banged up. I've tried to talk him out of it sometimes, but not very successfully most of the time." Though Van Horn might not have been able to keep Eastwood from injury, their collaboration certainly proved to be a successful one.
Clint Eastwood turned down Apocalypse Now and almost starred in Die Hard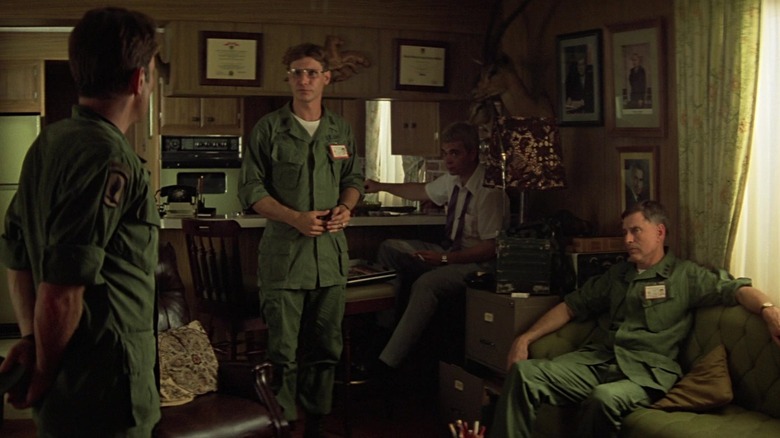 United Artists
It's well known that Clint Eastwood turned down opportunities to play James Bond and Superman, but those aren't the only iconic roles he's said no to. Eastwood could have scored a starring role in Francis Ford Coppola's 1979 classic "Apocalypse Now," but ultimately refused it — he didn't want to spend so much time overseas. As he told The Hollywood Reporter in 2011, "I did read 'Heart of Darkness' when I was young and so I kind of knew where it was going but then I said no, I don't think I can go off for that long a time. He was going to go 16 weeks in the Philippines." 
Additionally, Eastwood also owned the rights to "Nothing Lasts Forever," the novel "Die Hard" was based on. Though he wanted to star in it, he ultimately chose to focus on other projects. The scene where Hans Gruber mocks John McClane for acting like an American cowboy would definitely play a lot differently if Eastwood occupied the role.
Clint Eastwood didn't vote for Pulp Fiction at the 1994 Cannes Film Festival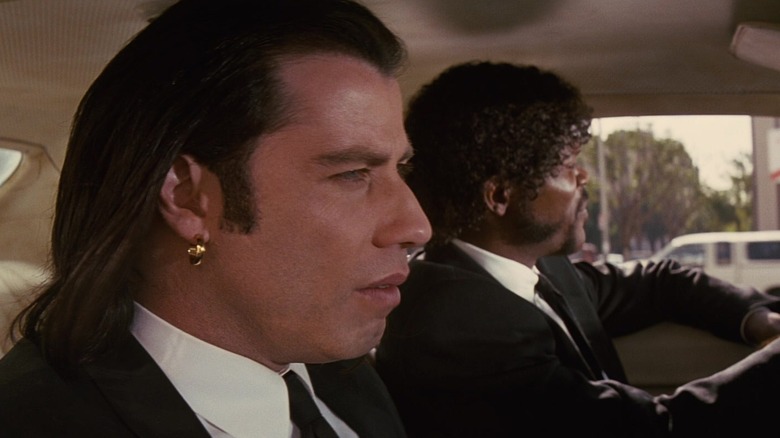 Miramax Films
Just about everyone, Quentin Tarantino included (per The Hollywood Reporter), expected the 1994 Cannes Film Festival's Palme d'Or would be awarded to Krzysztof Kieslowski's "Red," the third and most acclaimed film in his "Three Colours" trilogy. So it was quite a shock when it went to "Pulp Fiction" instead. Many suspected that this American film won because of that year's American jury president, Clint Eastwood. But in fact, Eastwood voted for a Chinese film instead. 
Upon his return to Cannes in 2008, Eastwood revealed this fact to The New York Times. "I'm interested in everything," he remarked. "On the jury here when 'Pulp Fiction' won, somebody said, 'Oh, Clint Eastwood was on the jury, so he voted for the American film.' But my sensibilities are European, here is where my success started. Actually, Zhang Yimou's 'To Live' was my favorite piece, but most of the European jurors seemed to like 'Pulp Fiction.'" Despite his disagreement with the ultimate winner, "To Live" did wind up being one of two winners of the Grand Prix du Jury that year, which is a fancy way of saying that it tied for second place.
Clint Eastwood is allergic to horses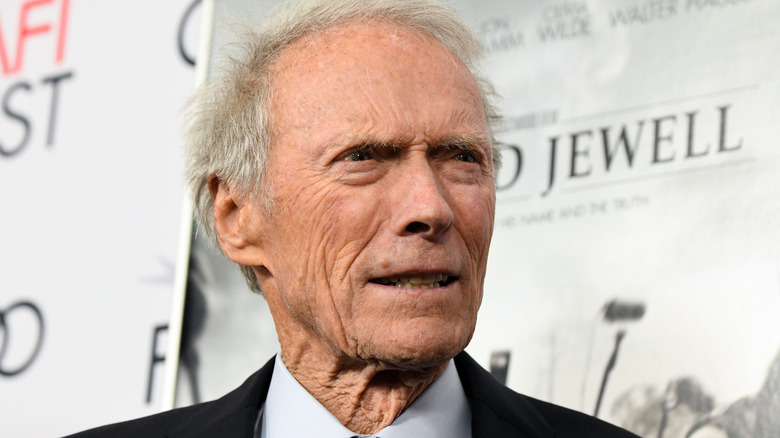 Michael Kovac/Getty Images
Clint Eastwood may be known for his legendary westerns, but it turns out that he's not a fan of one of their trademark elements: horses. Eastwood is actually allergic to horses, which means he has to limit the amount of time he spends on them. He's also allergic to cats, dogs, and even the orangutan from "Every Which Way but Loose." 
These days, the nonagenarian has other reasons to worry about riding a horse: Even the most minor injury can be a major problem for someone his age. As he told the Los Angeles Times in a 2021 interview about the making of "Cry Macho," "The [horse] wrangler was worried. She was saying, 'Be careful, be careful now.' She was scared I'd end up on my rear end. But if you treat the horse like a buddy, he'll take care of you." He doesn't mention his allergy in this interview, but it's clear that he doesn't let it get in the way of the crucial bond between horse and rider.