Terrible American Remakes Of Hit British TV Shows You Didn't Know Existed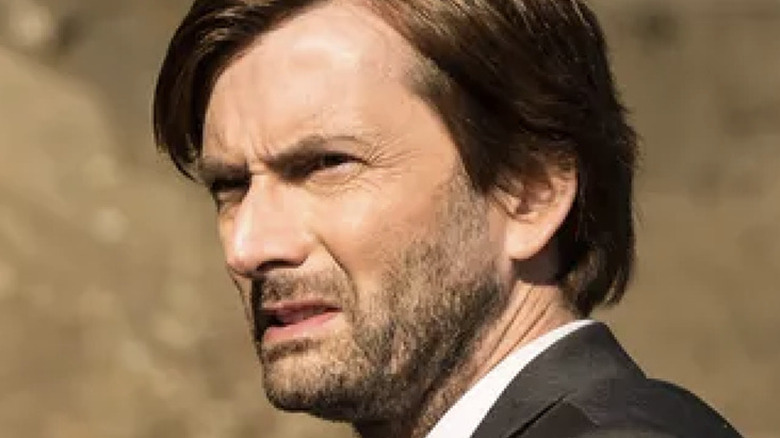 Fox
Any time something is a big hit, some studio executive is going to try to copy the formula. Ever since 1971's "All in the Family," which was inspired by the 1965 British comedy "Till Death Do Us Part," proved to be a smashing success, networks have been sifting through the U.K.'s catalogs of popular shows for other options to bring stateside. From "The Office" in 2005 to "Shameless" in 2011, many hit shows have enjoyed success in America as remakes and adaptations of British originals.
Unfortunately, it's much easier said than done, as many studios have learned the hard way. There are far more failures than successes in pond-crossing television remakes, whether because American audiences have different tastes, because of bad casting or writing, or because they simply couldn't recapture the magic of the original. Having British creators involved can be crucial, but sometimes keeping too close to the original premise can be surprisingly disastrous. Despite our many similarities with the U.K., it's possible we Americans simply don't make enough allowances for our cultural differences, and wrongly assume that if something is popular on the isles, it must play well here in the states, too. The remade misfires on this list prove that's probably not the case. Some you may have heard about, but most were short-lived, or never aired at all.
Red Dwarf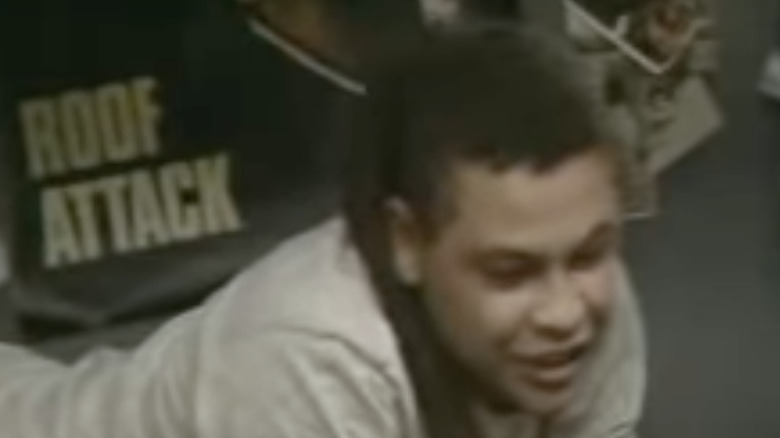 BBC 2/YouTube
One of the longest-running sci-fi television series ever — right up there with "Doctor Who" — and a favorite cult comedy, "Red Dwarf" began with its first episode in 1988. It has had 12 series spanning nearly 35 years, with several lengthy hiatuses and a feature-length telefilm, "The Promised Land," airing in 2020. But just a few short years after its initial broadcast, despite having been widely seen in the U.S. on PBS, there was interest in exporting the series to American shores with a local remake.
The new series was to be co-produced by original series creators Doug Naylor and Rob Grant, in collaboration with an American studio, producers, and writers. It would star an all-new cast except Robert Llewellyn, who would retain his role as the robot Kryten. British actress Jane Leeves, better known to audiences now as Daphne on "Frasier," would also play the ship's artificially intelligent computer. Unfortunately, the pilot was deemed a complete disaster, so much so that actor Craig Bierko, who played Dave Lister in the U.K. version, said that America took their show and "crapped on it."
But the studio didn't give up. In fact, they tried again almost immediately, recasting two roles, including future "Star Trek: Deep Space Nine" star Terry Farrell as the gender-swapped Cat. This version was little better, and neither has ever been officially broadcast anywhere in the universe.
Peep Show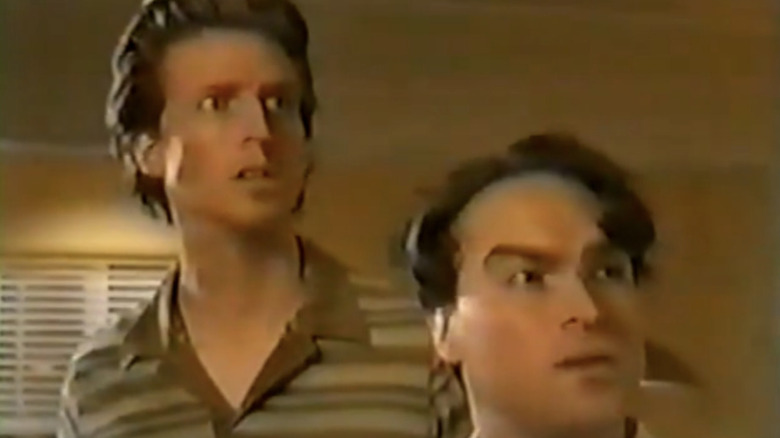 Carsey Werner Company
"Peep Show" was a long-running comedy series in the U.K. starring comedians David Mitchell, Robert Webb, and Olivia Colman, a comic trio that had worked in tandem on several shows prior, including the 2000 sketch comedy "Bruiser" (also starring Martin Freeman) and 2001's "The Mitchell and Webb Situation." Their work on "Peep Show," starting in 2003, enjoyed critical acclaim and won them numerous BAFTAs, individually and as a series. Given its stellar reviews, with Ricky Gervais calling it the best comedy of the year, it came as no surprise that there were calls for a U.S. remake.
Starring Jonathan Galecki and Josh Meyers before their respective stints on "The Big Bang Theory" and "That '70s Show," it might seem in hindsight like this could have been something special. But we finally got a look at it when it leaked online in 2015, and boy was it a doozie. According to IMDb, it was filmed in 2005, but if you didn't know better you'd think it was 1995, and not just because of the poor quality of the video. Inexplicably, they ditched the original series' POV camerawork in favor of a style more reminiscent of a 1990s MTV series, with odd angles, zippy camerawork, and fast cuts. None of the jokes land. The two leads have absolutely zero chemistry and even worse comedic timing — two things that are important to "Peep Show."
Snavely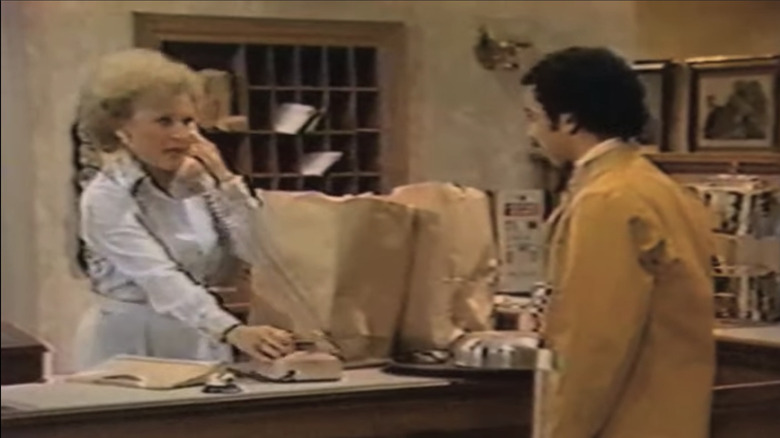 ABC/YouTube
Thank you for choosing Fawlty Towers, we hope you enjoy your stay. "Fawlty Towers" is often cited as the best British sitcom of all time. It followed British comedy icon John Cleese as Basil Fawlty, the high-strung, upper-crust owner of a seaside hotel, and his endless frustrations in dealing with his wife, staff, and guests.
Starring future Golden Girl and ageless legend Betty White, "Snavely" (or "Chateau Snavely," as some versions were titled) swapped out the fancy hotel setting for an ordinary roadside motel. Real-life comedy duo John Cleese and Connie Booth were replaced with White as Gladys Snavely and Harvey Korman as her husband, Henry. The genders are vaguely reversed, with Gladys being the focus of the series and getting most of Basil's dialogue. 
The ABC pilot was filmed in 1978, just three years after "Fawlty Towers" debuted and around the same time that it went into production on its second season. "Snavely" never went to series. Its pilot never even aired, though it's been seen thanks to uploads on YouTube. It's a mostly unfunny recreation that doesn't stack up to the original, so much so that former "Monty Python" star Cleese has been openly critical of it on numerous occasions. Specifically calling out the performances of the two lead actors, Korman and White, Cleese said in a 2009 interview that they "played it too slow and were embarrassed by the edgy dialogue." We don't disagree.
Amanda's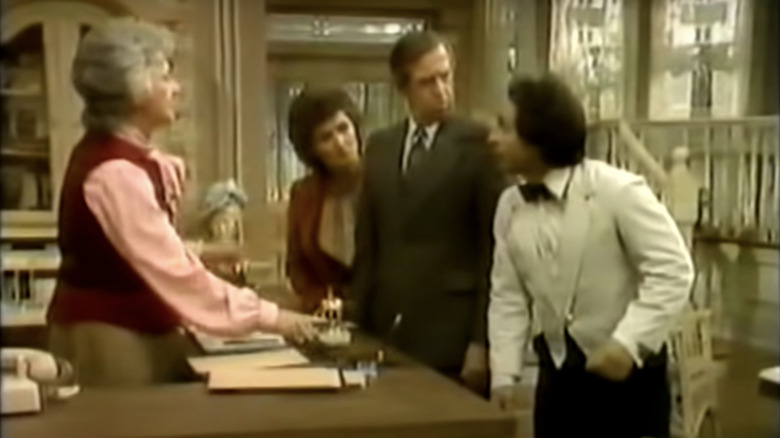 ABC
Oh, you thought you checked out of Fawlty Towers?  Not so fast. Unlike the two American "Red Dwarf" pilots, the second stab at a stateside remake of "Fawlty Towers" wasn't a simple rework of the first, but a completely new attempt, starring another future Golden Girl, Bea Arthur. "Amanda's," like "Snavely" before it, gender-swapped the title role, making the owner of the hotel a woman named Amanda Cartwright. "Amanda's" was created by Elliot Shoenman, who had previously written six episodes of the 1970s sitcom "Maude." This time, the setting was a seaside hotel, as in its British counterpart, but in sunny California. Though the setting was closer to "Fawlty Towers," the cast was not. In addition to the hotel owner being a woman, she did not have a spouse, as John Cleese's Basil Fawlty did. Instead, Amanda was an amalgamation of Basil and his wife Sybil. They gave her a son and a daughter-in-law to round out the cast. 
Like "Snavely" and other British comedy exports to America, the humor just didn't translate, with even star Bea Arthur describing it as "a big disappointment." Unlike "Snavely," however, this version of "Fawlty Towers" did make it to series. It was such a resounding failure in the ratings that it was canceled midway through its first season, with only 7 of its 10 episodes airing. Thank goodness — we might not have gotten "The Golden Girls" if it had been a hit.
Payne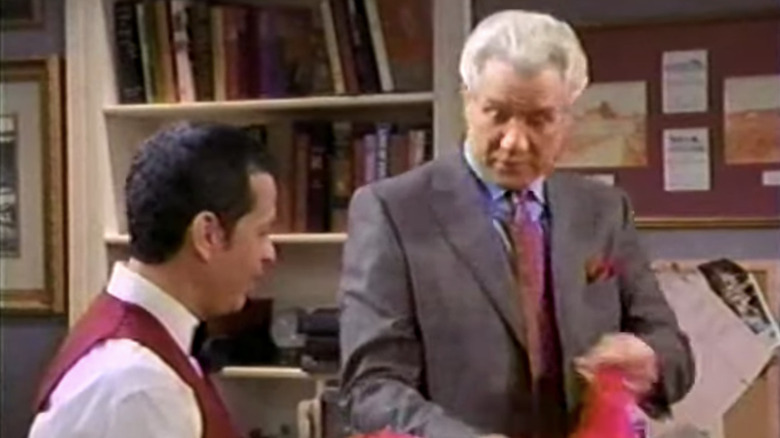 CBS
Would you care to extend your stay at "Fawlty Towers?" Well, you don't really have a choice. It seems that Hollywood just couldn't let go of the idea of bringing the popular U.K. comedy to America, and tried yet again 16 years after "Amanda's" got the ax. This time, though, the American remake managed to get a full season on the airwaves. 
Unfortunately, the third time wasn't the charm. They cast former "Night Court" star John Larroquette as a Basil Fawlty-esque character named Royal Payne (audible groans). This remake, called "Payne," wasn't much funnier than the two prior failed attempts, though Larroquette gave a convincing performance. Reviews were as unkind as Basil Fawlty himself, with the Washington Post saying that "Payne" "...seems like a throwback that ought to be thrown back, and Larroquette is all too believable as an obnoxious boor." The New York Post wasn't any fonder of the sitcom remake, calling it a "clumsy knockoff." Thankfully, it wasn't given any further seasons, and there have been no serious attempts to remake "Fawlty Towers" since. Let's all go home. Shall I bring your car around?
Coupling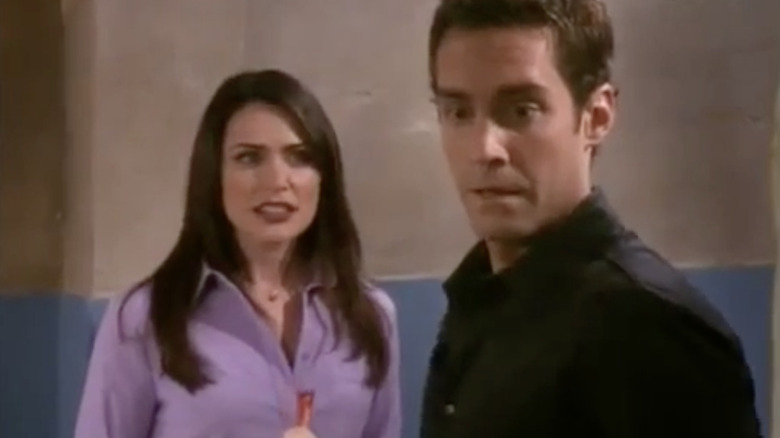 NBCUniversal Television Distribution
Before he was the showrunner of "Doctor Who," writer Steven Moffat created a hit comedy for the BBC called "Coupling." Some saw it as a British version of "Friends" because its premise was vaguely similar, being a loosely formatted sitcom about the misadventures of twenty-somethings living in a big city. But "Coupling" was much more about what went on in the bedroom, with the character's intimate affairs taking center stage. When it was announced it would be adapted for U.S. audiences, many were curious how the risqué comedy would play on more puritanical American television.
The answer was an emphatic "poorly." Make no mistake: The original version of "Coupling" included lots of vulgarity, including frank discussions of sex, but it was still more clever than raunchy. For whatever reason, the U.S. remake completely lost the original's wit and charm. Despite a talented lead in Colin Ferguson and a nearly identical script, the jokes completely fell flat. Whether that's due to miscasting, a style of humor that didn't work for an American audience, or just that unquantifiable spark that gets lost in translation, we can't say. Though it received a series order and a heavy publicity campaign from NBC, only six of its 10 episodes made it to broadcast before it was pulled. Luckily for NBC, they found their British import hit two years later with "The Office." 
The Thick of It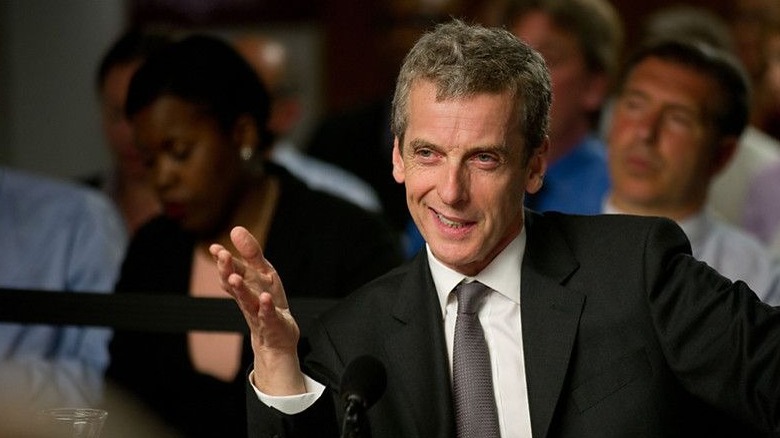 BBC Studios
"The Thick of It" was a black comedy about the inner workings of the British government, starring Peter Capaldi as a snarky, crass, in-your-face spin doctor named Malcolm Tucker tasked with corralling inept politicians and public servants. Sounds a wee bit like "Veep," doesn't it? "Veep" was, in fact, the second attempt at a U.S. remake of "The Thick of It." Announced in 2007, the first remake was similarly titled "The Thick of It," and starred Oliver Platt as an inconsequential congressman. 
The show was never ordered to series, the test pilot never aired, and not so much as a bootleg has surfaced online as of this writing. We've never even seen an image from the failed first pilot. There have been no published reviews or studio reactions to the pilot, though it must have lacked all the bitter charm and grim laughs of Capaldi's version, because original series creator Armando Iannucci famously called it "a pile of dog****" and the writers who crafted it "buffoons." Let's hope it manages to make its way to YouTube at some point, though — we suspect Malcolm Tucker would have a few colorful things to say about it.
Us & Them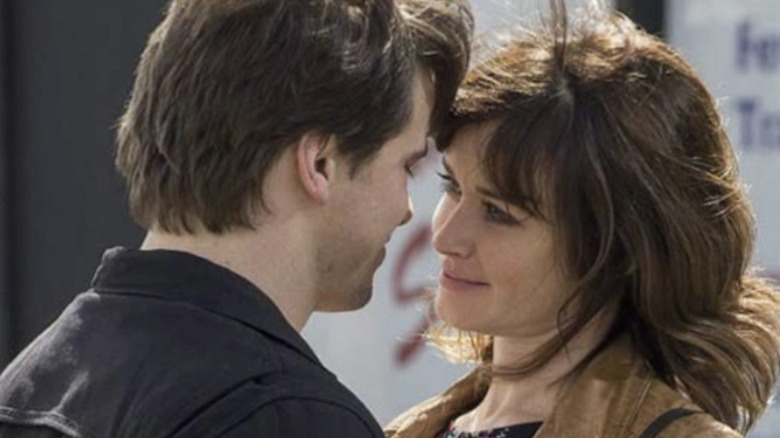 Sony Pictures Television
 "Gavin & Stacey" was created and written by James Corden ("The Late Late Show with James Corden"). The show followed the lives of two families unexpectedly brought together when the titular characters fall in love. The series aired 21 episodes between 2007 and 2010, and in 2019 a special Christmas reunion episode became the most-watched non-sporting event in the U.K. in nearly 20 years.
On three separate occasions, different major U.S. television networks have attempted to bring "Gavin & Stacey" to America, with rising — but ultimately disappointing — levels of success. The first, by NBC in 2008, barely got past the script stage, while rival ABC got close to filming before dropping their ill-fated pilot just two years later. It wasn't until 2013 that Fox finally got an American remake of "Gavin & Stacey" off the ground and in front of cameras. The cast of "Us & Them" included Alexis Bledel, Michael Ian Black, and Jane Kaczmarek, but Fox was so unimpressed with the finished product that it halted production midway through the 13-episode season. A year later, they put the series out of its misery and dumped its handful of completed episodes on the streaming service Crackle in 2014.
In 2019, when asked why the various American versions didn't work, Corden responded, "They never understood what the show was about, they would buy the show and immediately change it."  Apparently, U.S. producers wanted more conflict between the two families, but according to Corden, "our show wasn't about that." 
The Inbetweeners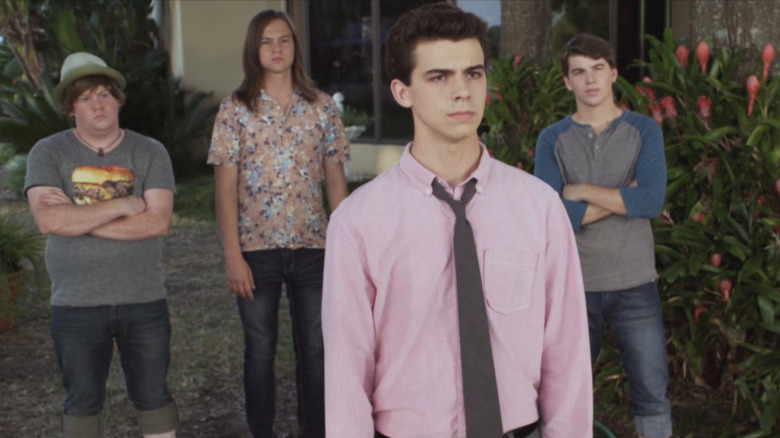 Viacom Media Networks
Coming-of-age stories have always been an easy hook for prime time drama, from "Dawson's Creek" to "Freaks & Geeks." Along came "The Inbetweeners," injecting a typical story of a group of high school friends with an edgy vibe. An envelope-pushing sex comedy with well-written, compelling characters, the series quickly found fans, who flocked to it in the kinds of numbers studios drool over. Naturally, TV execs came calling. 
With six of the 12 episodes being directed by Taika Waititi and producer Brad Copeland ("Arrested Development") involved, it seemed like MTV had the right people to make it, but the series was neutered by U.S. content restrictions. In the end, the Chicago Tribune described it best in its headline: "kinda wimpy." It was more slickly produced than the British original, which took away all of its style. Studio executives' fear of alienating sponsors made it difficult to translate the raunchy scripts for American audiences; even curse words were bleeped. Perhaps it was naïve of producers and writers to think that what worked for teen audiences in England would work for young American viewers, but whatever it was, the watered-down copy just didn't cut it.  
Absolutely Fabulous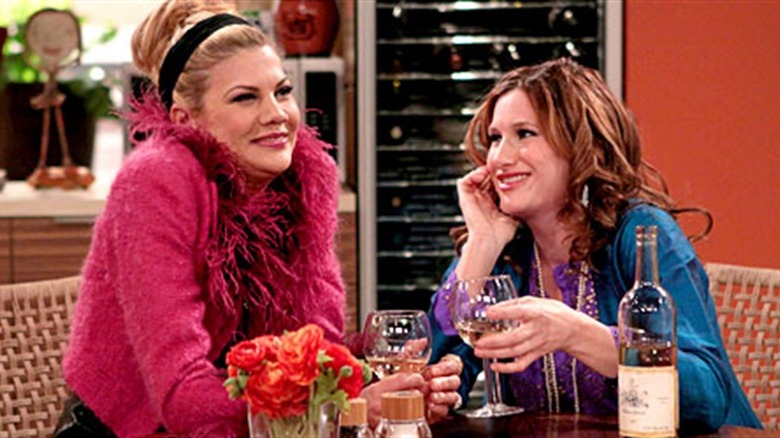 Fox
The story of how "Absolutely Fabulous" almost made it to American television is absolutely fascinating. The '90s cult classic about a hard-drinking PR agent desperate to recapture her youth and a fashion director drowning in drugs, alcohol, and meaningless sex was a darling of the comedy scene in both Britain and America. Its cast of eccentrics made it a favorite of sitcom star Roseanne Barr, who wanted to help bring a version of the show to American for years. Her love of the U.K. series has been well-documented, and she even incorporated elements of it into the final season of her own show "Roseanne" in 1997, with original series stars Joanna Lumley and Jennifer Saunders making guest appearances as their "Ab-Fab" characters Edina and Patsy. Despite a pretty serious attempt to adapt the show for the U.S., with Carrie Fisher as co-producer, no series ever materialized. 
It wasn't until 2009, when Fox picked up the rights to "Absolutely Fabulous," that a serious attempt proceeded. With "Third Rock From the Sun" star Kristen Johnson and future "WandaVision" villain Kathryn Hahn as the leads, and "Arrested Development" creator Mitch Hurwitz on board as showrunner, it had all the ingredients of a big hit. But it sounds like it wasn't all that fabulous after all. The pilot was eventually rejected by the network, and no series was commissioned. It's sad to think what might have been.
The IT Crowd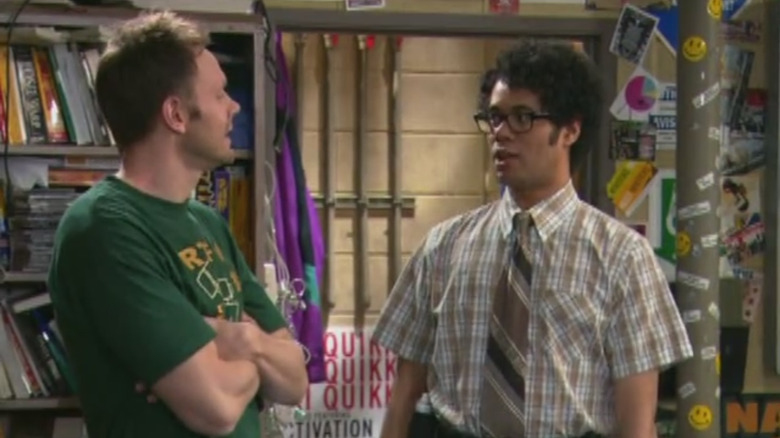 Fox
Following the success of the U.S. version of "The Office," NBC tried to bring another British comedy to American shores. "The IT Crowd" is the rare pilot to have its original star make the jump across the Atlantic (in this case, Richard Ayoade as the misfit nerd Moss). The pilot also features Joel McHale (later of "Community") in the main cast, in what would have been his first starring role.
The pilot is essentially a remake of the original series' first episode. The cast does a decent job with the nearly identical script. It's not an awful pilot, exactly, but it doesn't play nearly as well as its predecessor, and somehow doesn't get the same laughs — maybe because the original creator, Graham Linehan, wasn't actively involved. Despite reports that multiple scripts had been developed, the pilot never went on to series. Interestingly, a second pilot was said to have been produced at some point in 2014, but no further information has ever leaked regarding that version. In 2018, Linehan said that a third attempt was in development and that he was attached as a writer and/or producer, but nothing has come of it yet.
Gracepoint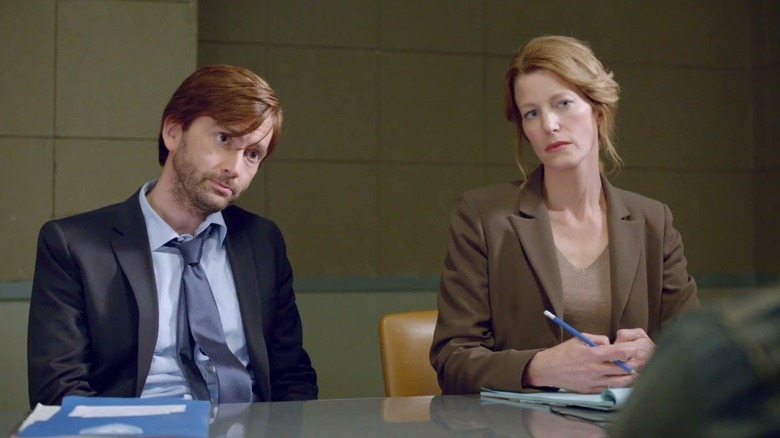 Fox
It's rare for an American remake to star the same actor as its British original, and even rarer for it to be made while the original is still running. "Gracepoint," as a remake of U.K. crime thriller "Broadchurch," did both. The most recent series on this list, "Gracepoint" is the only entry to have a full season greenlit without a test pilot. It's also the only one to air its entire season with major network promotion. David Tennant stars in a near shot-for-shot remake of the original show's premiere. Produced by Fox, it aired in 2014 directly between the first and second series of "Broadchurch."
If you've never seen "Broadchurch," the remake seems like just another mediocre crime drama. For fans of the original, though, it's a pale, limp imitation. Reviews were not great. In "Broadchurch," the stories managed to create a real sense of tension by somehow making every suspect look guilty, leaving audiences truly astounded by new clues and revelations. The community's sense of grief, growing suspicions, and dark secrets were almost characters unto themselves. Most of this was lost in the comparatively lightweight, by-the-numbers "Gracepoint," forcing one to wonder why they simply didn't air "Broadchurch" as a special event miniseries.
Honorable Mention: Doctor Who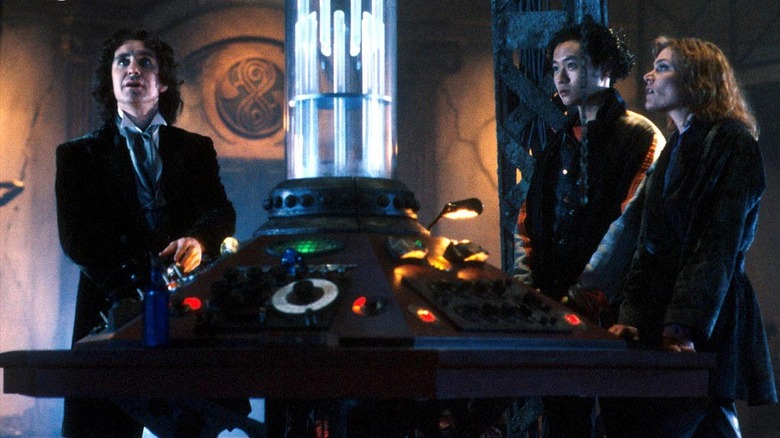 Fox/BBC Studios
Not as bad as most on this list, "Doctor Who: The Movie" is nonetheless truly beloved by only the most diehard of Whovians. In its defense, it did add a lot to the "Doctor Who" lore, giving us the missing regeneration of the Seventh Doctor (Sylvester McCoy); a new Doctor (Paul McGann), who would return for a brief appearance in 2013; and several elements, including the 'vortex' opening sequence and the steampunk look of the TARDIS control room, that carried over into the 2005 revival.  
But as an American co-production with the BBC, it was an attempt to bring the sci-fi franchise stateside for a new TV series, and in that sense, it completely failed. The story is a clunky introduction to the "Doctor Who" mythology for American audiences. The Doctor, while charming, wasn't what a modern, Americanized revival of "Doctor Who" called for, fancily dressed and suffering from amnesia for the bulk of the film. Even at the time, reviewers agreed that McGann gave a great performance, and he thankfully got a chance to return in a series of audio dramas. While attitudes toward this made-for-TV movie have softened over the years, it has never been seen as very good. It was an admirable attempt to expand what was then a largely unknown franchise in the U.S., but it set back the series' revival by almost a decade.